Destination Dispatch Elevator Systems Benefit Passengers, Building Owners, and Design Professionals
Increased elevator handling capacity, enhanced tenant satisfaction, and improved energy efficiencies are among the many advantages of elevator destination dispatch management.
Sponsored by Otis Elevator Company
This test is no longer available for credit
DD Systems: Security
DD systems offer the ability to customize the level of security interface through the use of numerous different manufacturers' access control systems. Design professionals should note that an elevator system is subordinate to and serves the access control system. It is essential, therefore, that they consult with the owner and the third-party security integrator as to the most effective choice of different security features that can be integrated with the DD system.
Third-party security system:
A DD system that integrates with a third-party building access control system has flexible security configuration capabilities. For example, DD interface with a third-party access control system could configure an inter-floor matrix dispatch system that would serve security needs of tenants and the building. In such a matrix system, travel from the unrestricted lobby could be allowed as would be travel within a segment, but travel between segmented floors would be restricted. As segments do not have to be contiguous, passengers going to two different segments can be kept separate. This capability could serve two competing companies located in the same building who do not want employees riding together in case sensitive information is discussed.
Seamless entry:
Seamless entry allows riders to use a security card and automatically have their primary destination entered into the DD system. Note that seamless entry must be part of a third-party access control system integration.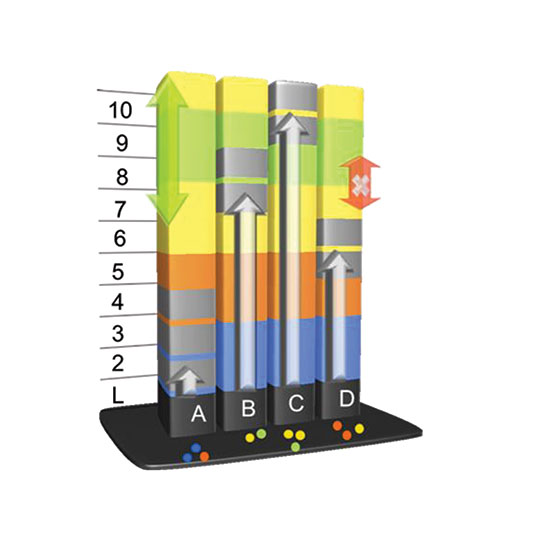 DD can restrict travel between floor segments.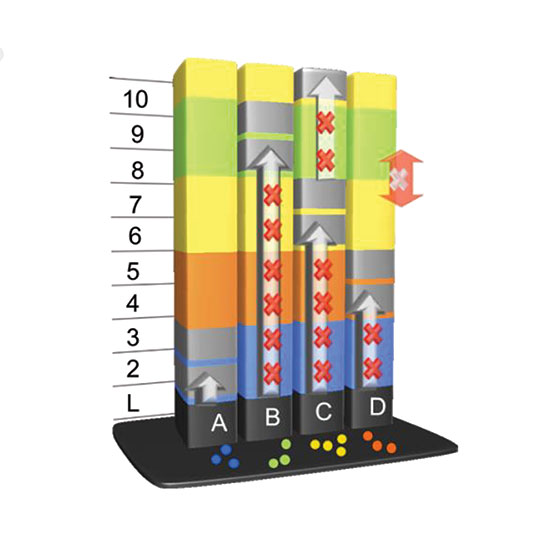 Passengers going to two different segments of restricted floors will not be placed in the same car.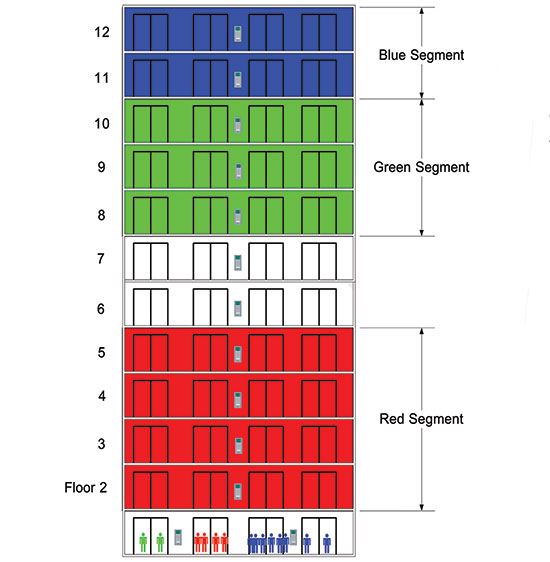 Images courtesy of Otis Elevator Company
Example of restricted interfloor matrix defined by tenants needs. Passengers can travel from the lobby to their designated colored floor segment. Once on a green floor, they can travel to another green floor, but not to a blue or red floor.
Originally published in Architectural Record.
Originally published in October 2015
Notice