Destination Dispatch Elevator Systems Benefit Passengers, Building Owners, and Design Professionals
Increased elevator handling capacity, enhanced tenant satisfaction, and improved energy efficiencies are among the many advantages of elevator destination dispatch management.
Sponsored by Otis Elevator Company
This test is no longer available for credit
Up/down button system
With a traditional up/down button system, elevators are randomly assigned for passengers. This results in disorganized travel paths since passengers are not grouped by floor. Elevators make many stops per trip. One elevator may stop at widely separated floors or multiple elevators might stop at the same floor. Also passengers can wait a long time for elevators.
Conventional DD systems
A conventional destination management assigns passengers going to the same destination to the same elevator. Elevators stop at fewer floors, but two elevators may still have overlapping stops. Passengers wait less, but can experience a long wait.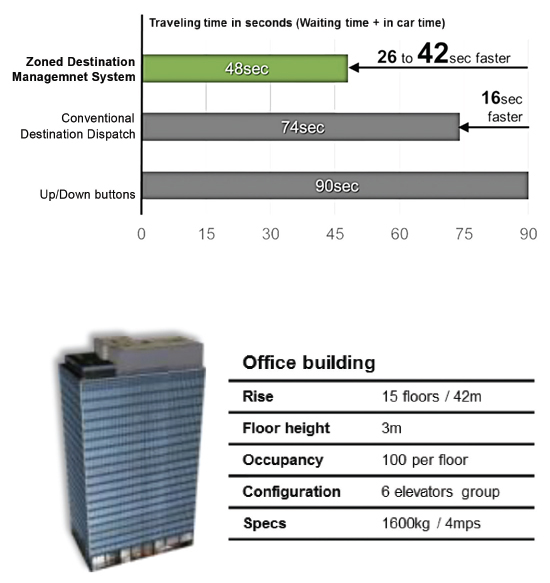 An office building case study found that a zoned DD system reduces travel time (wait time plus car time) getting passengers to their destinations faster than conventional DD and up/down systems.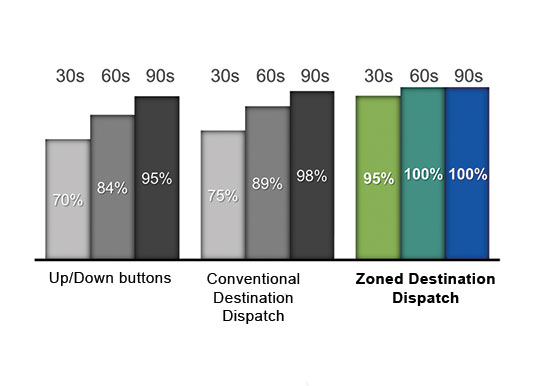 Images courtesy of Otis Elevator Company
The graph shows the percent of calls answered within 30, 60, and 90 seconds respectively.
Zoned DD
Compared with a conventional DD system, zoned DD systems are faster. One leading elevator manufacturer's case study found that zoned DD got passengers to their destinations almost 50 percent faster than a conventional DD system.
Reduced wait times
A zoned DD system also improves passenger experience by focusing not only on short wait times, but on reducing long wait times. Typically, the loudest passenger complaints are generated by the small percentage waiting longer than 90 seconds for an elevator.
Reduced energy consumption
Zoned DD systems also reduce energy usage by using heavy and light traffic algorithms and grouping floors so that elevators use the least amount of energy. By matching resources to demand, they avoid wasting energy. When the passenger traffic is light, the zoned DD system automatically moves some elevators to standby. During peak periods the system continuously adapts elevator service zones to traffic demands. Algorithms match "up" and "down" stops, group stops at nearby floors, and create more express runs so that elevators can reach maximum speed and make minimum stops. Fixtures automatically transition to sleep mode when they are not used for a pre-set time interval.
Design professionals should be aware that there are no uniform protocols for comparing energy usage among different manufacturers' DD systems. Since energy usage of DD controllers and terminals varies according to different products, it is suggested therefore, that design professionals evaluate features of the different systems.
Energy-saving features of a zoned DD system can help buildings achieve Building Research Establishment Environmental Assessment Method (BREEAM) certification and Leadership in Energy and Environmental Design (LEED) certification points.
They have also integrated passenger dispatching with security, building systems and concierge tenant requirements.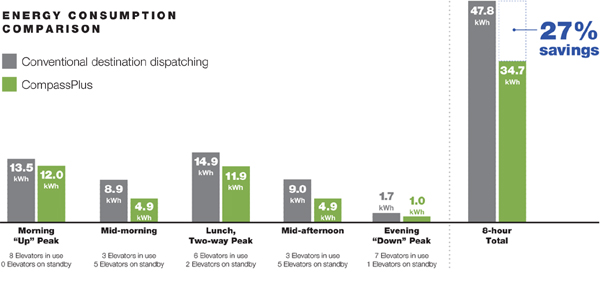 Image courtesy of Otis Elevator Company
One analysis found that over eight hours, a zoned DD system used 34.7KWh compared with 47.8KWh used by a conventional DD system, a savings of 27 percent.
Originally published in Architectural Record.
Originally published in October 2015
Notice