Destination Dispatch Elevator Systems Benefit Passengers, Building Owners, and Design Professionals
Increased elevator handling capacity, enhanced tenant satisfaction, and improved energy efficiencies are among the many advantages of elevator destination dispatch management.
Sponsored by Otis Elevator Company
Learning Objectives:
Explain how energy-saving elevator destination dispatching works.
Identify the environmental advantages of destination dispatch compared with conventional elevator systems.
Discuss how design professionals, owners and tenants can benefit from a destination dispatch elevator system.
Explore the safety and efficiency advantages of adopting destination dispatch systems for different building types.
Credits:
This course can be self-reported to the AIBC, as per their CE Guidelines.
This course is approved as a Structured Course
This course can be self-reported to the AANB, as per their CE Guidelines
Approved for structured learning
Approved for Core Learning
This course can be self-reported to the NLAA
Course may qualify for Learning Hours with NWTAA
Course eligible for OAA Learning Hours
This course is approved as a core course
This course can be self-reported for Learning Units to the Architectural Institute of British Columbia
This test is no longer available for credit
Elevators play an increasingly significant role in today's smart buildings. Their capacity for communication and integration with other building systems—such as heating, ventilation and air conditioning (HVAC), security and fire safety—improves building performance, sustainability, and efficiency. Developments in elevator technology, namely destination dispatching systems that load passengers according to their destination, move people faster, reduce energy consumption, and are customizable in terms of security, function, and aesthetics. Moreover, they have added a unique feature to the smart building—that of enhancing the customer's direct experience by offering intuitive controls that users of mobile technology have come to expect.
Another significant feature is that because destination dispatch systems use advanced software, they can potentially be installed on renovation projects without changing existing elevators. In addition, these latest elevator technologies also have the capacity to impact the design of new construction, a feature that is beginning to be appreciated by the architectural and engineering community. Not only do destination management systems enhance elevator handling capacity—defined as serving more people in less time—they offer design professionals and building owners the flexibility to reduce the size of the building core, potentially adding to usable square footage and thus increasing tenant capacity.
Destination dispatching technology has been the focus of the elevator industry for the past 20 years. First installed in Class A commercial space, it has quickly expanded to residential and mixed-use buildings, especially in urban areas, and has become the standard in most mid-rise and high-rise construction projects. In San Francisco many of the new office high-rise and elevator modernizations employ destination management. All the towers of the World Trade Center in New York City have destination dispatch elevators, a decision made in 2004.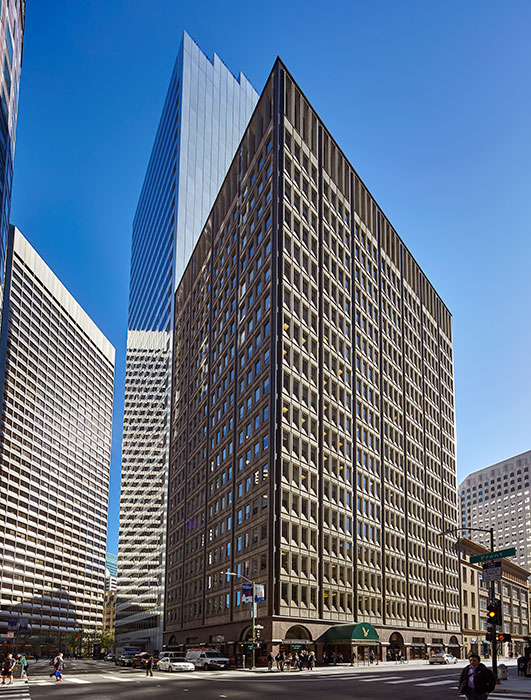 Photo courtesy of Otis Elevator Company
Many San Francisco high-rise buildings are equipped with elevator destination dispatch systems.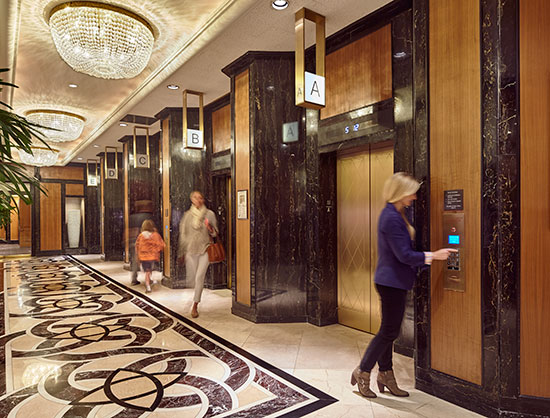 Photo courtesy of Otis Elevator Company
After passengers enter their floor destination, the screen will indicate which elevator to take.
Originally published in Architectural Record.
Originally published in October 2015
Notice