Creating Safer Spaces in Healthcare
Impacts, performance, and outcomes of rubber flooring
Sponsored by nora systems, Inc.
Connecting P4P Drivers and Rubber Flooring Attributes
Flooring affects all aspects of health, safety, and well-being in the healthcare setting. The floor is the most visible component of the space and provides the surface for all activity.
In 2012, CHD, with a number of partners, sponsored the creation of a report and checklist, "Achieving Evidence-Based Design Goals through Flooring Selection and Design," which will be referenced in this course.i
It explored industry standards and best practices related to flooring. Flooring surfaces were examined using an Evidence-Based Design approach to define how flooring can contribute to the following performance-improvement goals:
    1. Reduce slips, trips, and falls
    2. Reduce patient and staff injuries associated with falls
    3. Reduce noise levels
    4. Reduce staff fatigue
    5. Reduce surface contamination and potential risk of HAIs
    6. Improve indoor air quality (IAQ)
    7. Improve patient and family satisfaction
    8. Represent the best return on investment
Evidence-Based Design is an approach to environmental design (architectural, interior, and landscape) that aspires to base design decisions on documented research and well-established best practices, with the aim of improving outcomes. Evidence-Based Design is increasingly common in the design of healthcare facilities, where the approach has found support among healthcare administrators, many of who are familiar with the conceptually comparable notion of evidence-based medicine. Healthcare environments designed on the basis of solid research evidence are intended to improve patient safety, reduce stress, increase care delivery effectiveness, and enhance quality of care—objectives that contribute to the overarching goals of improved patient, staff, and organizational outcomes.ii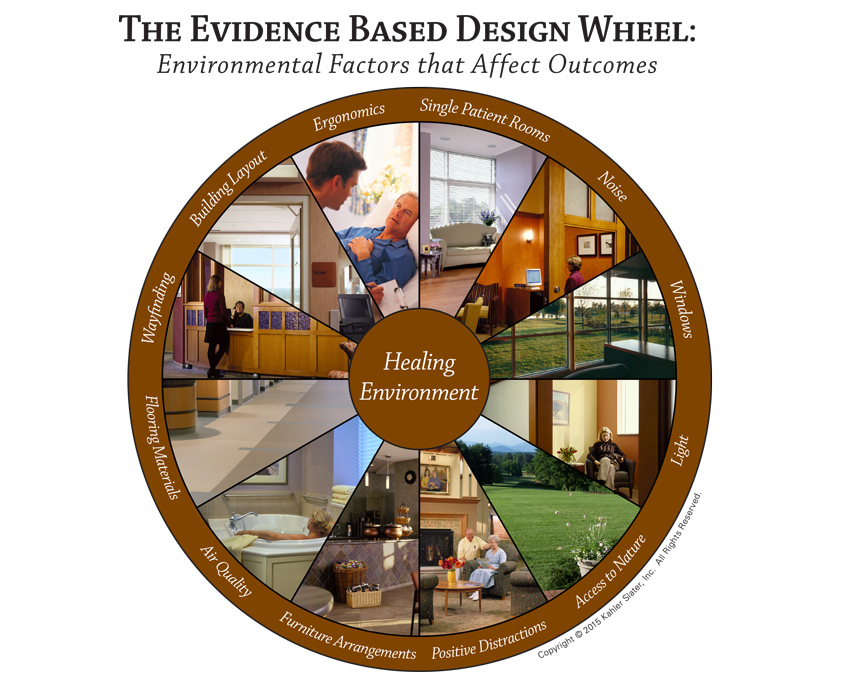 Image courtesy of Kahler Slater Architects Inc. ©2015
The product attributes of specific rubber flooring products offer actionable solutions to P4P drivers in each of these areas as discussed above. In a study conducted by the Florida Hospital - Office of Design, on the perceptions and experiences of users, specifiers, and installers of various common types of healthcare flooring, found that those interviewed for the case studies had "positive experiences to report about rubber flooring, and some of the clinical and maintenance staff had glowing praise for rubber flooring."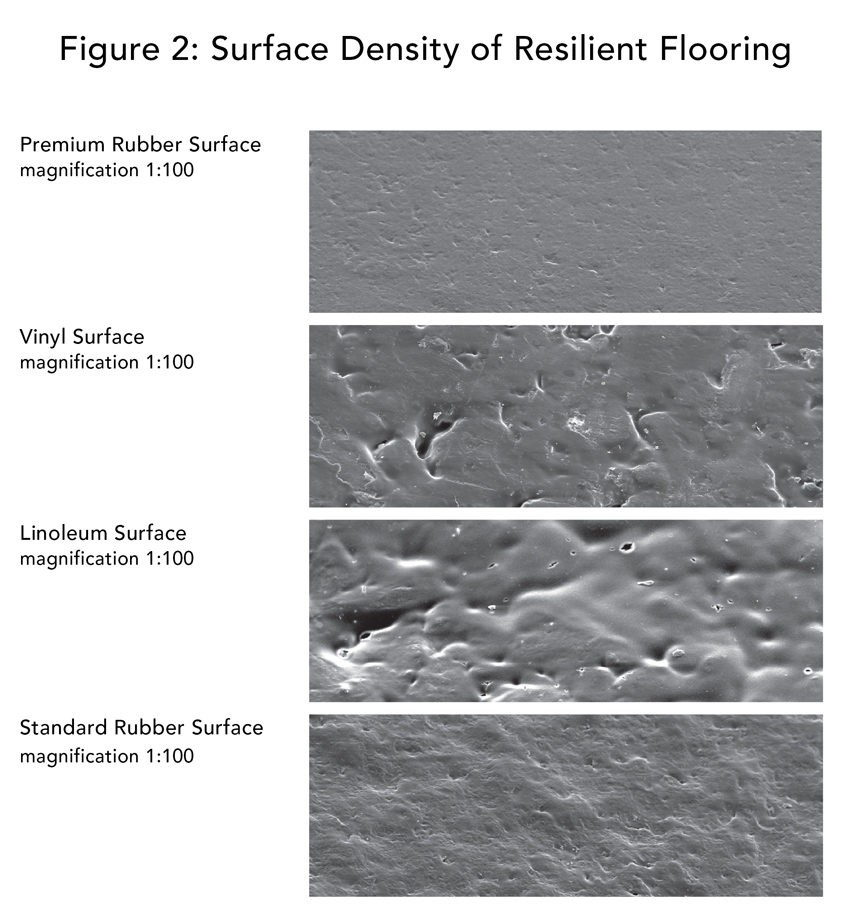 Image courtesy of nora systems, Inc.
As a performance example, if a patient room has to be turned over rapidly between patients, there may only be time to mop the floor, which is not sufficient disinfection protocol for terminal cleaning. There are specific rubber floor products where the entire patient room can be steam cleaned and dry in less than 15 minutes. Thus, making an actionable impact on clinical efficiency and patient perception as it relates to HCAHPS.
There are significant differences among rubber flooring products. The highest-quality rubber floorings have extremely dense, closed surfaces (see Figure 2 above) and are inherently dirt-repellent due to a special production process that ensures optimum material cross-linking. The advantages include reduced susceptibility to soiling, improved hygiene properties, and lower outlay for care with no need for cleaning chemicals exposed to patients and caregivers.
Surface density also has an impact on slip/trip/falls, on transportation over the surface, for example of rolling loads related to moving equipment, and on ergonomics directly related to the comfort of caregivers, staff fatigue, patient comfort and safety, and their positive perception of the environment.
There are differences in maintenance needs, as well. A common perception is that no rubber floor needs to be waxed, but some manufacturers actually require it as part of the regular maintenance cycle. Maintenance on premium rubber flooring products is to simply clean with water as there is no factory-applied finish to maintain.
As noted in the CHD Evidence-Based Design study above: "Rather than using a generalized flooring category, the design team must evaluate individual products based on their performance against each EBD goal before deciding on the right flooring material and design for a particular area. Consider the trade-offs for each product." Operational optimization, clinical efficiency, indoor air quality, and patient satisfaction are all impacted by flooring selection and de-selection.
The next sections examine specific attributes of rubber flooring products with impact on noise reduction, infection control, safety, and efficiency during operation and maintenance. Each of these drivers are key considerations when it comes to creating safer spaces in the healing environment with products that provide actionable solutions to the financial drivers surrounding P4P.
Originally published in Architectural Record
Notice