Stunning Facades with Sintered Stone
High strength and durability combine with environmental properties for excellent designs
Sponsored by Neolith by TheSize
This test is no longer available for credit
Green Building Contributions of Sintered Stone Facades
Regardless of the means used to incorporate sintered stone into facades, there are a number of green building and sustainable design contributions that they make. Some of these are fairly straightforward to document using LEED v4 criteria due to their inherent properties and characteristics. These include the following.
Materials and Resources
When looking at a life-cycle assessment (LCA) for sintered stone, several traits help produce very favorable results. First, they are made from 100 percent natural materials (clays, feldspar, silica, natural mineral oxides) that can be sustainably mined and processed. More notably, up to 52 percent of any sintered stone slab can be composed of recycled materials, thus reducing the need dramatically for new materials. From a transportation view, its light weight and standard sizing mean more efficiency and less energy used in transportation. As a long-lasting, durable product that resists UV, weather, and needs little maintenance, it will not likely need to be replaced during the life of the building, creating a very sustainable facade. Further, if it is exposed to fire or high temperatures, it will not emit toxic fumes into the air. At the end of its service life, sintered stone is 100 percent recyclable by reclaiming and reusing the panels or reducing it back to its aggregates.
Indoor Environmental Quality
In cases where sintered stone continues into indoor spaces, indoor environmental quality can be enhanced in several ways. With its near-zero porosity, sintered stone is impervious to absorption, making it a hygienic material that is resistant to bacteria, mold growth, and other moisture-related concerns. Further, since no paints or coatings are needed, there are no VOCs present to emit toxicity into the air. Simplified maintenance also means fewer cleaners and chemicals are needed during building operations.
Exterior Environmental Innovation
As mentioned earlier, there is a significant new coating process available that is being used on sintered stone to reduce outdoor air pollution. The coating uses an additive with titanium dioxide in a nanoparticle-based treatment that can be specified and baked-in during the manufacture of the sintered stone slabs. This treatment provides the ability to actually clean and decontaminate the air around it by destroying airborne contaminants and facilitating the use of rainwater for cleaning.
The concept behind this coating treatment is based on the recognition that building facades become dirty and full of contaminating agents such as nitrogen dioxide that are carried through the outdoor air and accumulate on the surface. The treatment uses the process of photocatalysis in an ongoing chemical reaction between the added titanium dioxide and sunlight falling onto the facade. When sunlight (or some LED lights) shine on the surface, the titanium dioxide particles are activated using the light energy to transform moisture in the air into oxidizing agents. This destroys nitrogen dioxide particles and other contaminant compounds and chemically transforms them into harmless water vapor and salt. This photocatalysis process is repeated millions of times per second until all contaminants are destroyed, meaning the surface is constantly being self-treated and cleaned.
The nanotechnology used for this treatment also creates an exceptionally smooth surface based on super-hydrophilicity properties. That means it causes water to expand across the surface evenly when it rains, allowing water to drag and remove any dirt or other particles. As the water drains away, it leaves the surface completely clean without any water marks. This reduces or even eliminates the need for exterior building cleaning and the use of harmful cleaners.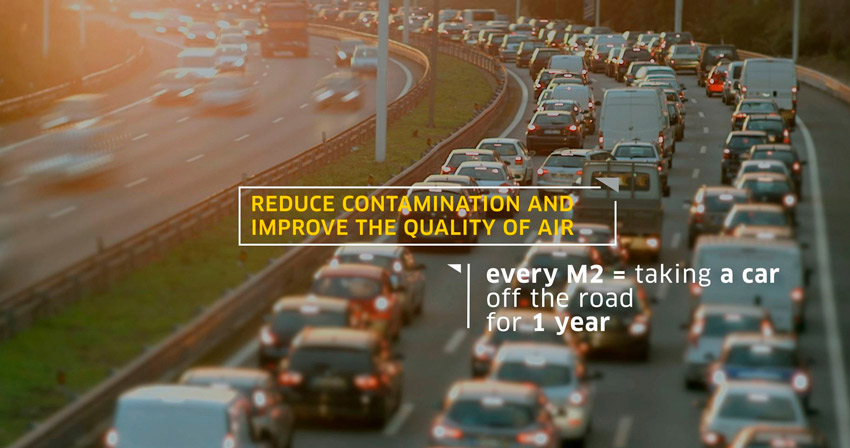 Titanium oxide coatings used in sintered stone panel facades can make dramatic improvements in air quality around the building.
Overall, the effects of every square meter (10.7 square feet) of titanium oxide-treated facade reduces air contaminants at the same equivalency as taking one automobile off of the road for one year. Four square meters (43 square feet) have the same air-cleaning effect as one mature tree that absorbs and processes CO2 and other contaminants through photosynthesis. Recognizing the significance of these dramatic effects, this treatment process has won awards in the United States and Europe. It has also been used successfully on glass and other materials as well, boosting the surface area of the facade that can help buildings innovatively solve air pollution problems.
Specifying Quality Control
When specifying sintered stone for facades, there are of course numerous choices and specification details to pay attention to. Coordination with manufacturers during the design phases of a project will help gain insight into details, cost drivers, installation requirements, and finish options. However, the November 2017 release of updated standards that apply to sintered stone can help define quality for the products selected and specified.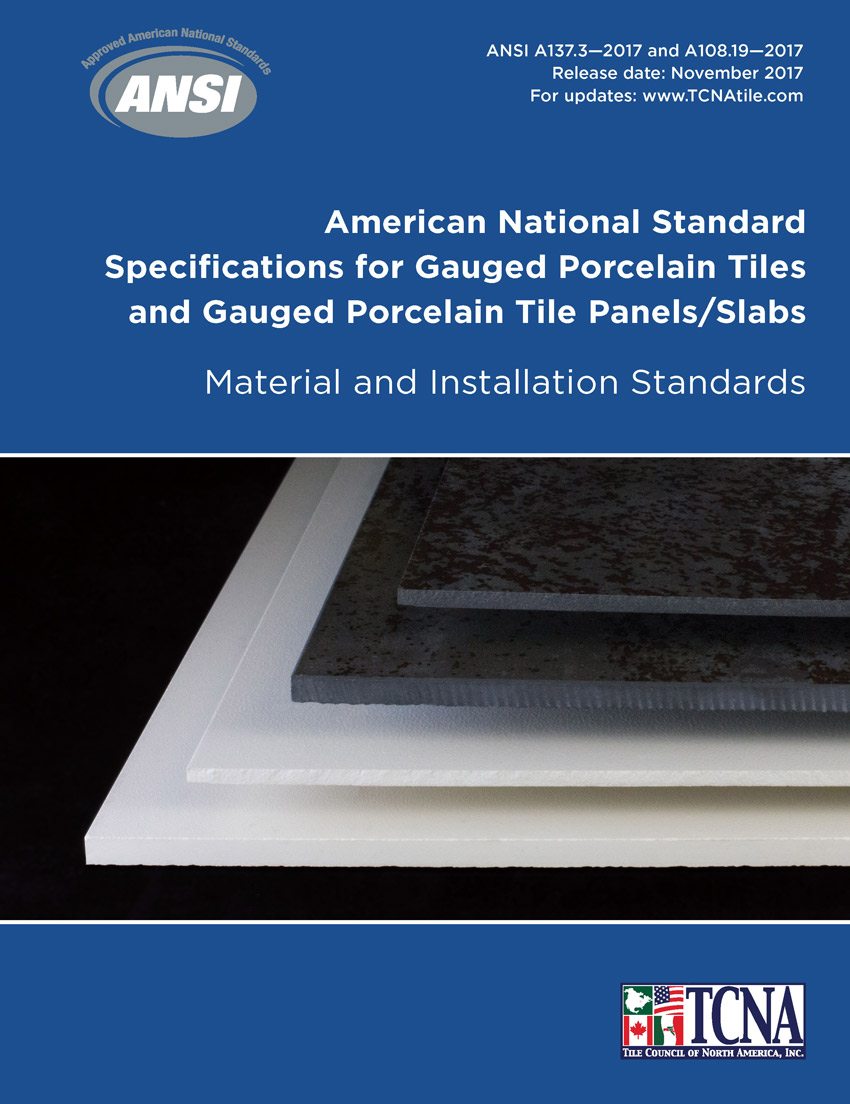 New TCNA/ANSI standards help define quality control for sintered stone slabs and panels.
The standard was jointly developed between Tile Council of North America (TCNA) and the American National Standards Institute (ANSI). It is a combined publication known as ANSI A137.3—2017 and A108.19—2017: American National Standard Specifications for Gauged Porcelain Tile and Gauged Porcelain Tile Panels/Slabs (Material and Installation Standards). While the tile suggests it is only applicable to porcelain tile, the reality is that it has become the go to standard for sintered stone panels as well. It begins by describing the minimum physical properties and grading procedures for gauged panels and slabs. Gauged means manufactured to a thickness that is specific and largely associated with its installation and use. Panels/slabs are defined as those that are 1 square meter (10.7 square feet) in facial area or larger. This standard provides quality criteria for buyers, specifiers, installers, manufacturers, and the public in general.
Some of the key issues addressed by this standard include:
Strength criteria for gauged products for different applications
Thickness accuracy and precision criteria
Provisions for sampling and visual inspection, considering panels/slabs can be very large
Wall installation procedures
Substrate requirements
Lippage criteria and use of lippage control systems (Lippage refers to differences in elevation between edges of adjacent tile modules.)
Unique coverage criteria and evaluation procedures
By specifying sintered stone panels and slabs to meet these standards, quality can be assured when they are used on building facades.
Originally published in Architectural Record
Originally published in May 2018
Notice