Dramatic, Durable Interiors Using Sintered Stone
Large-format panels create beautiful and long-lasting vertical and horizontal surfaces
Sponsored by Neolith by TheSize
This test is no longer available for credit
Green Building Contributions of Sintered Stone
Any product used in building construction is usually scrutinized for its ability to contribute to green building design. Sintered stone has also been looked at in this regard with favorable reviews.
In terms of materials and resources considerations, you will recall that sintered stone is 100 percent natural. Made of minerals, clays, feldspar, silica, and natural mineral pigments, sintered stone will not emit toxic fumes into the environment when exposed to fire or extremely high temperatures. Since it is a natural composition, it is both fully recyclable and can be made from recycled products. In fact, it is common to find that up to 52 percent of sintered stone is made up of recycled natural content.
Indoor environmental quality can also be enhanced when using sintered stone as a finish material. With a porosity of less than 0.09 percent, sintered stone is impervious to absorption and therefore does not contribute to problems associated with water penetration, such as mold, mildew, or other issues. This low porosity also makes it a hygienic material that is resistant to bacteria growth that can cause disease and trigger allergies. From a finishing standpoint, the lack of any paintings or coatings being needed means that the potentially harmful effects of volatile organic compounds (VOCs) often found in those paintings or coatings are eliminated. Overall, it is both environmentally neutral in terms of the effects on people and preventive in terms of the things that it helps avoid.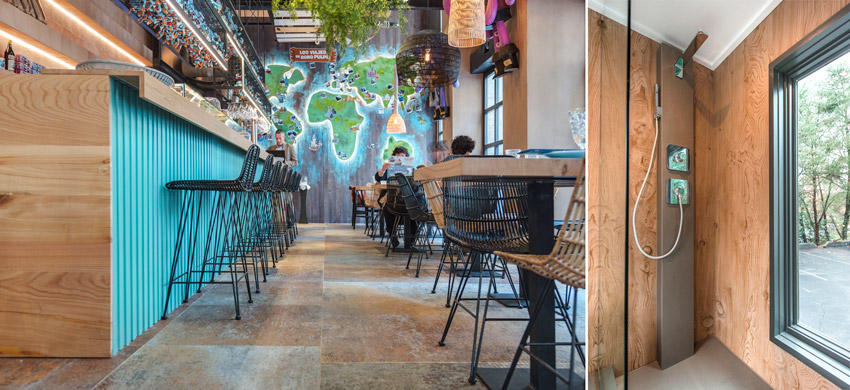 Designs with a focus on green building can use sintered stone panels for a variety of interior surfaces to help achieve sustainability goals.
Specifying Sintered Stone for Interiors
When specifying sintered stone surfaces, there are numerous choices and specification details to pay attention to, not only for the stone itself but also for the installation materials. Coordination with manufacturers during the design phases of a project will help gain insight into details, cost drivers, installation requirements, and finish options. While there isn't a standard Master Format specification section number for sintered stone at the moment, it can commonly be included in Section 09 30 00 for Tile and Stone Installation Materials and Systems. Alternatively, it can be used in Section 09 62 00 for Specialty Flooring or Section 09 70 00 for Wall Finishes. Some of the relevant items to address in a standard three-part specification format are highlighted as follows.
Part 1: General
The scope of the specified work can include all preparation work, substrate preparation, sintered stone product choices, thinset adhesive, grout, and final installation. In determining quality control for the sintered stone products, the following standards can be referenced:
ASTM C1028: Static Coefficient of Friction of Ceramic Tile and Other Like Surfaces by the Horizontal Dynamometer Pull-Meter Method
DIN 51094: Ceramic Tiles – Testing of the Light Fastness and Colour Fastness of Ceramic Tiles for Walls and Floors
DIN EN 13823: Reaction to Fire Tests for Building Products – Building Products Excluding Floorings Exposed to the Thermal Attack by a Single Burning Item
ASTM C373: Water Absorption, Bulk Density, Apparent Porosity, and Apparent Specific Gravity of Fired Whiteware Products
ASTM E119: Fire Tests of Building Construction and Materials
NSF 51: Food Equipment Materials
Kosher certification (where required)
Greenguard: UL Environmental (where green building products are desired)
The thinset and grout quality control standards that can be referenced include:
American National Standards Institute (ANSI)
A-118.4: Polymer Modified Portland Cement Mortar
A-118.11: EGP Latex Portland Cement Mortar
A-118.12: Crack Isolation Membrane
A-118.7: High-Performance Cement Grouts for Tile Installation
A-108.01: General Requirements for Subsurfaces and Preparations by Other Trades
A-108.10: Installation of Grout in Tilework
A-108.5: Installation of Ceramic Tile with Latex Thinset Mortar
A-108.17: Installation of Crack Isolation Membrane
Tile Council of North America Inc.
Handbook for Ceramic Tile Installation
International Standards Organisation (ISO)
ISO 13007: Ceramic Tile-Grouts & Adhesives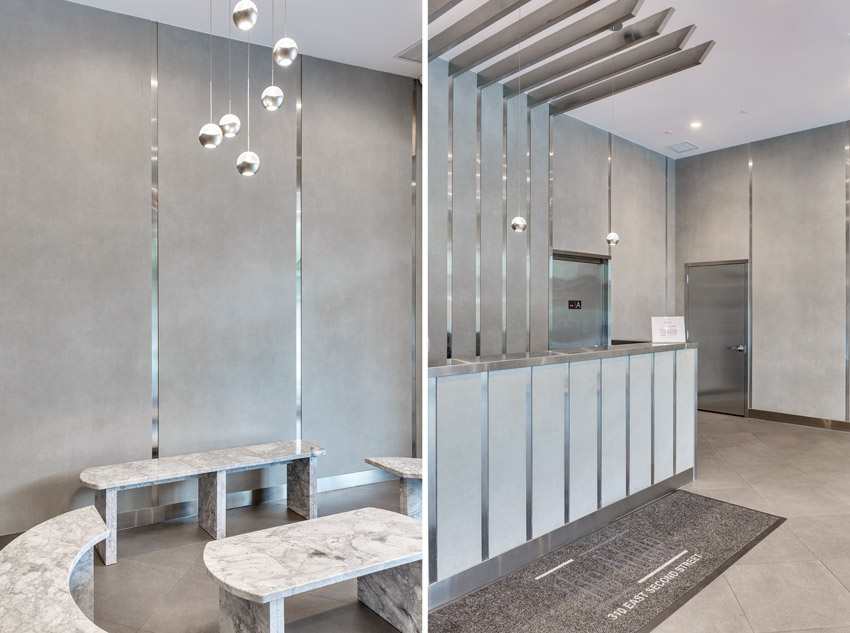 Sintered stone can be specified to suit a variety of locations and applications, such as this New York City office building.
Submittals for sintered stone should include the usual manufacturers' data and information plus any recommended maintenance and cleaning information to be passed on to the building owner/operators. Samples of the different stone products specified may also be requested for verification of color and texture. For thinset adhesives and grouts, manufacturers' product data and installation instructions for each product specified should be submitted, including material safety data sheets (MSDS) where relevant.
Quality assurance is clearly an important part of any field installed system, and the same is true here. Because of the nature of the installation work, it is reasonable to request installer qualifications for the team doing the on-site work. Protecting products and materials at the site is always important, particularly ensuring that the sintered stone panels are properly supported and all adhesive and grout materials are protectively stored. In terms of warranties, both sintered stone and adhesive/grout systems are available with up to a 10-year warranty.
Part 2: Products
All of the relevant products used in the building should be called out and specified, whether for flooring, wall, or other applications. Each sintered stone product and the mounting details should be identified by type in the specifications and shown on the drawings. The details of the specified products can include:
specific performance requirements. Manufacturer's literature should be consulted for this as with any finish product.
the size(s) of panels being specified (coordinated with drawings for locations).
the specific color(s) and finish or finishes being specified, such as matte, glazed, textured, or gloss polished, all as coordinated on schedules or the drawings for locations. Note that custom finishes and colors are possible with some manufacturers depending on the quantity needed.
For the materials used to install the sintered stone, the following should also be specified:
subfloor preparation materials, commonly Portland cement based.
waterproofing and crack isolation membrane where required based on building type and use.
wall substrate materials, commonly a cement-based or some gypsum-based backer boards.
thinset mortar or adhesive with distinctions made in performance for reduced slip in vertical applications compared to horizontal applications.
grout that is based on fine cementitious products with performance and appearance characteristics selected, including color (either to match sintered stone color or to contrast).
silicone sealant when needed for assuring water sealing.
In addition, the particular finishing and fabrication details of the products should be specified. In particular, if any fabrication details are needed at the production plant, they should be clearly identified and specified for the particular product. Site fabrication tolerances should be specified along with any other critical parameters.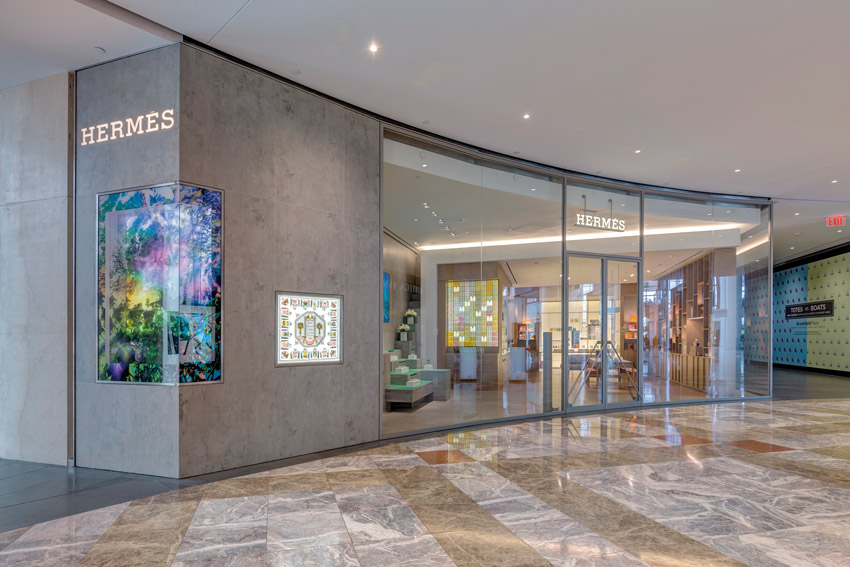 Specifying the proper sintered stone products includes specifying the thinset materials and products that are used to keep it in place.
Part 3: Execution
As with any finish product, the installation requires multiple steps that need to be clearly articulated in the specification to receive the best results.
Examination and preparation: The importance of this work should be stressed. In addition to the architect, the installer should review and examine the substrate for conditions affecting the performance of the sintered stone. Any issues will need to be corrected if they are found to be out of compliance with the requirements of the specifications. In the case of flooring, a self-leveling underlayment may be needed. Similarly, any waterproofing or crack-isolation membranes need to be installed and cured or dried. Ultimately, the goal is to provide a substrate surface that has been prepared to an acceptable level and able to minimize any out-of-plumb or out-of-level conditions.
Installation procedure: With the substrate readied, sintered stone should be installed per manufacturers' recommendations for specific applications.


Panel layout: The sintered stone panels should be laid out according to the drawings to achieve the intended appearance. Any use of end-match or book-match patterns should be clearly identified.


Adhesion: Thinset mortar or adhesive should be applied to both the substrate and the sintered stone in a "double-buttering" method to assure full adhesion. Temporary clips and surface leveling systems can be called for to create a uniform, flush condition across panels.


Joint filling: Grout or other fillers should be called out for installation based on the manufacturer's instructions and recommendations for the specified products.


Cleaning: After the grout is installed, the panels should be cleaned with a damp cloth to remove any excess grout, sealants, or other contaminants.


Protection: Once applied, sintered stone wall and floor surfaces should not need much protection from normal pedestrian traffic. However, if construction equipment and machinery is to be moved over it or near it, then appropriate protection with plywood or similar products is prudent to prevent any potential damage.
When specified and installed correctly, sintered stone surfaces can work quite well with other construction systems and create the overall look and performance that is intended.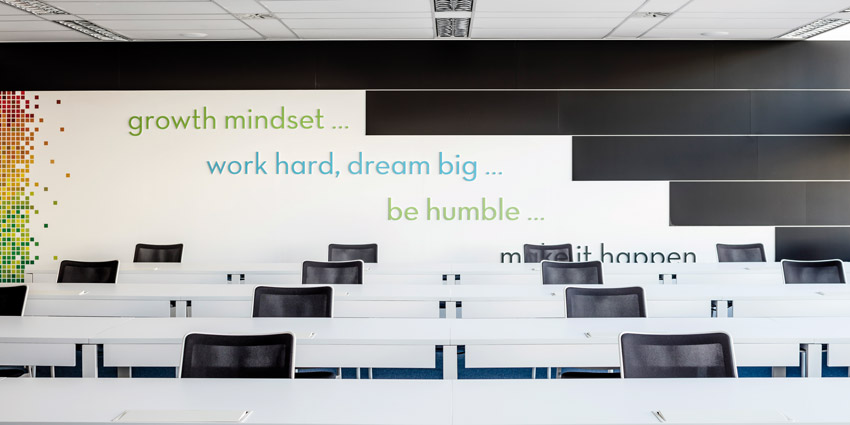 Installation of sintered stone relies on qualified installers and good coordination of specifications and drawings for properly executed designs.
Notice