Understanding Anchorage Systems for Natural Stone Cladding
Knowing how anchorage systems work, their main components, and the difference in system types is critical for designing and engineering a natural stone cladding system
Sponsored by Natural Stone Institute

1 AIA LU/HSW; 1 IDCEC CEU/HSW; 0.1 IACET CEU*; 1 AIBD P-CE; AAA 1 Structured Learning Hour; This course can be self-reported to the AANB, as per their CE Guidelines; AAPEI 1 Structured Learning Hour; This course can be self-reported to the AIBC, as per their CE Guidelines.; MAA 1 Structured Learning Hour; This course can be self-reported to the NLAA.; This course can be self-reported to the NSAA; NWTAA 1 Structured Learning Hour; OAA 1 Learning Hour; SAA 1 Hour of Core Learning
Learning Objectives:
Discuss the main external forces that affect natural stone cladding, and explain why anchorage systems are needed to create a durable installation.
Describe the three elements of a natural stone anchorage system that ensure a safe and long-lasting exterior cladding installation and that can support sustainable building practices.
List the various types of natural stone anchorage systems available.
Explain the importance of proper fill used around the anchorage embedments to ensure a durable and sustainable exterior cladding system.
This course is part of the Natural Stone Academy
This course is part of the Natural Stone Academy
One of the greenest building materials available is natural stone, especially when sustainable extraction practices are considered. The material itself is taken straight out of the earth from quarries. From there, it is cut to size, finished, and installed as everything from countertops and flooring to fireplace mantles, backsplashes, walkways, garden walls, and exterior cladding. Stone is low maintenance, easy to clean, and can offer a long lifetime of protection, beauty, and service, making it an ideal material for green building projects. Dimension stone is natural rock that has been quarried in prespecified block or slab sizes and finished to certain specifications and requirements.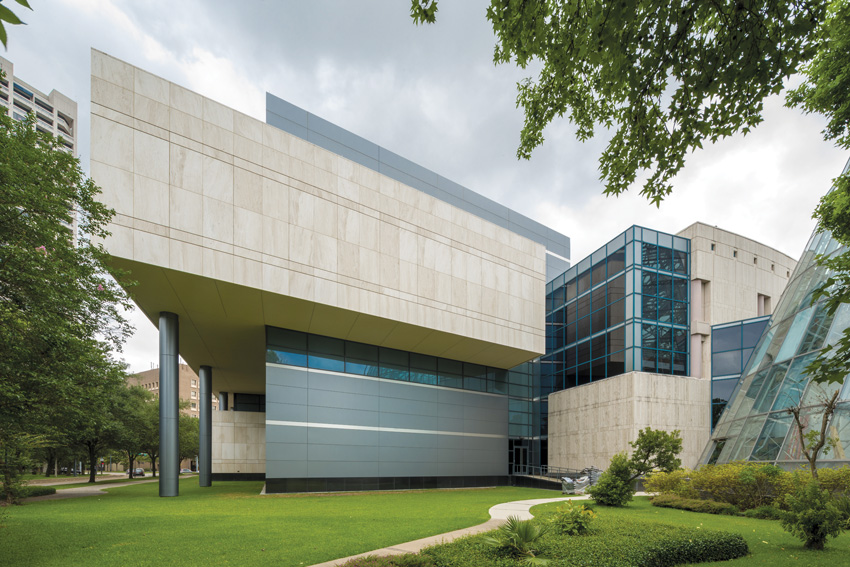 All images courtesy of MIA+BSI: The Natural Stone Institute
Houston Museum of Natural Science
Exterior cladding made from natural stone can offer both an aesthetic beauty and sustainable surface to the building, and the anchorage system holding the material in place is a critical feature.
Introduction to Natural Stone and Anchorage Systems
Today, one ideal use for natural stone is in exterior cladding. Whether it is used to help reduce a building's heat island effect in a hot and dry climate, or to provide a water- and freeze-resistant exterior in a colder climate, exterior stone cladding is versatile and appealing. The raw and authentic appeal of stone lends itself to bold and interesting design options, while also satisfying the structural needs of the building.
Natural stone cladding requires a safe, secure, and durable anchoring system. When used as a cladding, the weight of the stone is subject to several forces that it must be able to resist—namely gravity, wind pressure, and seismic loads. To ensure a safe and durable stone cladding project, architects need to understand how natural stone anchorage systems work, what key components are involved, and how to work with engineers and installers.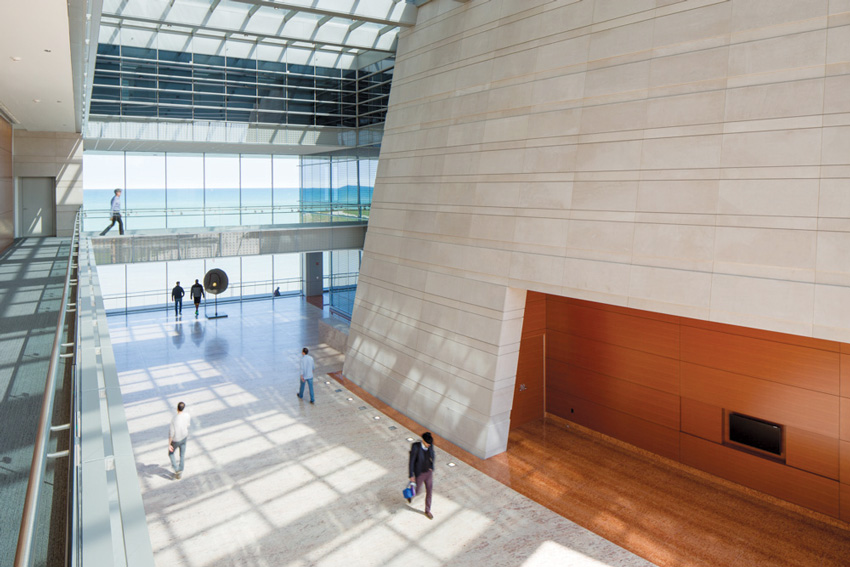 Northwestern University Bienen School of Music, Evanston, Illinois
Whether inside in a protected environment or outside, the forces of nature are constantly working against cladding, making anchorage systems a critical safety and sustainable element of design.
Forces that Impact Natural Stone Anchorage Systems
Forces such as gravity, wind load, and seismic activity all can negatively impact natural stone cladding and anchorage systems if the building team does not consider the potential impact of these forces. One of the best ways to ensure success is to hire an accredited stone installer to work with the project's structural engineer and architect. These team members are better suited for understanding the specific needs of the anchorage system and can ensure the final product remains structurally sound for years to come.
With that in mind, let's take a look at how nature impacts stone cladding, and how choosing natural stone as a cladding material inherently brings strength and durability to a project.
The Inherent Qualities of Natural Stone
As a natural product, stone is inherently eco-friendly. While it needs to be cut and finished, the material itself is "ready made" right out of the earth. Stone is naturally very strong, durable, and easy to maintain. When best practices are used for extraction and manufacturing, natural stone is considered one of the most sustainable products available.
As a dense, strong, and durable product, natural stone works well as an exterior cladding. However, in order for the cladding to be safe and secure, it needs to literally be safely secured to the building structure by anchorage systems that can withstand the forces that impact natural stone cladding.
This test is no longer available for credit
Originally published in Architectural Record
Originally published in December 2016
Notice