Natural Stone Quarry Operations
Sponsored by Natural Stone Institute

1 AIA LU/HSW; 0.1 IACET CEU*; 1 AIBD P-CE; AAA 1 Structured Learning Hour; This course can be self-reported to the AANB, as per their CE Guidelines; AAPEI 1 Structured Learning Hour; This course can be self-reported to the AIBC, as per their CE Guidelines.; MAA 1 Structured Learning Hour; This course can be self-reported to the NLAA.; This course can be self-reported to the NSAA; NWTAA 1 Structured Learning Hour; OAA 1 Learning Hour; SAA 1 Hour of Core Learning
Learning Objectives:
Learn about the geological formation of marble, granite, and quartzite through specific examples of three domestic stones.
Find out what metrics the natural stone industry uses to define environmental stewardship and what quarries are doing to ensure responsibility for how their operations impact human health and well-being.
Celebrate landmark applications of natural stone where the legacy of these quarries will last lifetimes.
Debunk confusion about the land impacts of quarry operations by understanding the substantial lifetime output and relatively small carbon footprint of a quarry operation.
This course is part of the Natural Stone Academy
This course is part of the The Natural Stone Academy
Below are a set of links to building type studies from Architectural Record, which are in-depth analyses of particular kinds of buildings, with photos, drawings, specifications, detailed descriptions, and design solutions. Click on each link below, read the article then complete the quiz to earn your credit and certificate of completion.
Take a peek inside the operations of three domestic natural stone quarries to learn about their products, applications, and sustainability. Each quarry has its own legacy that starts with the geological formation, continues with the influential people who played a role in getting the material to market, and ending with landmark projects where its stone will live on indefinitely. This course will also showcase the environmental and ecological responsibility of the stone industry and what each quarry is doing to ensure the health and well-being of its workers, occupants of the buildings the material is installed in, and the earth.
Featured Articles:
Colorado Marble: American Stone Meets Italian Tradition At first, the Colorado Stone Quarry seems like an unlikely prospect. It's perched at 10,000 feet above sea level in exquisitely rugged terrain. The nearest town boasts a population of 144 people. The 3-mile, gravel road leading to the quarry climbs over 1100 feet through prime avalanche terrain, and plumes of snow sweep across the road with some regularity in wintertime.
Rocky Mountain Quartzite: An Iconic Stone from the American West The story of Rocky Mountain Quartzite is a classic American success story that brings together all the necessary elements: favorable geology, a product that could distinguish itself from others, and a business plan and workforce that could develop the company to its full potential
Stony Creek Granite: Bedrock of America Every block of stone holds a story. Not just in its geologic past, but also in the ways that stone becomes part of human history. In 1886 the Statue of Liberty presided over New York harbor to greet waves of immigrants earnest for their chance to pursue the American dream. Lady Liberty stands on a pedestal built from American granite quarried 80 miles away, off Long Island Sound. The stone is from Branford Connecticut, which was home to more than a dozen quarries and a workforce of skilled stonemasons and quarriers from around the world. Families from Italy, Sweden, Germany, England, Ireland, Scotland, and Finland settled in Connecticut to work in the dusty, noisy, and prosperous quarries. These immigrants built the very foundation of one of the defining symbols of America, which in turn welcomed thousands of new immigrants to American shores.
Stone Sustainability Standard Looking for Sustainable Building Products? Stone Certification Ensures Environmental Stewardship. While the standard was established in 2014, sustainability is not a novel concept in the stone industry. Natural stone has always been an environmentally preferable material. With minimal processing, natural stone contains a lower embodied energy than almost any material it replaces. It's one of nature's oldest, longest-lasting and most permanent building materials. What's more, environmentally responsible practices have been in place for years at many quarrying and fabricating operations. Numerous companies in the stone industry have a long history of good stewardship of the land and the material production process.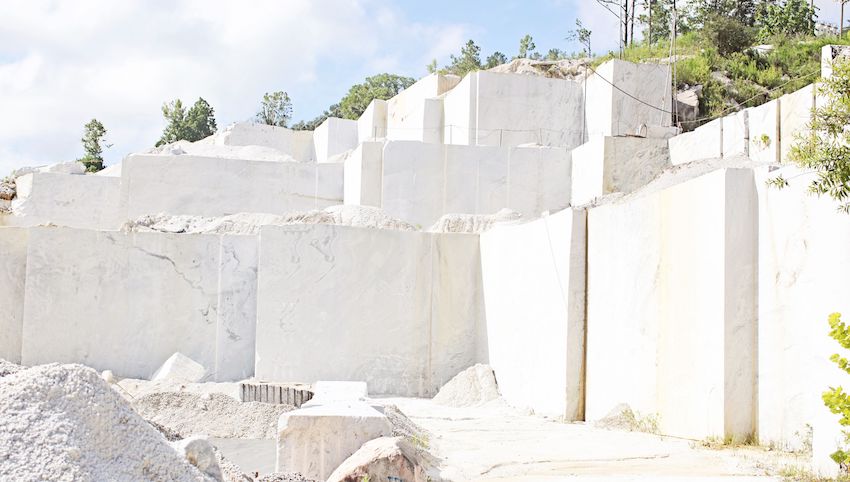 Photo courtesy of Polycor
Georgia Marble Quarry
This test is no longer available for credit
| | |
| --- | --- |
| | The Natural Stone Institute offers a wide array of technical and training resources, professional development, regulatory advocacy, and networking events for the natural stone industry. Learn more at www.naturalstoneinstitute.org/stoneacademy. |
Originally published in April 2021
Notice