Mother Nature's Green Building Material
The new sustainable stone standard (ANSI/NSC 373) will transform the material selection of natural stone
Sponsored by Natural Stone Institute

1 AIA LU/HSW; 0.1 IACET CEU*; 1 AIBD P-CE; 1 LFA CEU; 1 PDH, LA CES/HSW; AAA 1 Structured Learning Hour; This course can be self-reported to the AANB, as per their CE Guidelines; AAPEI 1 Structured Learning Hour; This course can be self-reported to the AIBC, as per their CE Guidelines.; MAA 1 Structured Learning Hour; This course can be self-reported to the NLAA.; This course can be self-reported to the NSAA; NWTAA 1 Structured Learning Hour; OAA 1 Learning Hour; SAA 1 Hour of Core Learning
Learning Objectives:
List the components of a new sustainable certification standard ANSI/NSC 373, which provides a life-cycle analysis (LCA) for dimensional stone products.
Define the various components of an LCA.
Discuss how compliance to ANSI/NSC 373's national and international requirements for environmental, ecological, human health, and social responsibility in stone quarrying and production satisfies the growing demand for sustainable product declarations.
Describe how the components of ANSI/NSC 373 are aligned with green building rating systems, such as LEED and the Living Building Challenge.
Explain how the Chain of Custody Standard (NSC COC) for natural stone products ensures the traceability of certified stone throughout the supply chain, from quarry to gate.
This course is part of the Natural Stone Academy
Alignment With Green Building Programs
Leaders in the stone industry reached out to a variety of green building rating systems to obtain their feedback on ANSI/NSC 373. Connections were made with key contacts at International Living Future Institute (ILFI), USGBC, Green Globes, and the International Green Construction Code. There are many ways that this new certification of natural stone products can be embedded into credits achieved in the programs. As an example, certified natural stone products align with the Materials and Resources section of LEED or the Responsible Industry within the Material Petal of the Living Building Challenge.
USGBC
The LEED Steering Committee approved certification to ANSI/NSC 373: Sustainable Production of Natural Dimensional Stone as a "USGBC-approved program" third-party verification (full credit) in Option 1 of LEED v4 BD+C and ID+C Material Resources credit Building Product Disclosure and Optimization: Sourcing of Raw Materials, provided that the facility and/or quarry operation has earned certification, including either optional credit 7.2.1 (Ecosystem Boundaries) or 7.2.2 (Environmental Impact Assessment), and has made its scorecard publicly available.
• The sourcing of raw material is defined by LEED as environmental impacts of raw material acquisition, energy use and efficiency, content of material and chemical substances, emissions to air, soil and water, and waste generation. Choosing a locally quarried natural stone product provides an additional incentive in meeting this criterion.
• Material ingredient reporting uses a wide range of programs, including cradle to cradle and health product declarations (HPDs). Since natural stone is composed of one natural ingredient, this is an industry material benefit.
All of the initiatives for water conservation, waste reduction, and energy savings in fabricating facilities can be directly applied to LEED during construction or renovation.
The International Green Construction Code (IgCC)
The International Green Construction Code (IgCC) version 2015 references NSC 373 as an approved standard for material selection. IgCC provides a regulatory framework for green commercial construction for new and existing buildings. The AIA, ASHRAE, ICC, IES, and USGBC are in the process of aligning ASHRAE Standard189.1, IgCC, and LEED. Therefore, IgCC's adoption of NSC 373 should assist in promoting the adoption of NSC 373 within LEED.
The Living Building Challenge
In addition to LEED v4, the Living Building Challenge is advocating the Sustainability Standard for Natural Dimension Stone for Living Building projects using natural stone. ANSI/NSC 373 aligns within the LBC 3.1 Material Petal in the Responsible Industry category.
According to Spanier, in addition to LEED, "Being named an approved program by the the ILFI within Responsible Sourcing of Materials is a huge accomplishment for the stone industry, and has come as the result of tremendous coordination and years of cooperation among stone industry associations, environmental experts, and additional stakeholders to further the awareness of sustainably sourced natural stone."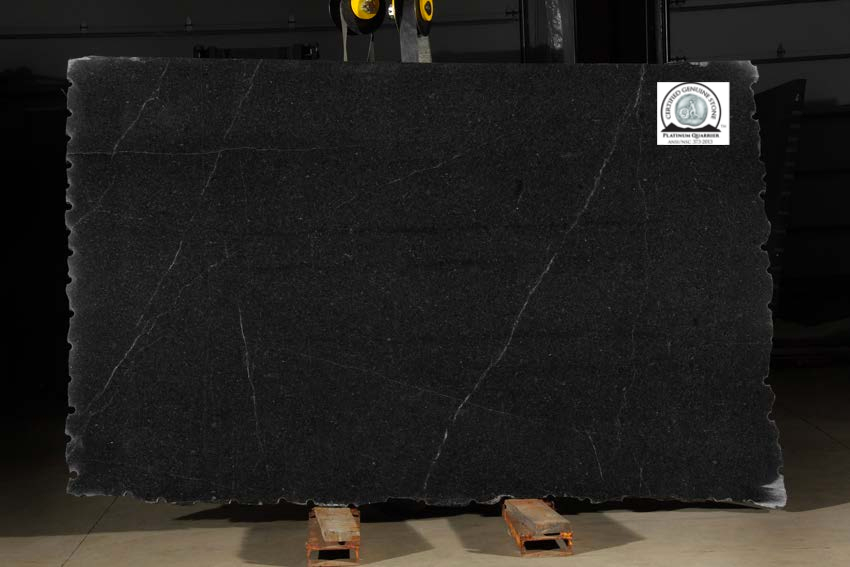 Photo courtesy of Coldspring
Natural stone with ANSI/NSC 373 certified label
Sustainable Stone
ANSI/NSC 373 is an initiative that demonstrates the sustainable leadership in the natural stone industry. This standard is a contribution to the environmental movement as a best practice for material sourcing and management. This industry has streamlined material choices for architects and design professionals who are documenting buildings for a variety of green building rating systems. As green product certifications and labels become common initiatives, a new market is being created for verifiable sustainable materials. There are currently six processing companies and 15 quarries officially certified by the standard, including:
Coldspring – One processing facility and three quarries
Delta Stone Products – One processing facility
Halquist Stone Company – One processing facility and four quarries
Stony Creek – One quarry
Michels Stone Fabrication/ABJ – One processing facility and four quarries
Mountain Valley Stone – One quarry
Northern Stone Supply, Inc. – One processing facility and one quarry
TexaStone Quarries – One processing facility and one quarry
Anjanette Green, a materials analyst at stok, an environmental building strategies firm in San Francisco, California, is an environmental consultant who has been closely watching the development of this standard. She has worked on projects throughout the United States and China. She believes that the stone industry is doing its part toward leadership in sustainability. Now, it is up to designers and architects to begin to specify these materials both at home and abroad.
"It is up to the design industry to rally around the ANSI/NSC 373 Standard and to support the quarries and fabricators participating in the effort. Using the certification program and its guidelines could serve to inspire all quarries, both domestic and abroad, to adapt more environmentally sustainable and humanely just practices."
Natural stone already provides numerous benefits as a green material. It is durable, recyclable, and produces no VOCs. The added advantage of choosing a certified product with one of the highest life-cycle assessments and chain-of-custody documentation makes the choice even easier.
END NOTES
Special thanks to the following NSC 373 Certified companies for their help with providing photos. The list of certified companies includes:
1ANSI/NSC 373: Sustainable Stone and NSC Chain of Custody. NSF International. Web. 16 March 2016. http://www.nsf.org/services/by-industry/sustainability-environment/sustainability-standards-protocols/ansi-nsc-373-sustainable-stone-nsc-chain-custody/.
2Watson, Rob. Green Building Market and Impact Report 2011. GreenBiz. Web. 16 March 2016. https://www.greenbiz.com/research/report/2011/11/07/green-building-market-and-impact-report-2011.
3Green Building Facts. 23 Feb 2015. Web. 9 March 2016. http://www.usgbc.org/articles/green-building-facts.
4BREEAM in numbers. Web. 10 March 2016. http://www.breeam.com.
5Yates, Alan. "Strategic approach to the selection and procurement of construction materials and products." Web. 9 March 2016. http://www.breeam.com/filelibrary/Briefing Papers/Strategic-Approach-to-the-Selection-and-Procurement-of-Construction-Materials-and-Products.pdf.
6Where is Earth's Water? The USGS Water Science School. Web. 16 March 2016. http://water.usgs.gov/edu/earthwherewater.html.
7Best Practices of the Natural Stone Industry. Natural Stone Council. 1 April 2009. Web. 16 March 2016. http://isse.utk.edu/ccp/projects/naturalstone/pdfs/BestPractice3_SolidWasteManagement_FINAL.pdf.
Celeste Allen Novak, FAIA, LEED AP BD+C, is an architect, writer, and planning consultant in Michigan with a special focus on universal design and the design and planning for rainwater collection systems. www.celesteallennovakarchitect.com
| | |
| --- | --- |
| | The Natural Stone Institute offers a wide array of technical and training resources, professional development, regulatory advocacy, and networking events for the natural stone industry. Learn more at www.naturalstoneinstitute.org/stoneacademy. |
| | The Natural Stone Council is a collaboration of stone businesses and trade associations. Learn more at www.naturalstonecouncil.org |
Originally published in Architectural Record
Originally published in May 2016
Notice