Mother Nature's Green Building Material
The new sustainable stone standard (ANSI/NSC 373) will transform the material selection of natural stone
Sponsored by Natural Stone Institute

1 AIA LU/HSW; 0.1 IACET CEU*; 1 AIBD P-CE; 1 LFA CEU; 1 PDH, LA CES/HSW; AAA 1 Structured Learning Hour; This course can be self-reported to the AANB, as per their CE Guidelines; AAPEI 1 Structured Learning Hour; This course can be self-reported to the AIBC, as per their CE Guidelines.; MAA 1 Structured Learning Hour; This course can be self-reported to the NLAA.; This course can be self-reported to the NSAA; NWTAA 1 Structured Learning Hour; OAA 1 Learning Hour; SAA 1 Hour of Core Learning
Learning Objectives:
List the components of a new sustainable certification standard ANSI/NSC 373, which provides a life-cycle analysis (LCA) for dimensional stone products.
Define the various components of an LCA.
Discuss how compliance to ANSI/NSC 373's national and international requirements for environmental, ecological, human health, and social responsibility in stone quarrying and production satisfies the growing demand for sustainable product declarations.
Describe how the components of ANSI/NSC 373 are aligned with green building rating systems, such as LEED and the Living Building Challenge.
Explain how the Chain of Custody Standard (NSC COC) for natural stone products ensures the traceability of certified stone throughout the supply chain, from quarry to gate.
This course is part of the Natural Stone Academy
Energy
An energy inventory is required as the first step to achieving this credit. The focus of the standard is to improve energy efficiency, thereby reducing carbon impacts as a part of an effort to implement lean and control costs, while maintaining the highest safety, environmental, and corporate financial standards. Optional credits include the evaluation of carbon management and the use of renewable and alternative energy sources.
An energy management program begins by establishing target goals, modeling and quantifying those goals, and developing strategies for the implementation of new energy-efficient methods and equipment. Through the development of a strong energy management program with a long-term maintenance plan, facility operators will directly benefit the bottom line, reducing the cost of energy by increasing energy efficiency.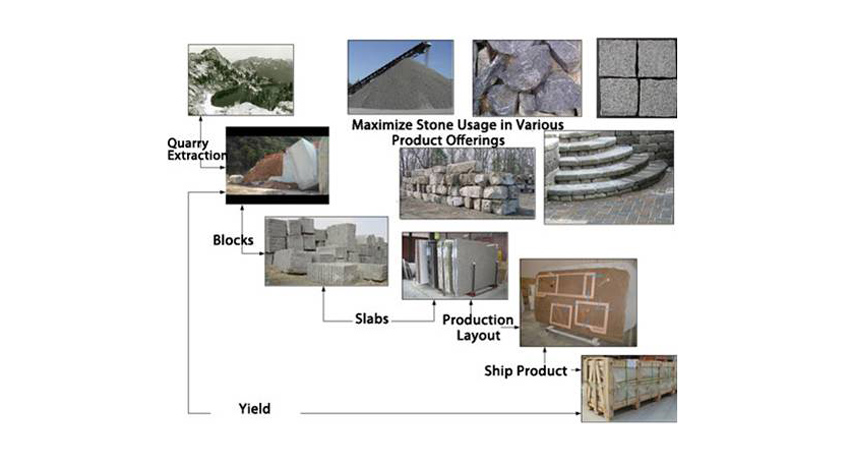 Image courtesy of Coldspring
Maximizing the efficient use of quarried stone
Management of Excess Process Material
According to a 2009 Natural Stone Council best practices report: "The natural stone industry is unique in that the majority of its solid waste stream is its raw material, often in unadulterated form. It is estimated that 175 million tons of quarrying waste are produced each year, and although a portion of this waste may be utilized on-site, such as for excavation pit refill or berm construction, it is often difficult to find a use for all scrap stone and fines produced. Coupling this with the industry's other waste streams, such as heavy equipment, wastewater sludge, and general site trash, it is necessary that every operation in the natural stone industry develop and abide by a waste management plan."7 The Management of Excess Process Materials Credit requires an inventory of excess materials and solid waste and the formation of a management plan.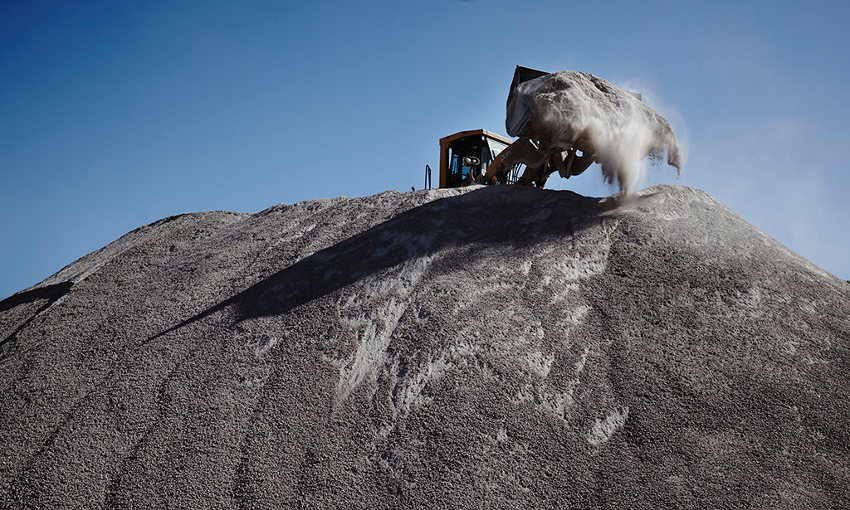 Photo courtesy of Stony Creek Quarry
This report identifies the reasons to manage wastes. "Solid waste is a drain on pocketbooks, a threat to worker health and safety, and a burden on the environment. Moreover, its disorderly accumulation on-site portrays an image of irresponsibility, hampering local support for the company. Through implementation of a proactive waste management strategy, unnecessary fines, occupational exposures, and environmental degradation can be avoided. Additionally, an opportunity exists for companies to distinguish themselves as a socially responsible and environmentally considerate operation." Decreasing the amount of excess waste that goes into a landfill at all stages provides economic, social, and environmental value to the environment as well as to this industry.
Safer Chemical and Materials Management
Stone is a natural material; it emits no VOCs and has no chemicals. However, some chemicals are used in its fabrication, in addition to being used to clean the workplace and equipment. As with most of these credits, this credit requires an inventory and chemical management plan. Material Safety Data Sheets (MSDS) must be submitted for each product or material identified. An additional credit can be obtained by the elimination or reduction of chemicals of concern, like those that may be used as sealants, cleaning products, and for equipment. Primary and secondary chemicals of concern are outlined in the standard and include chemicals that deplete the ozone, carcinogens, mutagens, those that effect reproduction, and asthmagens.
Human Health and Safety
Human health and safety are the primary goals of any sustainable initiative. This credit requires an occupational safety plan and training for all employees. The credit goes beyond basic OSHA regulations to improve work safety, air quality and exposure, and emergency procedures. The lack of best practice safety procedures has cost effects. For example, by evaluating the heights of barriers, modern equipment with the latest safety controls, and increased ventilation systems, companies will prevent accidents, reduce injuries, and retain employees.
Innovation
Innovation promotes continuous improvement and industry transformation. Innovation credits allow quarriers and processors to display new opportunities for the reduction, reuse, and elimination of waste. Innovators advance industry standards. This credit provides guidelines for innovation credits in health and safety, transportation, and waste reclamation or reuse.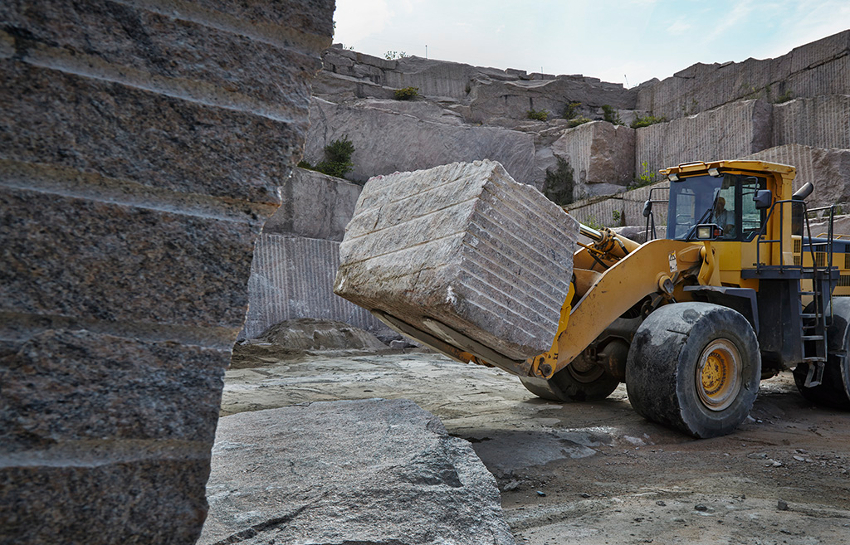 Photo courtesy of Stony Creek Quarry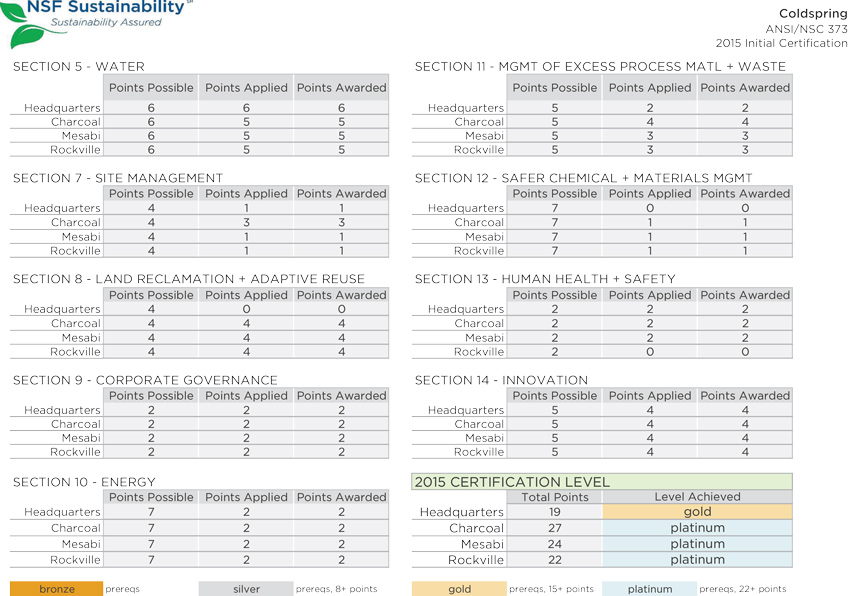 Image courtesy of Coldspring
Final audit report confirming certification
Originally published in Architectural Record
Originally published in May 2016
Notice