Increase Quality and Reduce Liability in Your Projects by Specifying Qualified Labor
Sponsored by Natural Stone Institute
Learning Objectives:
Identify what metrics various industries have defined to indicate best practices in quality installation.
Review how to use these metrics to qualify materials and companies for use in your projects.
Learn where to find lists of companies who have 3rd party verified to these credentials.
Explore case studies featuring projects which benefited from these credentials.
This course is part of the Natural Stone Academy
This webinar is part of the Natural Stone Academy
Gain perspectives from influential industry associations, and the contractors who specify their credentials. How does your go-to contractor compare? Join us as we discuss metrics for the quality installation of building materials including tile, stone, and wood. Get tips for selecting qualified companies for your projects. Come away with a plan to raise the bar for quality installations on your projects.
The presentations will be followed by a moderated discussion focused on how these innovative projects address several key issues.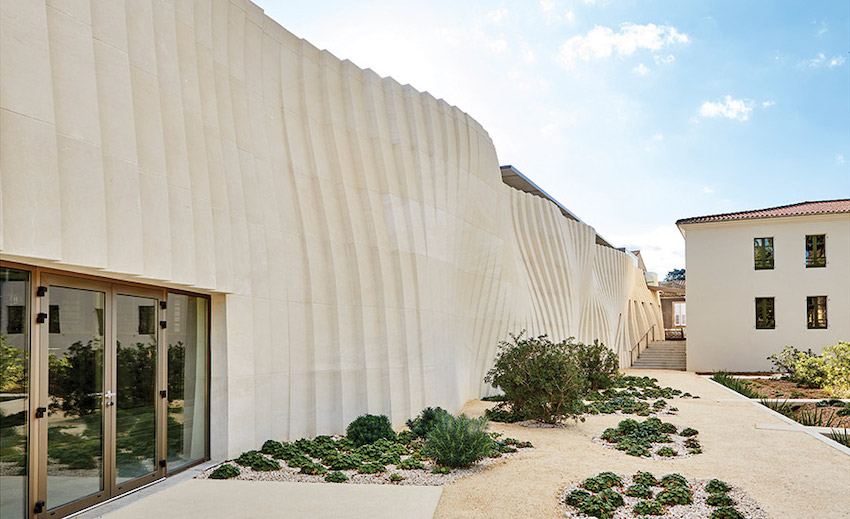 Photo © Dan Glasser
Delas Frères wanted to create a modern winemaking facility while investing in the center of the town. The undulating wall of the new building, which houses processing equipment and barrel storage, is a contemporary expression in stone beside the historic manor house.
Carl Fredrik Svenstedt, was born in 1967 in Stockholm, Sweden, and grew up in Montreal, Canada. He graduated from Harvard in 1989 and the Yale School of Architecture in 1993, and founded his architectural practice in 2000 after working in New York and in Paris with Santiago Calatrava and Jean François Milou.

Svenstedt won the Grand Prix d'Architecture 2017 for Stone Construction, and was nominated for the Equerre d'Argent, France's top architecture award, for the Domaines Ott Winery. He has received the Archtecture Master Prize 2019, the American Architecture Prize 2016 and the International Stone Architecture Award 2013. Lerival in New York produces his furniture designs.

Carl Fredrik Svenstedt teaches at the Versailles School of Architecture (ENSAV) and was visiting Professor at the Spitzer School of Architecture at City University of New York. He has taught at the Lille, Villette and Normandy Schools of Architecture, as well as the Ecole Speciale d'Architecture, Munster School of Architecture, and the Confluence Institue in Lyon and Paris.

Rodney Harvey, Senior Vice President is responsible for management and execution of building envelope consulting subcontracts. Duties include: Project coordination and organization, resource management and supervision of staff, systems design and development, shop drawing review, fabrication drawing review, field observation and critique. Estimate cost on prospective projects. Perform forensic analysis of exterior wall system failures and evaluation of "problem walls". Provide customer service to all clients and prospective clients.

Mark Meriaux, Accreditation and Technical Manager is responsible for leading the Accreditation program and responding to general technical inquiries. He helps applicants with accreditation requests, processing applications, managing the online exams, and coordinating site visits. He communicates with accredited members about program enhancements and opportunities, and works with leading design firms, general contractors, specifiers, and owners promoting The Natural Stone Institute standards and advantages of working with accredited companies. Mark also works with Chuck and Mike to provide technical assistance for members and design professionals. He joins our technical team in maintaining The Natural Stone Institute documents including DSDM, technical modules, technical bulletins, safety manuals, videos, and the member newsletter. Mark entered the stone industry in 2002 when he was an owner/operator of a countertop fabrication shop in Atlanta, GA. He has worked in various roles in stone sales, commercial project management, and technical support prior to joining the Natural Stone Institute team. Mark is a Mechanical Engineering Technology graduate of Kennesaw State University.
This test is no longer available for credit
| | |
| --- | --- |
| | The Natural Stone Institute offers a wide array of technical and training resources, professional development, regulatory advocacy, and networking events for the natural stone industry. Learn more at www.naturalstoneinstitute.org/stoneacademy. |
Originally published in March 2021
Notice