Terrazzo's Comeback–It's Not Just for Floors
Emerging from its Art Deco and mid-century popularity, new and exciting terrazzo designs have burst onto the scene
Sponsored by National Terrazzo & Mosaic Association
Learning Objectives:
Identify factors and trends such as retro styles, sustainable design, and enhanced hygiene that are driving renewed interest in terrazzo.
Discuss terrazzo's growing popularity for vertical applications, including non-slip stairs, ADA-accessible ramps, walls, columns, counters, bar fronts, and more.
List best practices for safely installing poured-in-place vertical terrazzo applications.
Describe the versatility, beauty, and user-safety focus of vertical terrazzo, as demonstrated in an assortment of case studies.
Credits:
This course can be self-reported to the AIBC, as per their CE Guidelines.
As an IACET Accredited Provider, BNP Media offers IACET CEUs for its learning events that comply with the ANSI/IACET Continuing Education and Training Standard.
This course is approved as a Structured Course
This course can be self-reported to the AANB, as per their CE Guidelines
Approved for structured learning
Approved for Core Learning
This course can be self-reported to the NLAA
Course may qualify for Learning Hours with NWTAA
Course eligible for OAA Learning Hours
This course is approved as a core course
This course can be self-reported for Learning Units to the Architectural Institute of British Columbia
This test is no longer available for credit
Highly robust, long lasting, and hygienic, terrazzo is a designer's playground, with endless choices of aggregate color, size, and style.
"Timeless, elegant and extremely durable, we have seen a significant resurgence in terrazzo," relates terrazzo contractor Kevin Rickman with St. Louis-based Missouri Terrazzo. "Architects and interior designers love the idea that they can utilize any color, coupled with just about any aggregate, to create real statement pieces in the design of the building."
In a similar vein contractor Steve Menconi, general manager, Menconi Terrazzo, Bensenville, Ill., states, "the flexibility of design and color, allows the architect/designer/artist to use all their creative energies to create something very unique and personal."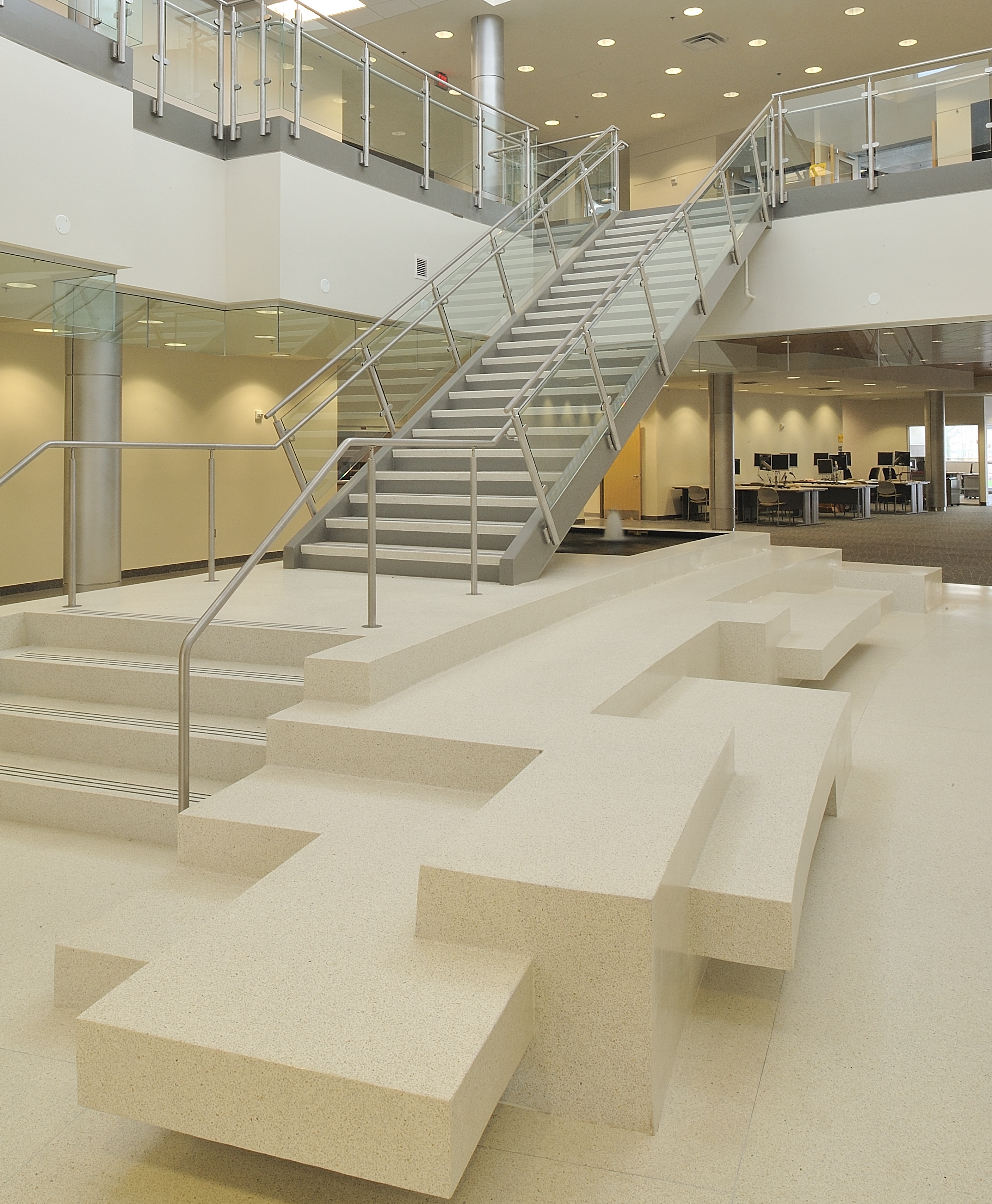 Photo courtesy of David Laudadio
A great example of vertical terrazzo, this sculpture of poured-in-place epoxy terrazzo seating at Tidewater Community College in Norfolk, Va., doubles as an ADA barrier.
Largely known for its flooring designs for airports, hotels, and institutional spaces, terrazzo is not limited to these horizontal designs. In reality, its flexibility and adaptability is propelling terrazzo into a variety of vertical applications from walls to stairs to ADA-accessible ramps to bar fronts.
"Terrazzo can be used on many surfaces and is not limited by the curves and angles that can create issues for other products," relates Jonathan Maraldo, executive vice president, Southern Tile & Terrazzo, Houston. "The ability to have a seamless transition from the floor to walls, stairs, plinths, or columns can provide a clean and classic finish."
Sustainability Factors Driving Terrazzo Trends
The concept of terrazzo dates back to the 15th century when workers discovered that they could reuse scraps of marble leftover from the construction of palazzos and villas and mix the fragments with concrete to create a new material. These workers named the material terrazzo, which means terrace in Italian, as they would use it to build inexpensive terraces for their homes. Terrazzo eventually made its way to the U.S. and became a popular flooring material in the early 20th century. But at some point interest faded, until recently.
Riding the sustainability wave and the opportunity to make what's old new again, terrazzo is making a return. "This eco-minded material falls in line with 'scrap culture' and trends in recent years, which are heavily influenced by regenerative reuse, handcrafting, and meaningful imperfections," states Kelly Eyink, senior interior designer, M+A Architects, Columbus, Ohio. "Highly customized in color, scale and substrate, terrazzo also lends itself to a variety of color palettes. For example, there are a lot of visuals the material can take on, with colors ranging from calming and organic to a playful rainbow effect."
Shannon Suess, a principal with the Seattle-based MG2 also sees this customization trend as driving interest in terrazzo. "Customization is key today, and terrazzo—a composite material of aggregates that includes shells, stone, marble, glass, etc.— provides infinite colorways and design combinations." Terrazzo also fits well with designs trending towards large format, seamless, and monolithic looks.
Acknowledging that the reintroduction of terrazzo in this country has been on a steep trajectory for the last few years, S. Paul Singh, vice president/general manager, North American Terrazzo, Seattle, believes the pandemic sped up this resurgence thanks to its antimicrobial qualities of resins and epoxies. As a nonporous, easy-to-maintain material, terrazzo is one of a few surfaces that does not promote microbial growth, which is particularly important in a post-pandemic society.
For any sloped surface, a non-skid can be added to the sealer or non-skid strips can be applied to significantly reduce the risk of falls. The latter involves putting a groove into the terrazzo with a resin, typically aluminum oxide. With a ramp, for example, the general contractor builds the ramp and then the terrazzo contractor will install a terrazzo veneer as the top layer. Then the non-skid is either added into the sealer or as strips.
The epoxy in the terrazzo doesn't support the growth of mold or mildew and as a polished, smooth surface, it's very easy to clean. And unlike other materials such as carpeting, terrazzo can last 50 to 75 years or more and it can be recycled, so it does not take up space in landfills.
As a very current and on-trend material, Eyink further describes terrazzo as having a sense of permanence and timelessness. As society transitions from a throw-away culture to one that conserves resources, Debra Babcock, a project manager and director of interiors with Chesney Morales Partners in San Antonio, sees terrazzo as a great fit. Design-wise, "the beauty of terrazzo is that it is at home in a wide range of applications from a classic to an ultra-contemporary interior. Also, through the use of water-jet cutting, intricate custom designs and logos can be created."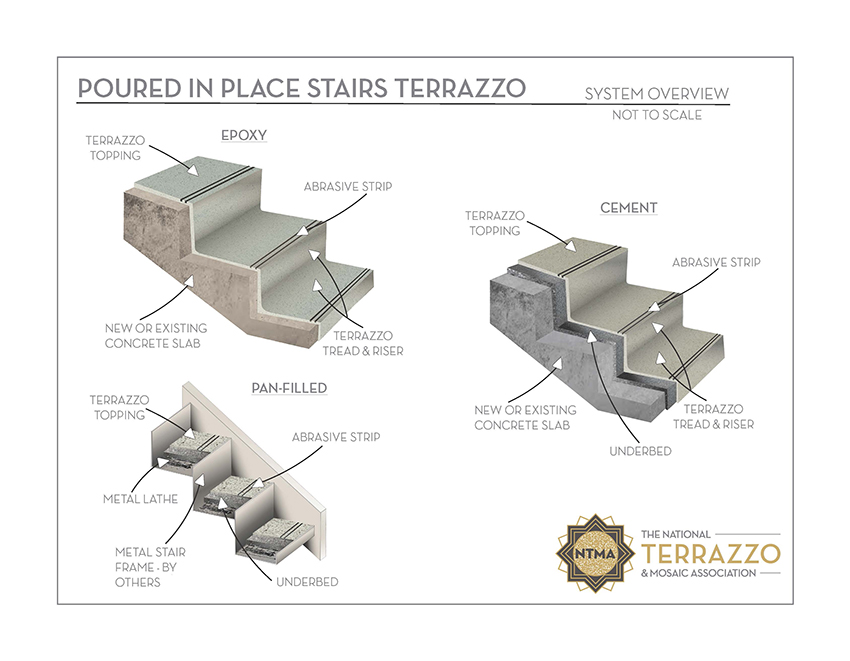 Photo courtesy of NTMA
Whether epoxy, cement, or pan-filled, terrazzo stairs are a highly durable, long-lasting material offering great aesthetics.
Breaking It Down
Terrazzo is made up of 70% crushed aggregate or chips in a wide range of colors and sizes. For example, traditional terrazzo aggregate sizes vary from 1/8 inch to 3/8 inch in diameter. There is also micro terrazzo with very fine aggregate that is just 1/16 inch in diameter. If the terrazzo application calls for strips, designers most commonly select from aluminum, zinc, brass, or plastic.
On the other end of the spectrum, Venetian terrazzo uses larger aggregate sizes, between 5/8 inch and 7/8-inch diameter. Venetian is considered premium terrazzo and must be poured at 5/8 inch or more to accommodate the larger stone, explains Brad Hedges, an Alpharetta, Ga.-based architectural consultant with expertise in terrazzo. Craftsmen will either add all the aggregate to the binder (cement or epoxy), or mix partial amounts of aggregate with the binder and sprinkle in the rest. The mix is applied to the floor, allowed to cure, and is then ground and polished.
Another style is Palladiana terrazzo, which uses fractured pieces of natural stone. Also considered premium terrazzo on account of the extra labor involved in setting the stones, designs can be varied and spaced based upon the architect's preference. Palladiana is actually terrazzo in its original form, involving palazzo construction workers collecting the marble leftover to create terraces for themselves.
Created with stone, ranging from 2 to 12 inches, workers "butter" the back side of the pieces and place them onto the concrete. Or in some cases, they are adhered to a piece of fiber mesh and then placed inside the mix in the pattern created by the artist, architect, or building owner. Ideally, the pattern has already been vetted in a pre-job mock-up before it is created onsite. These designs can be random or uniform, and can incorporate various shapes of aggregate. Though Palladiana was not in common use for some time, within the past few years it has made a comeback and is now showing up in retail, lobbies, and plazas.
Another terrazzo style is rustic, also called exposed aggregate terrazzo. Instead of polishing, the excess cement is washed off and the aggregate is exposed. This creates a textured surface and therefore provides more slip resistance.
As noted, the binder, or resin, can be either cement or epoxy. Resins are typically devoid of VOCs and are often GREENGUARD certified. They offer exceptional compressive, tensile, and flexural strength. If epoxy resin is used, this also contains recycled materials. Aesthetically, "the resin sets the tone for the color of the sample and can be matched to any paint or Pantone color," explains Hedges.
Originally published in Architectural Record
Originally published in June 2022
Notice