Exploring Large Aggregate Terrazzo
Palladiana and Venetian terrazzo surfaces meet the durability, versatility, aesthetics, and creative expression that high-end corporate, retail, and hospitality designers are seeking
Sponsored by The National Terrazzo & Mosaic Association
Learning Objectives:
Identify the unique characteristics driving growing interest in larger aggregate Palladiana and Venetian terrazzo.
Compare the pros and cons of epoxy vs. sand-cushion cement binders, from both a sus-tainability and performance standpoint, for different large aggregate applications.
Gain best practices for optimized Palladiana and Venetian terrazzo user-focused designs and installations.
List the many advantages of working with an experienced, certified terrazzo contractor, and involving these tradesmen early in the design process.
Review recent project profiles showcasing the beauty and versatility of Palladiana and Ve-netian terrazzo, and the enhanced user comfort they provide.
Credits:
This course can be self-reported to the AIBC, as per their CE Guidelines.
As an IACET Accredited Provider, BNP Media offers IACET CEUs for its learning events that comply with the ANSI/IACET Continuing Education and Training Standard.
This course is approved as a Structured Course
This course can be self-reported to the AANB, as per their CE Guidelines
Approved for structured learning
Approved for Core Learning
This course can be self-reported to the NLAA
Course may qualify for Learning Hours with NWTAA
Course eligible for OAA Learning Hours
This course is approved as a core course
This course can be self-reported for Learning Units to the Architectural Institute of British Columbia
You are not currently logged in to your CE Center account.
Log in
to view and complete the quiz questions that are embedded in this article.
Reemerging in recent years as a striking, sustainable, and highly flexible material, terrazzo continues to beautify the floors, walls, ramps, and columns of lobbies, airports, schools, and municipal facilities. Terrazzo's limitless customization potential makes it an attractive option for a wide range of applications and budgets while providing the same durability and ease of maintenance regardless of design details. High-profile projects such as David Chipperfield's New York City Valentino flagship store and actress Mandy Moore's Pasadena home have further created a media buzz around the design opportunities afforded by this desirable material.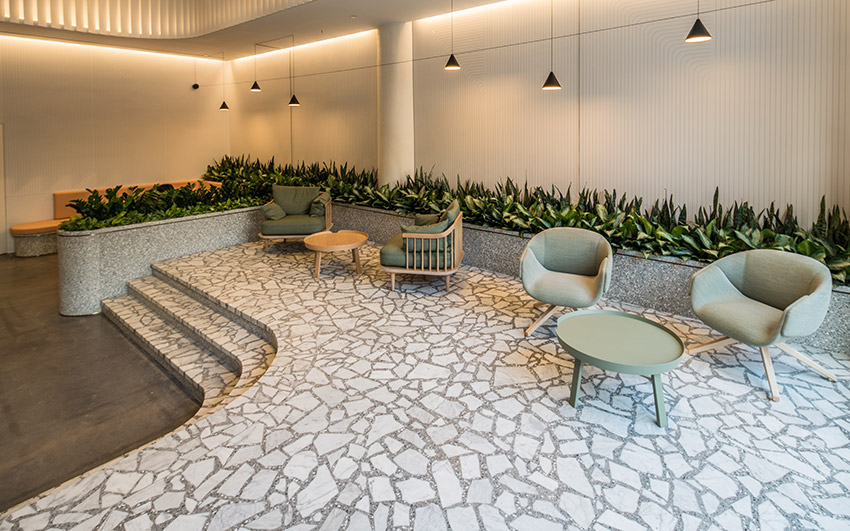 Photo courtesy of Michael Blackburn
Large aggregate terrazzo designs, as pictured here in this Hudson Square lobby in Manhattan, are growing in popularity as attractive, high-end spaces for corporate lobbies, hospitality settings, and museums.
"Terrazzo is a sought-after material due to its numerous qualities and aesthetic charm. Moreover, terrazzo can be custom made to include various hues and patterns offering an unparalleled degree of versatility. The marbled visual effects produce a distinct and attractive look to any design," reports Margine Biswas, AIA, NCARB, LEED AP, Archiphy Architects, Dallas. In a similar vein, Seattle-based architect Alison Wilkinson, AIA, NCARB, LEED AP BD+C, affirms that designers and architects love terrazzo for its versatility and durability. "It can be successfully used in a sleek office building, a high-volume grocery store, or a residential space due to the endless design combinations of aggregate and matrix," she says.
Made from a mix of a wide variety of possible aggregates, such as stone or recycled glass, terrazzo's qualities as a sustainable, highly hygienic, and nonporous surface are further propelling interest. "There are few products that are 100 percent customizable and offer the use of designs and patterns in the same way that terrazzo does. The ease of maintenance and lack of grout joints also play a role," adds terrazzo contractor Jonathan Maraldo, executive vice president of Southern Tile & Terrazzo, Houston. As designers continue to enjoy the opportunity to play with aggregate types, sizes, colors, mix compositions, and binding matrixes to create signature surfaces, designs are trending toward larger aggregate Venetian and Palladiana terrazzo.

Photo courtesy of David Burk
To achieve a specific look, SOM created a Venetian terrazzo design for the pantry area in their Chicago office.
LARGE AGGREGATE TERRAZZO
"Large aggregate terrazzo designs are gaining interest due to their unique and eye-catching visuals, textured patterns, and customizability," explains Biswas. "The material can be tailored to the specific style of a space." Whereas the finest microaggregates are 1/8 to 3/8 inch in size and create a minimal, monochromatic look, larger aggregates produce more contrast. Institutional buildings and airports tend to go with the more uniform, streamlined terrazzo, while the larger aggregate's higher-end look is attractive to commercial spaces. "Larger aggregate can offer a bolder look, with the color and character of each stone curated and visible, allowing the design of the floor to stand out as the centerpiece of a room," Biswas adds. Also unique is the fact that large aggregate terrazzo is custom created, which makes it a desirable, one-of-a-kind material.
With this larger composition, explains Carolyn Kiernat, AIA, principal, Page & Turnbull, San Francisco, the stone's natural color and texture are more prominent. This enhanced transparency creates a more dramatic appearance. In viewing these large aggregate designs through the lens of larger societal trends, Andrew Barwick, RA, senior associate with Cooper Robertson, New York City, observes, "Large aggregate terrazzo has a bold, graphic, visual quality that feels contemporary and modern. This distinct expression of the material where legibility is favored over subtlety feels synonymous with other contemporary trends in visual design (e.g., web, print, etc.) where visual complexity is often eschewed in favor of more simple, sober, legible expressions."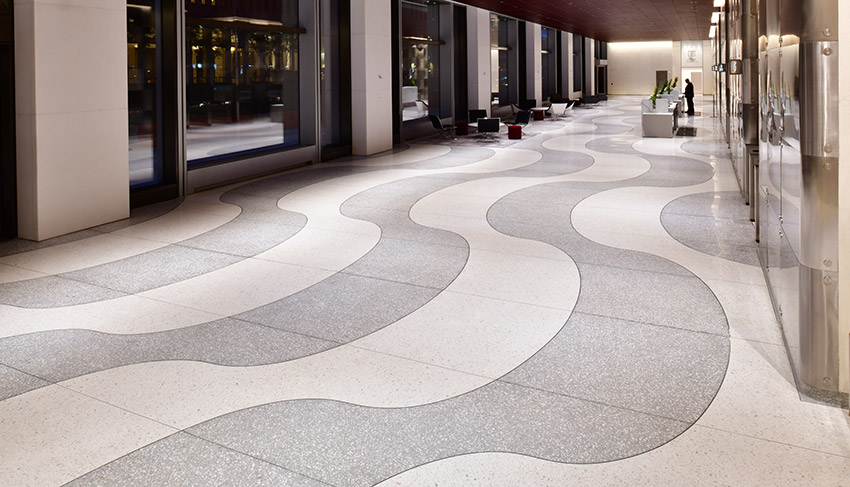 Photo courtesy of David Laudadio
Due to major building renovations, the original 1959 Venetian sand-cushion terrazzo floor was removed and replicated for this iconic lobby inside 1271 Avenue of the Americas in Manhattan.
TERRAZZO'S PALLADIANA ROOTS
Dating back to the 15th century in Italy, marble artisans would gather stone remnants and use them to build residential terraces. They would embed them in clay, grind them smooth, and seal them with goat's milk to bring out the luster and shine, explains Brad Hedges, an Alpharetta, Ga.-based architectural consultant with expertise in terrazzo.
This original terrazzo floor with marble slabs was Palladiana. The larger-sized marble fragments would be hand laid into a clay or a cement-like material. The entire floor would then be ground and polished. "Named after the illustrious Andrea Palladio, renowned for his creative material utilization and intricate focus on details, Palladiana terrazzo was developed in Italy and boasts a luxurious, polished surface," explains Biswas.
In contrast to some other terrazzo styles, Gilad Naftaly, CEO of Tel Aviv-based terrazzo contractor C.R.Contech, believes that Palladiana appeals to people's interest in seeing the stones within the flooring or surface and the mosaic-type look that it lends. "Thanks to Palladiana terrazzo's smooth surface and easy maintenance, the application of this mosaic style can be extended to floor spaces such as lobbies, kitchens, and sitting areas, allowing designers to come up with beautiful, unique, and exciting designs," adds CR Contech's Director of Sales and Marketing Tali Lahav. "Architects can also combine new materials such as large brass ornaments, pebbles, glass, and stone tile fragments."
The pieces are often irregularly shaped, paver-like stone slabs that can be as large as 18 inches.
While the installation process requires more labor and material, the craftsman has greater control over the process since the aggregate is hand laid, and the result is a beautiful, luxurious finish. "Palladiana terrazzo can make a statement with its larger scale," adds Ximena Rodriguez, principal and director of interior design, CetraRuddy Architecture, New York City. "It is very flexible and allows for variety with the possibility of making a very graphic statement with ultra-high contrast materials, or a subtle look with tone-on-tone terrazzo." Wilkinson adds, "The large stone pieces are placed carefully by the installer to create a flagstone effect. Best used for larger spaces, the end result is a puzzle of fragmented stone pieces floating between a matrix color."
Gensler architect Paul Manno likes the warm, authentic, uniquely crafted appeal of Palladiana, and the fact that it's neither directional nor patterned. He specifies it for a change of scale in reception and lobby spaces or break rooms.
"Palladiana has a wonderful artisanal quality to it, and we've enjoyed exploring its versatility on many projects—including in our own office in Chicago," relates Julie Michiels, SOM senior associate principal and interior design director. The design intent for SOM's office pantry island was to find material that looked monolithic against the concrete floor, yet with a refined feel. "To achieve this look, I actually went to the Menconi Terrazzo shop and worked with the team to break the stone inlay into various shapes and lay out one of the panels. It was a little bit of an experiment for everyone, and I think it turned out beautifully," she reports.
Walking architects through the terrazzo design process, the first step is selecting the type of natural stone, which is Palladiana terrazzo's main feature, instructs Hedges. "Typically, we are working with marble as it is easier to grind and polish." Designers can choose one type of stone or pick a mixture of stones. Then the next step is determining the size, spacing, and edge profile of the frac-tured stones. For example, the stones can be arranged in a tighter or more spacious laying pattern. For the edge, the design can be irregular or clean cut. Next, the terrazzo grout color is chosen. Serving as the background or base, if epoxy is selected as the binder, any paint or Pantone color can be chosen. With both Palladiana and Venetian terrazzo, Menconi Terrazzo President Steve Menconi explains that the architect/designer plays a more artistic role in the selection process. Once all the specs are in order, architects can request a mock-up to see what the finished product will look like. Then, any aspects of the terrazzo mix can be adjusted prior to final approval.
Originally published in Architectural Record
Originally published in June 2023
Notice