What's New in Retail and Hospitality Design?
Innovative products help create better results
Sponsored by ASI Group, Bison Innovative Products, Inpro, NanaWall Systems, and XtremeInterior by Tamlyn
Learning Objectives:
Identify and recognize the connection of indoor and outdoor spaces as a significant design approach for human welfare and environmental benefits.
Assess the health and safety performance aspects of wall and floor surfaces as they relate to durability and sustainability.
Explain the importance of proper restroom design coordination for health and safety.
Determine ways to incorporate the principles presented into buildings as shown in case studies.
Credits:
This course can be self-reported to the AIBC, as per their CE Guidelines.
This course is approved as a Structured Course
This course can be self-reported to the AANB, as per their CE Guidelines
Approved for structured learning
Approved for Core Learning
This course can be self-reported to the NLAA
Course may qualify for Learning Hours with NWTAA
Course eligible for OAA Learning Hours
This course is approved as a core course
This course can be self-reported for Learning Units to the Architectural Institute of British Columbia
This test is no longer available for credit
Retail and hospitality design and construction work continues to be very active in 2019 all around the world, according to experts like Bruce Ford, senior vice president and director of global business development of Lodging Econometrics. "Albeit more challenging, it is still a very good market to build hotels because we have had an increase in demand over the past eight years," he points out. He goes on to cite strong levels of activity first in the United States, then followed by China, the Middle East (Dubai in particular), and Europe. Restaurants and stores also continue to see plenty of activity in both new, innovative construction and renovations.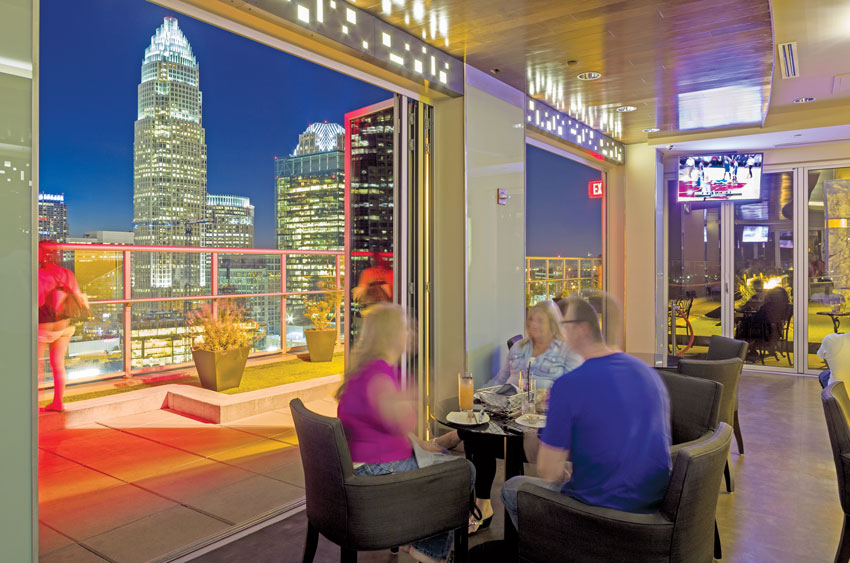 Photos courtesy of NanaWall Systems
Hospitality, restaurant, and retail spaces increasingly pay attention to details of both the interior and exterior design, including the rooftop Fahrenheit Lounge in Charlotte, North Carolina, shown here.
Architects and interior designers who work within this building specialty are well served by staying up to date on innovative ways to create successful retail and hospitality facilities. The design and aesthetic requirements need to be balanced with the day-to-day demands of serving many people as well as the need to address the health, safety, and welfare needs of those people. In light of all of these dynamic conditions, this course will look at some specific ways that architects are using manufactured products and systems in innovative ways to create very successful outcomes.
Creating Outdoor Spaces
While retail and hospitality buildings are often focused on the interior spaces, there is a strong and growing interest in finding outdoor spaces for people to use, particularly in hotel and restaurant settings. Rooftop environments and outdoor amenity spaces are extremely popular and appealing. Rooftop decks and terraces, in particular, are recognized as a way for hospitality or retail spaces to differentiate themselves from the competition. Similarly, parklets, or pop-up parks, can help restaurants and other businesses by offering outdoor sidewalk café settings to accommodate more patrons. The challenge for architects is creating those spaces from materials and systems that are durable, aesthetically pleasing, and stable over sloped or sensitive surfaces.
The answer to this design challenge is often found in modular and versatile deck systems that are supported by adjustable pedestals. Adjustable pedestal deck systems can commonly be used over any structural surfaces—on bare structural decks, rooftop decks, roof membranes, green roofs, plazas/terraces, compacted grade, pavement, or pool surrounds. These systems typically allow architects to use a variety of deck surface materials, including wood, stone, structural porcelain, crushed rock, grating, artificial turf, and even concrete to create unique custom looks that are consistent with the design intent of the surrounding spaces. An adjustable pedestal system is also an ideal solution for water-feature applications. The system conceals the water supply beneath the surface materials, allowing water to drain between the pedestals and to the subsurface below for recycling. Additionally, supports are available that are impervious to water, mold, and freeze-thaw cycles.
Designs that include green roofs demonstrate imagination in the use of materials that minimize maintenance and the environmental footprint. Incorporating a pedestal system can provide pedestrian access to these green roofs and expand usable space to include gardens and walkways. Similarly, pedestal deck systems can help reduce cooling loads of the building because they create a separate, protective layer above the roof that allows air to flow between the deck and the roof.
Adjustable deck systems are commonly available that incorporate three types of components.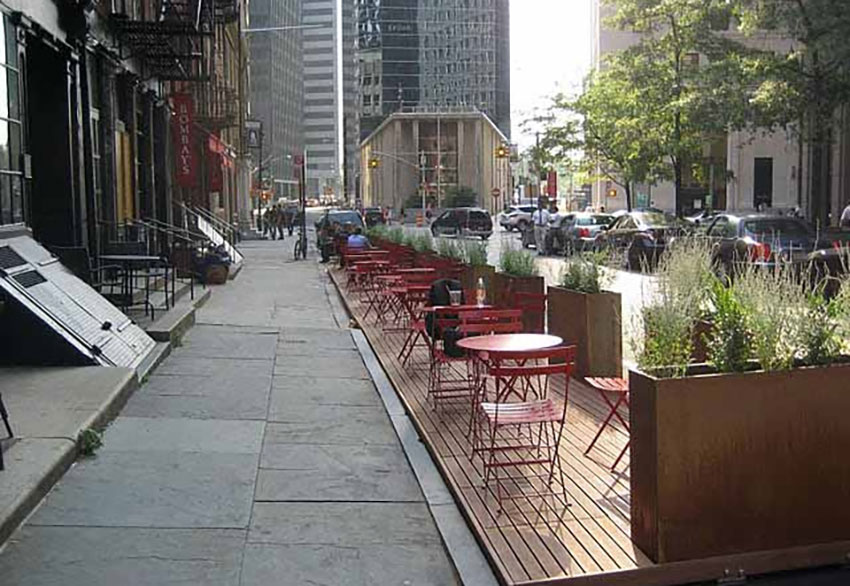 Photo courtesy of Bison Innovative Products
A pop-up park in New York City expands the sidewalk area into the street to create an attractive and useful area for people to take advantage of being outdoors.
Deck Supports
High-density polypropylene plastic that is 100 percent recyclable is a common material to make the adjustable deck supports from. Their adjustability offers tremendous design flexibility and, compared to traditional decks, provides one of the most labor- and cost-efficient methods of creating a flat, level deck over a sloped surface. Using a gravity system, the supports do not penetrate but rather protect roofing and waterproofing membranes, thus causing no damage or harm to the surface below. Adjustable pedestal systems can support decks over occupied space, allowing space for electrical systems, duct work, and irrigation. Pedestal systems are available in a range of heights and weight-bearing capacities to suit a variety of applications. Residential, commercial, and industrial grades each have different characteristics so deciding which system to specify is dependent on the support and elevation requirements of the installation.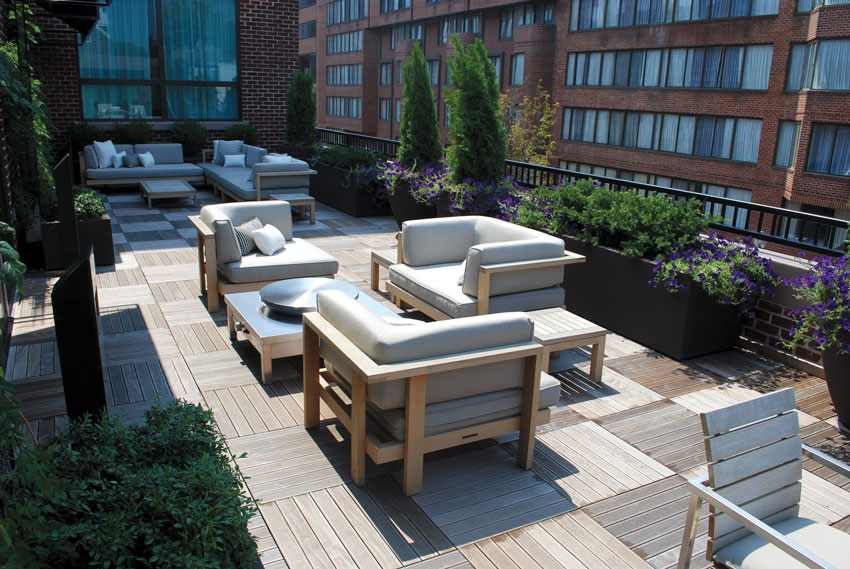 Photo courtesy of Bison Innovative Products
The Four Seasons Hotel in Washington, D.C., designed by Sowinski Sullivan Architects includes a spacious 1,000-square-foot terrace using wood tiles and adjustable pedestals. Modular cubes are used as planters for trees and flowers. The terrace can provide a scenic view of surrounding Georgetown or be sectioned off for private events or security reasons.
Deck Surfaces
Deck supports are designed to elevate a variety of surfaces, including granite or concrete pavers, wood tiles, composite materials, fiberglass grating, and conventional joist systems. Any modular deck surface materials can be removed for routine maintenance, repairs to the roof, or to gain access to other systems. Wood tiles are particularly popular for their light weight, ease of workability, and attractive appearance. Wood tiles can be laid in a parquet or linear pattern, or mixed with pavers, river rock, stone, plank decking, or other options to create unique aesthetics. Often made from a variety of hardwoods, wood species include fused bamboo, cumaru, garapa, ipê, mahogany, and massaranduba that are commercial grade and available in standard and FSC-certified options. Many of the tropical hardwoods contain a rich variety of graining and coloration, are exceptionally dense, weather very well, and are resistant to insects. The density of hardwood species means there is minimal maintenance. If maintaining the wood color is desired, wood tiles can be periodically cleaned and sealed. Left to weather naturally, the wood tiles will develop a silvery-gray patina.
Site Furnishings
Manufacturers of pedestal deck systems also offer coordinated, modular elements that are designed to integrate with their deck systems while giving the architect complete design flexibility. For example, modular cubes made from ipê or high-strength aluminum in an array of colors and finishes can serve as planters or can include a top for seating and/or storage. Cubes commonly have drain holes and irrigation sleeves that make caring for plants or vegetables convenient and hassle free. Storage can be used for seasonal items like cushions or throw pillows. Similarly, aluminum trays that are lightweight and durable add dimension and texture to deck areas. Designs can even include recessed lighting to enhance the ambiance of the environment while improving visibility and safety during nighttime or other dark conditions.
Complete, coordinated systems as described here can be designed and specified to create attractive, durable, and sustainable outdoor spaces.
Opening Glass Walls
There is a growing trend and interest in designing interior spaces that seamlessly connect to the outdoors, thus "bringing the outdoors in." Of course, there is also a need for the ability to close off and separate those spaces too for weather, security, or other reasons. As a result, opening glass walls that fold or slide to achieve these fully open or, conversely, fully closed conditions have become a recognized solution to this need, particularly when they can be customized to suit a particular building design. For retail and hospitality settings, it's particularly important that products that enable the architect to fulfill a design vision also have the ability to stand up to the daily commercial grind. Similarly, they need to meet the challenges of wind, water, extreme temperatures, forced entry, impact, and structural load requirements.
When considering opening glass walls into the design and specifications of a hospitality or retail project, there are several things to take into account. The first is to be sure that the product is tested and proven for commercial use, not just residential. Independent testing results should be requested and provided for all of the performance conditions needed. Further, the specific details of the system should be reviewed. In some cases, moving structural posts provide exceptional strength in folding systems that meet Miami-Dade County and American Architectural Manufacturers Association (AAMA) hurricane ratings. Such a system can also serve as a secure and vandal-resistant storefront for retail applications. Multipoint locking entry doors as well as extra-long, tamper-resistant, dual-point locking rods between panels can be specified to ensure that each system meets or exceeds most forced-entry testing for commercial grade door panels. STC ratings for sound attenuation are available for select systems and can be requested if that is a design consideration. During its service life, built-in adjustment and compensation points help with continued ease of operation if building settling occurs.
Looking more closely at some specific retail and hospitality building types, consider the following applications.
Originally published in Architectural Record
Originally published in May 2019
Notice