What's New in Residential Design
Residential construction is not what it used to be—and that is actually a good thing
Sponsored by Bison Innovative Products, Humboldt Sawmill Company, and Loewen Windows and Doors
Innovative Residential Fenestration
In many contemporary buildings, residential or commercial, the use of large areas of glass are incorporated into the design. There are many different design reasons for this, ranging from the capturing of views, the creation of a dramatic space, visual connectivity to the outdoors, and the capturing of sunlight for solar gains in the heating season. The performance of these large, glazed areas is an equal concern to the design considerations, however, and there have been many innovative developments to improve on the traditional means of adding fenestration to buildings.
Typically, the most common means of adding glass and glazing to a residential design has been to use individual window products that are inserted into framed openings. While this is effective in many cases, there are size limits based on the materials used and the type of glass incorporated. Commercial buildings, on the other hand, have had other options available, particularly where fixed glass is preferred. These include aluminum storefront glazing systems and curtain-wall systems. A recent innovation by several window manufacturers has been to offer a similar choice for residential designs as well.
Residential Curtain Walls
Curtain walls are generally defined as non-load-bearing glass wall systems that hang (like a curtain) in front of or between floor structures. The framing is attached to the building structure and does not carry the floor or roof loads of the building. As such, curtain walls provide a means for glazing an entire single-story or multistory facade that may reach heights of up to 20 feet, depending on the design of the building. Curtain walls are usually front glazed over the support framing of vertical and horizontal members. They also incorporate a self-draining design and can be either prefabricated by a supplier or fabricated on-site from individual components.
Curtain walls have been used for decades on commercial buildings, and they have proven to be quite popular and perform very successfully. It is not surprising then that the same product engineering principles have been applied to create innovative residential curtain-wall systems. However, there are some notable differences between commercial and residential curtain walls, including:
Different expectations: Curtain-wall systems for residential construction must be different from commercial use in terms of fit, finish, and aesthetics.
Operable fenestration: A curtain wall for residential use should allow for multiple configurations of operating windows and doors as well as fixed glass.
Structural integration: Residential curtain-wall systems can be designed for load-bearing applications, if required.
There are several beneficial characteristics provided by residential curtain walls that meet or exceed these differing requirements. First, curtain-wall systems can replace some traditional window walls that have individual windows that are mulled together. Mulled units have innate disadvantages such as increased weight, reduced glass area, and discontinuous connection points. Mulling on-site can also be difficult and require additional time and costs. Second, residential curtain walls provide cleaner, more streamlined aesthetics to home designs. The use of hidden connectors and continuous visible wood lengths allow for clean, finished joints. There is also the benefit of a cleaner, less-obstructed view.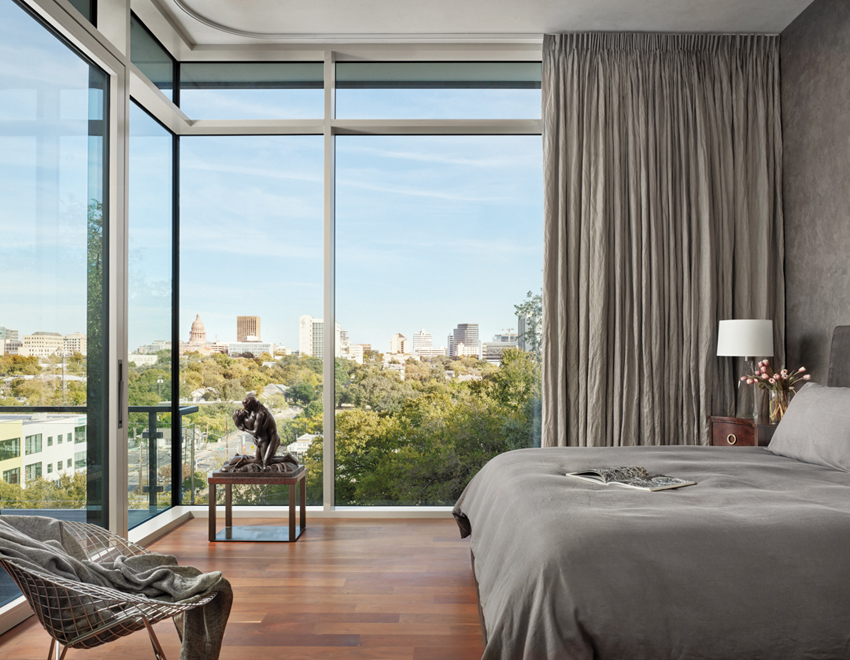 Photo: Casey Dunn Photography; courtesy of LaRue Architects
Residential curtain walls are an innovative glazing option that builds on the success of commercial curtain-wall systems but with fabrication and detailing specifically suited to residential projects.
Originally published in Architectural Record
Originally published in April 2021
Notice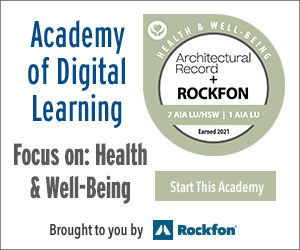 What's New in Residential Design
Buyer's Guide
Rooftop Deck Systems

Manufactured in the United States with 20 percent post-industrial recycled materials, Bison Pedestals create level decks over sloped surfaces. They elevate and support wood tiles, pavers, site furnishings, and a variety of other surfaces. Bison Wood Tiles are commercial grade, constructed from sustainably harvested hardwoods, and available in standard and FSC-certified options.
Redwood Decking

Native to California and widely used across the western United States, redwood decking remains one of the most popular natural wood decking materials available. Humboldt Sawmill Company offers FSC-certified redwood decking in 2-inch x 4-inch, 2-inch x 6-inch, and 2-inch x 8-inch dimensions, and in lengths from 6 feet to 20 feet.
Timber Curtain Wall System

The Loewen Timber Curtain Wall system offers large glass assemblies with extremely narrow mullions. The structurally engineered timbers create a beautiful and warm interior, while the exterior covers are available in painted or anodized extruded aluminum, solid wood, or cyprium (copper or bronze cladding).