What's New in Residential Design
Residential construction is not what it used to be—and that is actually a good thing
Sponsored by Bison Innovative Products, Humboldt Sawmill Company, and Loewen Windows and Doors
Learning Objectives:
Identify the ways that outdoor roof decks and patios/terraces can be sustainably designed using adjustable, modular pedestal deck systems.
Assess the structural and energy characteristics that are a result of providing timber curtain-wall (TCW) systems with appropriate glazing.
Recognize the environmentally sustainable ways that redwood can be used in residential projects.
Determine the means to incorporate the principles presented based on project examples and case studies.
Credits:
This course can be self-reported to the AIBC, as per their CE Guidelines.
This course is approved as a Structured Course
This course can be self-reported to the AANB, as per their CE Guidelines
Approved for structured learning
Approved for Core Learning
This course can be self-reported to the NLAA.
Course may qualify for Learning Hours with NWTAA
Course eligible for OAA Learning Hours
This course is approved as a core course
This course can be self-reported for Learning Units to the Architectural Institute of British Columbia
This test is no longer available for credit
Residential design and construction have benefitted from both tradition and innovation in the United States. Traditional design styles are embedded in American culture based on multiple cultural influences. Traditional construction methods are centered around wood framing and product types that originated in the 19th and 20th centuries. Building on this long-standing base, innovation has taken hold in many aspects of residential design and construction in the form of new construction systems, enhanced materials, and more sophisticated products. All these advances offer higher performance, better quality control, and more flexibility in design. In this course, we will look at three such innovations, including ways to turn roof areas into outdoor terraces, the sustainable use of natural redwood, and the use of high-performance glazed walls. Each of these innovations is discussed in some detail, with case studies provided for context.
Photo: Casey Dunn Photography; courtesy of LaRue Architects
New design approaches, construction techniques, and building products have moved residential design and performance to higher levels than previously possible.
Roof Terraces and Outdoor Spaces
It is very common for homeowners or tenants of residential buildings to desire some connection to the outdoors as part of their living spaces. This has certainly been intensified during the COVID-19 pandemic with many people spending more time at home. This desire is in line with a sense of health and wellness too, since it is generally recognized that regular interactions with the outdoors can lower blood pressure, reduce stress, expedite healing, improve mood, and help with focus.
Recognizing this need for outdoor spaces, the residential design question becomes how best to achieve it. In low-density housing situations, yards and grassed areas are common, but so are decks and terraces. In higher-density, urban settings, the creation of outdoor spaces requires more design thought. In the quest for finding a suitable outdoor space, many architects look to a flat (i.e., low-slope) roof or terrace area on a multistory residential building. Of course, this presents the challenge of protecting the roof while still creating an appealing, natural outdoor space.
An innovative solution to this multifaceted challenge uses adjustable-height pedestals that sit on top of the roof membrane and allow the top surface to be leveled. Modular wood tiles or pavers then rest on top of the pedestals and allow rainwater to pass through the joints and down onto the roof. The complete system allows for an inviting, natural, level surface that protects the roof and creates a continuous, safe walking surface. The pedestals are used in a variety of spaces, such as balconies, rooftops, and on-grade applications. They can help transform underutilized outdoor spaces or otherwise wasted spaces into functional outdoor amenities, such as kitchens, bars, lounges, or garden areas.
Mark Fusco, LEED AP, GRP, who is the national sales manager for Bison Innovative Products, has witnessed this firsthand. He points out that architects have been incorporating more roof decks into their projects because of the availability of these systems. "Architects can now design and specify tested, innovative systems for raised decks, including rooftop decks, terraces, and other architectural features. Further, they can do so using maintenance-free adjustable pedestals and low-maintenance deck surfaces," he says.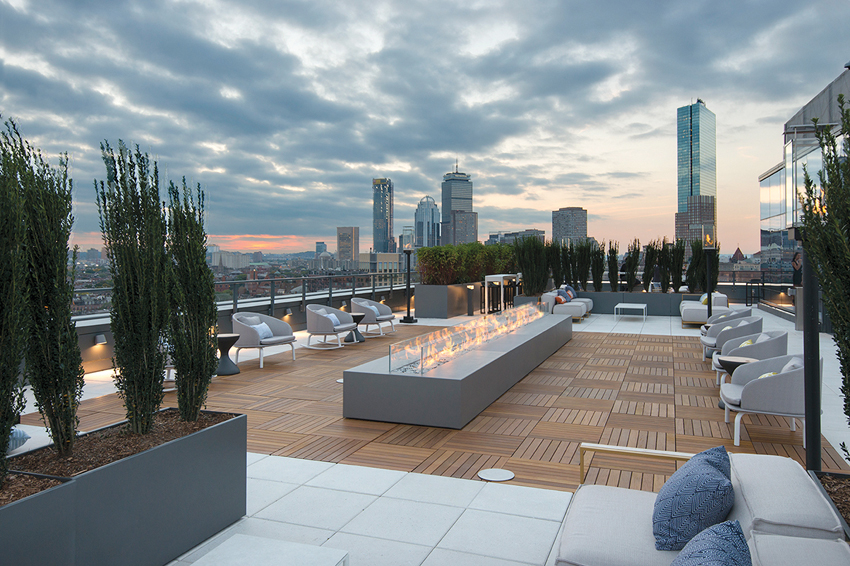 Photo: Bill Horsman; courtesy of Bison Innovative Products
A roof terraces provides residents with a means to connect with the outdoors and can be designed as an appealing living amenity.
Designing Modular Roof Decks
Part of the appeal of a manufactured roof deck system is that it is typically based on a modular system of components. Such systems give architects the design flexibility to create unique and beautiful rooftop environments and outdoor spaces, all while controlling the budget. The primary components of such a system are as follows.
Deck Supports/Pedestals
Adjustable pedestals are the fundamental support system for the deck and have become recognized as one of the most labor- and cost-efficient methods of creating a level deck over a moderately sloped surface. The location of the pedestals is typically based on a modular layout that follows the size of the material used on the deck surface. Commonly, this is a 2-foot x 2-foot square grid, although many other sizes are possible as well. Adjustable pedestals are available in a range of heights and weight-bearing capacities to suit a variety of conditions or needs. Those decks carrying more weight or requiring more height to achieve a level condition will need a higher grade of pedestal.
Many commercially manufactured pedestals are made with high-density polypropylene plastic that is 100 percent recyclable. This material choice means that the pedestals are essentially impervious to common outdoor concerns, such as water, mold, and freeze-thaw cycles. As part of a gravity-based system (i.e., no roofing penetrations required), the pedestal supports protect the roof and waterproofing membranes below without causing damage or harm. Pedestal deck systems can also be utilized over any other structural surface, such as on bare structural decks, rooftop decks, existing plazas/terraces, compacted grade, pavement, pool surrounds, inside of water features, or even between green roof areas.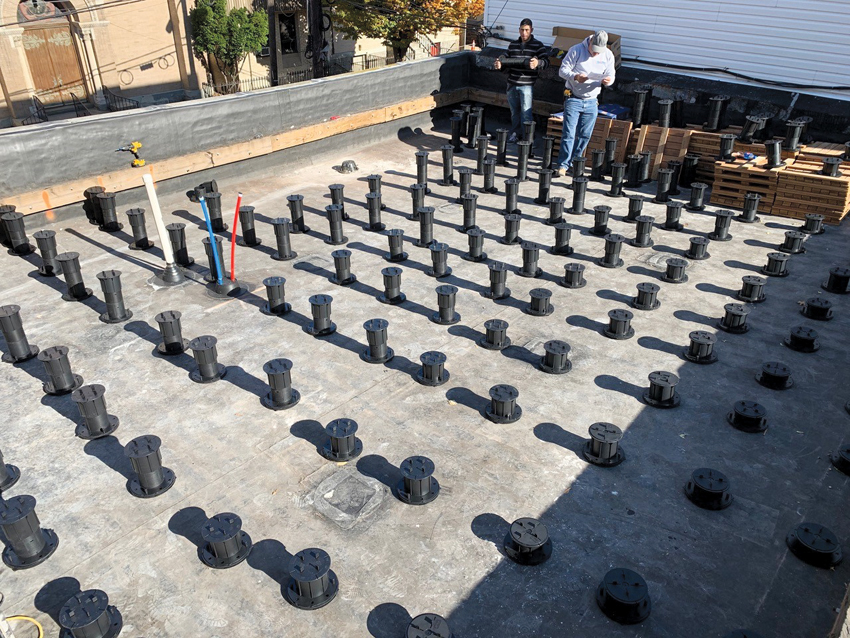 Photo: Anthony Carrino; courtesy of Bison Innovative Products
Adjustable-height pedestals are the first component to be installed in a standard modular grid pattern to suit the project's needs.
Deck Surfaces
The versatility of adjustable pedestal deck supports means that they can be used to elevate a variety of decking surface materials. The common options include pavers made from concrete or stone, such as granite or travertine. Similarly, structural porcelain tiles, fiberglass grating, composite materials, or conventional wood decking systems can be used in a grid pattern to meet different design requirements. Typically, a galvanized steel paver tray is installed on top of the pedestals to support structural porcelain pavers or others. Surface materials can be removed for routine maintenance, repairs to the roof, or to gain access to other systems.
If a lighter-weight surface material is preferred or needed, wood tiles are a good alternative, as they weigh only one-third as much as concrete tiles. Typically made from hardwoods in a variety of species, wood tiles are commercial grade and available in standard, responsibly harvested, and Forest Stewardship Council (FSC)-certified hardwood options. If maintaining the wood color is desired, wood tiles can be periodically cleaned and sealed. Left to weather naturally, they will develop a silvery-gray patina.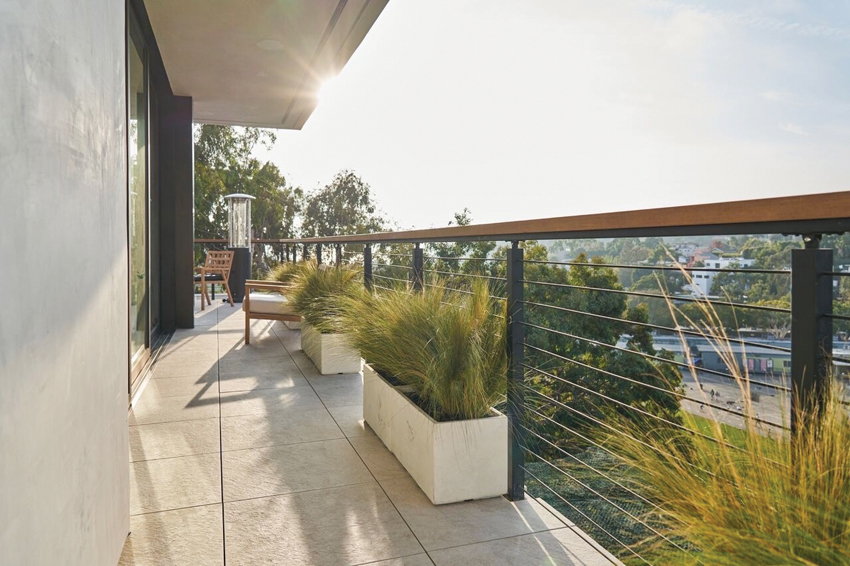 Photo courtesy of Bison Innovative Products
Outdoor balconies and terraces can use raised pedestal systems to support a variety of modular surfaces,
such as the tiles shown here.
Originally published in Architectural Record
Originally published in April 2021
Notice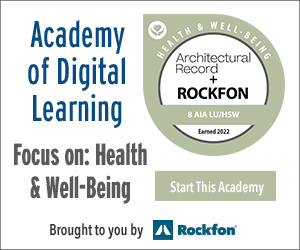 What's New in Residential Design
Buyer's Guide
Rooftop Deck Systems

Manufactured in the United States with 20 percent post-industrial recycled materials, Bison Pedestals create level decks over sloped surfaces. They elevate and support wood tiles, pavers, site furnishings, and a variety of other surfaces. Bison Wood Tiles are commercial grade, constructed from sustainably harvested hardwoods, and available in standard and FSC-certified options.
Redwood Decking

Native to California and widely used across the western United States, redwood decking remains one of the most popular natural wood decking materials available. Humboldt Sawmill Company offers FSC-certified redwood decking in 2-inch x 4-inch, 2-inch x 6-inch, and 2-inch x 8-inch dimensions, and in lengths from 6 feet to 20 feet.
Timber Curtain Wall System

The Loewen Timber Curtain Wall system offers large glass assemblies with extremely narrow mullions. The structurally engineered timbers create a beautiful and warm interior, while the exterior covers are available in painted or anodized extruded aluminum, solid wood, or cyprium (copper or bronze cladding).