By Architectural Record
Learning Objectives:
Explain how green infrastructure can be used to bolster traditional hard infrastructure for flood control.
Describe how green infrastructure tactics can be used to remove pollutants from stormwater.
Discuss measures implemented by two recent art museums as protection from flooding.
Outline the testing regimen for hurricane-resistant glazing.
Credits:
This test is no longer available for credit
This set of articles examines strategies for dealing with severe weather and flooding in the built environment. It describes some of the measures implemented or planned for New Orleans, both in terms of traditional hard infrastructure and so-called "green infrastructure." It explores a new park in Jinhua, China, that is designed to thrive even when inundated. And it discusses the flood-prevention tactics used at two recently completed waterfront art museums.

Continues at architecturalrecord.com »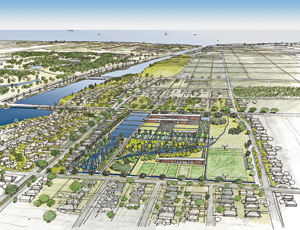 Image courtesy Waggonner & Ball
New Orleans Goes with the Flow
Ten Years after Katrina, the city learns to live with water.

Photo © Alex S. Maclean/Landslides

Befriending the Floods
A Chinese landscape architect restores the ecology of an urban wetland and creates an innovative, ever-changing park.

Photo courtesy Turenscape

Flirting with Disaster
Two recent art museums with prime waterfront sites protect their buildings and collections from severe weather and rising water levels.

Photo © Jeff Goldberg/Esto
Originally published in Architectural Record.
Originally published in July 2015
Notice