Vertical School Expansions
Nowhere to Go but Up: Schools on tight urban sites are raising the roof.
Sponsored by Armstrong Ceiling and Wall Solutions
Architectural Record

1 AIA LU/HSW; 0.1 IACET CEU*; 1 AIBD P-CE; AAA 1 Structured Learning Hour; AANB 1 Hour of Core Learning; AAPEI 1 Structured Learning Hour; This course can be self-reported to the AIBC, as per their CE Guidelines.; MAA 1 Structured Learning Hour; NLAA 1 Hour of Core Learning; NSAA 1 Hour of Core Learning; NWTAA 1 Structured Learning Hour; OAA 1 Learning Hour; SAA 1 Hour of Core Learning
Learning Objectives:
Discuss the physical circumstances that could make the vertical expansion of an existing school building a practical option.
Explain how the structures of the three schools profiled here were reinforced to support their vertical additions.
For the three schools, describe the construction and sequencing strategies that allowed the additions to be built with minimal disruption to operations.
Explain how vertical circulation and emergency-exiting requirements were met for each of the three expansions.
This course is part of the Sustainability Academy
View course on architecturalrecord.com »
Building on top of another building is nobody's first choice. Issues of structural capacity, construction logistics, approvals for extra height, and aesthetic and programmatic relationships make it almost a last resort. Yet, for urban schools that need to grow, raising the roof is often the only option. "Real estate is incredibly challenging for many of these institutions," says Mary Burnham, a principal at New York–based Murphy Burnham & Buttrick Architects (MBB). "If you can't expand to the right or left, it's very logical to look at air rights as potential for development."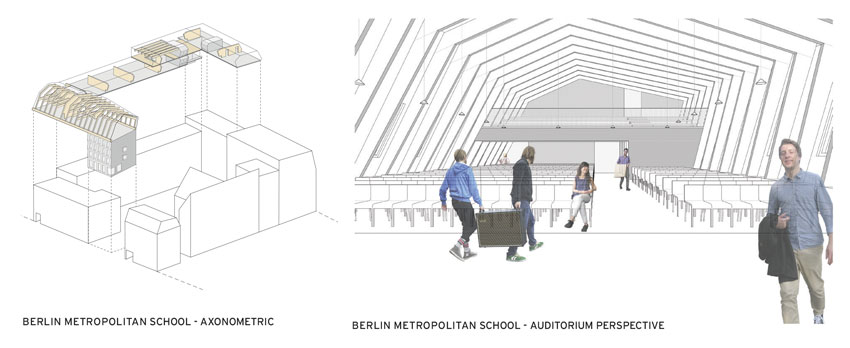 IMAGES: © JAN BITTER (TOP AND MIDDLE LEFT); COURTESY SAUERBRUCH HUTTON (MIDDLE RIGHT AND BOTTOM, 2)
Sauerbruch Hutton's copper-clad rooftop expansion of the Berlin Metropolitan School projects out over the existing building's courtyard (top and middle left). To support the new CLT addition (middle right), the architects took advantage of spare capacity in the shear walls of the structure below.
As a result, the architecture of vertical school expansions is emerging as a distinct and intriguing subtype. Berlin-based Sauerbruch Hutton's extension of the Berlin Metropolitan School, for example, complements an existing ceramic-tile-clad facade with a sloping—but not the way you expect—copper attic. At Grace Church School, New York, an addition by MBB pushes through the roof with an elegant new form. And in London, Cottrell & Vermeulen Architecture completes Streatham & Clapham High School's masonry construction with a glassy frieze that looks as though it should have been there from the start. While these vertical extensions share certain strategies—lightweight structure, careful attention to construction staging, and a deliberate approach to topping a completed work—each intervention exemplifies a unique approach to the brief.
The Berlin Metropolitan School's building was built in 1987 from a prefabricated concrete-panel kit, part of a collection of gifts the major cities of the former East Germany sent to celebrate the 750th anniversary of the capital. Clad in precast concrete and the bricklike ceramic tiles for which the donor city (Rostock) is known, the K–12 school comprises four wings of four to seven stories, built to the lot lines of a midblock site, and enclosing a large courtyard playground. By the 2010s, with 1,000 pupils and an expanding program, the school needed more space. Its historic urban setting offered no scope for expanding outward, and Berlin's high water table eliminated the possibility of digging beneath the courtyard. The only way the school could grow was up.
"It's hard to put something on top that is equal but different," says Vera Hartmann, architect with Sauerbruch Hutton, summing up the central design challenge. The solution, now under construction, tops three of the school's stepped-height wings with a new roof form enclosing a 50,000-square-foot, one- and two-story extension. Its copper cladding harmonizes with the weathered ceramic, and the rhythm of its standing seams relates to vertical elements in the facade below. The major move, however, is formal. Along the lot lines, the new roof angles back in compliance with development restrictions; but on courtyard-facing sides, it does the opposite, projecting out and over the existing facade. Primarily intended to increase the attic's usable floor area, this move also creates an amiable impression, despite the extra height, as though the building is bending toward the playground, as an adult might bend toward a child.
Originally published in Architectural Record
Originally published in January 2019
Notice