Updated School Design in a Post-Pandemic World
Strategies for addressing ongoing and emerging needs
Sponsored by ASI Group, Bradley Corp., Mitsubishi Electric Trane HVAC US, NanaWall Systems, and Rockfon
Learning Objectives:
Identify the ways that opening glass walls enhance 21st-century school design for the health and welfare of students through improved learning environments.
Assess strategies to improve acoustics in buildings that improve wellness and enhance learning in schools.
Determine strategies to provide adequate ventilation and energy-efficient heating and cooling in schools for thermal comfort and health.
Explain the importance of proper attention to healthful restroom design in schools, particularly related to sanitary handwashing, privacy, and safety.
Determine ways to incorporate the design principles presented into building project documentation as shown in examples.
Credits:
This course can be self-reported to the AIBC, as per their CE Guidelines.
This course is approved as a Structured Course
This course can be self-reported to the AANB, as per their CE Guidelines
Approved for structured learning
Approved for Core Learning
This course can be self-reported to the NLAA
Course may qualify for Learning Hours with NWTAA
Course eligible for OAA Learning Hours
This course is approved as a core course
This course can be self-reported for Learning Units to the Architectural Institute of British Columbia
This test is no longer available for credit
The COVID-19 pandemic impacted schools in a big way and has led to new opportunities to think about how learning is carried out – both virtually and in-person. It also brought to the forefront the need to create learning environments that are safe, healthy, and that inspire wellness for not only the students, but for teachers and staff, too. Private and public sector efforts are emerging to help address the new needs and opportunities in school design. For example, the recently introduced Elementary and Secondary School Emergency Relief (ESSER) fund has allocated over $100 billion to mitigate the impacts of COVID-19 on students, educators, and their families. Projects to improve indoor air quality, enhance the health of students, and otherwise renovate and upgrade school operations are among the allowable uses for the funds. In light of these needs and opportunities, this continuing education course looks at some strategies that can help architects design or renovate schools to address many of these concerns.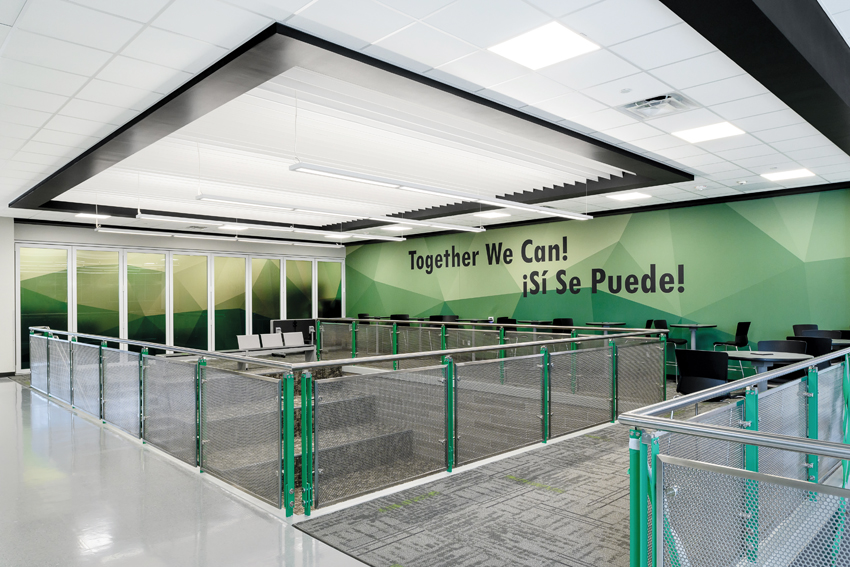 Photo courtesy of © Dee Zunker
The design of K-12 schools needs to address ongoing learning approaches as well as heightened concerns over
health and welfare.
21st-Century School Design
Before the COVID-19 Pandemic, school design was strongly influenced by 21st century thinking about how students work by focusing on new visions of learning environments combined with computer-based technology. Some of those aspects have been reinforced by the pandemic, such as online learning, while other aspects have been updated or reinvented, such as ways to create and use space safely in a school building. While the overall goal remains providing better learning environments, school health and safety have become critical and influential design criteria as well.
One of the strategies that has emerged to address a number of these needs is the use of opening glass walls in school buildings. They provide several attributes that are helpful to school design, as discussed in the following sections.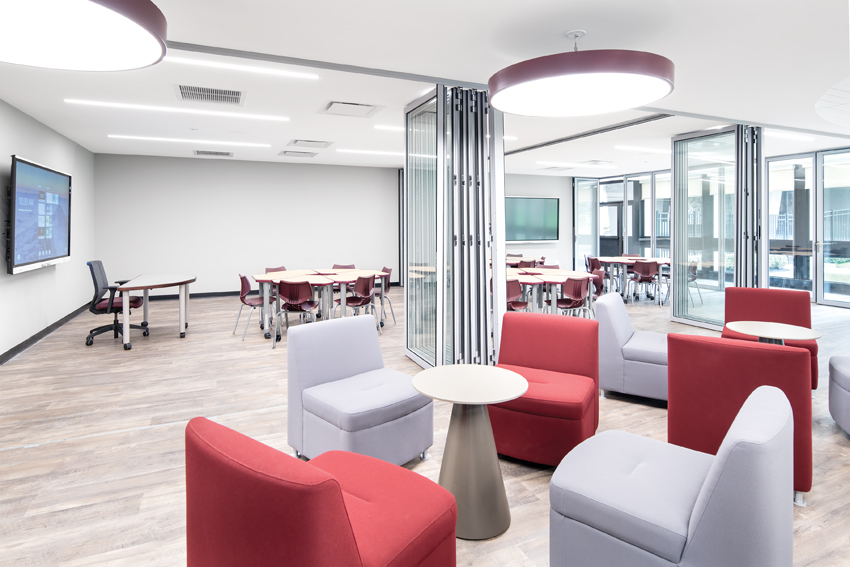 Photos courtesy of NanaWall Systems
Flexible spaces that open or close onto each other in school buildings can be achieved with opening glass walls.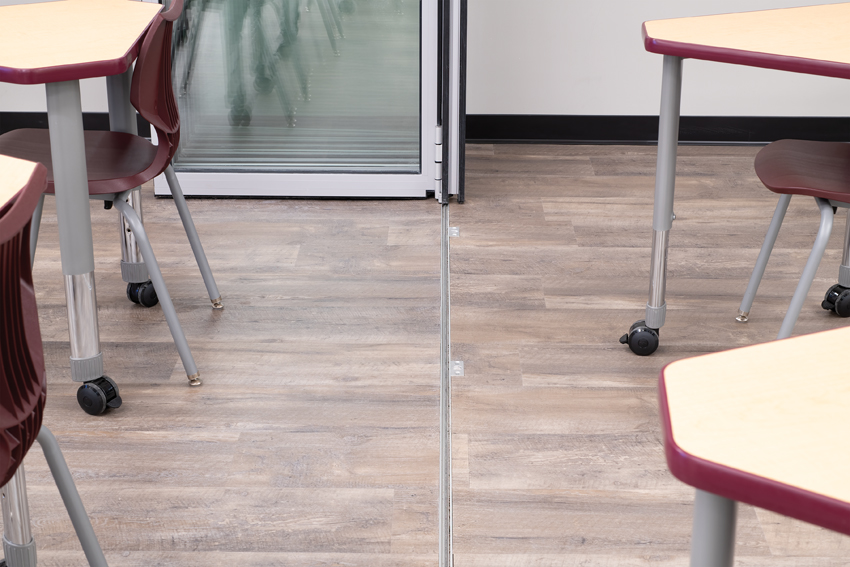 Properly specified opening glass walls can provide separation and sound control as needed between adjacent spaces.
Flexible Space
Opening glass walls eliminate the fixed walls of the traditional classroom by opening to shared areas. Such a flexible design concept can take a variety of forms. First, it could allow classroom-to-classroom connections, meaning that multiple rooms or grades can be combined, or closed off, at will, to accommodate teaching needs. The separation also allows for greater control of the number of students in a space, when isolation or separation is needed for health reasons. Second, opening glass walls can be used to connect classrooms to common areas, allowing greater interactions and/or isolations to suit the needs of an entire wing or section of a school building. Third, they are quite effective when used in resource centers, so that space and equipment or other things can be shared with different sized groups or grades. The general benefits of this design approach include areas for project-based learning or common areas where students work together on a range of activities with shared resources or presentation areas. Furthermore, creating a flexible classroom configuration optimizes the floor space within the building envelope which can translate into reduced total square footage needs and the related construction costs.
Connection to Outdoor Space
Opening glass walls can also be designed as a connection to outside spaces. This creates an indoor / outdoor learning environment that provides multiple health and educational benefits for students. First, the large glass areas bring daylight and views into the building, which has been shown to benefit the general health and well-being of students, teachers, and staff. Second, the ability to open the glass walls partially or fully allows for an abundance of fresh air ventilation. Such fresh air (and outdoor activity) continues to be a key strategy in preventing the spread of airborne disease. From an educational perspective, opening the glass wall allows for the opportunity for outdoor learning experiences as well.
Sound Control
With opening glass walls, there is a need to properly address the control of sound in and between the spaces where they are located. In particular, sound isolation is needed in flexible space designs so students can properly focus on their work or understand instruction from their teachers. The design challenge in schools can sometimes be finding a way to incorporate the flexible spaces being sought for classrooms and other spaces while still meeting the acoustical needs of those spaces.
Fortunately, manufacturers of opening glass walls have found ways to deliver impressive acoustical properties so designers can feel confident that incorporating such systems into school designs will not be seen as any type of a compromise. The best way to determine acoustical performance in walls is to have them tested to determine their Sound Transmission Class (STC) rating. This common index provides a way to help determine how much sound (measured in decibels) is restricted from passing through a wall or similar assembly. The higher the rating, the less sound that passes through. Ratings that meet acoustical standards promulgated by independent rating programs (i.e., LEED, WELL, CHPS, etc.) can be achieved using properly specified opening glass walls. In so doing, the good acoustics can help create a positive learning environment.
Ceilings That Promote Wellness
Ceilings are a significant design element that can play an important role in the health and well-being of everyone inside a school building. A high-performing ceiling needs to address good acoustics but can also contribute to general indoor air quality. To do so, a lot can depend on the choice of the materials that are used in ceilings.
Stone Wool Acoustic Ceiling Tiles & Panels
One ceiling material that is being used increasingly in schools is stone wool. It is a proven material that demonstrates great acoustic properties, resistance to mold and mildew, and excellent fire and smoke performance. Since it is made from stone, it is naturally resistant to mold and mildew growth – it is hydrophobic, does not absorb moisture, and will not support mold, mildew, or other potentially harmful microorganisms. No antimicrobials are needed to provide this level of performance. This resistance can be critical in high-humidity environments, especially if HVAC is turned off when the building is unoccupied, as may be the case over the summer months. Mold and mildew can create an indoor air quality health concern in schools, particularly for people with asthma or other respiratory conditions.
Stone wool is also unaffected by changes in temperature and humidity, so opening windows and allowing fresh air to enter the building does not affect the ceiling performance. Further, stone wool ceiling tiles and panels have earned UL Environment GREENGUARD Gold Certification for low VOC emissions in schools. This certification process takes into consideration safety factors that may impact those with vulnerable immune systems, including children. The stringent UL GREENGUARD Gold certification is recognized by numerous green building and wellness programs including the Collaborative for High Performance Schools (CHPS), the WELL Building Standard, and LEED.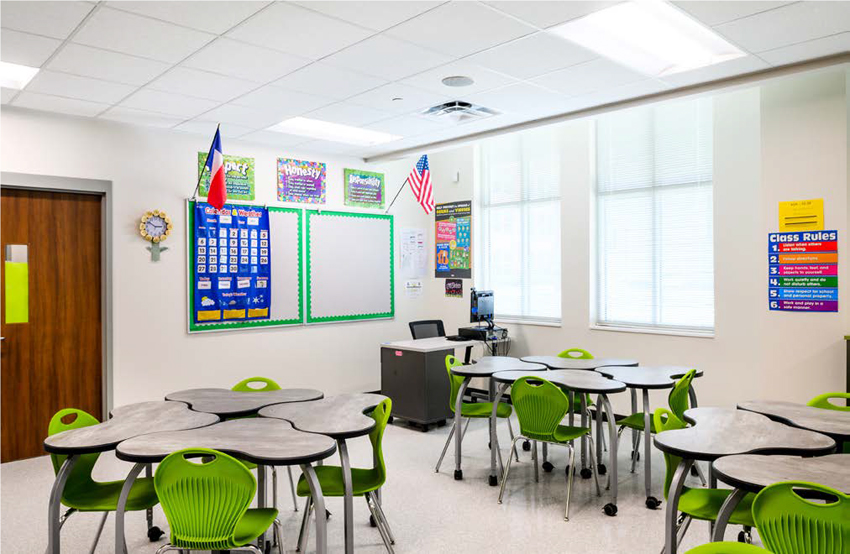 Photo courtesy of © Dee Zunker
The proper acoustical control of sound in schools needs to include the ceiling, walls, floors, and background sounds in
each room or area.
Originally published in Architectural Record
Originally published in February 2022
Notice