Transforming Outdoor Spaces: Placemaking
Some new products help create better results
Sponsored by Bison Innovative Products, Cascade Architectural, Feeney, Inc., Humboldt Sawmill Company, and Soil Retention Products, Inc.
Learning Objectives:
Identify and recognize the health, safety, and welfare aspects of designing outdoor spaces that also contribute to sustainability standards such as LEED v4 and SITES v2.
Assess the sustainability aspects of different materials and products that are used for outdoor spaces, particularly in regard to LEED v4 and SITES v2 criteria.
Explain different strategies that provide for human safety and minimize environmental impacts in the design of outdoor spaces.
Determine ways to incorporate the principles presented into buildings and sites as shown in case studies.
Credits:
This course can be self-reported to the AIBC, as per their CE Guidelines.
This course is approved as a Structured Course
This course can be self-reported to the AANB, as per their CE Guidelines
Approved for structured learning
Approved for Core Learning
This course can be self-reported to the NLAA
Course may qualify for Learning Hours with NWTAA
Course eligible for OAA Learning Hours
This course is approved as a core course
This course can be self-reported for Learning Units to the Architectural Institute of British Columbia
Every building has a site and the act of putting a building on it necessarily creates outdoor spaces that are used for access, parking, congregating, recreation, or other activities. The impact of those spaces is reflected in both the people who ultimately use these spaces and the natural environment which is either disrupted or enhanced. In both cases, it is the design of these outdoor spaces that can produce a sense of an outdoor place and directly influence how truly sustainable the site is. This continuing education article explores ways in which both private and public outdoor spaces can be transformed for placemaking, comfort, safety, and sustainability. In particular, LEED Sustainable Sites and the separate, but closely aligned, SITES rating systems are referenced. It is worth noting that any LEED v4 project can now automatically earn all of the points in the Sustainable Sites credit category in LEED when they achieve SITES v2 Gold certification or higher. In addition to general principles of design, several specific strategies are reviewed with case study examples of successful installations.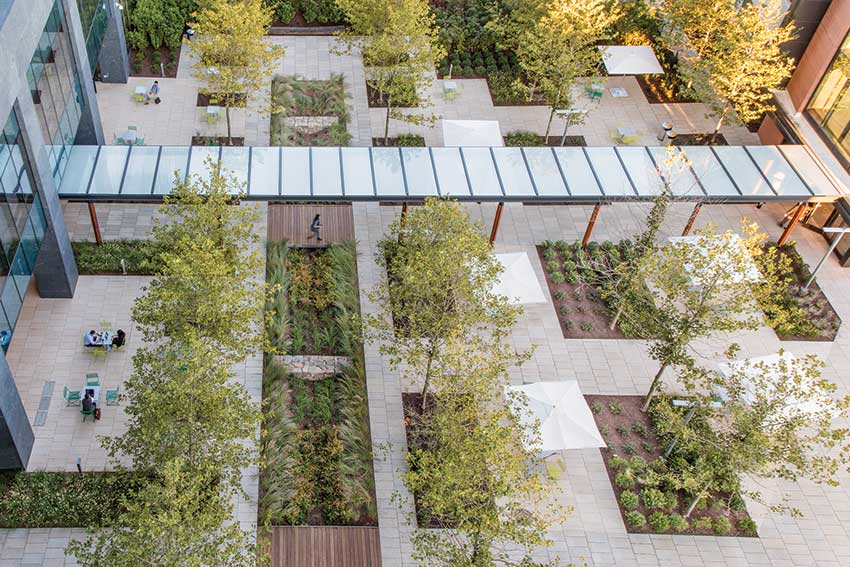 Photo: Kyle J Caldwell; courtesy of Bison Innovative Products
Outdoor spaces that are usable, appealing, and sustainable require attention to multiple design factors and a
number of related details.
Permeable Paving
Asphalt or concrete paving is common to many building sites but, as surfaces that don't allow water to permeate, design issues of water runoff, retention, and drainage become significant. Not only is it a matter of managing the water, but there is also a legitimate concern about the things transported by the water runoff, such as petroleum products from parked cars, chemicals from landscaping, or other harmful compounds. In fact, the Environmental Protection Agency (EPA) considers "stormwater runoff in urban and developing areas to be one of the leading causes of water pollution in the United States."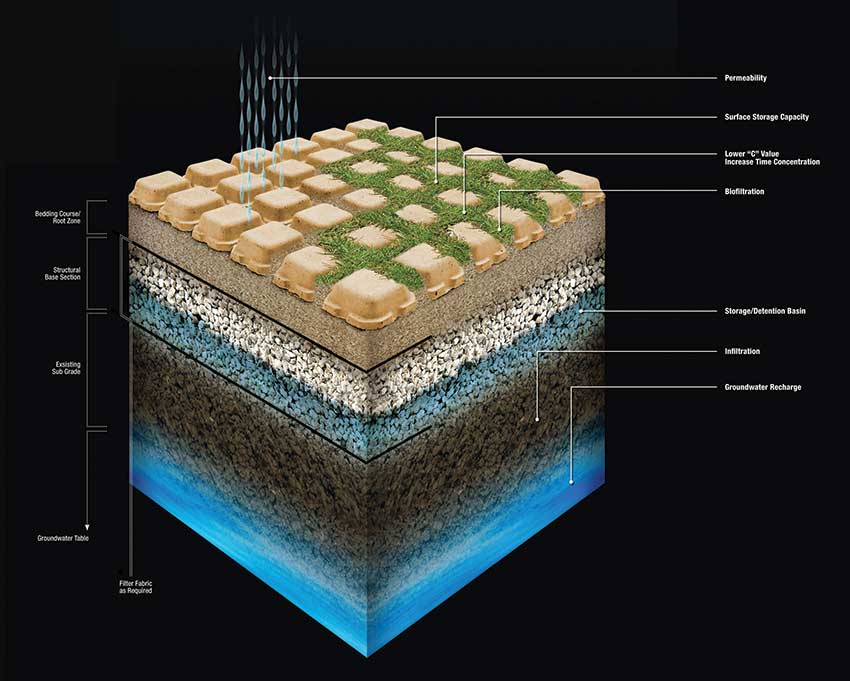 Photo courtesy of Soil Retention Products, Inc.
In a permeable pavement system, water penetrates the surface and moves through a variety of layers including sand which acts as a natural filter.
In response to this situation, alternatives have been developed in the form of permeable paving systems to replace traditional hard surfaces. These systems use a range of sustainable materials and techniques that allow the movement of stormwater through the surface down into the underlying base and subbase. A variety of plantable and non-planted systems are available that have been shown to help reduce the carbon footprint of buildings, improve water quality, diminish flooding and erosion, and reduce urban heat islands all while creating attractive open spaces. A 2007 study at the North Carolina State University (NCSU) Permeable Pavement Research Lab showed that "all permeable pavements significantly and substantially reduced surface runoff volumes and peak flow rates when compared to asphalt."
Part of the beauty of permeable pavement is that it reduces the need for other mitigation measures. Neil Weinstein, executive director of the nonprofit Low Impact Development (LID) Center in Washington, D.C., has noted that "The primary motivation for using permeable pavement is that it doesn't eat up the land like surface retention basins, bioswales, and filtration basins do. This is especially important in urban areas where sites are smaller and must meet stormwater regulations." All of these aspects of such systems bode quite well for projects seeking LEED certification or using the SITES rating system for Sustainable Sites.
Flexible Concrete Pavement Systems
Among the different types of systems available, an increasingly popular one is not just a rigid "turf block" but is a flexible system. Notably, this type of system is available in 2-by-2-foot mats made of wet-cast concrete squares that are connected by a grid. Holes in the grid allow for water infiltration and root penetration if the design calls for a vegetated infill. There are also several non-planted infill options available, such as gravel, pre-cut artificial turf, or decomposed granite, which makes the system versatile. The polymer grid embedded in the mats allows them to flex and conform to uneven ground surfaces without coming apart. Hence, the mats maintain the characteristics of a drivable, natural surface while minimizing wheel rutting even when saturated. The lattice-style grid structure allows water to flow right through it and vegetation to grow if desired. The small concrete squares provide a solid surface comparable to more common paving materials such as asphalt and poured concrete. This configuration eliminates sharp edges common in other systems, plus it is less prone to crack and break like rigid concrete or pop up like plastic systems.
Flexible concrete pavement systems are well suited for a variety of residential and commercial outdoor spaces that might otherwise be paved with impermeable materials. Commonly, these include spaces that are infrequently driven on such as fire lanes, utility easements, and drainage ways. In addition, driveways, parking stalls, RV parking, and bioswale protection are all ideal uses. Hydraulic performance in drainage channels has also been tested and these products have performed well. When any of these conditions are paved with conventional paving, a vacant, underutilized outdoor space is created. With the flexible pavement, the area looks more inviting and allows for a more natural, controlled drainage. While these systems are suitable for a variety of scales, they are not commonly used for major streets, except for areas with very limited traffic, such as median turnarounds and erosion control areas.
Design Considerations
Commonly, the design of a permeable pavement system is a multidisciplinary effort. The first step is to clarify the objectives of the system. Is it focused on flood mitigation or water retention/detention? Or is the objective primarily to filter the water for improved water quality? What about water collection and reuse possibilities? And of course, what is the intended site traffic that the system needs to carry?

Photo courtesy of Soil Retention Products, Inc.
Flexible, permeable pavement systems can be used with a variety of infill materials including pre-cut artificial turf (shown on left), gravel, (shown on right), or vegetation, thus allowing for unique looks and applications.
Once all of these questions are answered, the design will next be influenced by the composition of the subgrade (i.e., the native soils below the paving section) and the corresponding infiltration rate. On top of these soils, the structural subbase will be placed and has the potential to collect and store some rainfall, depending on the materials used. With the native soils and the subbase working together, it is possible to even store other runoff from the site, thus avoiding the need for separate detention and storage. In cases where the soils provide low infiltration, some use of excess stored water may have to be considered. For example, excess water could be piped away with an elevated underdrain and used for irrigation or other useful purposes.
In Los Angeles, Eric Owen Moss Architects incorporated a flexible, plantable concrete pavement system into a high-profile project there. Specifically, it was incorporated into an exterior patio and vehicular driveway. Project Director Dolan Daggett was very pleased with the results stating, "The beauty and performance of the product speaks for itself."
Turfgrass Considerations
If a vegetated permeable paving system is desired, then the plantable part of the system is typically some form of turf or grass. When used in areas of light pedestrian traffic, such as parks or ballfields, the planting of turf or even sod is fairly conventional. However, when used for vehicle traffic, the first thing to be aware of is the need for a bedding course which is defined as the underlying sandy material between the pavement and the compacted subbase material. This is the layer that will promote vegetative growth and is important to the health of the turf.
In order for the turf to remain healthy and functional, the pavement system needs to prevent soil compaction so that the living root zone of the plants is both porous and permeable to air and water. Successful permeable paving products provide the reinforcement needed to bear the vehicular weight, transfer the loading to the subbase, and allow the spaces between paving cells to provide the needed root zone conditions for the vegetation to thrive. If the void spaces of the system are too large and overfilled with soil and growth, soil compaction will occur which cuts off the air and water needed for plant growth. Conversely, applying turf by seed and not overfilling the void spaces gives greater protection to the root system.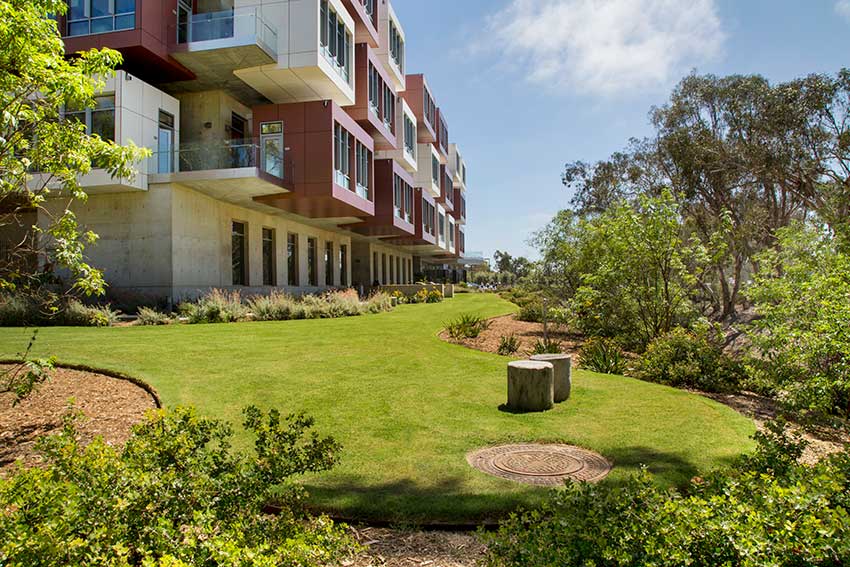 Photo courtesy of Soil Retention Products, Inc.; Photo by Allen Carrasco
Seeded Bermuda Grass, shown here after 10 years of use for occasional utility access and pedestrian/patio use, is a testament to turf grass performance with a flexible concrete grid paver used with a bedding course.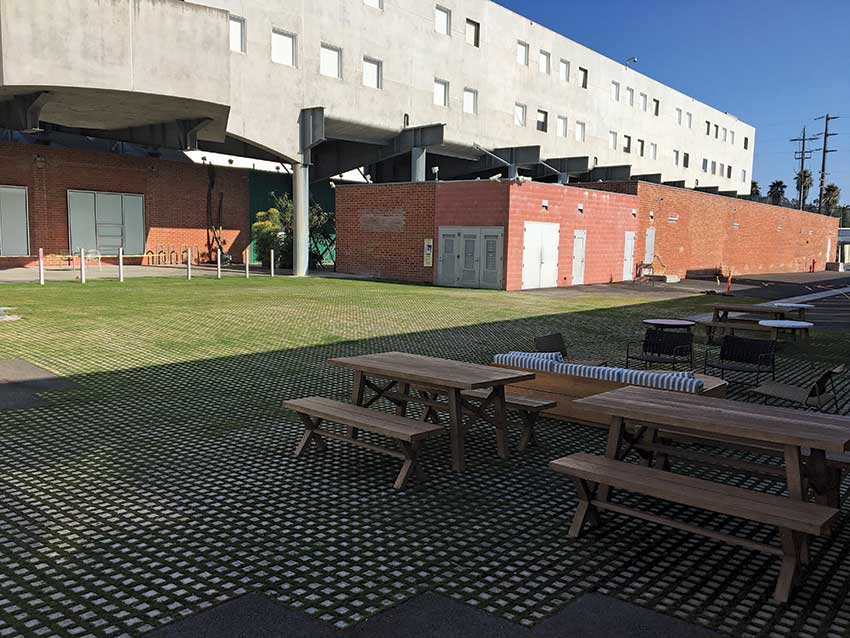 Photo courtesy of Soil Retention Products, Inc.; Eric Owen Moss Architects
This Los Angeles project uses a flexible, plantable concrete pavement system for an exterior patio and vehicular driveway. Dolan Daggett, project director with Eric Owen Moss Architects, states "the beauty and performance of the product speaks for itself."
The type of grass species or groundcover to be planted is very much a localized decision. Some locations will likely never need to consider irrigation while others may only survive with it. The temperature cycles and ability of the vegetation to survive different climate conditions come into play. Local site conditions of predominant shade or sun in different spaces will directly impact growth. There may be reasons to consider a warm-season grass or a cool-season grass, a bunchgrass or a spreading grass type, or grasses that are tolerant of deicing salts or other local conditions. Resources to determine the best or most appropriate planting choices for specific sites include local cooperative extension agents, state agricultural offices, nurseries, and landscape architects.
Originally published in Architectural Record
Originally published in April 2022
Notice