Sustainable Design and the Cost of Healing
Ensuring efficiency, health, safety, and welfare at the systems level
Sponsored by ASI Group, CRL, Inpro, and New Millennium Building Systems
Exterior Fenestration and Doors
Technological improvements have allowed designers to specify larger glass doors and windows on health-care facility exteriors without sacrificing occupant comfort or energy efficiency. On the market today, there are entrance systems available that provide all-glass aesthetics alongside exceptional thermal performance. These systems offer U-factors as low as 0.33 using a thermally broken frame with double-pane insulating glass that can be filled with argon gas. Argon gas is denser than air and therefore improves thermal insulation efficiency. Argon gas paired with low-emissivity glazing helps create a high-quality entrance solution that provides adequate daylighting without allowing for solar heat gain.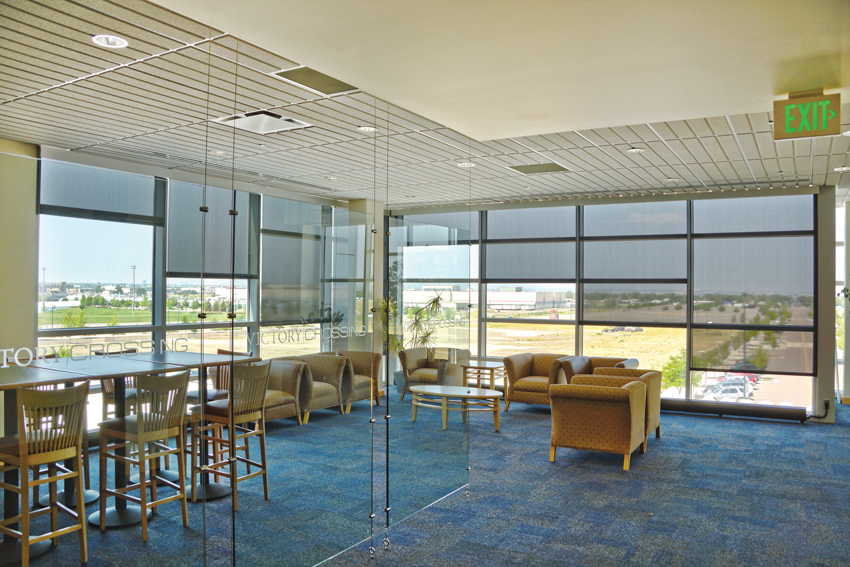 Photo courtesy of Inpro
Solar shades allow occupants to see scenes of nature outside while reducing unwanted glare.
In these systems, all-glass aesthetics are achieved using ultra-narrow 1-1⁄8-inch door stiles. In addition, door handle hardware—including tubular panic devices—can be mounted directly onto the insulating glass instead of the doorframe to create a floating-on-air appearance.
Indoor Fenestration and Doors
In addition to exterior glass entryways, designers can specify indoor glass partitions that allow for privacy while also maximizing the natural light streaming in from the entry way. This is particularly beneficial for patients and hospital employees who may not be located in a place near an exterior window and also are not able to go outdoors for a break or fresh air.
Printed Wall Protection
In cases where exterior windows and natural light are not an option, customized wall coverings showing digital art images of nature can provide a simple, cost-effective way to incorporate the benefits of biophilia in interior spaces. Entire walls, hallways, and waiting rooms can be turned into forests, beaches, and other calming relaxing scenes that provide inspiration, hope, and comfort. Any high-resolution image can be used, allowing for endless possibilities.
Digital wall art is printed on the back of a clear protective sheet that is then applied to the wall. The clear protective barrier is durable enough to withstand impact without scratching or being damaged. This is particularly important in busy areas such as hallways, corridors, and waiting rooms.
Solar Shades
Solar shades are another way designers can incorporate biophilia in hospital settings. Solar shades allow for scenic images to be incorporated into windows, providing beautiful images while allowing daylighting, a reduction of the sun's glare and heat gain, and still allowing for outside views.
As reported in Buildings magazine (December 2018), a study of 7,600 respondents in 16 countries reported that "window views of greenery and water were linked to lower stress levels compared to greater stress levels for employees without a window."
Quality Materials Promote Health, Safety, and Welfare for Patients and Providers
In addition to providing pleasing aesthetics and quality building designs, quality materials can also contribute to patient safety.
Protective Barrier Systems
In hospital interiors, safety is just as important as sustainability. Protective barrier systems can be installed to help prevent contagion transmission. Expansive glass partition systems are available and ideal in that they offer transparency and effective daylight diffusion, which also helps improve patient mood. Currently there are products that provide interior protective barriers featuring ultra-slim freestanding posts with a 3⁄4-inch face trim that creates virtually unobstructed views. These new post systems can reach 8 feet in height with glass installed and have the option for either a swinging or sliding door.
These systems can be detached and reconfigured to suit new design and protective requirements. This makes them sustainable because it eliminates the material waste associated with having to install brand new protective barrier systems. Post systems are also highly versatile because they offer countless configurations using any combination of end posts, center posts, and corner posts.
Fire Protection and All-Weather Construction
Thin-slab floors are designed for a minimum of 1-hour fire resistance. A dovetail long-span composite floor can be as thin as 4 inches and have a 2-hour UL-unprotected fire rating. Deep-ribbed composite floors can be as thin as 9-¼ inches and have a 2-hour UL-unprotected fire rating. Both composite decks can receive spray-applied fire-resistive material along with bearing members or coated using intumescent paint for further protection of up to 4 hours per to ASTM E119 and UL 1709.
Thin-slab floors are often used for cantilevered extensions to the outside of a building to provide balconies and other innovative open-air spaces. A deep-ribbed composite floor can also be engineered and constructed to support heavy curtain walls at the slab's edge to create broader visual transitions to the outdoors.
Wall Protection
Many high-traffic areas often include walls, corridors that lead to lobbies and private rooms, corners at the end of corridors, and many other structural pieces that can be damaged due to foot traffic, transport of patients, transport of equipment and supplies, etc.
One way to mitigate damage to walls is by using materials that protect them from the start. Using sturdy wall protections to cover surfaces like drywall can reduce drywall breakage, reducing the amount of dust and debris in a facility, and positively affect patient safety and wellness. Wall protection can be applied in large sheets and encapsulate any dust and debris caused by cracked drywall underneath the protection. Digital wall art is made from materials that can easily be washed, sanitized and disinfected as well as withstand impact. Wall protections come in various textures and colors and can also reduce the visibility of unsightly scuffs and marks.
Additionally, crash rails and corner guards are available in various materials, colors, and styles to help protect walls from damage. Depending on the material type, crash rails and corner guards have excellent shock-absorbing qualities and can save not only the physical integrity of walls and corners, but also the aesthetic design seen by all who pass through the common areas.
Originally published in Architectural Record
Originally published in July 2021
Notice