Sustainable Design and the Cost of Healing
Ensuring efficiency, health, safety, and welfare at the systems level
Sponsored by ASI Group, CRL, Inpro, and New Millennium Building Systems
Daylighting
Building professionals and medical professionals alike are increasingly recognizing the benefits of daylighting on occupant health and welfare. Hospitals and medical facilities support a wide range of occupants including patients receiving both inpatient and outpatient care as well as medical staff (doctors, nurses, medical assistants, pharmacists, etc.) and other employees (schedulers, front desk attendants, logistical support, etc.) who contribute to ensuring that the facility and its health-care staff can provide the best care to patients while also creating an inviting environment that encourages patients to come and receive care.
Daylighting refers to the strategic placing of exterior windows, skylights, and reflective surfaces to utilize natural sunlight to provide adequate indoor lighting. Occupants receive the benefits of natural light while the facility reaps the rewards of reducing additional energy costs needed for indoor lighting throughout the day. To achieve proper daylighting, designers must consider the building's orientation as well as specify the right materials for the job.
In the past, many hospital environments were brightly lit, noisy, sterile environments that triggered anxiety in both patients and family members alike. Proper daylighting can have a positive impact on all building occupants by helping to regulate melatonin and hormones that can lead to better, more restful sleep.
The positive impacts of daylighting have been documented in multiple studies and scientific papers. According to the National Institutes of Health, a comprehensive study of 15 years of data pertaining to 38,788 patients with a bed near the window and 46,233 patients with a bed near the door showed that patients with a bed near the windows had significantly shorter hospital stays than those with similar health conditions whose beds were positioned by the door. (All patients in the study were 79 years old or younger.) The same study also showed that "[i]nadequate light has a direct effect on fatigue, diseases, insomnia, alcohol addictions, suicides, and other psychiatric diseases. Therefore, light has been emphasized and used in the design of medical facilities."1
Decreased sunlight can also disrupt circadian rhythms and lead to a lack of sleep and delirium, which is especially concerning for ICU patients. Wunsch et al. (2011) state that "[m]any ICUs have either no or very few windows. One study published 30 years ago suggested that critically ill patients cared for after surgery in ICU rooms with windows may have a decreased incidence of delirium."2
In addition to direct health outcomes related to proper daylighting, patients also indirectly benefit from the positive experiences that medical and hospital staff derive from natural light and a connection with nature. Several studies have also documented how light can reduce depression and decrease fatigue while also enhancing one's alertness.3 Improved lighting helps enable health-care professionals to better use their vision to perform tasks more accurately and to reduce eye strain and irritability caused by lack of light, too much light, unwanted glare, or shadows from artificial light sources.
Health-care providers with access to comfortable outdoor spaces, such as balconies, rooftop decks, or courtyards, have additional opportunities to connect to nature as a way of improving morale and helping to reduce stress.
In the design phase, architects must assess building orientation as it pertains to sun exposure throughout the year. This helps architects and designers determine window and glass placement as well as the types of window glazes to use. Historically, glass fenestration systems have not been considered energy efficient because they weren't very effective at mitigating heat transfer. Fortunately, architects no longer have to sacrifice aesthetics for performance. New technologies have resulted in advanced glass and glazing systems that offer exceptional thermal performance.
Climate Control
Many health-care professionals work long shifts, actively moving throughout the building or in their workspace. Consistent temperature and climate control can also enhance their experience as well as their ability to perform their job. Conversely, patients in long-term care also spend a significant amount of time in a health-care facility, but typically aren't as mobile and therefore have different temperature needs. A properly specified HVAC system can provide occupant comfort for all. However, because the building is a complete system, the materials used in the building envelope can affect the output and efficiency of the HVAC system. Proper window glazing can contribute to the overall system, keeping interior temperatures cool during the summer and warm during the winter. This is especially important as we continue to see an increase in extreme weather and extreme temperatures due to global climate change.
Maintaining comfortable interior temperatures places less strain on heating and cooling systems, thus enhancing energy efficiency for more sustainable health-care facilities.
An article published by the National Institutes of Health states that appropriately designed HVAC systems can enhance patients' recovery process, can reduce the length of hospital stays, can lessen medical errors and infection rates, and can improve the indoor air quality (IAQ) and minimize HAIs.4 Comfortable interior temperatures also improve the experience for occupants, patients, and health-care providers alike.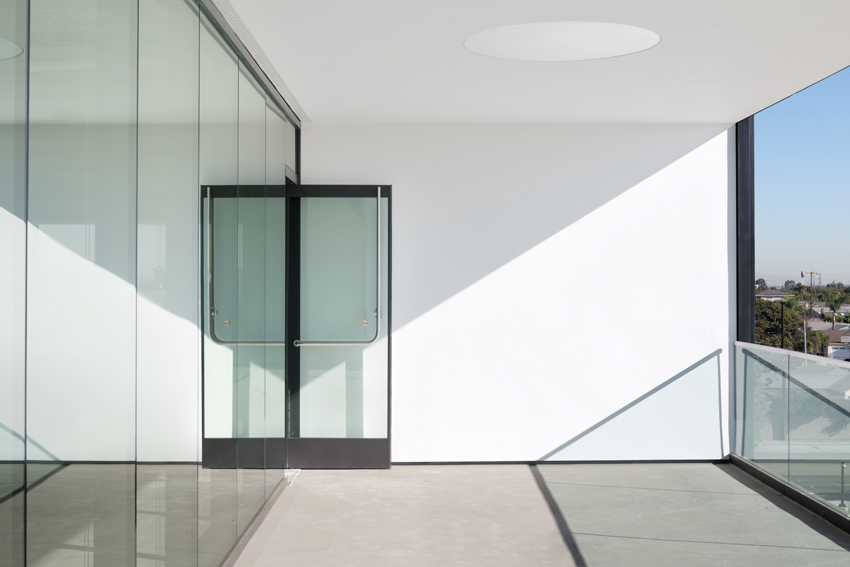 Photo courtesy of C.R. Laurence
Outdoor spaces provide an opportunity for fresh air and sunlight, which is especially important in large health-care facilities where patients, their families, and hospital employees may not be able to leave the premises for long periods of time.
Reducing the Risk of HAIs
While patients go to hospitals to get well, the risk of health-care associated infections (HAIs) is a real concern and can be very dangerous. According to the CDC, on any given day, approximately one in every 25 patients has at least one HAI.5
While reducing the length of patient stays is one way to help mitigate HAIs, physical barriers such as freestanding glass dividers can also help reduce the transmission of germs, bacteria, and viruses, thus reducing the risk of infections. Not only do the dividers prevent airborne pathogens from spreading, the partitions can also easily be cleaned and disinfected. Glass is one of the easiest materials to be cleaned because disinfectant can be sprayed directly onto the hard surface. This is preferable to the use of fabric curtains that would need to be removed, then washed and sanitized in a machine before they can be reused.
While patients often are the ones to contract HAIs, health-care providers are not immune to pathogens that can travel through a health-care facility. In the case of an epidemic, glass partitions allow for patients to be isolated in private rooms while also being closely monitored by health-care providers without entering the room.
Glass partitions and doors can also be equipped with mechanical means to open and close the doors. This limits the amount of material handling and surface touching that can contribute to the spread of HAIs.
Noise Reduction
Noise is inevitable in busy places, such as health-care facilities. In addition to being a nuisance, noise causes fractured sleep and slower healing for patients while also causing stress and distractions for health-care personnel.
In addition to creating spaces within the interior, walls also can help reduce the transmission of sound from one space to another. This can lead to lower blood pressure, improve quality of sleep, and reduce the intake of pain medication. Noise reduction can also lead to lower stress and improved communication, which is vital when a doctor is relaying health information to a patient or when health-care professionals are working together to serve patients.
Glass partitions allow for quieter spaces when compared to rooms that are partitioned with curtains that may noisily run along a track on the ceiling. The solid glass doors help create a barrier against ambient noise, conversations, and mechanical noises and beeps from medical equipment.
Long-span composite floor deck structures meet or exceed the acoustical ratings of suspended ceiling tile systems. A high-quality acoustical environment can be achieved without adding a secondary ceiling system, eliminating material and labor costs, along with saving time on the construction schedule. Deck structures are tailored for noise reduction (NRC), sound transmission (STC), and impact sound (IIC).
Originally published in Architectural Record
Originally published in July 2021
Notice