Student Performance in 21st Century Schools
Research identifies ways to create positive impacts on student learning through building design
Sponsored by AMBICO Limited, ASI Group, Construction Specialties, dormakaba, Glen-Gery, Guardian Glass, Mitsubishi Electric Cooling & Heating, and NanaWall Systems
This test is no longer available for credit
Stimulation and Complexity
An interesting aspect of the study by Barret and colleagues is the role that the complexity of the environment plays in the process of creating appropriate stimulation for learning. Specifically, they raised the question about the degree to which the school provides appropriate diversity and novelty. Some of this is related to the size and area of the building in providing more potential opportunities for alternative forms of learning. But they also found high ratings of improved learning in areas where interior décor caught the pupils' attention and arousal. Displays that were stimulating, well-designed, and organized without clutter were good. In a related characteristic, corridors in schools that included large and visible pictures as well as visual landmarks enriched the stimulation and helped with wayfinding.
Architects, designers, and school officials have often sought to add such color and visual characteristics into school settings with an interest in using imaging for mascots, logos, and other creative graphics. Everyone recognizes, however, that such graphics need to be durable and easy to clean if they are going to continue to be seen as an asset. There are, fortunately, new product offerings that deliver all the functional durability required of walls in schools in addition to being able to provide exceptional graphics. One such offering is made of impact-resistant, environmentally preferable, PETG (polyethylene terephthlate glycol-modified) rigid sheet that is PVC free. It also contains no substances labeled as persistent, bioaccumulative, and toxic (PBTs) and no halogenated or brominated fire retardants, making it very suitable for use in schools concerned about the ingredients in building products. The PETG overlay acts as a wall covering material and protective shield for the graphics to safeguard against damage. The rigid sheet also serves as an impact-resistant, easily cleanable wall protection so walls can look great during use and hold up for years to come.
The graphics capability of these products allow for visual freedom with photos, wayfinding, mascots, logos, and other art to be created and preserved on walls throughout schools. Available in standard-size sheets (such as 4-by-8 or 4-by-10 feet), PETG can protect and enhance any wall space where graphics are introduced, from subtle visual textures and refined patterns to vivid, space-defining imagery. Such graphics can provide the appropriate complexity and stimulation while generating school pride, identify fields of study areas, spark enthusiasm for learning, and stylize wayfinding.

Photos courtesy of Construction Specialties/IBI Group Inc
Adding color and complexity to school environments can be accomplished with wall graphics protected by environmentally preferable PETG clear rigid sheet.
Naturalness and Daylight
The design principle of naturalness of the environment was taken into account in the Barrett study as a contributor to student learning. Among the classroom features found to be desirable in this regard, natural daylight was seen as significant, preferably from more than one compass orientation. This appears to confirm and reinforce the findings of other studies that have also found daylighting and views to be important to student performance.
Of course, in most buildings, the desire for light and views usually needs to be balanced with the need for energy efficiency and budget. School systems and architects, however, shouldn't necessarily feel that budget limits will impede any efforts to design with energy performance in mind. The range of high-performance, low-e glass products currently available delivers energy performance that helps buildings run efficiently at multiple price points. With that in mind architects often ask glass manufacturers, "What is the best U-factor and solar heat gain coefficient we can get for this project?" In order to determine the proper answer, the location of the project (to identify the proper climate zone) and the orientation of the glass (south facing, west facing, etc.) are paramount. The other significant factor is the choice to use either clear or reflective glass, which directly impacts visible light transmission and solar heat gain.
Beyond addressing these fundamental questions, some glass manufacturers offer online tools to easily calculate the performance and aesthetic differences between different glass options and create reports comparing choices made by architects. Some also offer a comprehensive digital suite of engineering and analytical reports that demonstrate the advantages of high-performance glass in building facades. One manufacturer points out that the most popular clear glass (not tinted) product selected for education projects has a visible light transmission of 68 percent and a solar heat gain coefficient of 0.38, delivering abundant natural light for most regions. When a lower solar heat gain coefficient is needed, a clear glass product with 62 percent visible light transmission is common, while offering an impressive solar heat gain coefficient of 0.27. Improvements in thermal efficiency currently help to boost U-factor performance, bringing some double-glazed insulating glass units closer to the thermal performance of triple-glazed units. Analyzing all of these factors and using high-performance, low-e glass products can help deliver glass performance that ensures schools can be optimized for daylight and energy use throughout the year.
Brian Schulz, the commercial product manager for Guardian Glass North America, has seen this play out firsthand. "High-performance glass can play a significant role in helping school districts realize utility cost savings by helping to manage solar heat gain, and these glass products can enhance the learning environment by delivering abundant natural light to classrooms, proven to boost learning rates. The total utility savings can be up to 20 to 40 percent annually for new schools, and 20 to 30 percent for renovated schools, just through high-performance glass design concepts."

Photos courtesy of Guardian Glass/Guy Cali Associates
Abundant natural daylight in schools helps with learning outcomes but also needs to be designed to account for proper energy efficiency based on variables such as climate, orientation, and glass properties.
Natural Light Control
It is one thing to add natural daylight to a building, but it is another thing to control that light. Too much daylight will lead to uncomfortable glare and, depending on the compass orientation, could add more solar heat gain than desired. Interior solutions can help with distribution of light, but interior shades won't keep unwanted heat from penetrating into the building. The most effective way to address these issues is from the exterior by controlling the amount of sunlight that ever reaches a window.
Exterior sunshades have become a common and popular design solution to promote lower energy costs and reduced glare, allowing filtered light to enter interiors while still allowing occupants to see out. Incorporating such exterior sunshades can take on a variety of forms with intricate patterns, sleek textures, and vivid colors—some can even incorporate LED lighting for dramatic or artistic nighttime appearances. Cantilevered and suspended sunshades typically project horizontally outward from the building facade and are well suited for southerly facing facades. The location and angle of the horizontal bands or louvers can be adjusted to suit particular projects based on specific orientation, latitude location, and facade conditions. This type of sunshade is also ideally suited for installations where loads from wind and snow need to be distributed over a larger area and back to the buildings structural support system. Tube shades are a variation on this concept, which use a hollow extruded aluminum profile with a shape that allows longer spans than traditional Z louver blades. A further variation employs a hollow extruded aluminum airfoil profile that maximizes the span between supports.
Instead of cantilevering outward from the building, exterior sunshades can be suspended closer to the facade in either a horizontal or vertical format. This configuration is particularly well suited for east and west elevations, where low sun angles make sun control challenging. In most cases, vertical sunshades will be the most effective for such east and west elevations if they are spaced properly to fully block the low sun angles. For installations where daylight from any direction is intended to offset the use of electric lights, something is needed to help distribute the daylight evenly in the spaces, such as classrooms. Interior lightshelves have been successfully employed to do just that, particularly with upper or transom style windows. These lightshelves intercept the upper light and redirect it deeply into the building. In this way, they reduce heat and glare, allowing students to sit adjacent to windows comfortably and productively.
Manufacturers of exterior sunshades can demonstrate how their particular products can enhance building designs while lowering environmental impact. For some, though, manufacturing the product is just the beginning. When architects are looking for an exterior sun control solution, certain manufacturers can also provide expert guidance and engineering support in the final design and fabrication of products directly suited to individual projects. Architects can work with product engineers to design a custom system that is code compliant and structurally sound, regardless of how complex the final design may seem.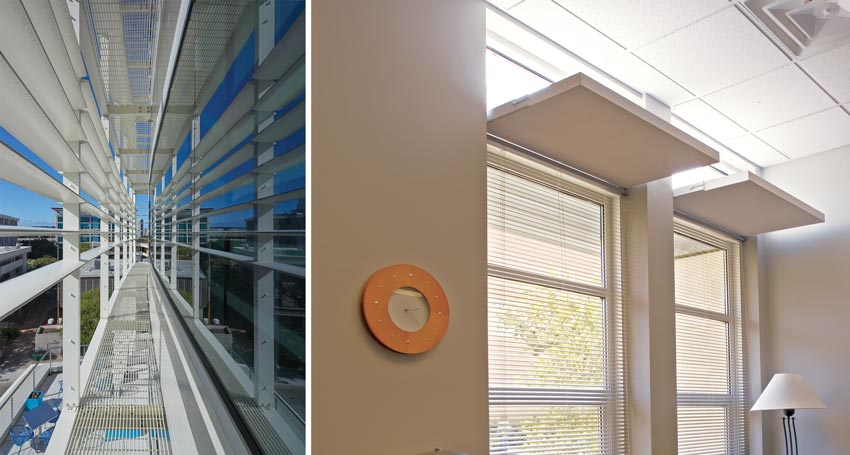 Photos courtesy of Construction Specialties
Controlling glare and heat from sunlight in schools is most effectively done on the exterior with a sunshade system specifically designed to suit the building. Distributing daylight inside the building can be achieved with interior lightshelves.
Originally published in Architectural Record
Notice