Creating buildings for adaptation to changing climate conditions
Sponsored by Cascade Architectural and C.R. Laurence Co., Inc.
This test is no longer available for credit
Impact-Resistant Curtain Walls
A more substantial building envelope system compared to storefronts is a curtain wall system. Commonly, these systems combine aluminum framing with glazing and/or metal panels to hang directly onto the building structural system. Since they are often used on tall buildings, they are subjected to higher wind loads and other conditions. This can be particularly exacerbated during strong wind events, such as hurricanes or tornadoes. Hence, for geographic areas that are prone to such wind events or becoming more likely to experience them, impact-resistant curtain wall systems need to be specified because they are capable of withstanding these severe conditions without failing.
The design of curtain wall systems is a specialty unto itself that combines engineering expertise with material science. Often, curtain wall consultants are brought on board on a project, particularly in the case of free-flowing building designs that require some customization of the manufactured product or the means of attachment. The starting point in all conditions, however, will be determining the specific loading and environmental conditions to which the curtain wall system will be subjected. After that, a review of the standard product offerings of manufacturers can be performed to help determine the best match between a curtain wall system and the specific project needs.
When a resilient building envelope is needed, a hurricane-resistant curtain wall system should be specified. Such systems are engineered to meet the demanding performance requirements present in areas exposed to hurricanes and other forms of severe weather, such as Florida. They often feature shear block assembly with no exposed fasteners, thus creating clean sightlines and maximum installation flexibility. It is also common for these systems to be thermally improved using a continuous thermal spacer interlocked within the horizontal and vertical pressure bar. With U-factors as low as 0.38, these curtain wall systems easily satisfy energy code requirements for overall thermal performance. The glazing in a hurricane-resistant curtain wall typically incorporates an exterior layer of tempered glass and an interior layer of laminated glass (total of 15⁄16 inch), thus providing maximum protection to occupants and property in the event that any of the glass is struck by flying debris or subjected to strong wind forces.
When specifying hurricane-resistant curtain wall systems, there are several performance attributes that should be considered:
Large and small missile impact and cycling: This is a common testing requirement following established procedures meant to determine how well a product or system can resist impact from flying debris, referred to as "missiles" in the testing language.
Design pressures: Wind pressure on the surface of the curtain wall system can be positive or negative and is addressed in pounds of pressure per square foot (PSF). To be hurricane resistant, the curtain wall must endure design pressures up to positive 100 PSF and negative 100 PSF.
Static water resistance: Hurricanes bring heavy rain, and that rain places acute pressure against the building envelope. The recommended criteria in this category is to be able to resist at least 15 PSF of water against the glass and framing.
Thermal performance: The National Fenestration Rating Council (NFRC) has developed standard methods that combine data on manufactured products with computer simulations to predict thermal performance of curtain wall systems. The manufacturer should have the ability to provide an NFRC rating and bid report for each of its products.
Codes and standards: Any impact-resistant system used will need to meet the requirements of the building code in the specified project area, including enhanced provisions that exist particularly in Florida and the Texas Gulf Coast. These provisions rely on independent testing following ASTM or similar procedures and recording the results. More stringent code requirements for resilience means the test results may need to be above the average of other locations.
Overall, curtain wall systems need to be looked at and considered for the specific location and the particular needs of the project.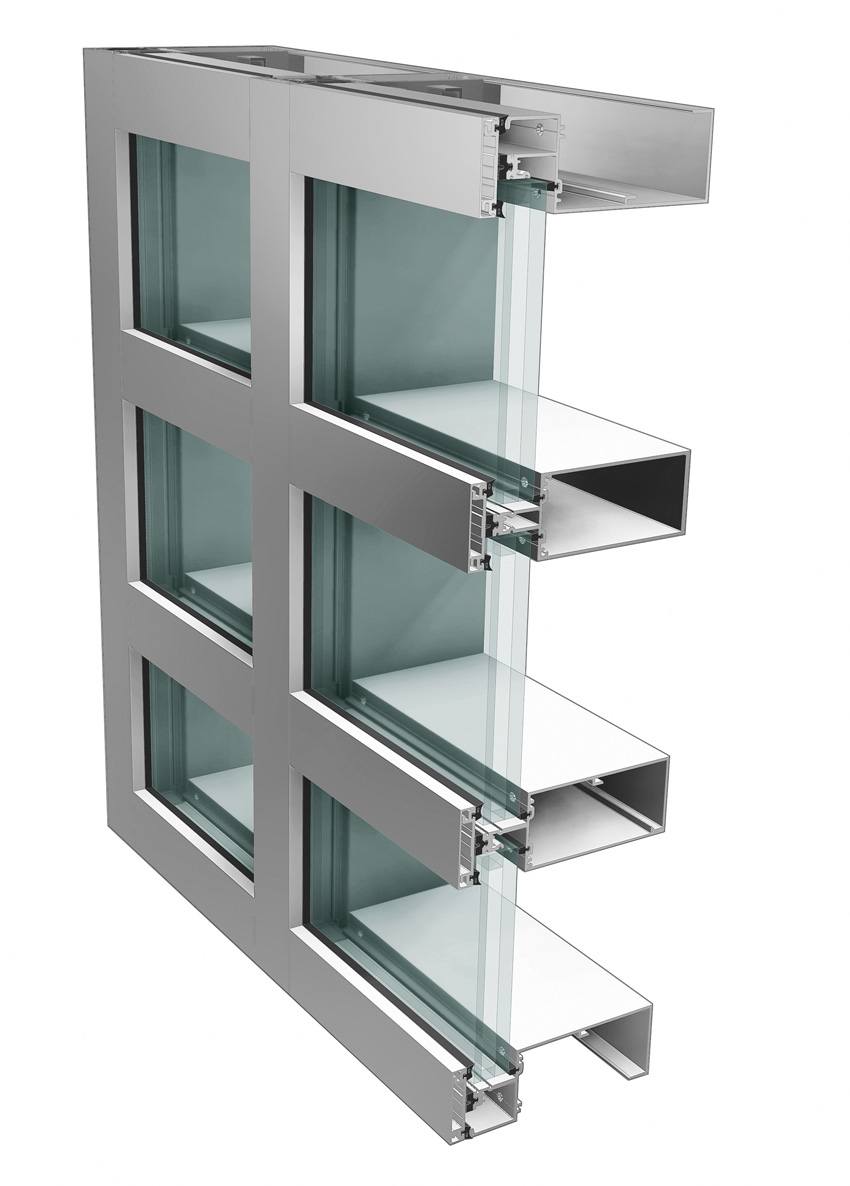 Image courtesy of C.R. Laurence Co., Inc.
Hurricane-resistant curtain wall systems are available to provide greater resiliency in geographic areas prone to severe wind and rain events.
Impact-Resistant Glass Railings
Glass is used in a variety of ways on buildings, and all of it needs to be assessed for its ability to contribute to resilient design. It can be very dangerous if it breaks or shatters on a building, but it is equally problematic if it is used as a guardrail and does not stay in place during a hurricane event. In this scenario, a relatively low-risk condition can escalate if people need to rely on that guardrail during a severe weather event, or if it is damaged and prevents access along a path of travel. In particular, glass railings are often used in locations where a view through the glass is still sought but some wind protection is desired, even in non-storm conditions.
When glass railings are selected to improve resilient design, they need to meet all of the same criteria as other resilient glazing systems. Impact-resistant glass railings are available that are engineered for hurricane-prone regions and incorporate laminated glass. They are made with two layers of glass that are bonded together with an interlayer of either polyvinyl butyral (PVB) or a stronger material with a lower plasticizer content known as ionoplast. Both types of impact-resistant glass railing systems should be tested according to ASTM protocols and have approval for use in Florida and other jurisdictions with more stringent code requirements due to severe weather. Testing and approval includes the base shoe system that holds the glass in place. At least one manufacturer has had its impact-resistant glass railing system tested by the International Code Council Evaluation Service (ICC-ES), which has issued a compliance report (ESR-3842) demonstrating the acceptance. This makes it easier for architects to specify because it will meet building code requirements nationwide.
Impact-resistant glass railing systems do not have to be difficult to install. There are versions that are designed specifically for easy installation and time savings. They do not rely on cementing the glass in the base shoe but use mechanical fastening hardware and tools instead. This type of dry-glaze system makes it easier to place the glass so it self-centers and stays plumb as well. Further, the installation can be done from the occupant side of the railing, eliminating the need for exterior lifts, ladders, or scaffolding. Once in place, if there is ever a need to remove, adjust, or replace the glass panels, the mechanical base shoe system allows this to be done easily by following the manufacturer instructions. This type of glass railing system is designed for both interior and exterior applications and is available in a range of architectural finishes.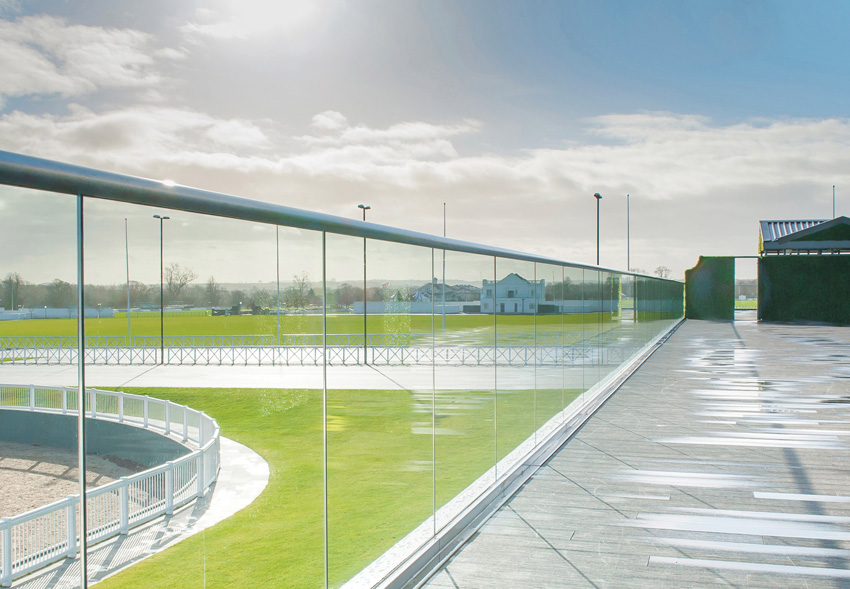 Photo courtesy of C.R. Laurence Co., Inc.
Impact-resistant glass railing systems help protect people and property from hurricane weather and remain in place after glass breakage due to a polyvinyl butyral (PVB) or ionoplast interlayer.
Sunshades
One of the ways to make a building more sustainable while addressing resiliency when electric lighting is compromised is to use natural daylighting. There are a variety of techniques available to improve daylighting, but one of the most common methods is to use sunshades over glazing because they also mitigate solar heat gain, particularly during summer months when the sun is higher in the sky. This approach has the advantage of helping to keep the building interior cooler in warm weather while still allowing an ample amount of natural light to enter. In some cases, sunshades can also help protect window openings from falling or flying debris in severe weather events.
Sunshade products are available that use standard parts for economy but can be fully customized to suit the specific needs of a building design. One type is made with perforated aluminum panels that protect building interiors from UV rays and solar heat gain during peak hours, making them ideal for regions with high temperatures. The standard parts consist of stock center, corner, and end panels in both left- and right-hand configurations. This makes them easy to customize and install on buildings. Commonly, they are finished with a powder paint coating. Custom finishes are also available to suit various design needs. Perforated sunshades provide a distinct and appealing aesthetic element that simultaneously improves the sustainability and resilience of the building when used properly.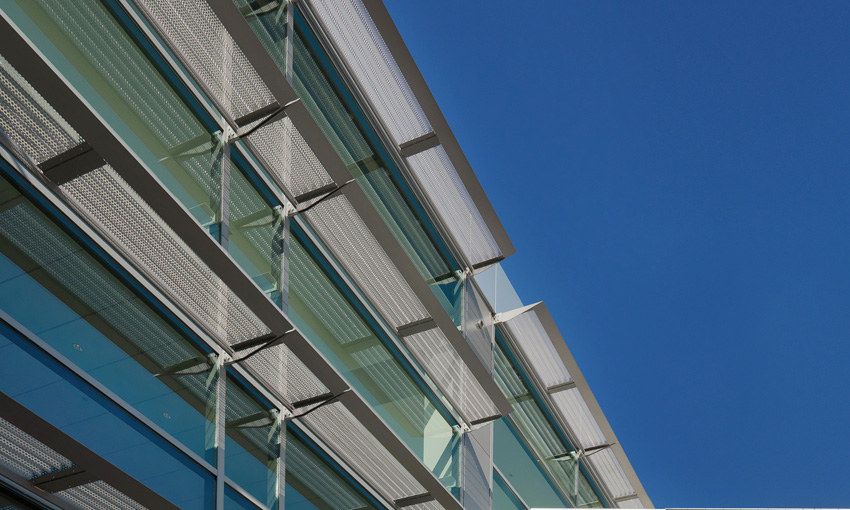 Photo courtesy of C.R. Laurence Co., Inc.
Perforated aluminum sunshades on buildings help protect interiors from solar heat gain while allowing natural daylight to enter.
Originally published in Architectural Record
Originally published in March 2020
Notice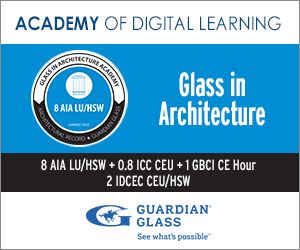 Resilient Design
Buyer's Guide
Fabricoil® Coiled Wire Fabric Transforms Parking Garage

Cascade Architectural provided the fully engineered Fabricoil® coiled wire fabric systems for the Building 4 parking garage on the HCA Campus in Nashville, Tennessee. The company is a leading manufacturer of coiled wire fabrics for a wide variety of applications. The Fabricoil® product meets all of the functional requirements—most notably ventilation, fall protection, and long life cycle.
GRS Laminated Glass Railing System

The GRS Laminated Glass Railing System features advanced dry-glaze technology and a precision-torque installation tool that automatically levels and plums the glass panels for enhanced sightlines. The system is impact resistant and has Florida Product Approval. It is also ICC-ES certified, which takes the guesswork out of meeting building codes nationwide.