Resilience Rating Systems
Adapt for an Uncertain Future: New guidelines and rating systems help architects design buildings that can respond to a broad range of threats.
Architectural Record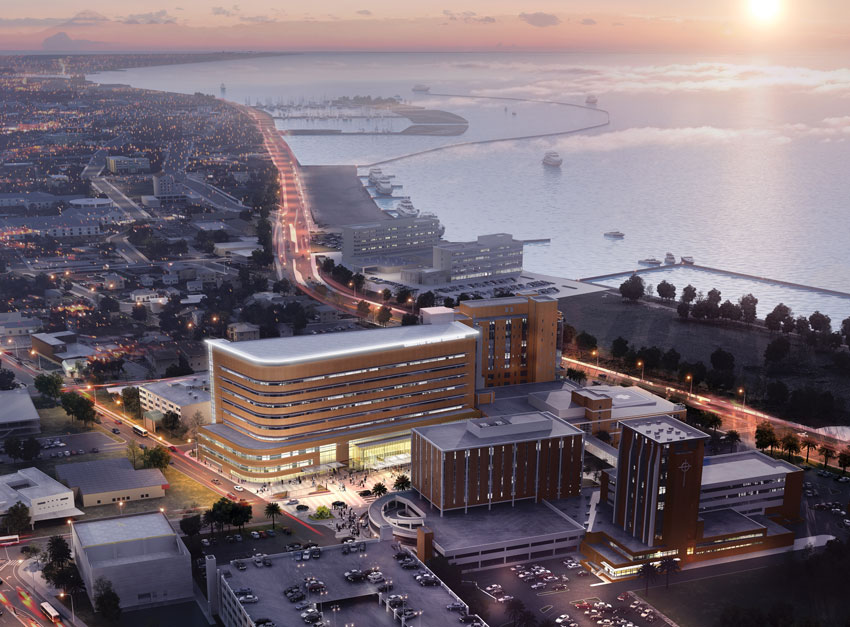 IMAGES: COURTESY PERKINS+WILL
SHELTER FROM THE STORM
Perkins+Will's schemes for a pair of hospitals, one in Corpus Christi, Texas (top), and another in Oklahoma City (bottom, right and left), respond to threats specific to their locations, including hurricanes and tornadoes.
Christus Spohn is built above the 500-year flood plain, with hurricane-resistant structure and cladding and oversize roof drains. The area under the ambulance canopy converts into a mass-decontamination facility in case of an oil-rig or other industrial disaster. And in recognition that not all disruption is environmental, its emergency department provides for two flows of traffic, so that patients injured in civil unrest, such as gang-related violence, can wait in a separate area from patients in an opposing faction.
At OUMC, where tornadoes are a central worry, the building's skin is hardened by steel-stud spacing reduced to 9 inches, a fiberglass reinforcing mesh under the terra-cotta rainscreen, impact-resistant glazing, and a green roof to protect from penetration by wind-driven objects (in addition to that feature's more familiar advantages). Radiant­heating systems under exterior walkways and driveways reduce the hazards of winter storms. And the building's foundation and steel frame are designed with moment and braced frames to mitigate seismic risk.
The main challenge in using RELi on these pilots, says Julie Frazier, a Perkins+Will senior medical planner who worked on both projects, was "not so much the technical aspects as the paradigm shift." Frazier observed signs of rating-system fatigue among members of the project team: "another checklist, more due diligence—it can be overwhelming." But by the end of the design process, she says, "I think everybody realized the payoff—we've done something good and it's going to perform."
It's clear why health-care facilities would push the frontiers of resilient design. A museum is a more surprising advocate. But the Bell Museum of Natural History at the University of Minnesota's Twin Cities campus is very much aware of the United Nations' finding that the loss of biodiversity poses as great a threat to our society as climate change: only with a diversity of species can ecosystems adapt. For a natural history museum, this issue is a logical fit, so the 90,000-square-foot building, designed by Perkins+Will's Minneapolis studio and completed in 2017, makes biodiversity a priority, deploying strategies that Pierce expects will inform RELi's next iteration.

PHOTOGRAPHY: © COREY GAFFER
ECOSYSTEMS THINKING
The Bell Museum of Natural History, in St. Paul, Minnesota, by Perkins+Will, has features aimed at preserving biodiversity, including bird-safe glass incorporating a subtle horizontal frit (left), and a pond that fosters wildlife habitat (right).
To prevent bird strikes on glass that reflects sky or habitat (a significant factor in bird population decline), all of the museum's glazing is fritted with tightly spaced narrow gray lines. Surprisingly unobtrusive, the frit has to be pointed out to visitors. The building envelope also engages with the issue of diminished forest diversity, expressed by Forest Stewardship Council–certified thermally modified wood. On the grounds, the landscape design features a hybrid irrigation-bioswale-cum-vertebrate-pond, designed to accommodate a 1,000-year rainfall and at the same time to ensure that water levels never fall below the minimum required for habitat. The project's low carbon footprint—which meets the 2030 Challenge (a program of phased targets toward a goal of all carbon-neutral building by the year 2030)—also does its bit to mitigate climate-change-caused habitat loss and species migration.
"The revolution here is in seeing the world as a whole system," says Pierce. "It's really about systems thinking." In the five years since work on RELi began, scientists' understanding of climate change has evolved. While we might all have hoped to avert it with carbon mitigation, says Pierce, the emerging consensus seems to be that abrupt climate change is now under way. As architects are increasingly called on to design for adaptation, resilience rating systems, both familiar and new, can help.
Katharine Logan is a designer and writer focusing on architecture, sustainability, and well-being.
Originally published in Architectural Record
Notice