Resilience Rating Systems
Adapt for an Uncertain Future: New guidelines and rating systems help architects design buildings that can respond to a broad range of threats.
Architectural Record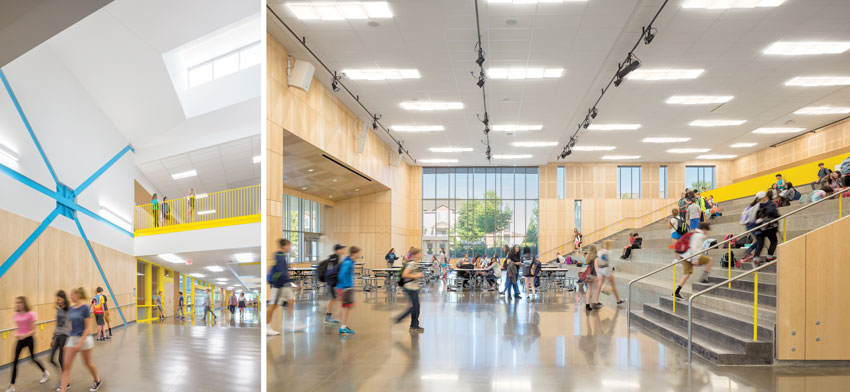 PHOTOGRAPHY: © JOSH PARTEE
BRACED FOR CHANGE
The buckling-restrained braced frame structure (left) at the Mahlum-designed middle school for Oregon's Beaverton School District should enhance its seismic performance. The commons (right) has a backup power supply so that it can serve as an emergency shelter for local residents.
One significant contributor to the development's resilience is a design that fosters social connectivity. Besides being essential to the well-being of the veterans who live here, many of whom struggle with mental-health issues, the patterns of social interaction and mutual support encouraged by the building's plan can help provide a foundation for cooperation after a disruption. So laundry facilities are located to attract people to the building's courtyard and its central, open-air lounge. Staircases are offset at each level to require a short walk along floors other than a tenant's own. And a community garden is in the works. "If sustainability is truly done well," says Anuj Dua, an associate at FSY, "then you only have to do a little bit more so that, in an emergency, people can continue to function."
Projects certifying under the LEED system for new construction will soon have a framework for thinking explicitly about what that little bit more entails. Three resilience pilot credits, which were available for a period following their launch in late 2015, are now in the process of being refined to harmonize with RELi prior to being rereleased, according to sources on the USGBC's Resilience Steering Committee. The pilot credits provide practical ways for project teams to begin to integrate resilience into their designs, requiring risk assessment and planning, remedies to mitigate impacts, and provision for passive survivability (the ability to maintain a minimum level of habitability during an extended loss of services such as power, heating fuel, or water).
Whether or not a project is pursuing certification, a growing number of frameworks developed by states and municipalities, such as the Oregon Resilience Plan, New York's Climate Resiliency Design Guidelines, and Resilient New Orleans, support resilience planning. To varying degrees these guides have done the legwork of identifying the risks pertinent to their region, and offer resources and recommendations to design for them at a range of scales. The Oregon Resilience Plan (ORP), for example, the product of a public-private collaboration, released in 2013, addresses the impacts of earthquakes and tsunamis. It has inspired revisions to the state land-use plan that will restrict development within a tsunami-inundation zone, the development of a Resilient Transportation Plan, and increased funding for the seismic upgrade of schools and essential facilities.
To meet and exceed ORP's goal for shelters to open almost immediately and schools to reopen within 30 days, the state's Beaverton School District established three goals for its disaster-resilient new middle school, by the Portland office of Mahlum Architects. The first requires that staff and students are able to shelter in place for 96 hours; the second, that the building and grounds be able to function as a public shelter, distribution center, and campground for 30 days; and the third, that classes have capacity to resume while the school continues to act as a refuge.
In response, the 165,000-square-foot school, completed in 2016, includes several resilience-specific measures as well as providing for overall flexibility of use. The steel buckling-restrained braced frame (BRBF) structure is designed so that the entire building, rather than just designated areas, performs seismically as an essential facility that can be occupied immediately, rather than meeting only the lesser and more common life-safety standard. The school is daylit throughout, including interior stairwells and locker rooms, so that operations can continue without electric light. Provisions for water and waste include piping connections strengthened to resist ruptures, and a bladder (an empty tank) with 96-hour capacity, which can be filled in response to an earthquake-warning system or by an emergency-response water truck afterward. The gymnasium and commons would shelter displaced community members, with a backup generator providing power for emergency needs, such as heating, ventilation, pumping water, and cooking.
During normal operations, a 138-kilowatt photovoltaic array on the school roof generates renewable electricity, with shortfalls taken from the grid and surpluses returned to it. If the grid fails, a switch allows the PV system to be disconnected from it so solar energy can continue to power the building without risk of sending electricity into a system under repair. For now, however, this is only hypothetical; the building code does not permit the PVs to power the building during a utility failure, even if the array is disconnected from the grid. "That's why it would be better if the ORP became code," says Rene Berndt, associate principal at Mahlum. Berndt cites the gap between measures that engineering makes possible and measures that jurisdictions will accept as one of the biggest challenges resilience initiatives face. That, and the rising costs of construction.
Ultimately, resilience encompasses more than passive survivability, as RELi, a preexisting rating system adopted by the USGBC for rerelease this year, makes clear. Similar in structure to LEED, with categories, requisites, and a menu of credits leading toward four certification levels, RELi takes a comprehensive approach to resilience across a range of scales. "Besides being a narrow-scope response to weather extremes or the specific elements of climate adaptation, the goal is for it to be more holistic," says Douglas Pierce, principal investigator for the RELi standard and a senior associate at Perkins+Will. The firm helped develop the rating system with a host of collaborators, including the University of Minnesota School of Architecture. "The aim is to expand the dialogue of what sustainability is," he says.
RELi's eight categories provide guidance to a Panoramic Approach (planning, discovery, and systems thinking); Hazard Preparedness; Hazard Adaptation; Community Vitality; Productivity, Health + Diversity; Energy, Water + Food; Materials + Artifacts; and Applied Creativity (innovation). In addition to developing new measures, RELi incorporates the relevant strategies from other standards so as not to reinvent—or to lose sight of—what they already do well.
A handful of Perkins+Will projects that have piloted RELi, or aspects of it, demonstrate its utility. Christus Spohn Shoreline Hospital in Corpus Christi, Texas (a 400,000-square-foot tower supporting the consolidation of two hospitals), and a new 10-story tower at the University of Oklahoma Medical Center in Oklahoma City, both under construction, are the standard's first two full projects. They share some strategies, including redundancy in the central plant, provision for a shelter-in-place period, and a command and communication center. Yet each facility's resilience provisions are different, in anticipation of local threats.
Originally published in Architectural Record
Notice