Public Health and Sustainability Concerns in Schools
Design in a post-pandemic, climate-changing era
Sponsored by Inpro, Mitsubishi Electric Trane HVAC US (METUS), NanaWall Systems, and New Millennium Building Systems
Printed Interior Wall Surfaces
One of the more creative choices for schools to consider is the use of printed wall protection. In this case, the protective covering is clear and backed with a choice of standard or custom graphics, such as logos, artwork, mottos, or mascots. This approach can also be used to help with wayfinding and demarcation of social-distancing points along a corridor or other locations. It has also been used for educational messaging purposes.
Printed wall-protection systems are commonly made using clear, rigid sheet plastic with crisp digital imagery printed on the reverse side. This creates greater durability since the rigid sheet protects the image from scratches, dirt, and other hazards, including impacts from backpacks, utility carts, etc. The clear sheet also allows the surface to be cleaned regularly without affecting the graphic image. This durability can be evidenced according to the ASTM D4060 Abrasion Resistance test, while stain resistance and clean-ability can be verified based on the ASTM D6578 test.
From a design standpoint, the possibilities are virtually unlimited in terms of the colors and images that can be printed. Logos, mascots, school mottos, beautiful artwork, or any other type of vibrant imagery is possible. Ultimately, the beauty of these systems is that they help create a design feature that doubles as wall protection that is easy to clean and durable.
Locker Room Showers
The AIA report identifies another area of concern related to transmission risk of disease, specifically in shared rest rooms and school locker rooms. Shared locker rooms and showers have previously been the focus of concern regarding health and spread of disease. In these cases, attention has been placed on different types of bacteria. Methicillin-resistant Staphylococcus aureus (MRSA; pronounced "mer-sah") is a bacterium of concern here. MRSA is classed by the Centers for Disease Control and Prevention (CDC) and the medical profession as one of the deadly "superbugs" with infections considered extremely serious. There have been outbreaks of this bacterium in a variety of sports locker rooms that have prompted a number of recommendations for cleaning and disinfecting them regularly. The recommendations also include avoiding tile and grout that can be damaged and harbor bacteria. Instead, the use of alternative materials, particularly in shower areas, has been viewed as an effective way to avoid potential MRSA buildups and facilitate cleaning.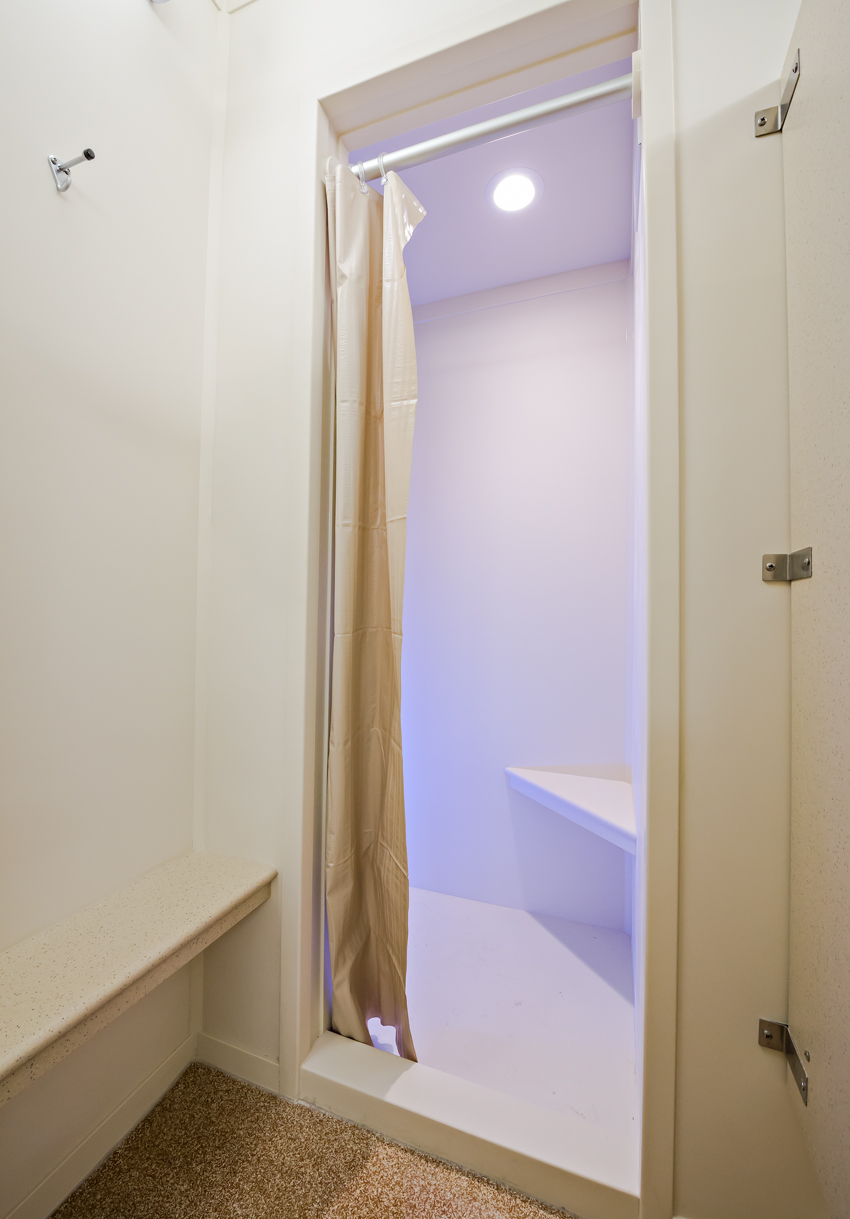 Photo courtesy of Inpro
Private shower stalls with private changing areas, all made out of solid-surface materials, offer safer, healthier alternatives to gang shower arrangements in schools.
Shower Stall Design
School gymnasiums with locker rooms and showers have been common programmatic elements of educational facilities. For decades, the norm has been to provide communal or gang showers in schools. The concept made sense in years gone by since multiple showering "stations" within a given space increased efficiency and capacity while reducing mechanical first costs in new construction. But times have changed. Recent cultural shifts regarding gender and privacy have directly influenced locker room design, causing architects and designers to think less about large school locker rooms with ganged fixtures and more about providing greater privacy and gender-neutral options. Such creative solutions can defuse otherwise contentious situations between students, administrators, the public, and even lawmakers.
One answer for increased privacy in showering is to use separated shower stalls or compartments instead of gang shower arrangements. To be effective, they need to include not only showering space but also adequate dry-floor changing space that allows bathers to disrobe and get dressed within the space. In designs where space may not allow the combined shower and changing area, then at the very least, individual showering spaces that afford privacy should be used.
As noted, selecting the material for the shower and changing stalls can be important in the health of students. One of the keys in combatting disease transfer as well as mold and mildew is to employ nonporous surfaces. Even better are surfaces that do not promote the growth of bacteria. With tile and grout, the porous grout is usually where the first black splotches of mold start growing. Where grout cracks or falls out, there is risk of water getting behind the tile, leading to tiles failing or moisture seeping into the gypsum board or other substrate. Cleaning and resealing tile means more work for maintenance staff and leaves room for error.
A preferred alternative is to use solid-surface panels, which are regarded as an excellent choice as a shower enclosure material. Since solid surface is nonnutritive, it does not promote the growth of mold and mildew, and it resists bacterial growth. From a design perspective, there are numerous color and pattern options, and the 1⁄4-inch or 1⁄2-inch sheets can be installed right over existing tile, making them ideal for retrofit/rehabilitation. S-curve (wavy) edges provide a good seal, and their fit maintains a flat, flush seam where the wall may fluctuate. Large-sheet sizes mean fewer seams where dirt can accumulate, and recessed soap dishes or soap shelves can be easily incorporated into the shower surround.
Shower receptors (i.e., shower floor with drain) can also be made from solid surface and are available in squares and rectangles of numerous sizes. Integral nonskid surfaces help prevent slips and falls, and accessible edges and ramps can ease the transition from floor to receptor. Drain locations can be set to match existing plumbing, and trench drains are also an option.
From an installation standpoint, solid-surface panels mean quicker turnaround compared to traditional tile. From start to cured finish, solid-surface showers can be ready to use in as little as four to five days. Traditional tile can take up to 12 days, including mortar bed prep and curing, grouting and curing, and finish seal cure. Similarly, solid-surface receptors can be installed in as little as 1 hour versus a tile pan that can take up to three days to finish.
Overall, creating shower stalls and receptors, preferably with private changing areas, all constructed out of solid-surface materials will reflect the best current practices in this regard.
Conclusion
Implementing the recommendations and information from the AIA report "Reopening America: Strategies for Safer Schools" includes a full range of specific items on which to focus. Incorporating operable glass walls that can increase access to the outdoor fresh air or help isolate people from each other has been shown as a successful design strategy. Addressing the HVAC systems with updated cooling and heating systems as well as energy-recovery ventilation systems is also a clear strategy. Paying attention to the ability of surfaces to be easily cleaned in public areas, including restrooms/locker rooms, while having the durability to hold up over time applies to all school facilities. These approaches and others can be worked into school designs to create educational settings that directly address the health needs of students, teachers, visitors, and administrators related to viral infections.
Peter J. Arsenault, FAIA, NCARB, LEED AP, is a nationally known architect, consultant, continuing education presenter, and prolific author advancing better building performance by design. www.pjaarch.com, www.linkedin.com/in/pjaarch
Originally published in Architectural Record
Originally published in January 2021
Notice