Public Health and Sustainability Concerns in Schools
Design in a post-pandemic, climate-changing era
Sponsored by Inpro, Mitsubishi Electric Trane HVAC US (METUS), NanaWall Systems, and New Millennium Building Systems
Learning Objectives:
Identify recommended approaches using operable glass walls for the design of classrooms that address airborne infectious diseases in schools.
Assess some of the common options available to provide enhanced HVAC systems that can protect human health while also addressing energy concerns.
Explain the importance of selecting products for interior surfaces that are hygienic, easy to clean, and durable for the safety and health of school occupants.
Determine ways to incorporate the design principles presented into school buildings as shown in case studies.
Credits:
This course can be self-reported to the AIBC, as per their CE Guidelines.
This course is approved as a Structured Course
This course can be self-reported to the AANB, as per their CE Guidelines
Approved for structured learning
Approved for Core Learning
This course can be self-reported to the NLAA.
Course may qualify for Learning Hours with NWTAA
Course eligible for OAA Learning Hours
This course is approved as a core course
This course can be self-reported for Learning Units to the Architectural Institute of British Columbia
Keeping students, teachers, and staff safe and healthy in schools is always a concern, but even more so in the era of a pandemic's influence. Architects are being tasked to address how to keep schools clean, well ventilated, and healthy. Doing so has ripple effects on other parts of school design too. Some of these effects include impacts on how students, teachers, and visitors are safely separated or allowed to work in enclosed spaces. Other impacts come from allowing more fresh air and better ventilation, all while still meeting the need for controlling the use of energy in school buildings. Then there are concerns about keeping surfaces clean and addressing non-classroom spaces, including rest rooms and locker rooms, corridors, entrances, assembly spaces, gymnasiums, cafeterias, food service areas, staff areas, nurses' offices, and clinical spaces. This course looks at some of the ways that these issues of health and safety are being balanced with school operations and energy performance.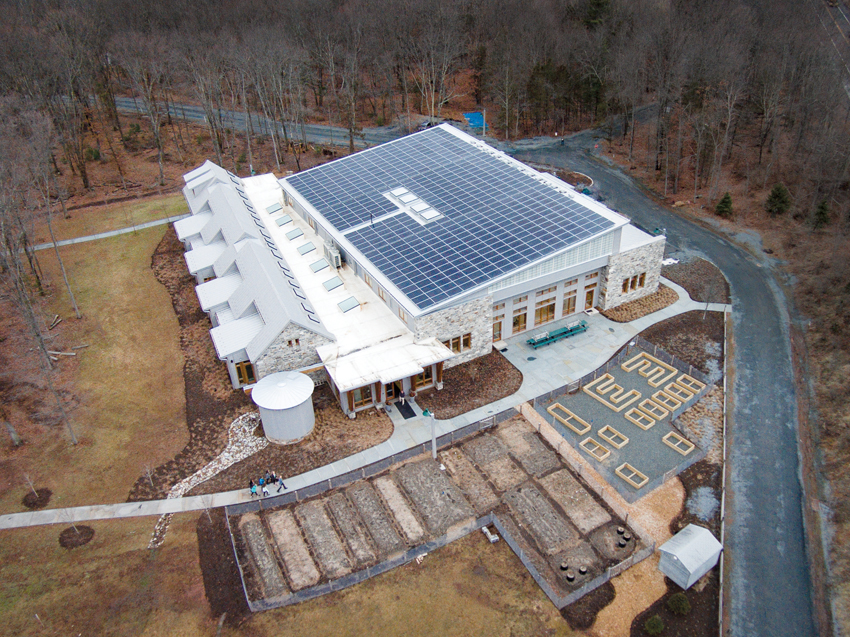 Photo courtesy of Mitsubishi Electric Trane HVAC US (METUS)
Schools are facing new challenges related to health and safety, which architects are rising to meet in appropriate and sustainable ways.
Designing Safer Schools
Schools have received a lot of attention during the COVID-19 pandemic, and appropriately so. Bringing large groups of students, teachers, and staff together on a daily basis and then having them return to their own households has been well understood as a recipe for spreading diseases. The response in many locations has been to use technology as the answer, fostering a surge of online teaching and learning. However, that has not proven to be an effective solution for many, as access to computers and the internet is not equal across different socio-economic levels of society. Teachers and parents have also weighed in with concerns about the differences between the online learning experience and the in-person/in-building experience.
The American Institute of Architects (AIA) quickly recognized that there are changing needs not only in the ways that school buildings are now being operated but also designed and renovated. As a result, during 2020, AIA established a team of architects, public health experts, engineers, and facility managers to assess and prepare the built environment for reopening during outbreak cycles of the pandemic. Ultimately, a report was issued titled "Reopening America: Strategies for Safer Schools," which is available for free online at www.aia.org. This AIA report, as we will refer to it throughout this course, first identifies the basic health issues and some operational actions that could be considered. From there, the focus turns to physical issues in a wide variety of different types of rooms and spaces typically found in school buildings. One of the spaces discussed in detail is the classroom.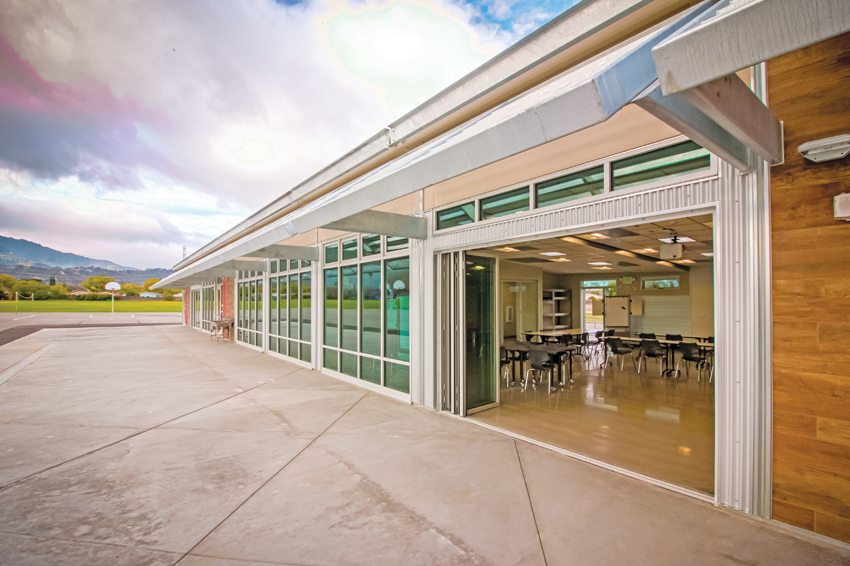 Photo courtesy of NanaWall Systems
Flexible classrooms that use opening glass walls can connect directly to the exterior when open, providing ventilation and access to outdoor programming, while also still providing daylight and views when closed.
Flexible Classroom Spaces
Perhaps the biggest impact of protecting people from spreading disease related to school design is the need to spread students further apart from each other. Fundamentally, this means more square footage is needed per student and perhaps per classroom. Some school administrators have addressed this by staggering students so that only a portion of each class meets in a classroom at one time; the remainder meets at another time after the classroom is cleaned. This has worked in some locations but clearly requires a lot of effort and coordination to be effective.
An alternative approach is recommended by the AIA report based on allowing classrooms to be opened up so they are combined with either another classroom or with a common space. In this way, the number of students in a classroom can be maintained so full classes can be taught together. Depending on the individual circumstances, some scheduling adjustments may still be required, but if the adjacent space is not being used for other activities, then this may work quite well. The means to accomplish this approach is found in recommendation 3.2.2 of the AIA report, which states: "Increase floor area by opening movable partitions." In schools, such a movable partition or operable wall incorporates glass so that views, daylight, and visibility can be maintained or controlled. When the operable walls are open, the classroom space is larger, desks can be spread apart, and everyone in the classroom can have a reduced risk of infection as a result.
Similarly, in locations where the weather and climate are favorable, the AIA report makes two specific recommendations for classrooms: "(3.3.5) Utilize natural daylight where possible, and (3.6.1) Utilize operable windows for outside air intake if possible." Operable glass walls can allow these measures to be incorporated as well. When opened fully or even partly, ventilation is increased into the classrooms, again helping to reduce the risk of infection and disease being spread. When the operable glass walls are closed, they create the appropriate weather barrier as part of the building enclosure but still allow for daylight and views into the classrooms. Specifying operable glass walls that are shown to perform well in terms of energy conservation along with their daylight and views capability means that they can be effective components of a school project that is intended to be green and sustainable. If the flex space also means an overall lower footprint, as it often does, then the design can actually reduce the building square footage and achieve the related energy and cost savings associated with that reduction. In the exterior approach of opening to the outdoors, operable glass walls can become a tool for enhanced learning. In fact, the AIA report recommends to "(3.1.3) provide outdoor programming spaces" both as a learning enhancement and a means to help reduce infection risk by being outdoors. In the interior approach of flexible spaces, the ability for teachers to collaborate or combine their classrooms directly with activities in an adjacent space allows for more variety and creativity in the teaching and learning process. It also allows resources to be shared and used more efficiently through the course of the school day. All of these approaches are allowing architects to look at more options in classroom design.

Photos courtesy of NanaWall Systems
Large communal spaces in schools can benefit from operable glass walls that allow the safety of separation into smaller spaces while still offering the flexibility to open back up when needed or appropriate.
Originally published in Architectural Record
Originally published in January 2021
Notice