Multifamily Housing Design Amenities
Innovation in creating and connecting with outdoor spaces in new and renovated buildings helps drive market appeal
Sponsored by Bison Innovative Products and NanaWall Systems
Site Furnishings
With the pedestals and the deck surface in place, it makes sense that manufacturers offer a series of deck furnishings to fit with the modularity of the deck system. For example, modular wood cubes are available with an array of design options to incorporate seating, storage, and planters. These cubes are dimensioned to integrate precisely with the wood deck tile modularity, making it easy to design a fully coordinated outdoor environment. Such cubes are available with a polyurethane lining and drainage holes to host plant life. At other times of the year, the cubes can be repurposed for seating and storage of seasonal items (i.e., cushions and pillows) by placing a manufactured hardwood top on the cube. Custom sizes and species are available as well.
If a different look is desired, aluminum cubes are also an option. Designed to withstand temperature extremes, these low-maintenance, durable planters are constructed of lightweight, partially recycled aluminum. Some use an industrial strength powder-coated finishing process that is applied electrostatically and cured under heat, creating a more resilient finish than conventional paint. The process does not emit any volatile organic compounds (VOCs) into the air and allows the cubes to be coated with virtually any paint color. Aluminum cubes typically contain recycled content, are 100 percent recyclable, include drain holes, and have irrigation sleeves. There are a variety of size and color choices available.
A rather unique item that can be added into the decking modules are lightweight aluminum cube trays. These trays are used as a containment system for architectural rocks or other deck materials to create a visual and textural design feature. The aluminum trays are corrosion resistant and available in a variety of standard and custom size options related to the modular sizes of the rest of the system.
Overall, pedestal systems create valuable, usable outdoor space for both owners and their residents, tenants, and visitors. Rooftop decks are clearly a way for multifamily dwellings or common spaces to differentiate themselves from the competition.
Designing Indoor/Outdoor Connections with Opening Glass Walls
Architects have begun to recognize that opening glass walls provide a solution for increasing usable space with the ability to maintain or enhance energy performance. Owners like the fact that they can enhance the value of dwelling units or help differentiate their building from other multifamily properties to create a unique market offering. In locations where the geography provides desirable views, everybody likes the fact that opening glass walls can provide unobstructed sight planes to take full advantage of those vistas. In most settings, the overall intent is to allow a large, uninterrupted opening between an indoor and outdoor space (or sometimes between two interior spaces), thus making smaller spaces feel larger or simply allowing people to feel connected to the outdoors. Whatever the reasoning, once the decision is made to incorporate an opening glass wall system into a project, the details and choices to then consider can include the following.
Opening Glass Wall Design Characteristics
All opening glass walls are made up of individual panels that include the glass and a frame around it. The makeup of the individual panels can be specified to suit a project based on a number of standard options. The frames can be either solid wood or aluminum, or a combination in the form of aluminum clad wood. When aluminum is selected, the frame can include thermal breaks for exterior installations or be continuous extrusions for interior applications where thermal transfer is not a concern. The glass in the panels can similarly be selected to suit interior or exterior conditions with single, double, or triple glazing. There are also all of the usual choices for treating that glass for enhanced energy performance (low-e coatings, inert gas filled, other coatings, etc.). Structurally glazed, frameless systems are also available from at least one manufacturer for systems where it is needed or desirable.
There are essentially three different ways that the panels can be configured into a full opening glass wall system. The first, and most common by far, is a folding glass wall system, which represents on the order of 80 percent of all of the systems installed in the United States. Some of the reasons for this include the fact that folding glass walls are easier to operate and have better air and water performance than other systems. From a structural standpoint, the dead load of a folding system is kept within the plane of the opening, with the panels capable of being either top supported or floor mounted.
In essence, a folding glass wall system consists of a number of hinged panels that fold together and slide out of the way. These panels may be hinged together in pairs or a large number of connected panels like a train. Many opening configurations are possible with inward, outward, or center-pivot opening options. Folding panels can enclose a variety of shapes such as straight walls, open corners, and even segmented curves. It is also possible to use folding glass wall systems with a corner-less configuration using paired panels.

Photos courtesy of NanaWall Systems
Opening glass wall systems are available in a variety types, including folding glass walls and thin-profile sliding glass panel systems.
The second type of opening glass wall system uses individual top-hung panels that slide on a single overhead track and are guided on a single floor track. These sliding panels then stack in one or more parking bays outside the plane of the opening. The end-to-end closure of a single-track sliding system creates a streamlined look and a tight weather seal. Sliding-panel opening glass walls can be sized for small or large openings, and the materials used can be selected from the standard variety of wood, aluminum, and glass types. Generally speaking, sliding glass walls offer more flexibility in design compared to folding panels for large openings. Their size is restricted only by the building structure, allowing for virtually unlimited widths, as the panels can slide individually and be stored off to the side of one or both ends of the opening. Since they do not necessarily require a floor track, the floor is uninterrupted when the panels are open and people are walking through the opening. The panels may also have swing doors incorporated into them wherever desired so the entire wall does not need to be open for people to pass through.
The third type of opening glass wall is multi-track, minimal-frame sliding glass panel system. In this type, the profiles and frames are as slim as possible, allowing for maximum indoor/outdoor connection even when the glass panels are closed. The very thin frames provides maximum views and minimum visual distraction overall creating a very modern look for the opening. They are considered a best choice when complete connectivity between the inside and outside is being sought since they allow more freedom and transparency. In this case, the glass panels slide across the face of each other and out of the way for completely open spaces. The thin aluminum frames produce clean and uniform lines while allowing for larger overall panel sizes. It is also possible to include matching fixed panels to balance out the design of the layouts, open or closed.
Structural Openings
Folding glass wall systems are available in sizes up to 10 feet high and 43 feet wide. This is great in terms of design potential and flexibility, but it also means that a structural opening needs to be designed independently to receive the designated size of the glass wall system. In particular, the header or beam above the glass wall needs to be checked for deflection so that it does not interfere with the smooth operation of the door. Multifamily projects sometimes use structural elements that have more allowable deflection across an opening for other types of fenestration. For opening glass walls, the manufacturer should be consulted to determine what is required or acceptable in this case, particularly on openings with longer spans.
When considering the impact of the folding glass wall on the building structure, keep in mind that floor-supported systems generally allow for easier design since the weight of the system is on the floor and not the beam or header above. This approach tends to offer smoother operation as well. Nonetheless, both head and floor supported systems are available. As a hedge against long-term settling or building movement, some opening glass walls offer height and width adjustability to compensate for any changes over time.

Photos courtesy of NanaWall Systems
The performance of an opening glass wall system will be dependent on the choices made for the different types and components that are used to manufacture the system.
Originally published in Architectural Record
Notice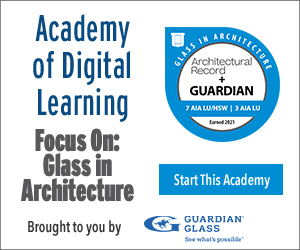 Multifamily Housing Design Amenities
Buyer's Guide
Rooftop Deck Systems

Manufactured in the United States with 20 percent post-industrial recycled materials, Bison Pedestals create level decks over sloped surfaces. They elevate and support wood tiles, pavers, site furnishings, and a variety of other surfaces. Bison Wood Tiles are commercial grade, constructed from sustainably harvested hardwoods, and available in standard and FSC-certified options.
Folding Glass Walls

NanaWall Folding Glass Walls offer clean lined aesthetics with narrow profiles and are available in aluminum, solid wood, or solid wood aluminum-clad finishes. The panels are floor supported in inward or outward opening configurations. Numerous sill choices are available, including a surface-mounted and ADA-compliant sill.