Multifamily Housing Design Amenities
Innovation in creating and connecting with outdoor spaces in new and renovated buildings helps drive market appeal
Sponsored by Bison Innovative Products and NanaWall Systems
Opening Glass Walls
Recognizing a need to go beyond the capabilities of conventional windows and doors, products are available that use large, door-sized glass panels that can be readily opened or closed on demand. Referred to as opening glass walls, they allow an entire wall to open or close at will to provide a direct connection between indoors and outdoors. Like any other type of building fenestration, opening glass walls do not carry any structural load from the building but are reliant on being appropriately attached to the building and operating within a structurally supported opening.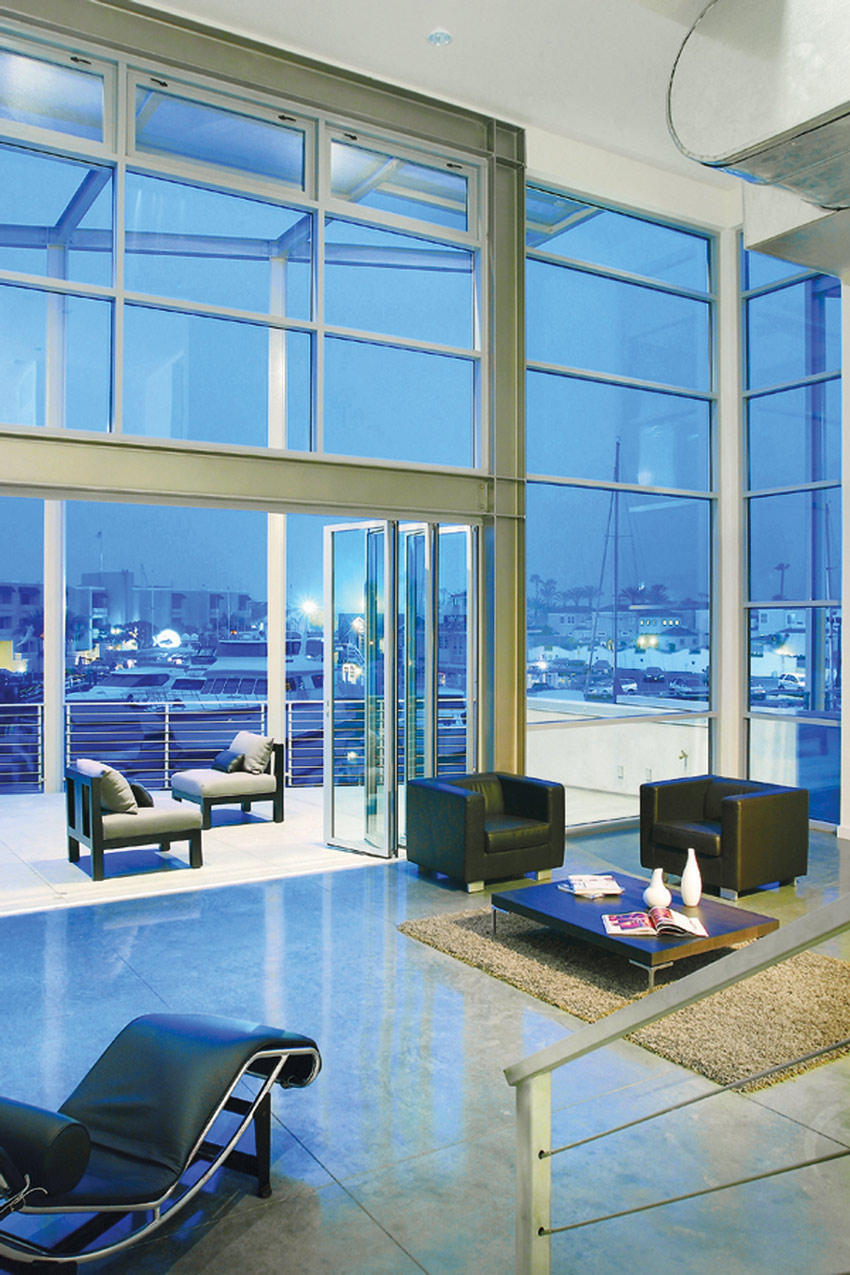 Photo courtesy of NanaWall Systems
Opening glass walls connect indoor and outdoor spaces by allowing full-size glass panels to move away when desired or close up tight when needed.
This type of flexible fenestration has been popularly used in a wide range of building types with a particular appeal for multifamily housing and mixed-use buildings. Specifically, opening glass walls can be used in dwelling units to seamlessly connect balconies or patios directly to indoor living, dining, or kitchen spaces. In communal spaces, they can provide comfortable and attractive four-season use of those areas by enclosing a covered patio or simply opening up a wall to enlarge the capacity of those spaces. With the glass walls open, such common gathering and dining areas blend smoothly between indoors and outdoors. When they are closed, the glass wall continues to provide views and daylight with a secure, transparent separation.
When opening glass walls are used as part of the building envelope, the performance of these systems is clearly critical. As such, it is important to compare manufacturers and specify products that can show documented capabilities to appropriately withstand the challenges of wind, water, extreme temperatures, impact, and overall durability. Looking at the testing data from the National Fenestration Rating Council (NFRC) is a good means to assess many of these characteristics. In multifamily housing units in particular, this comparison should also include attention to details such as tamper-resistant locking to ward off forced entry and acoustics to address noise abatement. It is also prudent to look for built-in adjustment and compensation points to ensure continued ease of operation if any building settling occurs over time.
Looking at this combined need for both design flexibility and high performance, Matt Thomas, marketing manager for NanaWall Systems, offers his perspective: "For us as a manufacturer, it is important to supply a product that enables the architects to fulfill their vision but also to provide a product that lasts. These performance points are as important to the architect as the aesthetic since we provide the product they are specifying on behalf of their client." Clearly, there is a vested interest on the part of the manufacturers of these systems to meet both the design and performance needs of a project so that architects, owners, and inhabitants are all comfortable with them.
Designing Outdoor Roof Decks
Once the design decision is made to include an outdoor roof or terrace space in a multifamily project, the details of how to construct it then become important. Offering tremendous design flexibility and ease of installation, adjustable pedestal deck systems provide a unique and viable alternative to traditional deck building materials and methods. To help understand why, the following paragraphs provide a description of the main component parts of an adjustable pedestal roof deck system, commentary on how they fit together, and methods of integration into a new or renovated multifamily building.
Deck Supports/Pedestals
Adjustable pedestals are the structural supports for the deck surface, so they are the starting point for all systems. The use of adjustable pedestals as a support system has become recognized as one of the most labor- and cost-efficient methods of creating a level deck over a sloped surface. Pedestals are available in a range of heights and weight-bearing capacities to suit a variety of applications such as residential, commercial, and industrial design categories. Deciding which system to specify for a particular project is dependent on the support and elevation requirements of the design. Those carrying more weight or requiring more height to achieve a level condition will need a higher grade of pedestal.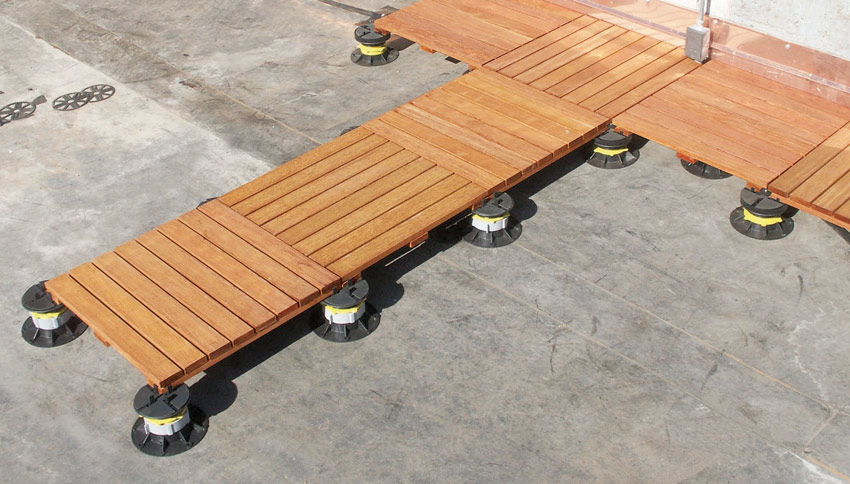 Photo courtesy of Bison Innovative Products
Adjustable-height pedestals can sit on top of a roof membrane safely, while a deck surface can be provided above to create an appealing, level outdoor roof space.
Many commercially manufactured pedestals are made with high-density polypropylene plastic that is 100 percent recyclable. This material choice means that the pedestals are essentially impervious to common outdoor concerns such as water, mold, and freeze-thaw cycles. As part of a gravity-based system, (i.e., no roofing penetrations required) the pedestal supports protect the roof and waterproofing membranes below without causing damage or harm to them. Pedestal deck systems can also be utilized over any other structural surface, including on bare structural decks, rooftop decks, existing plazas/terraces, compacted grade, pavement, pool surrounds, inside of water features, or between green roof areas.
The cavity space created by the pedestals can be used strategically to allow for electrical wiring, recessed lighting, duct work, and even irrigation. The location of the pedestals is typically based on a modular layout that follows the size of the material used on the deck surface. Commonly, this is a 2-foot-by-2-foot square module, although many other sizes are possible as well. The modularity and particular design of the deck surface will be used to locate the specific location of the pedestals.
Deck Surface
The versatility of adjustable pedestal deck supports means that they can be used to elevate a variety of decking surface materials. The common options include pavers made from concrete or stone, such as granite or travertine. Lighter-weight choices include fabricated 2-foot-by-2-foot tiles made from hardwoods or composite materials. Wood products can be specified to be certified by the Forest Stewardship Council (FSC) or similar organizations for sustainability. Similarly, structural porcelain tiles or grating can be used in a grid pattern to meet different design requirements. There is even the option of inserting a shallow tray on top of the supports to contain loose crushed rocks, planter cubes for vegetation, or modular bench seating. With all of these options, and because of the modularity of the system, any single roof deck does not need to be limited to a single choice. Rather, many architects have created elegant deck designs by mixing and matching different materials within the grid system to meet different needs, provide visual interest, and generally enhance the overall design of the outdoor space.
Weighing one-third as much as concrete tiles, wood tiles are often considered to be a good alternative when surface-material weight is a factor. Typically made from hardwoods in a variety of species, wood tiles are commercial grade and available in standard and FSC-certified options. Not only do these wood tiles contain a rich variety of graining and coloration, but they are also exceptionally dense and resistant to insects. As such, they weather well and require minimal maintenance. If maintaining the wood color is desired, wood tiles can be periodically cleaned and sealed. Left to weather naturally, the wood tiles will develop a silvery-gray patina. Either way, wood tiles are ideal for blending the warm beauty and upscale appearance of real wood with durability and low maintenance.
For a total design look, wood tiles can be laid in a parquet or linear pattern, or mixed with pavers, river rock, stone, plank decking, or other materials to create unique aesthetics. Any or all of these deck surface options can be removed from the top of the pedestals for routine maintenance, repairs to the roof, or access to other systems.
Other Deck Design Considerations
There are a number of other ways that adjustable pedestal roof deck systems can be integrated into roofing designs. For example, green roofs are increasingly popular as a way to expand usable roof space to include gardens and control drainage. Designs that include green roofs typically demonstrate an imaginative use of materials that minimizes maintenance and the environmental footprint of the building. By incorporating a pedestal system into a green roof, a pedestrian walkway can be provided for easy maintenance access.
Other roof deck design options that are ideal for an adjustable pedestal deck system can include water features. The elevated system conceals the water supply beneath the deck surface materials and allows water to drain to the roof surface below for recycling or reusing. Since the supports are impervious to water, mold, and most chemicals, they can function well for many years of service. Similarly, recessed lighting can be incorporated into the system by running the wiring beneath the deck surface. This can enhance the ambiance of the outdoor space and improve visibility and safety during nighttime and/or dark conditions.
Of course, the deck does not need to cover the entire roof in any of these scenarios. It can be sized to suit the needs of the project such that it avoids other rooftop equipment or features, provides a geometry that is visually interesting, or is just sized to accommodate the programmatic needs of the space. Similarly, smaller sections can be located on different parts of a roof or on different levels of a building, depending on the building design.
Originally published in Architectural Record
Notice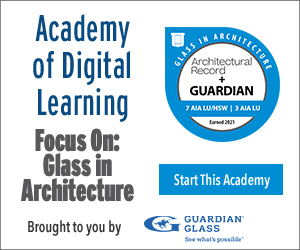 Multifamily Housing Design Amenities
Buyer's Guide
Rooftop Deck Systems

Manufactured in the United States with 20 percent post-industrial recycled materials, Bison Pedestals create level decks over sloped surfaces. They elevate and support wood tiles, pavers, site furnishings, and a variety of other surfaces. Bison Wood Tiles are commercial grade, constructed from sustainably harvested hardwoods, and available in standard and FSC-certified options.
Folding Glass Walls

NanaWall Folding Glass Walls offer clean lined aesthetics with narrow profiles and are available in aluminum, solid wood, or solid wood aluminum-clad finishes. The panels are floor supported in inward or outward opening configurations. Numerous sill choices are available, including a surface-mounted and ADA-compliant sill.