Multifamily Housing Design Amenities
Innovation in creating and connecting with outdoor spaces in new and renovated buildings helps drive market appeal
Sponsored by Bison Innovative Products and NanaWall Systems
Learning Objectives:
Identify and recognize the design significance of outdoor spaces as an amenity in multifamily housing projects.
Assess the health and welfare aspects of providing connections between indoor and outdoor spaces.
Explain the performance characteristics of adjustable pedestal roof deck systems and opening glass walls as part of the overall operation of multifamily housing.
Determine ways to incorporate the principles presented into buildings as shown in case studies of projects.
Credits:
This course can be self-reported to the AIBC, as per their CE Guidelines.
This course is approved as a Structured Course
This course can be self-reported to the AANB, as per their CE Guidelines
Approved for structured learning
Approved for Core Learning
This course can be self-reported to the NLAA
Course may qualify for Learning Hours with NWTAA
Course eligible for OAA Learning Hours
This course is approved as a core course
This course can be self-reported for Learning Units to the Architectural Institute of British Columbia
This test is no longer available for credit
Multifamily housing is currently reported to be a $66-billion segment of the annual construction activity in the United States. With this much activity, there are a number of trends that have been observed by numerous sources. First is the preponderance of urban projects. As Millennials and others continue the population shift away from suburbia and into more urban environments, the demand appears to be strong for more urban housing options. This demand is being met in both new construction projects and renovations of existing buildings that are being reclaimed and adapted for reuse as multifamily housing. The second notable trend is that the people who are renting or buying (i.e., condo/co-op) these units are interested in more sophisticated but affordable luxury, not only in the individual dwelling spaces but also in the building complex as a whole. That translates in design and construction into programming for common spaces, social gathering areas, outdoor places, and rooms for some specific activities like exercise, bike storage, pet care, etc. For real estate professionals and others, they describe these and other features as amenities that distinguish one property over another and provide the owner/developer with a competitive edge. Hence, it is becoming incumbent upon architects and other design professionals to acknowledge this need for marketable amenities and incorporate them into the design and construction of both new and renovated multifamily projects. Based on these trends, this course will take a closer look at two specific amenities that impact multifamily design, namely creating outdoor spaces and connecting those spaces with the indoors in innovative ways.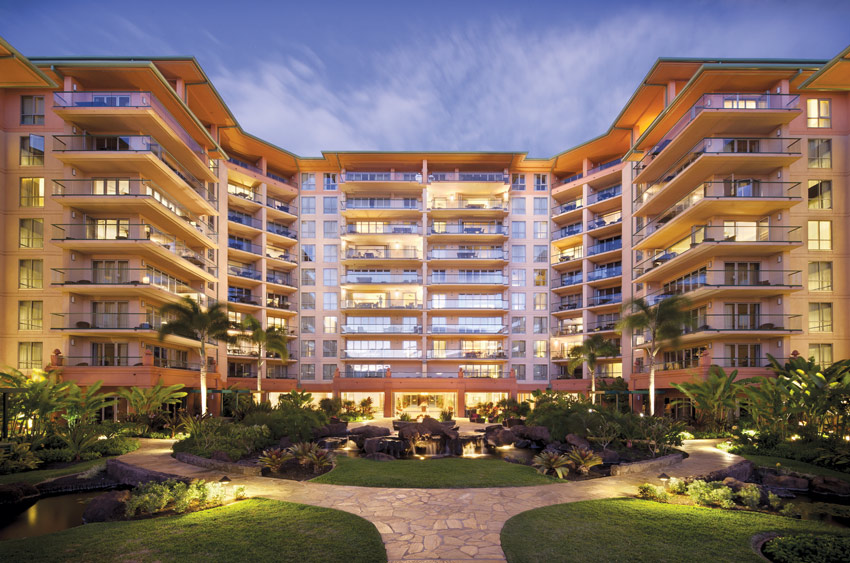 Photo courtesy of NanaWall Systems
The design of multifamily housing buildings are increasingly focusing on providing amenities for the occupants of those buildings, particularly ways to create outdoor spaces and connect them to the indoors.
Outdoor Spaces as Amenities
Multifamily dwellers value outdoor space, and developers want to provide it to them. However, there is always the need to be conscious of the cost of providing such a feature in a project, particularly if it is an urban site where land is expensive. Furthermore, outdoor spaces at grade may or may not be desirable if they border busy roadways or do not offer an inviting feel. Some exceptions to that seem to be for a "pop-up park" that takes over a sidewalk or street area to accommodate a group gathering or activity. Nonetheless, a more common approach to solving the need for outdoor space is to look to the building's rooftop.
Roof terraces, decks, and gardens have been constructed for centuries on buildings of all types. In modern times, they have become appealing on multifamily homes as an alternative or supplement to balconies extending off of individual dwelling units. The primary design issue, of course, is how to take advantage of the roof space and still protect and preserve the roof membrane system. After all, the primary purpose of a roof is to maintain a waterproof barrier to weather, meaning that anything covering the roof to create an outdoor space needs to maintain that objective. Hence, a roof terrace or deck will need to avoid penetrations that could void a roofing warranty or otherwise create damage to the roof. The second design issue is that even low-slope roofs are still sloped, while people want to gather on a space that is level. Therefore, a means to create a level surface is needed.
Adjustable Pedestal Roof Deck Systems
The building industry has responded to these issues and concerns with complete systems for creating rooftop environments that are functional, environmentally appealing, and can be quite affordable for many budgets. The most widely adopted approach is based on the use of adjustable-height pedestals that sit on top of the roof membrane. The bottom of the pedestals can rest directly on the roofing membrane so no penetration is needed. They are held in place by the weight of pavers or wood tiles that are securely fastened to the top of the pedestals to create a new deck surface. Rainwater passes through the joints in the deck tiles and drains down onto the roof as always intended. In fact, the deck tiles can actually help preserve and protect the roofing since it becomes the primary weathering surface instead of the roof membrane. The top surface of the deck can be made level by independently adjusting each of the pedestals as needed to offset the roof slope or other irregularities at the point of each pedestal. The adjustability of the pedestals allows the system to be leveled to create a continuous, safe walking surface. As such, a coordinated system provides an interconnected assembly and an appealing, level roof deck.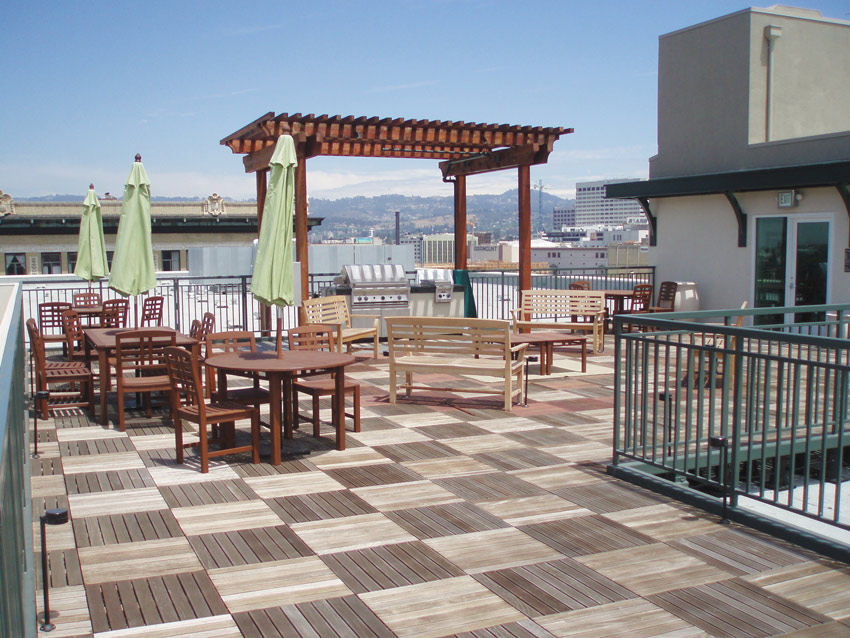 Photo courtesy of Bison Innovative Products
Outdoor spaces in multifamily housing are seen as valuable amenities that can differentiate one property from another for a competitive advantage.
Rooftop decks constructed in this way create a valuable amenity in the form of recreational or leisure space for building owners and their tenants and residents. Accommodating apartments, condominiums, and mixed-use buildings, adjustable pedestal rooftop deck systems offer the design flexibility to create versatile, unique outdoor spaces over any structural surface. Mark Fusco, LEED AP, GRP, national sales manager for Bison Innovative Products, has witnessed this firsthand. He points out that architects have been incorporating more roof decks into their projects because of the availability of these systems. "Architects can now design and specify tested, innovative systems for raised decks, including rooftop decks, plazas, terraces, pop-up parks, and other architectural features. Further, they can do so using maintenance-free adjustable pedestals and low-maintenance deck surfaces."
Connecting Outdoor and Indoor Spaces
Outdoor spaces are clearly an amenity, but in order to fully enjoy and appreciate them, there should be a way to connect with them from inside spaces as well. This could be done in multifamily common areas that open onto outdoor spaces so that gatherings can flow over between indoors and outdoors. It could also apply to support functions (kitchens, restrooms, etc.) that can access those outdoor areas. The same is true in individual dwelling units too. Having a balcony or terrace as part of an apartment is great, but how is it accessed, and how does it connect to the inside of the unit?
This whole concept of blending and connecting indoor and outdoor spaces has been part of building design thinking for a long time and applied in many different architectural styles and eras. The premise is simple: People like being connected to the outdoor environment for the visual, daylight, fresh air, and other general well-being benefits that such a connection brings. Of course, variable weather conditions mean that sometimes people also need protection from the outdoors. So we routinely design walls with glass windows to allow views to the outside and provide some protection from the weather. If those windows are operable or if operable doors are used, they also allow a free exchange of outdoor air and breezes. When the weather is suitable, those opening glass windows and doors provide a healthier interior space that adds to our sense of well-being. If a door is used, it gives us direct, physical access to the outdoor space. When we want a barrier to prevent the flow of heat or cold air, the glass windows or doors need to be closed tightly enough to prevent air infiltration (drafts) and substantial enough to minimize heat transfer. It is ultimately a matter of design and the types of operable products used that will address these variable conditions in the context of any habitable building space, particularly in multifamily housing.
Originally published in Architectural Record
Originally published in November 2019
Notice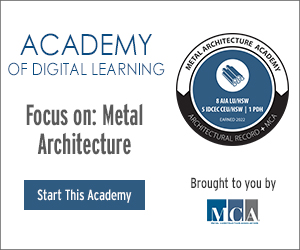 Multifamily Housing Design Amenities
Buyer's Guide
Rooftop Deck Systems

Manufactured in the United States with 20 percent post-industrial recycled materials, Bison Pedestals create level decks over sloped surfaces. They elevate and support wood tiles, pavers, site furnishings, and a variety of other surfaces. Bison Wood Tiles are commercial grade, constructed from sustainably harvested hardwoods, and available in standard and FSC-certified options.
Folding Glass Walls

NanaWall Folding Glass Walls offer clean lined aesthetics with narrow profiles and are available in aluminum, solid wood, or solid wood aluminum-clad finishes. The panels are floor supported in inward or outward opening configurations. Numerous sill choices are available, including a surface-mounted and ADA-compliant sill.