Multifamily Design in 2020
New health concerns blend with standard criteria to foster new solutions
Sponsored by Inpro, NanaWall Systems, New Millennium Building Systems, Rocky Mountain Hardware, and TAMLYN
UL Head-of-Wall Barriers
Also unique to the dovetail long-span composite floor system is the ability to stagger the placement of the dovetail sections to create barriers to the transmission of fire, smoke, and sound. These elements cannot pass between separated spaces because they are sealed off at the top of the bearing wall with the inclusion of an end closure. The UL-tested solution eliminates the cost of placing expensive fire sealants in the deck flutes when set upon cold-formed steel (CFS) bearing walls.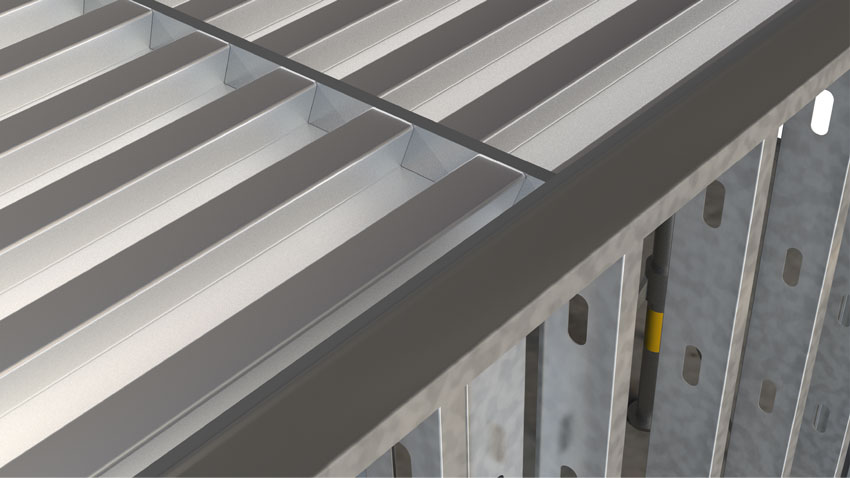 Image courtesy of New Millennium Building Systems
Long-span composite floor systems in a dovetail profile can include an end-closure treatment that meets code-required barriers between adjacent spaces.
Overall Cost Efficiency
Architects using long-span composite floor systems can contribute significantly to reductions in the construction timeline and the total cost of a multistory project. Specifying a dovetail composite floor deck and CFS load-bearing demising walls has provided a surprising set of cost benefits compared to other construction approaches, such as post-tensioned concrete. The significantly lighter-weight dovetail composite floors can often be supported by a spread concrete footing foundation and may eliminate the need for piles and pile caps in some cases. By virtue of the longer composite floor spans, support columns can be reduced, and those required can be smaller in girth. Floor spans can reach 16 feet without shoring. The thinner, faster-curing composite system allows for tighter scheduling of the trades that follow in the schedule, including plumbing and other rough-in work. There are documented cases where many weeks were removed from the project timeline using this approach.
With all of the above as a basis, multistory residential design can learn much about the total project cost and performance advantages made possible by a dovetail long-span composite floor system.
Exterior and Interior Details
One of the key drivers to the short-term and long-term success of multifamily projects are the details that influence both the design and longevity of these buildings. Design details can tie different materials together or give them distinction and separation. Material details can make the difference between low maintenance and good looks over time or unsightly and costly deterioration. This attention to detail is true whether the building follows a traditional, contemporary, or modern design vocabulary. This is played out quite notably in the type of trim materials that are used on both the exterior and interior of multifamily buildings.

Photos courtesy of TAMLYN
Extruded aluminum trim can be used for a variety of conditions between similar siding materials or as smooth transitions between different types at inside and outside corners, edges, and other locations.
Exterior Panel Trim
One of the better ways to achieve a panelized, modern look on a building facade is to use a lightweight cladding over a framed wall assembly. Commonly, this cladding is incorporated from standard-size panels or lapped siding made from fiber cement, composite material, engineered wood, or even thin composite aluminum panels. Designing with such materials is fairly straightforward, but attention needs to be paid to the way the panels are secured to the building and how the edges, joints, transitions, and other details of the panels or siding are addressed. Typically some sort of trim has been applied to accomplish this using wood, composite, or plastic-based materials. While these are effective and can be good for some buildings, their width, bulk, and ongoing maintenance can make them less desirable for use and detract from the overall facade design.
As an alternative to traditional exterior trim, many architects are turning to the use of thin extruded aluminum trim systems. The use of extruded aluminum in buildings in general is common due to the versatile nature of the material and its durability. When used to hold the edges of exterior wall panels, it provides architects with a unique means to detail corners, vertical and horizontal joints, and material transitions. It can be specified in common thicknesses and profiles to suit any of the lightweight cladding materials already mentioned. Extruded aluminum trim can even be provided in sizes and styles that work with multiple panels, enabling architects to vary the material choices within their facade designs while still keeping details that will have a similar language. The variety of available extrusion profiles can create a recessed reveal between cladding panels or project outward to accentuate the lines of the design. Used in any of these ways, it has typically been shown to be less expensive with a more elegant look of clean lines than with other options.
Interior Panel Trim
On the interior of multifamily buildings, similar systems can be used to carry a design scheme inside. Gypsum board or interior panel products can be surrounded by thin extruded aluminum trim, creating similar clean lines and geometric delineation on interior wall surfaces. This can produce clean and advanced details for an otherwise utilitarian product without requiring specialized metal work in the field. Such interior aluminum trim can provide unique profiles, which help to take a strong, well-known product in drywall and give architects and designers the opportunity to add new details, patterns, and design impacts. In multifamily developments, aluminum trim can be used to create bold corners or wall bases in addition to delineating wall panel patterns.
Of course, the color of the trim is an important design consideration, regardless of the exterior or interior location. Fortunately, there are many options beyond the standard mill-finish aluminum coloring. Extruded aluminum trim can be specified as finished with only a paint primer ready to receive final finish coats in the field of virtually any color. Alternatively, it can be specified as prefinished in the factory reducing, further the on-site labor needs. The prefinished choices vary by manufacturer but typically include durable powder coat paint, conventional wet paint coatings, or anodized aluminum in standard colors. In this regard, the trim can appear to blend in with the adjacent panels or cladding, or it can be used to highlight all or some of the visual lines it creates. This flexibility using familiar and long-lasting finish options means that both the design and performance level can be controlled.
Hardware as a Unifying Design Element
Multifamily properties typically have the need for a lot of hardware. Every door, window, cupboard, bathroom, kitchen, and other locations needs decorative and utilitarian hardware to open, close, lock, or simply perform a static function. The more living units and different types of spaces in a multifamily building, the more hardware that is needed. Of course, much of this hardware is not only visible, but it is also a surface that is regularly touched by hands, so it is noticed. Therefore, when looking at an overall design of individual dwelling units or a total building, this visible, touchable hardware can make a lasting impression on the people who use it. In light of the above, some architects are starting to look for ways to select hardware that enhances the overall design scheme of a multifamily building. Further, to the extent possible, they are looking for hardware manufacturers that can provide a full range of hardware so a particular look or style can be repeated throughout the facility to create continuity of design and a consistent level of quality. This can create a level of sophistication across a project and, depending on the type and style of hardware selected, be a simple way to provide a sense of luxury.
Bronze Door Hardware
One type of hardware that is increasingly being used to achieve these results is bronze hardware. Bronze has been used for artistic and utilitarian purposes for thousands of years. In recent times, it has become a choice for quality, artisan products that are quite economical over the life of the building. As an alloy of copper and other nonferrous metals, it is inherently strong and resistant to rust and corrosion. Although a dark appearance is most common and provides a distinctive look, there are actually a variety of colors that bronze hardware can be finished in based on the metals used.

Photos courtesy of Rocky Mountain Hardware
Bronze hardware for entry and passage doors are a popular choice for multifamily buildings in a variety of styles and colors.
The range of hardware and accessory items made from bronze for multifamily construction is broad and diverse. Door hardware is available in a wide range of choices of styles, types, sizes, and appearances. In multifamily settings, the durability and integrity portrayed by a substantial bronze handset and lockset promote a sense of security and safety. And, in fact, quality products are available that are stronger and more secure than some lesser-quality products, hence comparing different manufacturers' products is worthwhile. In keeping with the times, these entry door systems are available with electronic controls and locking to enhance the user experience and security of the entry doors to individual dwelling units or building common areas. These include touch pad and keyless options and other smart lock entry systems. Further, some manufacturers offer special pricing for multiple entry door lock and hardware systems of the same type, helping projects stay within budget.

Photos courtesy of Rocky Mountain Hardware
Bronze can be used for a wide range of other products throughout multifamily buildings in kitchens, common areas, and elsewhere.
Beyond entry doors, the passage hardware for other doors can be provided in bronze too. These can be made in lever style or knob style as a project may require, and in a wide variety of looks that are standard or custom. Relatedly, miscellaneous hardware associated with doors such as door stops, hooks, hangers, etc. are all available in coordinated bronze offerings too. Even cabinetry doors and drawers can use a matching bronze hardware style to round out a complete unit design. In this case, knobs, handles, and other related hardware can be selected from a wide range of traditional, contemporary, and modern styles.
Originally published in Architectural Record
Originally published in October 2020
Notice