Multifamily Buildings with Multiple Design Criteria
Balancing user desires, operational needs, performance, and design
Sponsored by Cascade Architectural, CRL, Geberit, Inpro, and Tamlyn
You are not currently logged in to your CE Center account.
Log in
to view and complete the quiz questions that are embedded in this article.
In the case of large format glass doors, both sliding and bi-folding versions, CW class units are now available from select manufacturers. That means that they have been independently tested and shown to meet the criteria to qualify for this preferred class of fenestration. This helps design professionals when selecting and specifying such products, but ultimately it means it benefits the owners and occupants of multifamily buildings. The ratings reflect performance features that help achieve the goal of reducing energy use while still meeting design intents. This adds to a building's overall sustainability and visual appeal.
BETTER BUILDING INTERIORS
Multifamily buildings include private living spaces and an increasing number of more public or commonly used amenity spaces. Such spaces are often subject to heavy use in the form of people gathering, furnishings being moved in and out, equipment and supplies being moved, etc. That means that the surfaces need to be durable and resistant to damage.
Additionally, recent public health events have increased concerns for cleanliness as building owners and managers seek to comply with health regulations and curtail the spread of disease. As a result, walls and other surfaces have been subjected to more frequent cleanings and sometimes with more powerful cleaning agents. That is all good if the materials on those surfaces are durable enough and easily cleaned. This is true not only for the basic surface material, but also for the trim that is usually required along all the edges too.
Considering these needs for greater durability and cleanability, as well as the need to protect edges and base conditions from damage, a trim material of choice is extruded aluminum. This approach is particularly true for designs that promote clean, contemporary lines on wall surfaces. Aluminum trim profiles have been used on building exteriors to hold and surround exterior cladding panels for quite some time. This same basic technique is available for use on interior surfaces in multifamily buildings as well.
Extruded Aluminum Trim for Interior Walls
Extruded aluminum trim works well to frame and hold fast drywall panels, millwork, acoustic ceilings, and even composite panels. The durability of the extruded aluminum is good for the protection of the edges of all those materials and makes them easier to clean. Extruded aluminum products are readily available and are designed to be used with 5/8" to ½"- thick drywall to provide continuous edge protection for drywall edges and corners. In some cases, the profile of the trim creates a recessed reveal which offers an understated but elegant design while keeping corners and edges protected.
Similarly, aluminum trim can be used in conjunction with wrapped surface finishes such as fabric or vinyl wall coverings. Such trim pieces are available in a variety of traditional, contemporary, and modern looks to create subdued, elegant looks or emphatic three-dimensional appearances. Since aluminum is highly durable, recyclable, lightweight, and noncombustible, it is a popular and logical choice for interior trim. In addition, the design options, variability, and cost effectiveness of this trim make it very well suited for both public and private spaces in multifamily buildings.

Photo courtesy of Tamlyn
Extruded aluminum trim can be used on interior wall surfaces to provide custom looks, durable protection, and easy-to-clean surfaces for public and private areas in multifamily projects.

Photo courtesy of Tamlyn
Fire-rated extruded aluminum trim uses a strip of intumescent material along the back of the profile allowing for enhanced fire resistance performance.
Design Attributes of Aluminum Trim
The general trend in modern designs includes minimalist lines and the intentional absence of traditional wood moldings for doors, windows, ceilings, and base conditions. Many interior designs, therefore, lean toward a simpler, more elegant wall solution with a clean, modern look. Others may be focused on a more traditional or three-dimensional appearance for wall corners, base, and ceiling conditions. Still others may select certain walls to feature with added detailing and trim to create a total design appearance. All these different styles or looks are readily achievable using manufactured trim pieces made from aluminum extrusions.
The profiles of aluminum trim are varied but seamless across its full length. Complex shapes can be realized in one-piece extruded aluminum sections without having to employ mechanical joining methods. The resultant profile typically is stronger than a comparable assemblage and less likely to loosen over time. Manufacturers offer numerous standard and custom trim profiles that allow architects to create cohesive wall designs using a product that offers greater durability and protection of the surface materials. It is even possible to create custom profile details specific to a particular project or group of projects where desired.
Most extruded shapes for architectural use are fabricated from 6063 aluminum alloy, with magnesium and silicon as the alloying elements. Type 6063-T5 Aluminum, commonly referred to as the architectural alloy, has a very smooth surface and is the best alloy suited for anodizing applications. The T5 designation indicates it has been artificially aged and moderately heat-treated. Aluminum extrusion is a highly versatile metal-forming process that has a wide array of physical characteristics. In all cases, extruded aluminum is a sustainable material, commonly with 75 percent to 100 percent postindustrial and post-consumer content. As such, extruded aluminum trim can contribute to LEED points for buildings seeking certification or green building status.
Of course, the color and finish of the trim is an important design consideration, regardless of the location. Fortunately, there are many different finish options available including mill finish aluminum, anodized aluminum, standard prefinished color palettes, ready-to-paint finishes or custom finishing. Extruded aluminum trim can be specified in anodized aluminum in standard colors such as clear, champagne, bronzes, and black. Factory prefinished trim can include liquid paint (i.e., acrylics, alkyds, polyesters, and others) or powder coatings—any of which reduces onsite labor needs. At least one manufacturer can provide custom pattern matching on the aluminum to include logos, match wood panels, match stone walls, or even create a wood grain look. Alternatively, it can be specified simply with a paint primer ready to receive final finish coats in the field of virtually any color. With this variety of choices, the trim can appear to blend in with the adjacent wall panels, or it can be used to highlight all or some of the visual lines it creates.
This flexibility using familiar and long-lasting finish options means that both the design and the performance level can be controlled.
Fire-Rated Aluminum Trim
A new addition to the market of aluminum trim products is the offering of fire-rated profiles to enhance the already extensive selection of extruded aluminum trim. The fire rating is achieved through the addition of a factory applied intumescent strip along the back wall of the profile. This enables certain drywall designs to achieve 1 hour and 2-hour fire ratings without the requirement of an extra layer of drywall. The intumescent strip expands when exposed to increased heat during a fire and will completely seal off the gap in drywall preventing the passage of fire.
Fire-rated profiles are independently fire tested per ASTM E119 "Standard Test Methods for Fire Test of Building Construction and Materials." Under this test, a sample wall panel is subjected to a large-scale vertical exposure furnace. During the test, no flames can pass through the assembly and the average ambient temperature on the outside of the wall cannot pass 139 degrees Celsius, nor a single point temperature of 181 degrees Celsius. Following the direct heat exposure, the test then calls for a water hose stream to be sprayed onto the fire-exposed panel to simulate a firefighting condition. The hose stream flows for 2-1/2 minutes and must not permit the projection of water from the hose stream beyond the unexposed surface. Fire-rated interior trim has been successfully subjected to this test for 120 minutes as part of an overall wall assembly and sprayed with water at 30 psi and met all of the testing requirements. Therefore, it has been certified for a 120-minute (2 hours) fire rating.
Aluminum trim products can create a minimalist shadow line with simple reveal space that allows installation vertically, horizontally, or diagonally. They can be used in conjunction with 5/8" drywall, panel installation, and wrapped surface finishes such as approved fabric or vinyl wall coverings. They commonly include ridged faces for tape & float connections with gypsum board finishing. They can also include prepunched holes for easy installations, although hole placement may vary between profiles and products. Fire-rated extruded aluminum trim is generally available in standard lengths of 10 feet. The product is made from 6063 T5 aluminum with standard clear, anodized, or primed finish. Anodized color and powder coating finishes are also available with custom color matching.
COILED WIRE FABRIC
In the quest for better and more innovative multifamily buildings, architects often look to innovate using proven materials that can be used to enhance a design, provide a needed function, or improve building performance. One such innovative material is architectural coiled wire fabric. This is a versatile product with wide-ranging applications and functions. It is a durable, thin material that is lighter in weight than traditional wire mesh and offers more design flexibility. It is available with a range of attachment systems allowing for different building conditions and finish treatments. The material can be left to hang (i.e., flowing freely) or it can be secured at both the top and bottom and pulled taut to create a semi-rigid condition. Because of its fabric nature, curved and undulating shapes are easily achieved, providing more character and vitality than rectilinear shapes alone.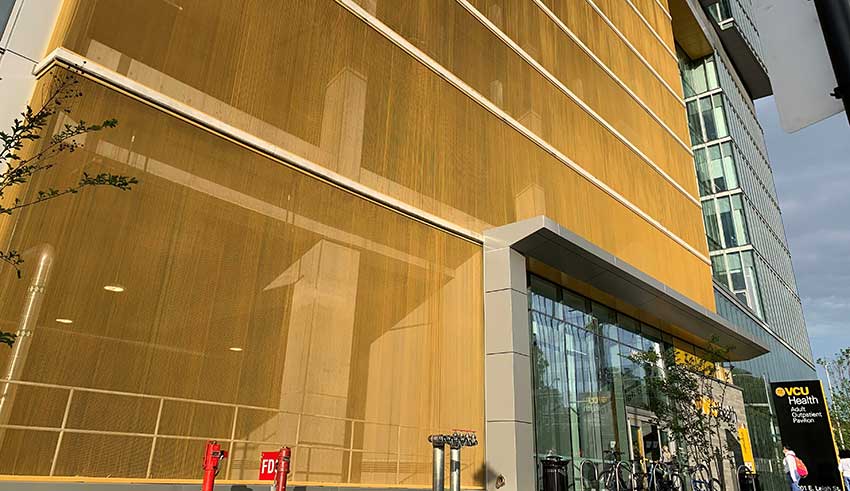 Photo courtesy of Cascade Architectural
Coiled wire fabric can be used to create innovative and functional designs on building interiors or exteriors, such as the VCU Heath Outpatient Pavilion in Richmond, Virginia.
Originally published in Architectural Record
Originally published in September 2022
Notice