More Than Skin–Creating Total Facade Designs
Balancing appearance and performance requires a total design process
Sponsored by Airolite, Azon, Inpro, Neolith®, Tamlyn, and Vitro Architectural Glass
Learning Objectives:
Identify and recognize the structural, aesthetic, and performance aspects of opaque, insulated portions of building facades.
Assess the energy performance and wellness aspects of glazing systems, glass, and architectural louvers as they relate to sustainability and code compliance.
Explain the importance of specifying and installing the appropriate seals to use in facade joints and expansion joints.
Determine ways to incorporate the principles presented in this course into specific building facades as shown in case studies.
Credits:
This course can be self-reported to the AIBC, as per their CE Guidelines.
As an IACET Accredited Provider, BNP Media offers IACET CEUs for its learning events that comply with the ANSI/IACET Continuing Education and Training Standard.
This course is approved as a Structured Course
This course can be self-reported to the AANB, as per their CE Guidelines
Approved for structured learning
Approved for Core Learning
This course can be self-reported to the NLAA
Course may qualify for Learning Hours with NWTAA
Course eligible for OAA Learning Hours
This course is approved as a core course
This course can be self-reported for Learning Units to the Architectural Institute of British Columbia
You are not currently logged in to your CE Center account.
Log in
to view and complete the quiz questions that are embedded in this article.
The public view of buildings is their facade, so it is natural to focus on the appearance or the visible skin. However, facades need to perform for weatherability, energy conservation, and durability over time. Balancing the appearance and the performance of facades requires a total design process that is often most successful when it includes a combination of design and construction professionals working with product manufacturers. Together, the design, constructability, fabrication options, and connection details can be better understood and more efficiently coordinated. At the same time, important issues such as sustainability, cost, and maintenance can be properly addressed. This course touches on all these issues and looks at some of the latest products that are being used to combine great looks with excellent performance.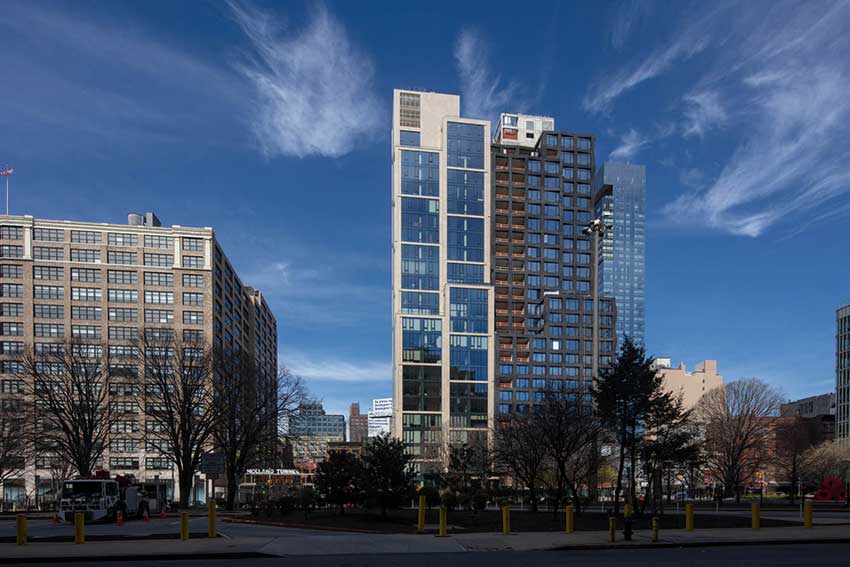 Photo courtesy of Neolith
Creating successful building facades requires attention not only to the appearance, but to the system of products and materials used to assure the best performance.
Sintered Stone Surface Cladding
The outermost skin of a facade system is typically some type of surface cladding. While many different conventional products are available, a lightweight, innovative choice can be found in all natural, time-proven, sintered stone panels. Sintering refers to the atomic diffusion of particles which occurs most quickly at higher temperatures. Applying this to sintered stone produces a thin, lightweight, and very strong material with properties like, but better than, porcelain ceramic tile. The primary manufacturing difference is that sintered stone products are made from selected natural minerals and only the atmospheric humidity that they contain.
Sintered stone panels can provide many design options since it is offered with appearances resembling natural marble, steel, wood, and other materials in a wide range of colors. From a performance standpoint, it is a very dense, lightweight, and sustainably produced material. It is nonporous, resistant to scratches, resistant to high temperatures, easy to clean, resistant to UV rays, and 100 percent natural. It is also lightweight, recyclable, ultra-hygienic and resistant to bending.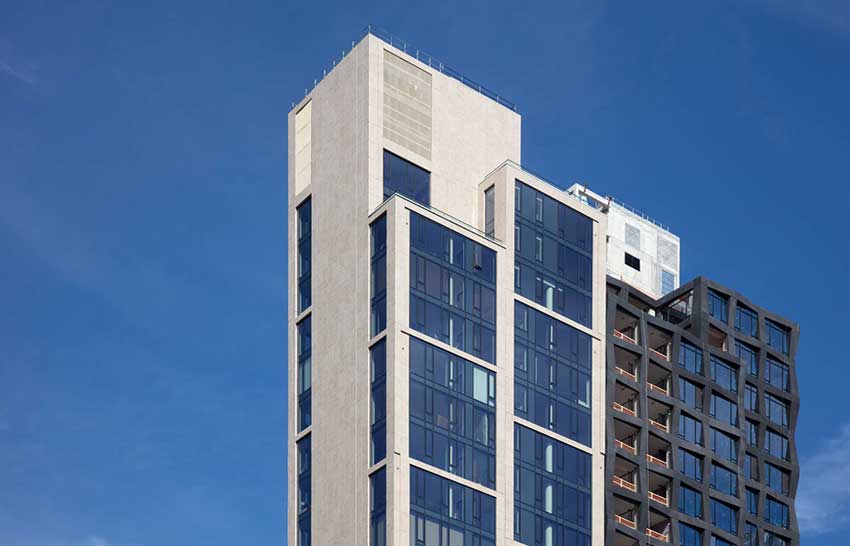 Photo courtesy of Neolith
Sintered stone panels are used on building facades to achieve elegant design appearances and high performance.
From a construction standpoint, the lightweight panels are easy to work with. They can be securely applied relatively quickly creating efficiencies in the construction process compared to other materials. Specifically, for facade systems, there are four common methods of attachment:
Hidden System: This option consists of hidden supports using chemical elastic longitudinal mounting on vertical "T"-shaped or "L"-shaped profiles. The profile shape is dependent on whether they match the joints between sintered panels or if they are reinforcing the center of the joint.
Ventilated System: This system consists of a metallic self-supporting substructure for ventilated facades, designed to support different formats and thicknesses. It has been developed for sintered stone facades based on a visible mechanical fastening system composed of brackets, vertical "T" or "L"-shaped profiles and safety clips upon which the cladding system rests.
Hybrid System: A combination system uses a mix of hidden longitudinal fastening system (chemical and mechanical), which works by the compression exerted by the system on the back of the sintered stone panels.
Thin-Set System: Thin-set applications are among the most common facade application systems. Sintered stone provides a very light weight solution making this very suitable for many situations.
A recent advancement in this material is the addition of an aqueous and titanium dioxide nanoparticle-based treatment that is sprayed on to create a photocatalytic, self-cleaning, and decontaminating effect. All building facades over time, become dirty and coated with contaminating agents, such as nitrogen dioxide, that are carried through the air. The nanoparticle-based treatment creates self-cleaning surfaces that also purify the air around the facade by means of two fundamental processes.
Photocatalysis: When the treated surface enters into contact with sunlight (or some LED lights), the titanium dioxide particles are activated. The light energy is used to transform the moisture in the air into oxidizing agents which destroy nitrogen dioxide particles and contaminating agents and transform them into harmless water vapor and salt. This process is repeated millions of times per second until all contaminants are destroyed, meaning that the surface is constantly being self-cleaned.
Superhydrophilicity completes the treatment action. Thanks to the high density of sintered stone, water expands on the surface evenly when it rains to drag and remove any remaining dirt particles. This leaves the surface completely clean without any water marks. Because of all these properties and characteristics, sintered stone has become an excellent solution for all types of facade projects, combining exquisite design options with high-performance functionality.

Photo courtesy of Neolith
Different types of mounting systems are available for sintered stone including concealed mounting and the use of exposed clips.
Aluminum Panel Trim
Not all cladding is the same, so it follows that not all methods of supporting cladding panels are the same. Similarly, different claddings have different capabilities for the edges of panels to be left uncovered or unprotected. This is particularly true if the cladding is porous, such as with wood, cement fiber boards, or some composite products. In these and other cases, some sort of trim is typically used around the perimeter of the cladding panels both to secure the edges in place and to protect the edges. While this trim can be made from wood, composite, or plastic based materials, a desirable alternative is the use of thin, extruded aluminum trim systems.
Trim Design
The design possibilities of using aluminum trim are extensive. Literally thousands of standard profiles are available that can either create a recessed reveal between cladding panels, be flush over the top surface, or can intentionally project outward to accentuate the lines of the design. The aluminum is available in a wide range of standard anodized or painted colors. Extruded aluminum trim can be provided in sizes and styles that work with multiple panels enabling architects to vary the material choices within their facade designs while keeping details that will have a similar language. Used in any of these ways, it has typically been shown to be less expensive with a more elegant look of clean lines than with other options.
For situations that require it, there is the option of working with a manufacturer to create custom trim profiles to suit the needs of a project. There is also the option of custom coloring for any standard or custom trim profile. With over 3,500 profiles and custom color matching available there are few design limits. Creativity is made easier with custom profiles and multi angle corners eliminating the need for cookie cutter designs. Similarly, installation is easier with the availability of two-piece profiles meaning less labor and quicker results.

Photo courtesy of Tamlyn
Extruded aluminum trim can be used on interior wall surfaces to provide custom looks, durable protection, and easy-to-clean surfaces.
Trim Performance
Aluminum trim, in both one-piece and two-piece solutions, can be specified in common thicknesses and profiles to suit any of the lightweight cladding materials commonly in use. It is manufactured to work with virtually any lap siding, wood, fiber cement panels, composite panels, metal panels, and almost any other common building material. When used to hold the edges of exterior wall panels, or siding, it provides architects with a unique means to detail corners, vertical and horizontal joints, and material transitions with durability and integrity.
As a material, extruded aluminum is a common building material favored for its versatility, inherent strength, and durability. Through the use of recycled content, it is also a very sustainable material to use.
The installation of extruded aluminum trim is typically very straightforward. In particular, two-piece extruded aluminum profiles are recommended for greater construction efficiency in handling tougher detailing situations. The two-piece design permits application of the base part first and then installation of the cover cap afterwards. In tight fit situations this may be more efficient compared to using the standard trim pieces for inside or outside corners or for transitions. Due to the natural expansion and contraction of aluminum, all two-piece caps must be secured by adhesive or other means as approved by the manufacturer.
Overall, extruded aluminum trim is a proven and cost-effective solution for many different cladding options on facades.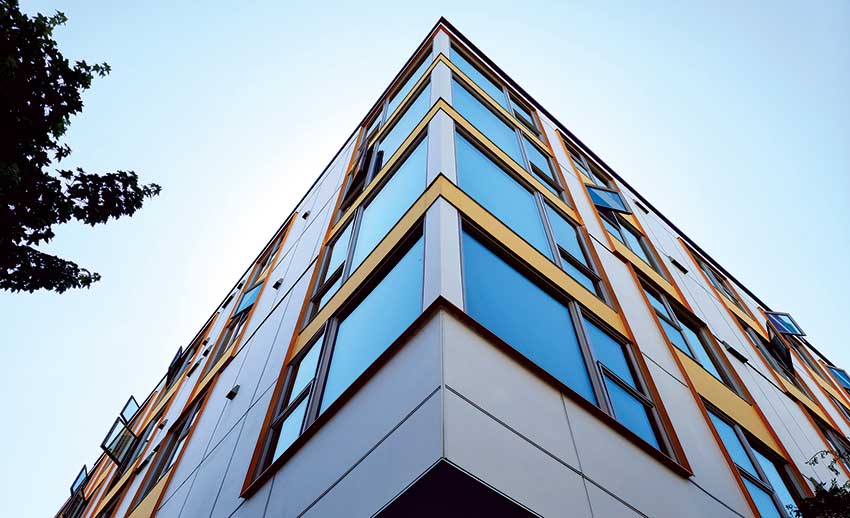 Photo courtesy of Tamlyn
Modern and contemporary designs can be created using either one-piece or two-piece aluminum trim products.
Originally published in Architectural Record
Originally published in December 2022
Notice