Home Grown: In a city where locavores rule, a new office building showcases regional materials and innovative construction techniques.
Architectural Record
Learning Objectives:
Define the term "mass timber" and explain what distinguishes it from other types of wood construction.
Describe the fire-resistive and structural properties of mass timber.
Outline the environmental attributes of mass-timber construction.
Describe the lateral load-resisting system planned for Portland, Oregon's Framework building.
Credits:
This course is approved as a core course
This test is no longer available for credit
View course on architecturalrecord.com »
Although only four stories tall, Albina Yard, a spec office building, stands out among its one- and two-story neighbors in the scrappy residential and commercial district in north Portland, Oregon. Looking up from the street through the horizontal bands of the glass facade, the ceilings of each level—planes of warm Douglas fir—are visible. These elements are not just finish material but the building's exposed floor plate. Designed by Portland's LEVER Architecture, Albina Yard, completed in 2016, is one of a handful of buildings in the U.S. constructed using a mass-timber structural system.
The divide between the new office building and its grittier context is bridged by the architect's use of understated formal moves and a humble material palette. The scale of the street elevation is modulated and delineated in a subtle dance of cantilevers. The second story projects straight out to form a shallow protected zone over the storefront at the ground-floor retail space. The facades of the third and fourth floors twist a few degrees off the grid in opposite directions. The effect is like a stack of books slightly askew. Dark corrugated-metal siding, which clads the side walls and other opaque parts of the building, complements the nearly complete two-story office annex (also designed by LEVER) made of shipping containers and located in the rear courtyard of the L-shaped lot.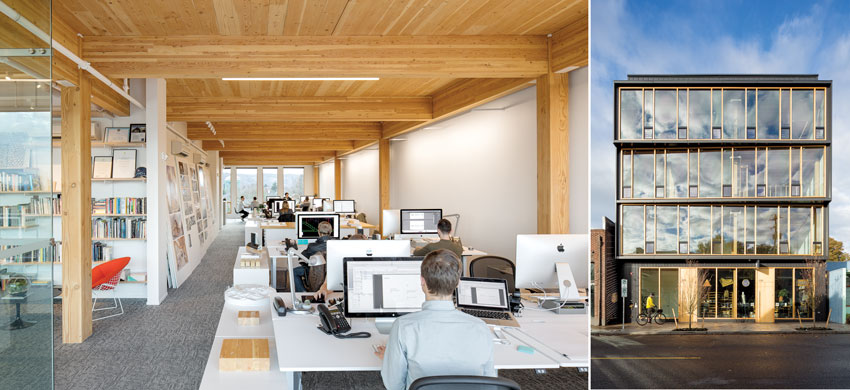 PHOTOGRAPHY: © JEREMY BITTERMANN, EXCEPT AS NOTED
STACKING THE DECKS
The mass-timber elements of the four-story Albina Yard (left and right) serve as both structure and interior finish material. The exterior, which reads as a slightly askew pile of books, is clad in glass and corrugated metal.
Although timber-framed construction has been around for thousands of years, mass timber is a more contemporary spinoff. Instead of solid wood beams and columns made from large trees, mass-timber frames incorporate engineered wood products such as cross-laminated timber (CLT), laminated veneer lumber (LVL), and nail laminated timber (NLT). Such components bind together small wood elements to form strong structural units.
Above its concrete foundation, Albina Yard has an all-wood structure. The architects designed a grid of glue-laminated (glulam) columns and beams with CLT panels acting as floor plates. Used for floor structures, walls, and even elevator cores, CLT panels are made up of three or more layers of dimensional lumber bonded with structural adhesives. Since the layers are stacked in alternating orientations, the panels are strong and lightweight and are able to span in two directions, in a manner similar to that of a two-way concrete slab. The bonded cross-lamination makes CLTs dimensionally stable, preventing the significant shrink and swell inherent in many wood products.
The approach has been used in Europe for a couple of decades and is spreading rapidly in Canada and the U.S. This momentum has spawned an informal competition, pushing mass-timber buildings to new heights from mid-rise to high-rise construction. The current record holder is the 160-foot-tall, 14-story Treet residential building in Bergen, Norway (Record, September 2015, page 116).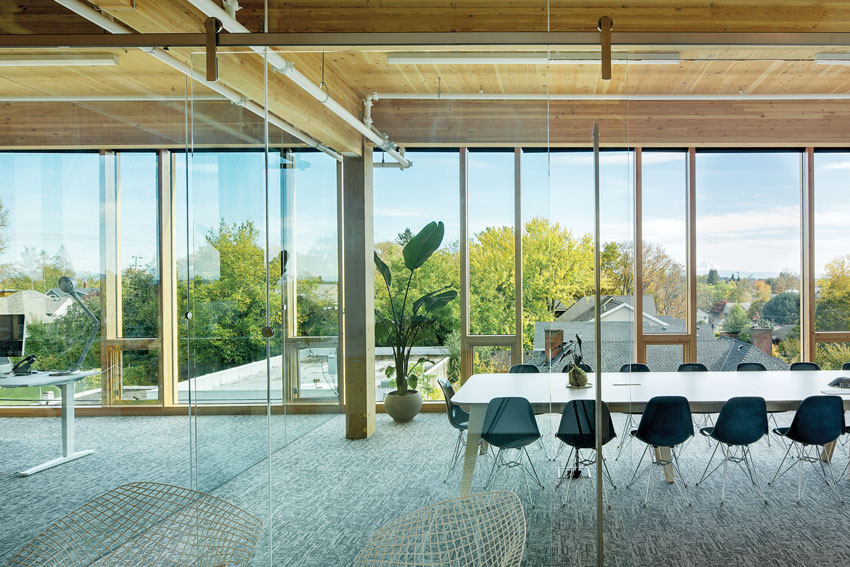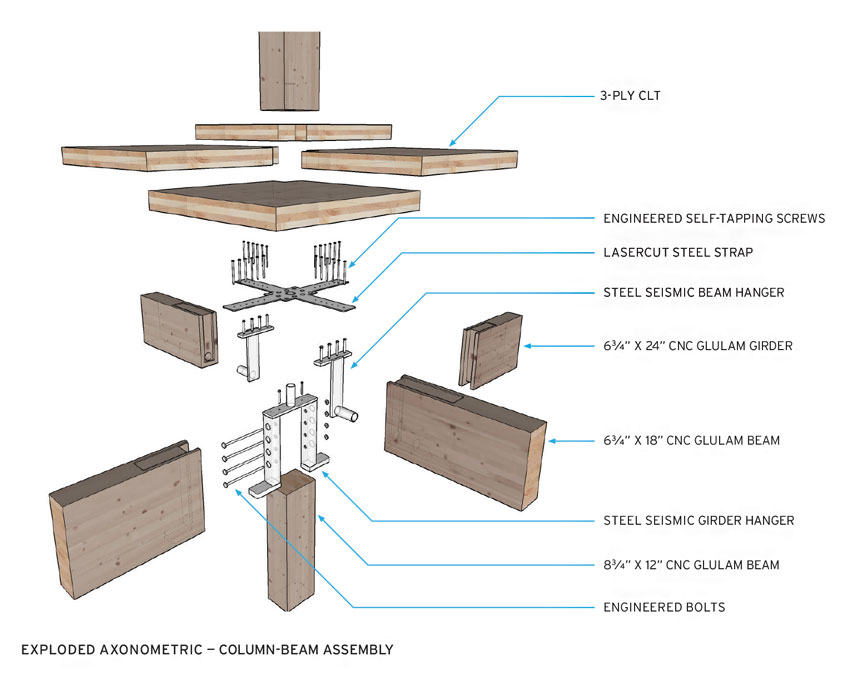 DIAGRAM: LEVER ARCHITECTURE
DISAPPEARING ACT
Specially engineered and fabricated steel brackets (bottom) connect the columns, beams, and floor plates. These are mostly buried within the wood components and are hardly visible on the building's interior (top).
According to Thomas Robinson, LEVER's founder, the firm decided to use this type of construction because of the client's interest in sustainable strategies and regionally sourced materials. Designing with locally grown and fabricated elements saves energy and transportation costs.
Robinson also sees projects like Albina Yard as a means to help reinvigorate Oregon's depressed timber industry. "We can connect the explosive growth in our cities to rural economic development," he says. The timber industry in the Pacific Northwest has never fully recovered from the recession in the 1980s and subsequent forestry regulations that curtailed the supply of large trees for construction.
CLT and the other engineered-wood products used in mass-timber structures rely on smaller diameter and potentially more sustainable second-growth trees, says Professor Thomas Maness, dean of the forestry department at Oregon State University. He adds that mass-timber products can generate an array of highly skilled jobs, from those on the forest floor to others in high-tech fabrication facilities.
Originally published in Architectural Record
Originally published in June 2017
Notice