Command Performance: The latest LEDs, coupled with sophisticated sensors and wireless technologies, are changing the role of lighting in the built environment.
Architectural Record
Learning Objectives:
Identify commonly used lighting protocols, discuss their origins and their appropriate applications.
Explain how lighting and lighting controls can be designed to enhance building occupants' circadian rhythms.
Describe some of the capabilities and potential uses of so-called "smart" connected lighting systems.
Discuss efforts to make the latest generation of lighting-system components interoperable.
Credits:
This course can be self-reported to the AIBC, as per their CE Guidelines.
As an IACET Accredited Provider, BNP Media offers IACET CEUs for its learning events that comply with the ANSI/IACET Continuing Education and Training Standard.
This course is approved as a Structured Course
This course can be self-reported to the AANB, as per their CE Guidelines
Approved for structured learning
Approved for Core Learning
This course can be self-reported to the NLAA
Course may qualify for Learning Hours with NWTAA
Course eligible for OAA Learning Hours
This course is approved as a core course
This course can be self-reported for Learning Units to the Architectural Institute of British Columbia
This test is no longer available for credit
View course on architecturalrecord.com »
The ability to control electric light in a user-friendly and visually seamless manner became a viable design option for public, commercial, and residential spaces more than 50 years ago with Joel Spira's invention of the solid-state electronic dimmer in the early 1960s. Initially developed to enhance homes and other interior environments, architectural lighting controls have since developed into systems that are used to create various scenes for retail and hospitality venues, provide security, and conserve energy usage and costs. Today, largely enabled by the capabilities of advanced, high-quality LEDs and digital tech­­nologies, lighting controls are being trans­-formed into critical networks that not only effectively illuminate the spaces within and around buildings, they enhance the way these environments are used and inhabited.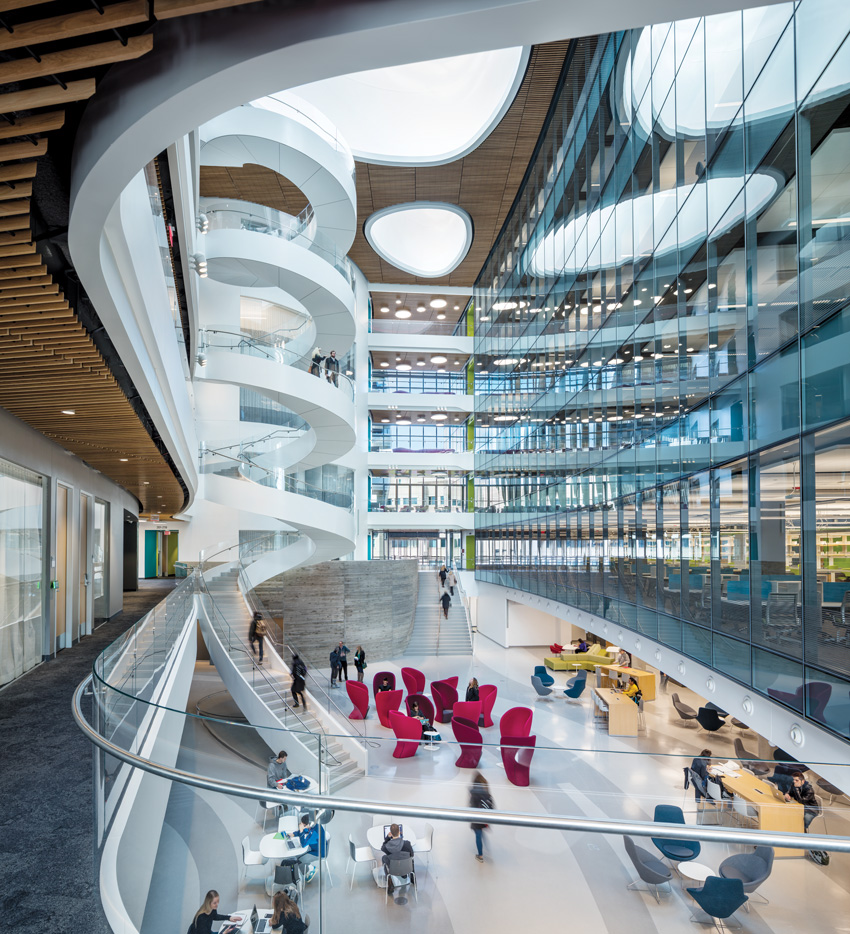 PHOTOGRAPHY: © WARREN JAGGER
In the half century that followed the introduction of a dimmer small enough to fit into a standard electrical wall box by Spira, the late founder of Lutron, the industry has evolved to keep up with myriad innovations and user preferences. Basic technologies such as 0–10 volt dimming—a protocol as straightforward as its name, developed first for stage lighting, then fluorescent lamps, and now LEDs—have been supplemented with more robust wired protocols such as DALI (Digital Addressable Lighting Interface) and DMX (Digital Multi­plex), both encompassing products from different manufacturers that work together within each distinct convention. According to Arup lighting designer Jake Wayne, DALI is the workhorse that controls most of the typical white architectural lighting in buildings. It's a standard protocol whereby components such as LED drivers can be controlled individually, allowing for the fine-tuning of a particular fixture or small group of fixtures instead of a vast zone. DMX (a digital-communication network created for theatrical lighting) facilitates dynamic color-changing schemes. DMX is also great for new tunable-white LEDs, which are growing in popularity. "So we might start to see more commingling of these two protocols in the architectural environment," says Wayne.
"Typically on jobs, we end up with two or three control typologies just to address all of the requirements of a space," Wayne explains. This scenario requires a central network system that has the built-in intelligence and programming capabilities to manage them. For example, Arup's recently completed Boston office, where Wayne is based, is a "working lab" installed with several different control typologies. To manage them, the lighting design team is using a central system that controls all the protocols. "Think of it as a server that detects a group of DALI fixtures and knows how to talk to those through the DALI protocol, then recognizes the 0–10 volt fixtures and talks to those through the correct language," he adds. But once it is implemented and commissioned, all that a facility manager sees is a clean floor-plan graphic through which one can view and modify the scheme. The actual process happens behind the scenes.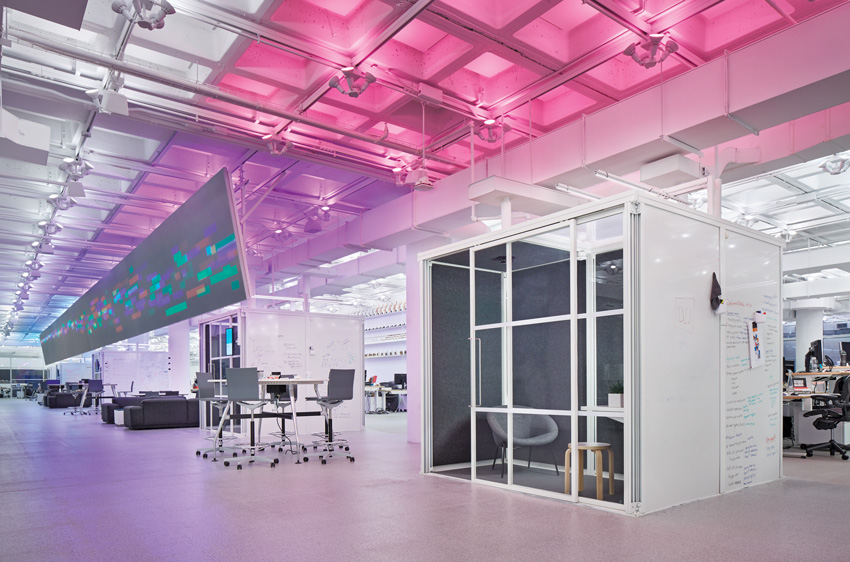 PHOTOGRAPHY: © JOHN MUGGENBORG
These open protocols, and the gateway solutions that integrate methodologies without a hitch, are essential for the adoption of new and existing products and technologies, says Joseph Bokelman, chairman of the Controls Protocols Commit­tee for the Illuminating Engineering Society (IES). Many clients are risk-averse, so "the goal is to remove the complexity." In this regard, connected wireless systems, which eliminate the need for extensive electrical work, are gaining ground with lighting designers and architects for retrofit installations and multi-tenant buildings, as well as for open office and retail applications where the lighting must adapt to variable spatial configurations.
Like the wired versions, open wireless protocols provide a common language to connect the devices of different manufacturers adopting a particular convention. One such standard, developed by Zigbee, has an alliance of 400 members, including manufacturers of luminaires, switches, and gateways, whose products communicate through low-frequency radio technology. Using a MESH network, the Zigbee system has self-healing properties, so if a route between any two devices is interrupted, it is reconfigured, making this a suitable technology for large and complex programs. "There is really no limit," says Musa Unmehopa, a Philips Lighting senior director and Zigbee vice-chairman of the board. "You can build sub-networks and, in this modular fashion, grow or shrink a network to fit a particular building." The Aria Las Vegas hotel is outfitted with 100,000 Zigbee nodes, Unmehopa says. Each guest room is its own network and connects to a central system. "This is how you gradually build up the infrastructure."
Originally published in Architectural Record
Originally published in August 2017
Notice