Latest and Greatest Features in Linear Drains, Wall Coverings, and Flooring
Selecting the products designed to meet the unique needs of different interior spaces
Sponsored by Gerflor USA, Infinity Drain, and Inpro
Learning Objectives:
Design ADA-compliant, barrier-free showers that provide better water management than traditional showers with center-placed drains.
Enhance healing environments and other interiors with high-resolution digital art that is designed to withstand abuse and is easy to clean.
Explain how certain new flooring features contribute more toward the overall cleanliness and indoor air quality of a health-care interior.
Specify linear drains, flooring, and wall coverings that address many of the challenges designers currently face in health care and commercial spaces.
Credits:
This test is no longer available for credit
Interior spaces are designed for a purpose. They are designed to be spaces where learning can occur or healing can take place. They are designed to inspire creativity or reflection or productivity. As spaces with a purpose, they also have special needs. The challenges in designing one interior space include meeting different applicable building and energy codes, applying the latest findings in evidence-based design to create spaces that are constantly better in some way than what was previously done—healthier, more environmentally friendly, or more efficient—and selecting finishes and furnishings that make an appropriate aesthetic statement, while being functional, staying on budget, and addressing the conflicts that arise between these goals when they occur, all while ensuring that the space fulfills its original purpose.
New products are constantly being developed to help designers address the challenges in different interior spaces. Technological advancements in drains, wall coverings, and flooring make it possible for designers to select products that do more, achieve design objectives more easily or completely, or equip spaces to perform at a level not previously possible. This course will examine a few different specific types of space: health-care interiors, high-traffic interiors, commercial interiors and bathrooms and the new drains, wall coverings, and flooring now available that are making it easier for designers to do more with their designs.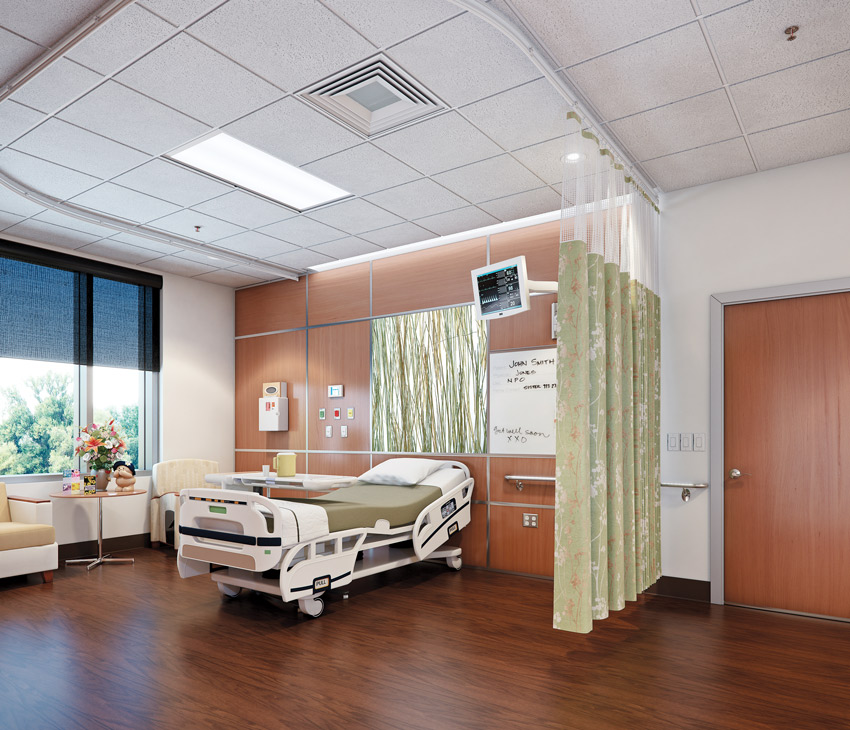 Images courtesy of Inpro
New products have been developed to help designers address common challenges in health-care interiors.
Health Care Interiors
There may be no better example of interior space with a purpose than the interiors of hospitals and health-care facilities. As such, the challenges posed when creating a space designed for healing are complex. Spaces must be designed to accommodate people at all stages of health and mobility, and the finishes and furnishings must be easy to clean, appear clean, and contribute toward the cleanliness, without feeling sterile or institutional. It is a place where the functional performance of the space must support the talented professionals who work there, and the aesthetic environment and indoor air quality must cater to the sensitive patients who are healing there. As with any interior environment, it is created through the application of the design practice, the selection of the right products and materials, and systems that work together to create something bigger—something with a purpose.
Create Barrier-Free, ADA-Compliant Showers
The Americans with Disabilities Act (ADA) 2010 Section 608.1 offers the following advisory statement: "Shower stalls that are 60 inches wide and have no curb may increase the usability of a bathroom because the shower area provides additional maneuvering space." For years, designers have struggled to create barrier-free showers in health-care applications, which are showers without a curb or obstruction at the shower entrance, that are ADA compliant and effectively manage the movement and drainage of water in the shower space. Linear drains can provide the barrier-free drainage solution they have been seeking.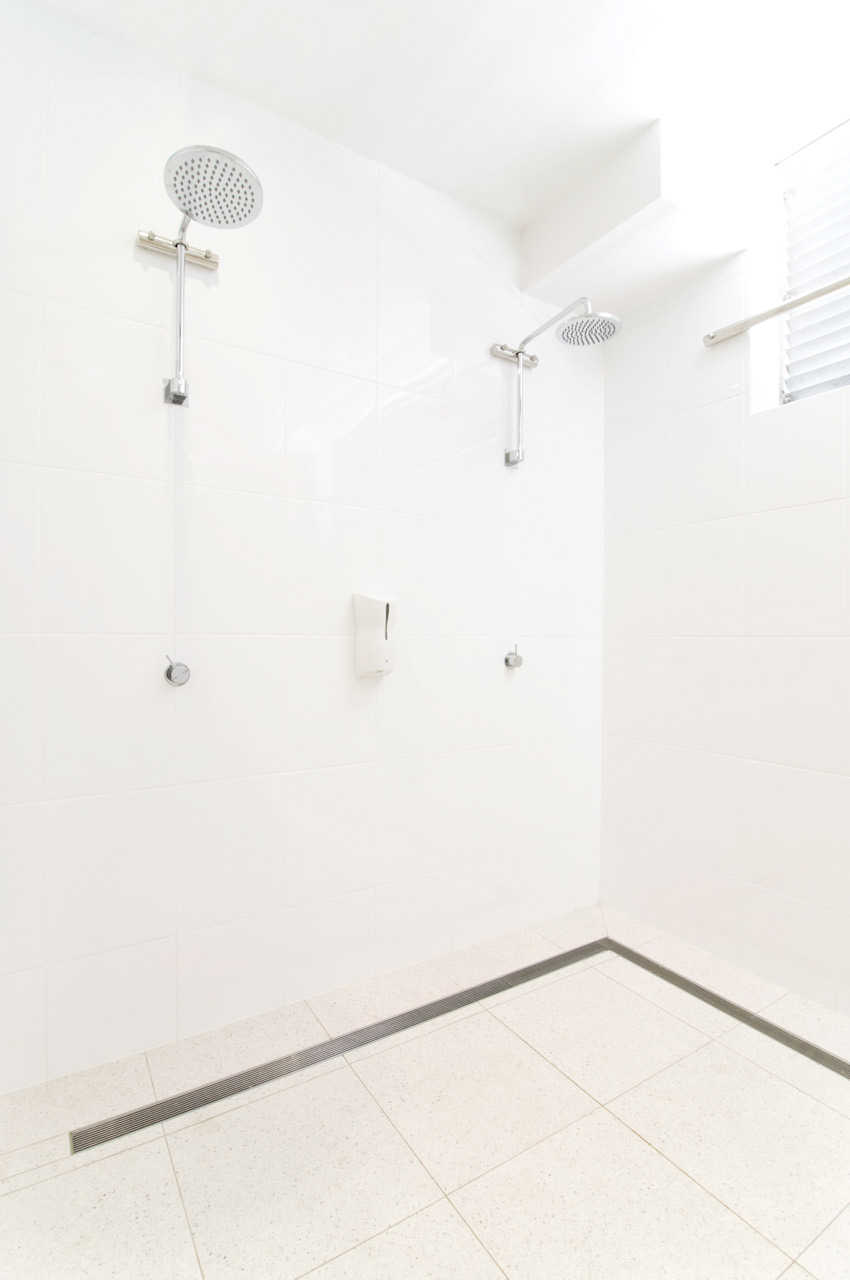 Photo courtesy of Infinity Drain
For years, designers have struggled to create barrier-free showers in health-care applications, and now linear drains can provide the barrier-free drainage solution they have been seeking.
ADA-Compliant Shower Compartments
There are three types of ADA-compliant shower compartments detailed in Section 608. They are: the transfer type shower compartment, the standard roll-in type shower compartment, and the alternate roll-in type shower compartment. The transfer type shower compartment is designed for bathers that do not require an aide and can physically transfer themselves onto a seat in the shower compartment. This is the smallest shower enclosure allowed by the ADA and the only configuration that allows the presence of a curb up to two inches tall. The two roll-in type compartments are designed to accommodate the use of a wheelchair in the shower and allow a small curb along the threshold of the compartment that is no taller than ½-inch and beveled to make it easier to roll over.
The open shower is another type of barrier-free shower design that is found in a hospital. The open shower concept employs a shower curtain to create the visual barrier, instead of a physical shower enclosure.
Creating an ADA-compliant shower for a hospital requires the inclusion of many unique elements. Beyond satisfying the dimensional minimums of the space, designers must incorporate grab bars, controls, hand-held sprays, accessible trays or shelves, and seats (where applicable). In terms of creating a barrier-free shower, the drain is a critical piece of the water management solution.
Originally published in Architectural Record
Originally published in July 2016
Notice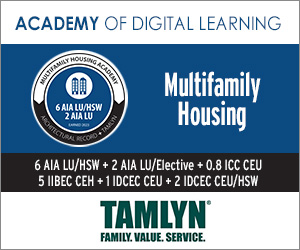 Latest and Greatest Features in Linear Drains, Wall Coverings, and Flooring
Buyer's Guide
Gerflor Creation LVT

Welcoming, healing environments start with Gerflor Creation luxury vinyl tiles and planks. It's the only LVT that is ISO 22196 certified to limit the spread of infections at 99 percent. Offered in wood, stone, and textile designs evoking natural surfaces and styles, Creation LVT provides the perfect palette to create modern, warm, and nurturing environments.
Site Sizeable Linear Shower Drains

Infinity Drain offers the only "Site Sizeable" linear drain, which allows for the channel length and outlet placement to be modified on-site for easy setup and perfect wall-to-wall installation. Available in stocked sizes and multiple finish options. Fabricated in Long Island, New York.
Aspex™ Printed Wall Products

For more than 35 years, we've been a leader in wall protection products. Combine that with 15 years experience in cutting-edge sign products, and you've got Aspex™ Printed Wall Products, a world-class solution to not only protect your walls but enrich them. Aspex Printed Wall Products allow you to display high-resolution graphics on your walls to enhance your building's environment. Choose Aspex to create interiors that inspire.