Landscape Architecture: Design Ideas for "Taking It Outside"
Materials and strategies for creating safe and comfortable outdoor experiences
Sponsored by Bison Innovative Products and Humboldt Sawmill Company
Site Furnishings for Enhancing Landscape Spaces
Site furnishings such as benches, tables, and planters provide enhancements to any outdoor space, as they provide more inviting spaces for leisure activities and social interaction. Modular planters provide flexible options for the addition of plantings in roof gardens, small urban spaces, popup parks, and around building plazas. Planters are available in a variety of materials, including metals, cast stone, concrete, resin, fiberglass, and wood. Aluminum planters offer the durability of metal with a lighter weight making them easy to move as well as place onto rooftop decks.
Modular cubes that are constructed of lightweight, recycled aluminum are durable, low maintenance, and designed to withstand extreme temperatures. This makes them ideal for rooftop locations that are subject to extreme winds, sun, and weather. These cubes are painted using an industrial-strength powder-coating technology developed with modern aesthetics in mind. Powder coating is a dry finishing process that is applied electrostatically and cured under heat, creating a more resilient finish than conventional paint. The process does not emit any volatile organic compounds (VOCs) into the air and allows the aluminum planter cubes to be coated with any RAL paint code color.
RAL is a European color-matching system that defines colors for paint, coatings, and plastics. RAL is the abbreviation for Reichs-Ausschuß für Lieferbedingungen und Gütesicherung. RAL is essentially a quality-assurance system for colors. The system contains more than 1,625 colors, some real colors and some metallic. RAL DESIGN color codes have seven digits, whereas RAL CLASSIC color codes only have four digits. Seven-digit color numbers in the RAL DESIGN SYSTEM provide direct information about the visual appearance of the corresponding shade. The first three figures identify the position of the shade on the color circle, and the next two figures describe the lightness of a shade (0 = black / 100 = white). The system is recognized internationally.
The aluminum planter cubes typically contain 20 percent recycled content, are 100 percent recyclable, include drain holes and irrigation sleeves, and are made in the United States. They come in a variety of size and color choices, providing a number of design options for landscape architects.
Modular wood cubes provide another material option for introducing plants onto a rooftop garden or ground-level exterior space. Ipê wood planter cubes and ipê wood planter cube tops offer a selection of modular design options to incorporate seating, storage, and planters into a ground-level or rooftop space. With the long-lasting durability of dense hardwoods, these wood planters and tops can withstand harsh environments. The warm wood tones and varied grain patterns provide a natural complement to wood decking. The wood planters have a polyurethane lining and drainage holes, making plant care and maintenance easy. Custom sizes and species are available as well. The planters have drain holes and irrigation sleeves that make caring for plants or vegetables convenient. As a storage unit, they can be used for seasonal items like cushions or throw pillows.
Lightweight aluminum trays expand the design options for rooftop environments. Used as a containment system for architectural rocks or other deck elements, the low-clearance aluminum trays integrate seamlessly with the modular planters and wood tiles, providing designers with a palette of materials for designing rooftop environments. The trays are corrosion resistant, made in the United States, and available in a variety of standard and custom sizes that offer modular integration with a pedestal deck system.
Taking it Outside with Popup Parks
Popup parks are typically created by reclaiming a car-designated zone for pedestrian use. Popup parks vary in size from a one-car parking space of about 150 square feet, to many spaces linked together, to a whole block or lane. Installations include pedestal supports with wood tile, stone, or concrete paver surfaces covering the existing pavement. Popular accessories include attachment hardware, planters, railing, and benches. Some manufacturers offer all of the built elements required for a popup parks installation. This creates a smooth installation as well as offers a consistent warranty for the entire system. Level platforms are built on top of existing pavement and populated with planters, railing, benches, furniture, and other accessories. Many parks offer seating areas, gardens, bike parking, and exercise and other amenities.
Popup parks were first recognized in San Francisco and New York in programs like Pavement to Parks. In some cases, these parks were defined as "removable" to expedite design, review, permitting, and construction. Popup parks have low installation and maintenance costs and are usually small scale, affordable, flexible, and often temporary or mobile. Frequently paired with nearby businesses to help with their use and upkeep, popup parks can be hosted or sponsored by local groups or organizations that pay to design and build them and agree to keep them maintained. They can be installed in a way that does not require reconfiguring the streetscape, doing extensive demolition, or altering utilities.
Taking it Outside
As we look to return to more socializing in this post-pandemic world, communities are finding funding for new projects as well as restarting projects that had been tabled during 2020. To spur economic growth, states and municipalities are funding projects that provide more outdoor experiences that people will feel comfortable using. Funding is being made available for projects that facilitate outdoor dining and socializing, provide shelter during inclement weather so that they can be used throughout the year, and encourage healthy outdoor experiences. These new projects can be completed with a focus on sustainability, meeting LEED and SITES criteria, and benefitting both people and the environment.
There are a number of LEED and SITES strategies that can have a positive impact on a person's health and well-being as well as the environment. On-site plazas, roof gardens, and outdoor decks that are easily viewed and accessible from a building interior benefit building users and occupants while also providing LEED and SITES credits. Wood decking, clay paver plazas, metal and wood planters, and wood tiles are products that provide designers with multiple options for landscape architectural placemaking. Products that are sustainably produced and transported and provide reduction in heat island effect help to meet LEED and SITES criteria while also yielding environmental benefits. Outdoor spaces that provide opportunities for physical activity, social interaction, safe site accessiblity, and equitable use of a site meet multiple criteria in the Human Health and Well-Being section of the Sustainable SITES rating system. Landscape architectural designs that expand user opportunities outside of the building provide wholistic benefits to both people and the environment.
Elena M. Pascarella, RLA, ASLA, is a practicing landscape architect, continuing education presenter, and consultant engaged in a private practice based in Rhode Island. The firm's portfolio can be viewed at www.landscapeelementsllc.com.
View Course Libraries for:
Originally published in Architectural Record
Originally published in August 2021
Notice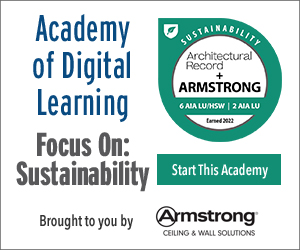 Landscape Architecture: Design Ideas for "Taking It Outside"
Buyer's Guide
Rooftop Deck Systems

Bison pedestals are manufactured in Denver with 20 percent post-industrial recycled materials and have patented features that improve performance and stability. These versatile, adjustable-height pedestal deck systems create level rooftop decks over sloped surfaces, support a variety of different surface materials, and can be installed over any structural surface.
Lumber and Timbers

Redwood lumber and timbers are popular for landscaping projects where the natural beauty and durability of wood is desired. Redwood lumber encompasses 1-inch and 2-inch material. Redwood timbers encompass 4-inch, 6-inch, 8-inch, and larger members. Redwood from Humboldt Sawmill Company is available Forest Stewardship Council (FSC C013133) certified.