Landscape Architecture: Design Ideas for "Taking It Outside"
Materials and strategies for creating safe and comfortable outdoor experiences
Sponsored by Bison Innovative Products and Humboldt Sawmill Company
Redwood: A Durable and Aesthetically Beautiful Material
The natural beauty, durability, strength, and warmth found in real redwood lumber and timbers are what make it an excellent wood for outdoor projects. Redwood has shear strength up to five times greater than plastic or composite decking. Redwood is a lightweight wood that is easy to work with, thus helping to lower overall construction costs.
Redwood lumber is available in a wide selection of grades, and it can be used for many common building applications, including decking, fencing, pergolas, building siding and trim, and many other landscape uses.
Redwood lumber and timbers may be used by architects and designers interested in designing to low- (or no) fossil-fuel, greenhouse-gas-emitting energy performance standards. The range of uses include commercial, industrial, and residential properties. Redwood is available in 1-inch and 2-inch dimensional lumber and in 4-inch, 6-inch, 8-inch, and larger timbers.
Timbers are the largest pieces of solid-sawn lumber produced by sawmills. Timbers are typically 5 inches thick and larger. Redwood is one of the lightest yet structurally strong softwoods found in North America, making it an ideal wood for a wide range of structural applications where large timbers are required. Structural applications for redwood timbers have been used for shade structures, gazebos, pergolas, arbors, and deck framing in outdoor design projects.
Redwood Grades
Redwood lumber and timbers are available in a wide variety of grades, including sapwood and heartwood grades. The term "grade" in lumber refers to the strength, durability, and appearance of the wood. Grades of redwood lumber are determined using criteria outlined by the Redwood Inspection Service (RIS). The grades provide guidance in determining the best use for the redwood based on its durability and appearance. Appearance is an important factor in selecting both color and the presence of knots. Durability is important in determining whether the lumber is appropriate for in-ground contact or can only be used aboveground.
Redwood is graded for its durability or resistance against insects and decay. These factors are actually easily distinguished by the color of the wood. The reddish-brown heartwood from the inner portion of the tree contains extractives that provide resistance to insects and decay. Thus, all heartwood grades of redwood will have the word "heart" in the grade name. Heartwood grades include Heart Clear, Heart B, Deck Heart, Construction Heart, and Merchantable Heart.
Garden grades of redwood contain more knots and natural characteristics than are allowed in higher, architectural grades. Garden grades of redwood include Deck Heart, Construction Heart, Deck Common, Construction Common, Merchantable Heart, and Merchantable. These are the grades that are more frequently used for decks, fences, and garden structures where knots or other visual characteristics have little to no effect.
For the finest uses, the architectural grades of heartwood are appropriate. Architectural grades include Heart Clear, Heart B, Clear, and B Grade, and may be available kiln dried (preshrunk and stress free) for fine exterior and interior uses. These are the choice grades for applications where attractiveness and tight joinery are desired as well as dimensional stability.
Sapwood is the cream-colored wood that develops in the outer growth layer of the tree, but it does not possess the same resistance to decay and insects that redwood heartwood does. However, redwood that contains sapwood can be used in construction aboveground where there is little danger of damage from insects or decay. Sapwood grades include Clear, B Grade, Deck Common, Construction Common, and Merchantable. These sapwood grades can be used for decking that does not contact the ground, garden shelters, and other aboveground outdoor applications, such as benches and seating.
Appearance is the other major factor in the grading of redwood. The rich, warm texture and grain pattern of redwood hold true even with age. Freedom from knots, or clearness, is the determinant for the highest grades. Other grades are categorized by the number, size, and nature of knots as well as the presence of other characteristics such as stains or manufacturing defects that may occur during the milling process.
Redwood decking also features Class B flame spread and is approved for use in California's Wildland Urban Interface (WUI) fire-hazard severity zones without restriction. In order to provide a Class A flame-spread rated product, redwood lumber and timbers can be treated with an exterior fire retardant. The result is a Class A exterior decking product. The product is covered by a limited lifetime warranty. In addition to decking, accessory items such as joists, railings, and other specialty items are available.
The Class A flame-spread rating means that the treated redwood product can be used under even the most stringent Wildland-Urban Interface (WUI) building codes throughout the United States, including the International Code Council's International Wildland-Urban Interface Code (IWUIC). The IWUIC code requires decks to be constructed of approved fire-retardant treated wood specified for exterior use. Under such guidelines, only a Class A flame-spread rated exterior wood product would qualify for usage.
Ideas For Creating Interesting and Well-Designed Outdoor Environments
Architects and designers can create decks and pergolas using redwood lumber and timbers to expand residential and commercial outdoor environments. Pergolas provide shade and when combined with plantings can reduce heat island effects. Pergolas also help homeowners and businesses to take their social gatherings outside.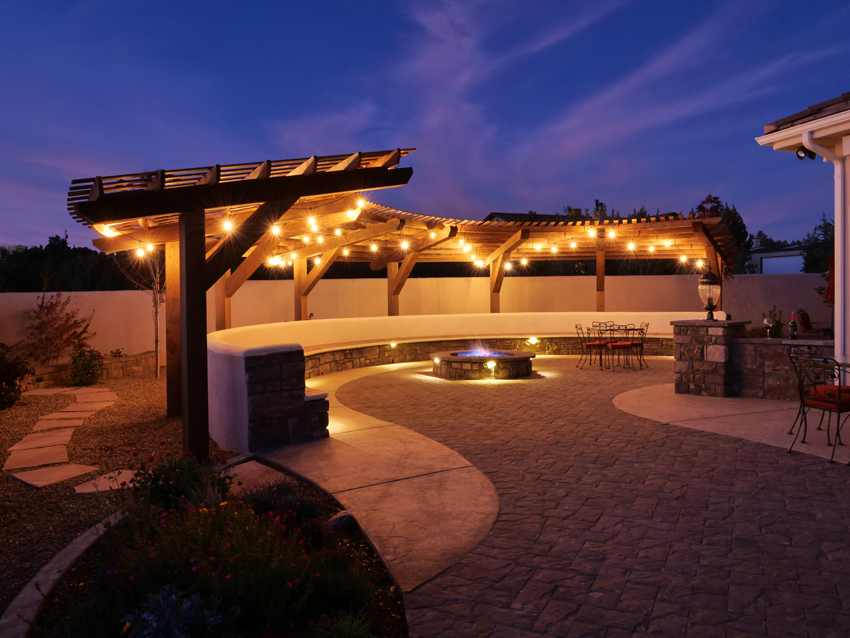 Photo courtesy of Humboldt Sawmill Company
Redwood timbers were used to create this pergola located in Farmington, New Mexico.
Originally published in Architectural Record
Originally published in August 2021
Notice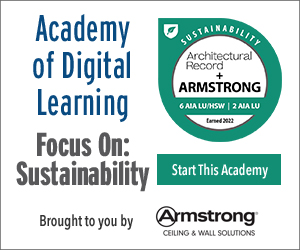 Landscape Architecture: Design Ideas for "Taking It Outside"
Buyer's Guide
Rooftop Deck Systems

Bison pedestals are manufactured in Denver with 20 percent post-industrial recycled materials and have patented features that improve performance and stability. These versatile, adjustable-height pedestal deck systems create level rooftop decks over sloped surfaces, support a variety of different surface materials, and can be installed over any structural surface.
Lumber and Timbers

Redwood lumber and timbers are popular for landscaping projects where the natural beauty and durability of wood is desired. Redwood lumber encompasses 1-inch and 2-inch material. Redwood timbers encompass 4-inch, 6-inch, 8-inch, and larger members. Redwood from Humboldt Sawmill Company is available Forest Stewardship Council (FSC C013133) certified.