Landscape Architecture: Design Ideas for "Taking It Outside"
Materials and strategies for creating safe and comfortable outdoor experiences
Sponsored by Bison Innovative Products and Humboldt Sawmill Company
Redwood Is Sustainably Harvested
Redwood is grown and harvested in compliance with FSC as well as California Forest Practice Rules, which are some of the most stringent regulations in the world. When redwoods are harvested, the stump is able to send out shoots of new growth fairly rapidly because the full root system that drives the growth has remained. There are two harvesting practices that comply with sustainable forestry methods:
Preserving old growth and harvesting from new growth.
For each mature tree that is cut down, a number of seedlings are planted in its place.
Redwood Reduces Carbon Emissions
All wood has the capacity to remove carbon from the air and store it in wood fibers even after the wood has been harvested and made into lumber. Studies have shown that redwood is very efficient at removing carbon from the atmosphere, with up to half a ton of carbon being stored in one redwood deck. Redwood's carbon storage is also maximized through its sustainable forestry practices because faster-growing younger trees are better able to take in carbon than older trees.
The American Wood Council also has prepared reports on EPDs of U.S. redwood lumber. It evaluated redwood from extraction through transport to the facility (log delivery) and manufacturing process, which includes sawmilling, drying, planing, and packaging. The EPDs for products provide a basis for evaluation of the environmental performance of the product but does not "judge" whether the product meets any environmental quality standards. It does provide information about the environmental impacts from some or all of a product's life-cycle stages.
Architects and designers should note that the key results of new LCA and related EPD results for redwood lumber are not the same as the LCA/EPD for redwood decking. There have been two separate studies done, one for lumber and one for decking.
Designing Outdoor Spaces Using Modular Systems
Many of today's products provide design flexibility through modular systems. Modular decking and modular pavement systems provide landscape architects with a variety of surface options for creatively designing outdoor spaces both on-grade and on rooftops. Modular cubes and modular outdoor structures such as pergolas present opportunities for creating privacy and separation by providing options for vertically defining outdoor spaces.
On the ground level, modular pavers can be used to define entrances, pathways, parking spaces, sitting spaces, and large open areas. Modular wood elements can be mixed with pavers or used by themselves to create unique aesthetics. Modular cubes provide spaces for plantings in rooftop gardens, decks, or parklets. Modular structures provide opportunities to create outdoor rooms for shade and privacy.
Surfaces for rooftop and ground-level spaces can be designed using wood, stone, or concrete pavers to create unique custom looks. All these materials can be applied either on a rooftop or over a prepared ground-level subgrade over a pedestal support system.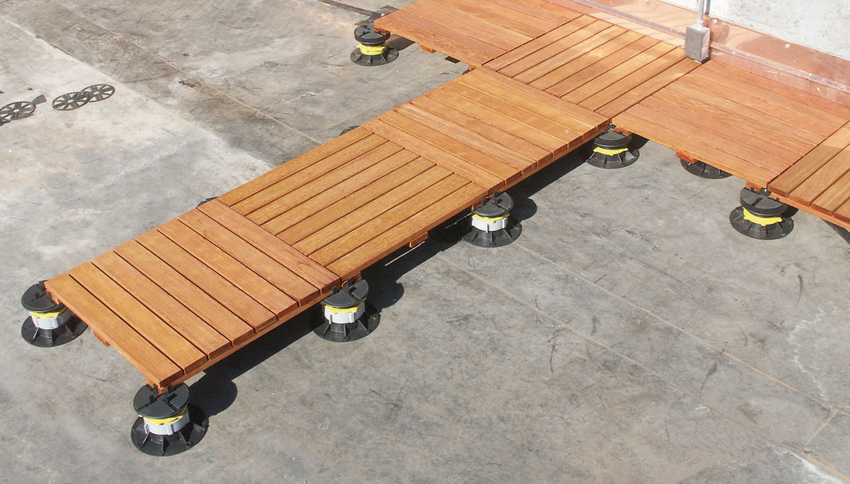 Photo courtesy of Bison Innovative Products
Adjustable pedestals support wood tiles.
Versatile Modular Deck Systems Provide Flexibility
Modular and versatile deck systems give architects and designers the design flexibility to create unique and beautiful rooftop environments as well as ground-level outdoor spaces. Designers can include a mix of pavers and surface materials, including wood, stone, structural porcelain, crushed rock, grating, artificial turf, and concrete, as well as planter cubes and benches to create unique, custom looks. The versatile, adjustable pedestal deck systems can be utilized over any structural surface, including bare structural decks, rooftop decks, roof membranes, green roofs, terraces, compacted grade-level surfaces, pavements, pool surrounds, and within water features.
These deck systems provide solutions for designers to expand social functions outside by utilizing unused space in the city, constructing a new porch or backyard in the suburbs, or creating a large decking area for outdoor dining. Creative outdoor spaces allow for an extension of indoor areas or the creation of a new outdoor oasis of its own. Outdoor spaces can contain kitchens, fire pits, bars, living areas, gardens, and, if large enough, play areas.
Outdoor decks connect guests to the natural environment through the use of natural materials, such as wood and stone, and provide opportunities to incorporate vegetation and greenery into the space through the use of planter cubes and pots. This exposure to the outdoors benefits the health and well-being of people, as regular interactions with the natural environment are proven to lower blood pressure, reduce stress, expedite healing, and improve one's mood and focus.
Through the use of a modular decking systems, designers can create an abundance of different design visions without the need for custom or costly materials. These deck systems allow for quick and easy installation through fastening kits that facilitate swift and secure installations of wood surface tiles and paver-tray-backed pavers without harm to the wood tiles or pavers.
Originally published in Architectural Record
Originally published in August 2021
Notice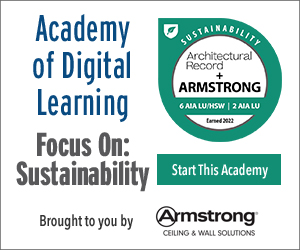 Landscape Architecture: Design Ideas for "Taking It Outside"
Buyer's Guide
Rooftop Deck Systems

Bison pedestals are manufactured in Denver with 20 percent post-industrial recycled materials and have patented features that improve performance and stability. These versatile, adjustable-height pedestal deck systems create level rooftop decks over sloped surfaces, support a variety of different surface materials, and can be installed over any structural surface.
Lumber and Timbers

Redwood lumber and timbers are popular for landscaping projects where the natural beauty and durability of wood is desired. Redwood lumber encompasses 1-inch and 2-inch material. Redwood timbers encompass 4-inch, 6-inch, 8-inch, and larger members. Redwood from Humboldt Sawmill Company is available Forest Stewardship Council (FSC C013133) certified.