Innovative Metal Solutions for the Built Environment
High-performance metal products achieve sustainable, cost-effective results
This course is no longer active
Sponsored by Alcoa Architectural Products, ALPOLIC Materials, CENTRIA, Chicago Metallic, and Metl-Span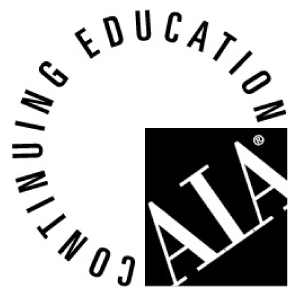 Continuing Education
Learning Objectives - After this course, you should be able to:
Analyze how titanium dioxide coil-coated aluminum architectural panels can clean buildings and improve air quality, while reducing building maintenance costs.
Evaluate the impact of building codes, acoustics, corrosion, and materials when specifying metal ceiling systems.
Describe the long-term benefits of using metal panel roofing systems with photovoltaic solar arrays.
Explain how insulated metal wall and roofing panel systems lower building energy costs and improve thermal comfort of building occupants.
Credits:
From exterior building envelope walls and roofing to interior ceiling systems, metal offers a variety of innovative products, composites, and sustainable design solutions suitable for any climate and building type. Extensive building industry research has led to exciting new products and advanced proven technologies that define building industry standards.
The word metal is derived from the Ancient Greek metallon, and the Latin metallum, for "mine, quarry, mineral." Metal is an element, compound, or alloy that is a good conductor of electricity and heat. As building components, metals offer many desirable qualities, especially in combination with other building components. Metals are usually malleable, formable, and can be hammered or pressed permanently out of shape without breaking or cracking. They are durable, ductile, shiny, and therefore reflect most incident light. Metals provide insulation, are highly recyclable, and sustainable. Metals are compatible with paints and coatings, and available in finishes and colors to meet any design requirement.
Self-cleaning buildings were unheard of a few years ago but they are now keeping skylines and outdoor air cleaner. Insulated metal wall and roofing panels are proven, energy-efficient systems that are constantly updated and refined to meet emerging technology, building codes, sustainability, and project needs. Metal ceiling systems have a wide range of features and design flexibility to bring visionary concepts to reality, while meeting code requirements.
Reputable U.S. building product manufacturers comply with a multitude of American building codes and performance standards. Many use independent physical testing programs to meet and exceed code requirements on issues such as water penetration, uplift ratings, fire protection, seismic and structural performance. When specifying metal products and panels, architects should verify if products have undergone rigorous testing in the U.S. to ensure reliable performance. Building materials and products are often tested and certified against standards by recognized research organizations such as the American Society for Testing and Materials (ASTM), Underwriters Laboratories (UL), and Factory Mutual (FM).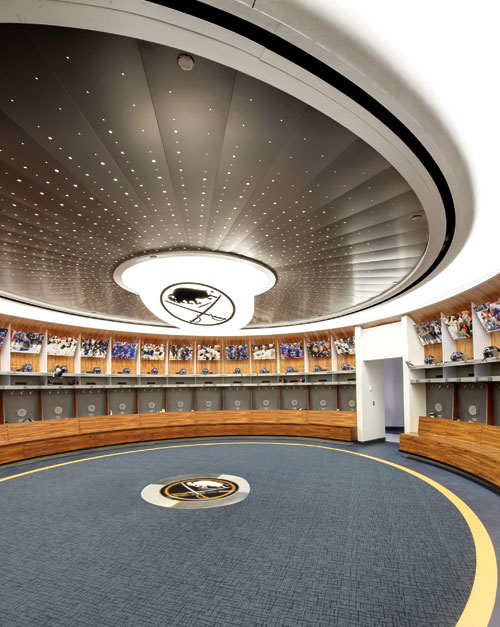 This custom metal ceiling in the Buffalo Sabres' hockey team dressing room at the First Niagara Center, Buffalo, New York, was inspired by the ice and steel blades. Architect: Cannon Design.
Photo by Bochsler Creative Solutions, Burlington, ON; courtesy of Chicago Metallic
Originally published in Architectural Record
Notice