Products to maximize the design of indoor spaces
Sponsored by Bradley Corp., Inpro, NanaWall Systems, and Thermory USA
Traditional Wood Look
Common species of wood like ash and pine are thermally processed to offer the simple, timeless beauty of clean, natural wood. The modification process leaves each board a rich color that will vary from species to species. Building owners have the choice to oil the boards yearly to maintain this color, or leave them unoiled to allow the wood to naturally undergo a truly unique and beautiful color evolution. Over time, the wood will transform with an elegant color change to platinum grey, offering a new take on an elegant aesthetic. These wood cladding products routinely undergo a meticulous milling process, leaving them exceptionally straight, flat, and smooth to the touch.
Reclaimed Wood Look
Thermally modified spruce is another option that can create a weathered look nearly indistinguishable from reclaimed wood. Available in a range of realistically weathered colors, they offer the reliability that comes from thermal modification plus the aesthetic desired to bring many designs to life. This type of thermally modified cladding offers the look of reclaimed wood, or barn wood, without the risks. Reclaimed wood is beautiful but difficult to source, difficult to vet, and often contains debris like stray nails, insects, or hidden rot spots. Thermally modified spruce mimics the look of reclaimed wood, but the modification process ensures consistent quality. In addition, if manufacturer-applied brushing and staining is selected, then each board will have the texture and color of naturally aged wood, ultimately providing the same effect with more control over the result.
Charred Wood Look
For designers seeking the ancient look of traditional shou sugi ban, or charred cedar, thermally modified, black-colored spruce can be a superior option. The ancient Japanese method of preserving wood by charring the surface is beautiful but difficult to achieve. On old-growth cedar, this process was effective, but today, it leaves the center of the boards vulnerable. Plus, charred wood is messy unless properly sealed. Thermally modified products provide the look without the hassle. They offer a bold, charred wood aesthetic that truly merges ancient traditions with modern design via the consistency of thermally modified wood in a deceptively flame-free process. There is no mess or residue; rather, the wood is stained and embossed to look realistically charred. It is available in brushed or dragon-scale textures for both interior and exterior cladding.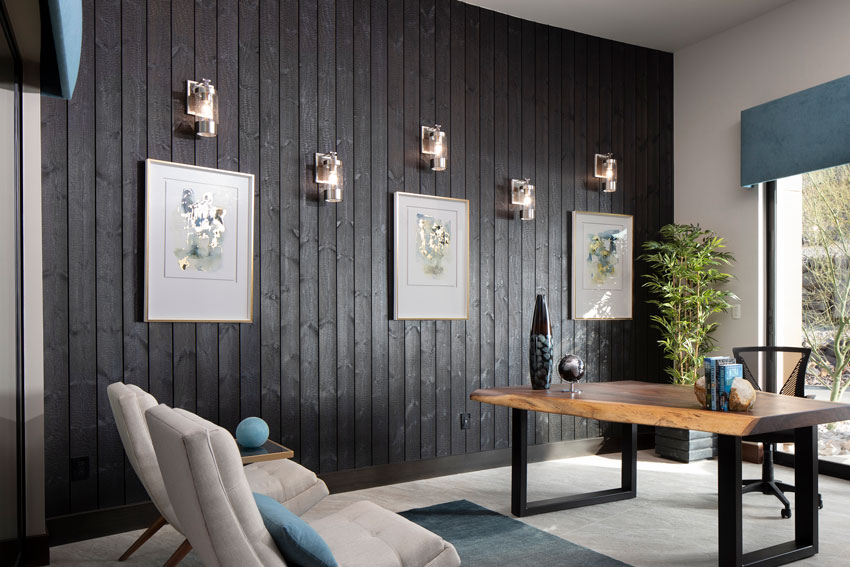 Photos courtesy of Thermory USA
Dark-colored thermally modified wood is an ideal choice for the look of shou sugi ban, or charred cedar.
Better Restroom Design
Every commercial building has restrooms, and all of them are used by almost everyone who enters the building. Public infectious health concerns (most recently, COVID-19 and flu outbreaks in particular) necessitate that restroom cleaning and maintenance support reliable handwashing for building visitors and occupants as well as a clean restroom environment. A leading manufacturer conducts a Healthy Handwashing Survey annually. The latest one has determined that 93 percent of Americans say that they employ at least one evasive measure in commercial restrooms to eliminate the risk of touching surfaces that might house germs. Similarly, 65 percent use a paper towel to avoid contact with a door handle, faucet, or toilet flusher. In addition, the survey shows that the top improvement Americans would like to see in commercial restrooms is making everything "touchless" (i.e., relying on sensors to activate fixtures rather than touching them with hands).
Based on all of the above, it is not surprising that designers and manufacturers spend considerable time and effort in making restrooms both look and function to high standards. Consider several examples of better restroom design discussed as follows.
All-in-One Handwashing
Typical restrooms often incorporate separate fixtures for dispensing soap, water, and hand drying. However, there is a new concept that is gaining popularity: innovative "all-in-one" handwashing fixtures are now available that incorporate a soap dispenser, a water faucet, and an electric hand dryer all in one streamlined wash bar unit. When paired with an appropriately designed sink, these touch-free fixtures support hygienic handwashing, reduce germ touchpoints in restrooms and improve overall facility cleanliness. All-in-one handwashing models are designed with accessible, easy, and intuitive handwashing interaction for users. LED lighting and easy-to-identify icons guide handwashing while keeping touch-free soap, water, and dryer in close reach. The dryer and bowl work in tandem to keep water from splashing outside the basin onto the floor, walls, or user, improving restroom cleanliness and safety. Integrating soap, water, and dryer into one fixture also eliminates deck and restroom clutter.
Certain all-in-one handwashing models have several features that curb germ transmission and improve restroom cleanliness. This includes a cleaning mode that allows maintenance staff to temporarily disable the functions so that the handwashing fixture can be cleaned. Similarly, a larger, 1-gallon soap container can be incorporated that requires fewer refills. Similarly, a larger, 1-gallon soap container can be incorporated that requires fewer refills. When the low-level LED indicator illuminates, the soap container is replaced with a new full container, minimizing germ contamination associated with refills. Finally, to stop germs and bacterial growth in the fixture between uses, it is programmed to purge water every 24 hours for 5 seconds if the unit has not been activated. In effect, stagnant water is drained from the piping system and flushed with water to reduce and prevent the growth of bacteria.
In all, this cohesive handwashing design enhances user-friendly touch-free handwashing functionality while elevating cleanliness, safety, and aesthetics in restrooms.

Photos courtesy of Bradley Corp.
Innovative "all-in-one" handwashing fixtures include touchless functions of soap dispensing (left), water washing/rinsing (center), and hand drying (right).
Coordinated Soap and Faucet Sets
If all-in-one fixtures are not appropriate for a given project, then well-coordinated separate fixtures should be considered. Specifying matching soap dispensers and faucets harmonizes the overall appearance and adds a unified design element to washbasins. New touch-free models are universally designed and can be used on all types of basins. Such attractive handwashing fixtures create a cohesive and unified aesthetic in restrooms.
With advanced sensing technology, new soap and faucet pairs come in an array of styles, popular finishes, and advanced features. Some of the newest features include hidden sensors to deter tampering, optimized sensing to eliminate false activations, longer spouts for increased handwashing space, and cast brass spout construction with popular and environmentally friendly PVD finishes. Newer faucets offer dual-sensor technology that provides highly accurate activation while optimizing battery life. Faucets should have multiple low-flow options to match water-savings preferences and multiple run-time options to fit the application. To minimize germ buildup, an auto-flush feature is available to flush the water line every 24 hours. A manual valve override feature is also available for longer water flushing.
Some soap dispensers are designed with a wide range of top-fill options and a smart sense system with LED light indicators that display low soap and battery. Audible and visual alert systems guide refilling to avoid soap overfilling or spilling. The dispensers use universal bulk soap in foam and liquid options. For high-traffic applications using multiple handwashing stations, a top fill multi-feed soap system can supply soap up to six dispensers at once. The system includes a translucent ring that illuminates when the tank begins to run low on soap or power.
Matching soap dispensers and faucets come in popular finishes such as polished chrome, brushed black stainless, brushed nickel, brushed stainless, brushed brass, and brushed bronze. They are also available in modern and classic styles that range from elegant to sleek to organic to complement and integrate with any restroom design.
Privacy Partitions
With privacy emerging as a key user preference in commercial restrooms, privacy partitions add extra height, width, and discretion to create the feeling of an individual room. Using privacy partitions helps architects create comfortable, durable restroom retreats for users.
Privacy partition models feature 72-inch-tall doors and panels mounted 6 inches above the finished floor for standard stalls, and 69-inch-tall doors and panels mounted 9 inches above the finished floor for ADA stalls. To provide additional space, panels are available up to 84 inches deep and feature a stacked panel design that is seamed together with an aluminum H-bracket, providing a cleaner design aesthetic and faster installation. Other options are also available to eliminate gaps between doors, pilasters, and panels to deliver even more privacy. These partitions are available in a variety of high-quality and durable materials like stainless steel and solid plastic that stand up to everyday wear, high traffic, and vandalism attempts.
This need for privacy is not a new concept. According to a noteworthy study on restroom design, "The Bathroom" by Alexander Kira, Americans have been uncomfortable with the lack of privacy in restrooms for decades. The above-mentioned Healthy Handwashing Survey found that greater privacy surrounding restroom stalls is the top improvement that Generation Z would like to see in their school restrooms.
Further, a number of facilities could use extra depth for restroom partitions. For example, airports and hotel lobbies often need extra space and enclosed areas for luggage. Facilities that accommodate small children and their parents, such as restaurants, malls, and amusement parks, are also good applications for partitions with extra depth.
Finally, in the age of mitigating COVID-19, using extended partition walls can be useful in the containment of germs inside restroom stalls.
Originally published in Architectural Record
Notice