Products to maximize the design of indoor spaces
Sponsored by Bradley Corp., Inpro, NanaWall Systems, and Thermory USA
Flexibility
Studies have also shown that part of creating a productive work environment means providing a variety of different workspaces that employees can choose to utilize at will. This includes large conference rooms that can be divided into smaller, more intimate meeting rooms to offer collaborative or independent workspaces as needed. It also means combining private offices, cubicle banks, and open floor plans as well as communal areas and sound-proof rooms where employees can concentrate. When operable glass wall systems are used, they allow for a smaller footprint with more multifunctional, sound-controlled office enclosures and meeting rooms, while reducing the need for extraneous dedicated rooms that serve only one function.
Natural Light
According to the WELL Building Standard, a building certification program focused on health and well-being, natural daylighting has a substantial impact on building occupants. It includes guidance on how occupied spaces with good natural lighting enhance productivity, provide visual acuity, and minimize circadian rhythm disruption. There are other noted positive effects on people in the form of stress reduction, cognitive performance, concentration, and overall mood enhancement. Operable glass wall systems allow architects and designers to create flexible enclosed spaces that allow such natural light transmission. Whether open or closed, the transparent nature of an opening glass wall system ensures greater diffusion of natural light within the space.
Privacy
Privacy, like collaboration, is essential for better workplace engagement, innovation, and advancement. Focused work is often valued as the most important activity in a workplace and takes up the majority of an employee's time. To efficiently complete such work, a sizeable amount of visual, auditory, and spatial privacy must be provided. These essential ingredients allow individuals to work without distraction, accurately communicate sensitive information, clarify ideas, focus, and recharge. Operable glass walls can provide this privacy through the use of tinted or shaded glass, art glass, or operable shades.
Sound
Sound control and transparency typically are the "oil and water" (i.e., they do not mix) of office environments. The benefits of the open, transparent, collaborative spaces can be quickly overshadowed by the downside of unwanted noise causing distractions and interruptions. Uncontrolled noise can happen in just about any indoor environment, and it can be enough to distract employees or students and lower their productivity. In extreme cases, when the noise is continual, it can make it hard to concentrate and add stress to the workplace, which in turn can reduce morale, make some people irritable, and even introduce adverse health effects.
Of course, some spaces do not require acoustic control all of the time and instead can benefit from acoustic barriers that can be folded away when they are not needed. Offices with flexible or reconfigurable meeting spaces are a great example of this. Operable glass wall systems offer sound control when needed at differing levels. Among the best, sound transmission class (STC) ratings of up to STC 45 are available. At this rating, loud conversations in adjacent spaces are reduced down to low levels of speech, while common speech is reduced to an unintelligible, quiet murmur.
Overall, operable glass wall products can be specified to achieve the desired characteristics of flexible, reconfigurable spaces while still meeting the critical needs of privacy, light, and sound control. Options are available that include standard bifold doors, a single-track sliding system, frameless interior opening glass walls, and a minimally framed large panel sliding system. All of these can be fine-tuned to meet performance needs with specific enhancements, such as higher-STC glass or specialized seal and track systems.
Improved Wood Interiors
Many commercial and residential interiors desire the use of wood for a more natural and comfortable indoor environment. In the interest of sustainability, it has become very popular to use reclaimed wood for such interior designs. With a distressed look and color variations, designers are creating unique, rustic, and occasionally eclectic spaces that appeal to many building owners and occupants. However, there are plenty of uncertainties about the quality of reclaimed wood since only so much information may be available about its sourcing or previous use.
Similarly, there are design trends that incorporate charred cedar known as shou sugi ban, named after a Japanese tradition of charring the face of the wood for longevity. The dark or black appearance also appeals to many design schemes; however, it also creates a cleanliness issue indoors since the surface (essentially charcoal) can rub off onto people or other things in the space.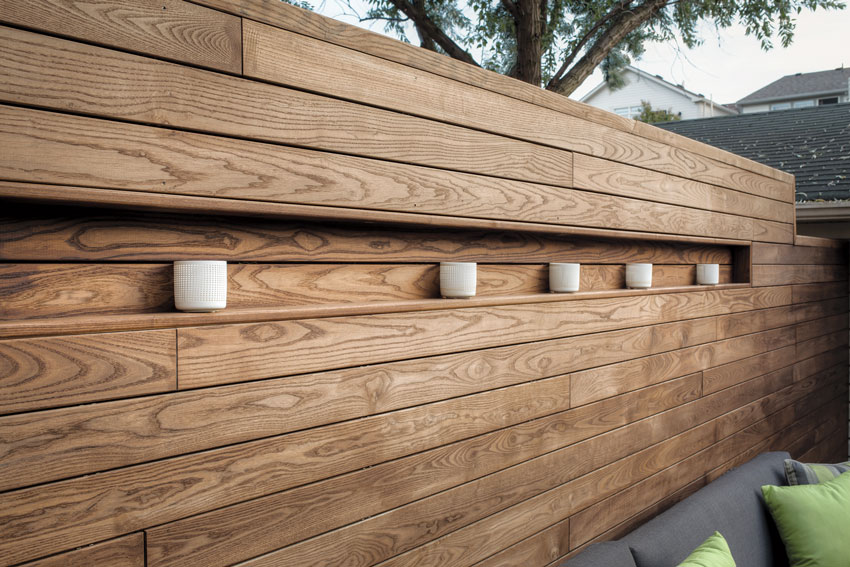 Photo courtesy of Thermory USA
Thermally modified wood retains the look of wood but has enhanced performance characteristics for
durability, longevity, and sustainability.
Instead of using reclaimed or charred wood, a new option has emerged known as thermally modified wood. This is a process where a common species of wood, such as ash, pine, or spruce, is treated with heat and steam in a very precise, scientifically controlled manner. When done properly, thermal modification of wood results in boards that are more durable, dimensionally stable, and rot resistant than virtually any other wood product currently available. Further, because the basic wood species used are readily available, they can be specified based on requiring responsible sourcing, sustainable harvesting, and minimizing carbon footprint throughout the milling and delivery processes. This can all be documented and verified by recognized sustainability organizations, such as the Forest Stewardship Council (FSC) or others. As such, thermally modified wood is coming to be seen as a sustainable alternative to tropical woods, reclaimed wood, and charred wood.
The process of thermally modifying wood focuses on enhancing virtually every fiber of the wood, from the surface all the way through to the core. Nonetheless, the wood still retains its natural beauty since the grain is preserved and the coloration is enhanced. While the surface can be coated with a clear finish if desired, the thermal modification process is intended to allow the wood to be exposed and weather naturally over time without degrading. As such, it is delivered in natural colors that are the result of the heat process rather than a stain. Over time, this color can lighten to a natural light grey in much the same way exposed cedar and teak naturally age in color. All the while, the integrity and natural beauty of the wood remains visible and intact.
From a performance standpoint, thermally modified wood has been tested to show some very attractive traits. First, in terms of durability, thermally modified white ash has achieved a Class 1 durability rating of more than 25 years, while thermally modified Scots pine is rated for 20-plus years of rot resistance. More specifically, testing has been conducted with fungus spores introduced to thermally modified ash samples with the intention of promoting fungal growth over a period of time. These samples were contrasted with control samples to interpolate the class of rot resistance based on European standards. The result was Class 1 rot resistance achieved in thermally modified ash, meaning that, on average, it can be expected to last outdoors for at least 25 years or more with minimal maintenance or added oils.
Overall, thermally modified wood is both beautifully appealing and very practical. The clean modification process uses only heat and steam for a completely nontoxic product, leaving each board highly stable and rot resistant. With these attractive qualities, there are currently three types of thermally modified wood to consider for interior as well as exterior applications as follows.

Photos courtesy of Thermory USA
Thermally modified spruce is available in a range of colors that are more predictable and perform better overall than reclaimed wood or barn boards.
Originally published in Architectural Record
Notice