Innovative Design Trends for Health-Care Environments
From doors, hardware, and access control to rolling shades and flexible walls, the latest design advances make a positive impact on patient care and facility ROI
Sponsored by AD Systems, AMBICO Limited, dormakaba, Clickeze® Privacy Systems, a division of Inpro®, and SIMONSWERK North America
Learning Objectives:
Define the benefits of sliding door systems for health-care environments, including efficiency of space, acoustics, privacy, and aesthetics.
Identify a variety of door and frame products/materials that are especially beneficial in health-care design and construction.
Explain the use of accessible floorplans and access control to provide safety and security in health-care environments.
Describe advances in door hardware, specifically hinge systems, and how they can aid in medical facility functionality.
Discuss how wall protection, curtain tracks, roller shades, and daylighting can provide added value and efficiencies within a health-care setting, specifically behavioral health facilities.
Credits:
This course can be self-reported to the AIBC, as per their CE Guidelines.
This course is approved as a Structured Course
Approved for structured learning
Approved for Core Learning
This course is approved as a Core Course
Course may qualify for Learning Hours with NWTAA
Course eligible for OAA Learning Hours
This course is approved as a core course
This course can be self-reported for Learning Units to the Architectural Institute of British Columbia
This test is no longer available for credit
With health care dominating the news cycle every day, it's not surprising that for most people, the topic first elicits thoughts of rising costs, insurance quality and affordability, and your provider's credentials. But, increasingly, architects, construction professionals, and owners are considering how the building design aspects of health systems are critical components in order to improve the quality of care and deliver it at a lower cost by operating more efficiently, improving patient outcomes, and increasing patient satisfaction.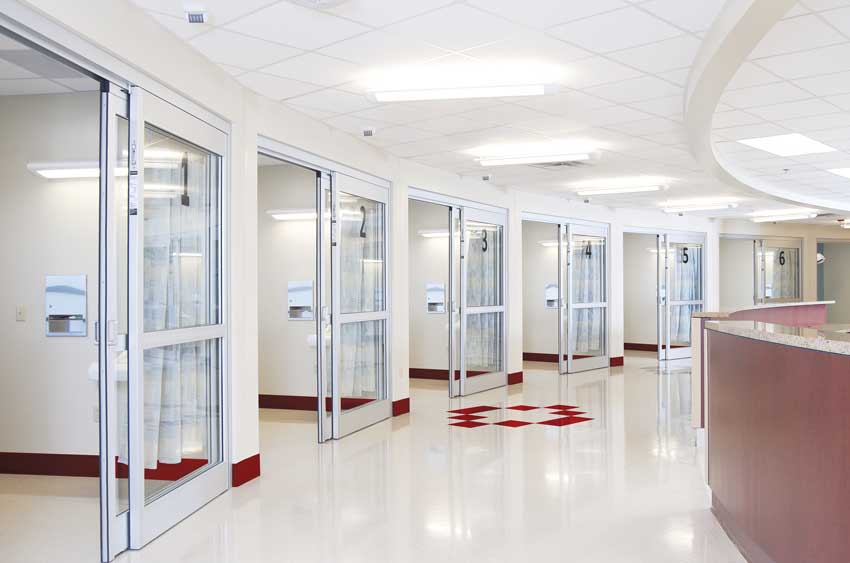 Photo courtesy of dormakaba
A new wave of innovative building products, such as these manual sliding ICU doors used at the Winslow Medical Center ER, help create modern, patient-friendly, efficient health-care environments.
According to a recent article in Building and Environment, "In recent years, the effects of the physical environment on the healing process and well-being have proved to be increasingly relevant for patients and their families (PF) as well as for health-care staff…Healing environments can be considered as 'smart investments' because they save money, increase staff efficiency, and reduce the hospital stay of the patient by making the stay less stressful."1
Building product manufacturers are taking the lead and meeting this growing demand for innovative solutions for health-care facilities. This course will examine a range of products—including doors and framing, hardware, window treatments, and flexible wall protection—and how they can aid in creating safe, structurally sound, efficient spaces that not only bring about patient satisfaction and optimal healing environments but also impact the owners' bottom line.
Doors and Framing
Health-care settings—everything from multi-facility hospital systems to medical office buildings and local clinics—all share several common goals and challenges. Increasingly, governing boards, invested shareholders, and owner-partners are keeping a watchful eye on building practices so as to keep operating costs down while increasing patient volumes and their access to quality care. Regardless of the venue, efficiency is at the center of every decision. Designers and facility managers are constantly looking for ways to bring their buildings in line with these ideals, and the right doors and frame products can be an integral part of the solution.
Sliding Doors
Modern door products, especially sliding door systems that include a complete door, frame, and hardware assembly, can make an important contribution to clinic design and ROI through the efficient use of space.
The latest sliding door systems have been designed to cater to the specific demands of health-care environments and address issues of unique concern in medical settings, such as acoustics, cleanability, hardware options, smoke ratings, and reliability.
According to door experts at AD Systems, a manufacturer of specialty door and hardware solutions for commercial and clinic settings, "Contemporary, purpose-built health-care sliding doors for interiors can address health-care facilities' challenging intersection of needs. These facilities are tasked with providing greater accessibility to differently abled people while maintaining efficient and reliable performance for busy staff. This requires products of a high quality with long lifespans that require minimal maintenance and guard against facility downtime for repairs or other issues. It is also essential that these sliding doors in health-care settings offer smart usage of available space and maximum sound abatement to protect patient privacy, all while being pleasing to designers and users' aesthetic sensibilities."
Benefits of Sliding Doors
Architects and professional building managers have many types and styles of interior doors from which to choose for medical facilities. Sliding doors can be a simple, smart solution that provides numerous benefits, some of which are outlined below.
Use of space: Sliding doors allow more exam rooms to fit into the same floor plate and provide a more efficient layout of individual rooms. When doors slide rather than swing out, an average of 14 square feet of valuable square footage is freed up for accommodating medical teams, furniture, and equipment. Health-care sliding doors, by their very nature, are designed to be unobtrusive, hugging the wall when open and gently gliding into place when closed.
Visually appealing: Sliding doors are generally thought of as an aesthetic upgrade that gives clinics a more modern, less institutional feel. Health-care sliding doors are available in a variety of materials and styles (example: flush wood or plastic laminate door leaves; clear, frosted, or decorative glass; or special features such as integral blinds or lead shielding) and will fit most budgets and décor. They may also employ a durable concealed roller system that provides a low-maintenance, smooth glide over their life cycle. Door frames may wrap the wall openings to protect them from wear and tear and give a long-term professional appearance.
Increased performance: Many sliding doors are designed so that performance is not compromised, i.e., architects can specify sliding doors with good acoustic performance (for instance, some newer products feature acoustical seals at all four sides for maximum and acoustical performance and acoustical design that addresses sound leakage at the lead and jambs), smoke ratings, locking and latching hardware, and a full range of decorative finishes.
ADA compliance: Some manufacturers offer sliding door systems that are ADA compliant in terms of operating force and clear opening dimensions. Products may include ADA-approved thumb-turn locks with occupancy indicators or keyways and self-latching doors options with handles that can be operated with only one hand. Another example would be sliding doors with soft-close features that offer protection to younger or slower fingers and that stop nerve-jarring slams.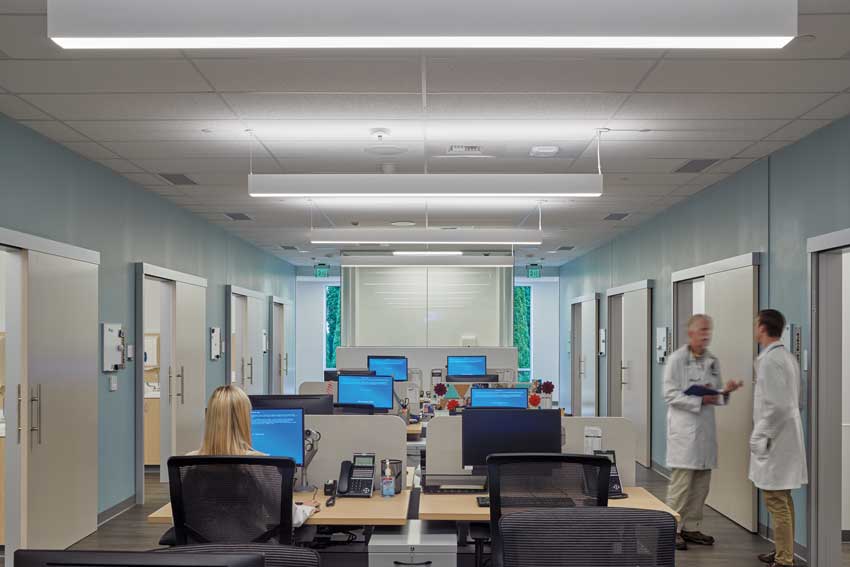 Photo courtesy of ZGF Architects © 2016 Doug Scott
Today's sliding door systems are designed to serve the demands of health-care environments, such as acoustics, cleanability and reliability—among others.
Originally published in Architectural Record
Notice