Innovations in Smart, Universal, Energy-efficient and Water-saving Home Appliances
Design professionals can select innovative appliances to provide greater water conservation and energy savings in sustainably designed homes for people of all ages and abilities.
This course is no longer active
Sponsored by TOTO and Whirlpool Corporation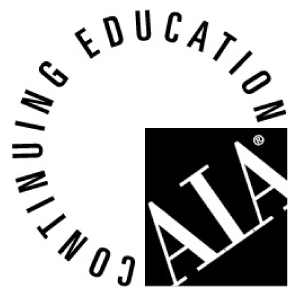 Continuing Education
Learning Objectives - After this course, you should be able to:
Discuss new appliance choices for the kitchen, bath and laundry that maximize conservation of water and energy savings.
Integrate universal design in the selection of home appliances as central to socially sustainable design principles.
List certifications and standards such as ENERGY STAR and the WaterSense label to provide guidance and interpretation of these labels to clients.
Discuss the advantages of smart controls, and the smart grid, for future energy savings.
Credits:
In response to a new environmental consciousness, more homeowners are choosing to buy and install appliances that reflect their eco-friendly attitude. Clients are turning to design professionals for guidance and advice as to what will work the best for their lifestyles. They want design professionals to tell them how to find the best ways to show their social responsibility in their homes. In his keynote address to the 2010 AIA Convention in Miami, Florida, author Daniel Pink urged architects to develop a clientele that understands how utility can be combined with significance. He believes that successful professionals can "give the world something they don't know is missing" and that includes things that can solve problems on a large, social and global scale like climate change, energy saving and water conservation.
According to Gunnar Baldwin, a Water Efficiency Specialist at TOTO, "Conspicuous consumption is being replaced by conspicuous conservation. Especially in higher-end renovations and new construction, more clients are willing to spend money to save energy and water." In fact, if appliances were purchased prior to the turn of this century, this conscious attitude toward sustainability also saves money because of new technology that has substantially decreased operational inefficiencies. Manufacturers have also created programs that recycle and/or refurbish the old appliance when it is discarded, to avoid additional waste in landfills as an unintended consequence of purchasing a new appliance. What's in vogue now is also the right way to design a sustainable home.
As the population ages, consumers have a new awareness of universal and inclusive design for all ages and abilities. As pointed out by Valerie Fletcher of the Institute for Human Centered Design, "Design powerfully and profoundly influences us and our sense of confidence, comfort, and control. Variation in ability is ordinary, not special, and affects most of us for at least part of our lives." Understanding the impact of design on human behavior is a sustainable choice - one defined by the intersection of economic, environmental and social design decisions. New appliance choices can impact all three of these linked areas of sustainable design.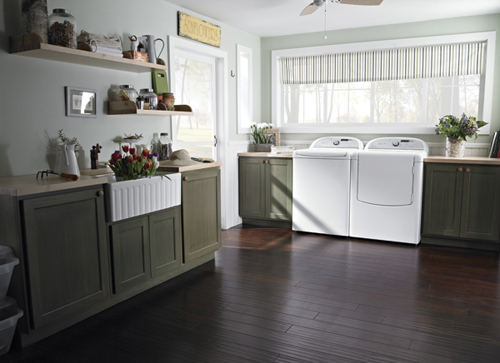 Design professionals are responding to homeowner demands by creating multi-purpose spaces that include water saving washers and dryers in their hobby centers.
Photo: Whirlpool®
Originally published in Architectural Record
Notice