Innovations in Parking Garages
Garage Band: Parking facilities riff on new uses as the automobile's role evolves.
Architectural Record
While it's easy to imagine any number of possibilities for an aboveground structure such as the 9th Avenue Parkade, alternate uses for layer below layer of underground parking are tougher to come up with. In 2015, Parcel K, a ½ million-square-foot mixed-use project in Boston's Seaport district, then in design development, had three levels of below-grade parking planned. Then Tesla achieved a self-driving milestone with its Autopilot software, and Uber hit a billion rides—and then 2 billion just six months later—and all that parking began to look like a dubious investment. So the project's architect, Arrowstreet, came up with a more flexible solution.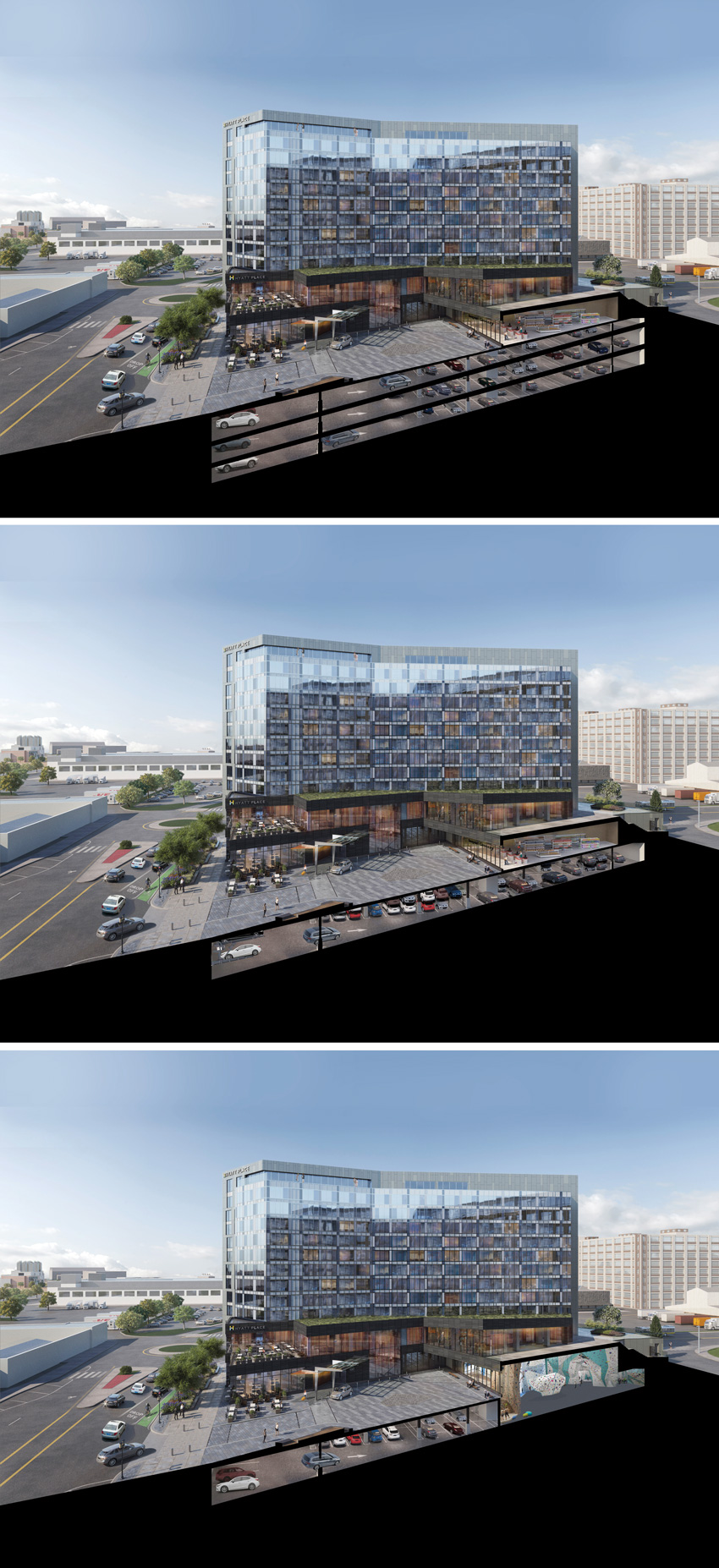 IMAGES: © ARROWSTREET
Arrowstreet's plan for Parcel K in Boston originally had three levels of below-grade parking (top). The firm later settled on just one (middle) and imagined a scenario where parts of the parking level and the ground floor can turn into a double-height space (bottom).
Deleting two of the parking levels saved about $18 million in construction costs, reduced the construction schedule by an estimated six months, and eliminated future maintenance expenses on excess capacity. For the remaining level, the design provides for a parking-space count that could range from 197 to 420, achieved with valet parking and a mix of stackers (devices that lift vehicles to enable more to be parked beneath), striped spaces (conventional spaces painted on the floor), and drive-aisle parking. For additional flexibility, the parking level's floor-to-floor height was increased to 15 feet, 6 inches, and a scenario envisioned where a future double-height space could be created to allow new uses on the parking level that would engage with street-level retail space on the floor above.
Improved adaptability will make the parking garage a more versatile building type, but even as a garage it can be made more efficient, pleasant, and environmentally responsible. The Parksmart rating system, administered by Green Business Certification Inc. (GBCI), recognizes parking structures that implement best practices. These include reducing environmental impact, improving energy efficiency, managing parking spaces effectively, encouraging alternative mobility options, and strengthening community relationships.
The Center Street Parking Garage, an eight-level, $40 million, net zero energy facility in Berkeley, California, replaces a smaller, seismically inadequate parking structure from the 1950s, and is expected to certify at Gold, Parksmart's highest level. "The City of Berkeley understood that parking is crucial in making a viable downtown," says Raju Nandwana, vice president at International Parking Design (IPD), the Oakland-based architect for the project, "but they also had the political will to put in the attributes and qualities that exemplify what parking could be."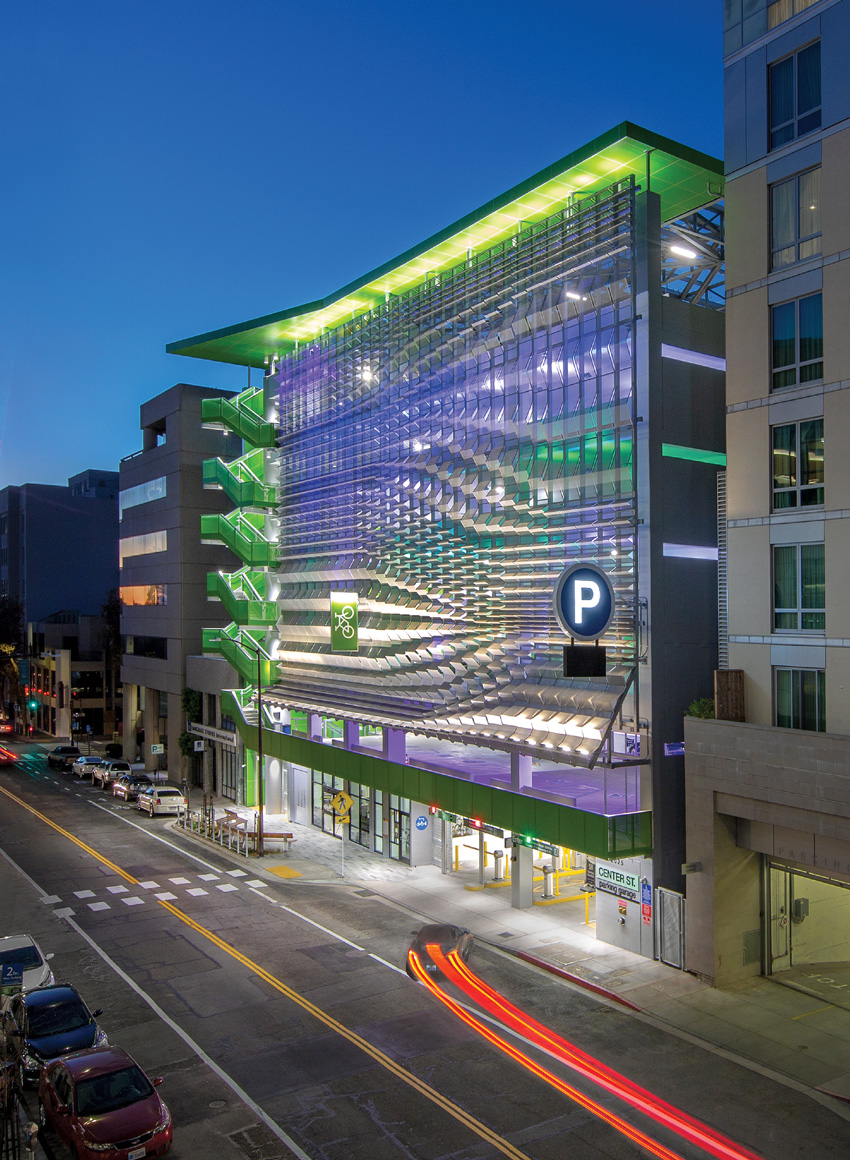 PHOTOGRAPHY: © BILLY HUSTACE
The Center Street Parking Garage in Berkeley, California, sports a facade designed by local firm Marcy Wong Donn Logan Architects (above). It consists of folded and perforated metal panels that weave across the building's exterior and are illuminated by programmable colored lighting.
A dynamic facade, designed by local Marcy Wong Donn Logan Architects, contributes to the liveliness of the city's arts district: folded and perforated metal panels form a fluid pattern on both exposures of the through-block building, and programmable colored lights add verve. Ground-level art-exhibit space, a café, and a curbside micropark animate the building's street fronts. Care for the pedestrian experience of the garage shows in its open, safe, and inviting stairs, its clear graphics that support wayfinding, its public restrooms, and a state-of-the-art security system.
With 720 spaces, the new garage provides a 70 percent increase in capacity compared to the previous one, and increased functionality. A camera-based parking-count system directs drivers to available spaces, saving time, frustration, and gas. Fuel-efficient vehicles enjoy preferred parking, and electric-vehicle charging and tire-inflation stations are provided.
Beyond cars, the garage supports a range of mobility options that integrate it into a multi-modal transportation network. Located less than a block from a commuter-rail station, the facility includes 350 bike spaces, a free bike valet, and a Bike Station (a secure bike parking facility for commuters, complete with a bicycle-equipment repair shop). The parkade also hosts car- and bike-share hubs for those with no need to own. And, by enabling a reduction in street parking, it even makes room for wider sidewalks.
The building takes its environmental responsibilities as seriously as its civic and operational ones. A 500-panel photovoltaic array on its rooftop enables the garage to meet all of its own power needs, and the structure is sized to support an expanded array in the future. Energy-efficient sensor-controlled lighting, low-VOC paints, recycling receptacles, water-conserving restroom fixtures, and rainwater catchment and filtration systems round out the project's environmental credits. "This is an example of what we would ideally like to see all parking garages become," says Nandwana.
While the mobility revolution suggests that the days of America's vehicles sitting parked 95 percent of the time will soon be over, the Center Street garage hints at the potential for centrally located parkades to evolve into multi-functional hubs in a diversified transportation system—just as Peckham Levels, 9th Avenue, and Parcel K suggest ingenious possibilities for the evolution of the building type in completely new directions.
Katharine Logan is an architectural designer and a writer focusing on design, sustainability, and well-being.
Originally published in Architectural Record
Notice