Innovations in Multifamily Housing
New product options provide more creative design opportunities with better performance
Sponsored by Electrolux, Pella EFCO Commercial Solutions, Simonton Windows & Doors, Space Plus, a division of The Sliding Door Company, and Tamlyn
Learning Objectives:
Identify and recognize the trends in the multifamily residential market that are driving an active and robust market for this type of construction.
Investigate the design potential and innovative opportunities to create multiple family buildings that are flexible in use and sustainable by nature.
Assess the functional contributions of drainable air barriers and window systems as they contribute to energy efficient green and sustainable design.
Determine the opportunities for interior design options using movable interior partitions and efficient built-in appliances.
Credits:
This test is no longer available for credit
Signs of economic recovery are being observed in many areas following the recent recession. Financing is more accessible, the job market has improved, and construction is picking up again as a result. In particular, new or renovated multifamily housing has been documented as one of the most active building types under design and construction. While there seems to be a variety of reasons behind this activity, they all spell good news for architects engaged in this market. As commonly happens, lots of activity breeds lots of innovation. This is definitely true among architects but it is also true among product manufacturers and suppliers across a wide spectrum of building components used in multifamily housing.
Market Trends Breeding Innovation in Multifamily Housing
Statistics for American households from the U.S. Census Bureau have been analyzed and reported on recently in numerous business and professional publications. They document a clear trend for an increasing need for multifamily housing both now and in the foreseeable future. One important aspect to understand, however, is that this trend will certainly vary by geographic region and over time. When looking at a region such as the Washington, D.C. metropolitan area for example, the George Mason University Center for Regional Analysis has shown that new multifamily permits peaked there in 2012 and development slowed a bit as units were absorbed by the market. While they estimated 19,000 units to be delivered in 2014, they also identified a need for about 66,000 households to require multifamily housing in 2015. So while there may be some normal ebbs and flows, the trend there is still definitely on the upswing.
All of this is consistent with the work of several national organizations that focus on multifamily housing. The National Apartment Association (NAA, www.naahq.org) published a 2014 forecast indicating that across the 100 largest metropolitan areas in the U.S., completed apartment units are expected to climb to about 231,000 units in 2014. That is an increase over the 187,000 units brought to market in 2013 and a notable jump from only 78,000 completed new units when the market bottomed out in 2011. For context, the National Multifamily Housing Council (NMHC, www.nmhc.org), which defines a rental apartment building as one with five or more units, recognizes 17.3 million individual apartments currently operating in the U.S. They point out that nearly 89 million Americans rent their housing—almost one third of all Americans and over 14 percent of all households. The NMHC estimates that construction of apartment communities built between 2008 and 2013 added an average of 210,000 new apartment homes per year worth more than $32 billion annually and providing jobs to over 270,000 workers. From a market trend perspective, NMHC has determined that apartment living now attracts a wide variety of people including those who prefer to rent even though they could readily afford to buy. Citing Professor Arthur C. Nelson, presidential professor and director of metropolitan research at the University of Utah's College of Architecture and Planning, the NMHC indicates that in order to meet emerging housing demands between now and 2020, half of all new residences built will need to be multifamily rental units.
Rounding out the picture, an affiliate of the National Association of REALTORS, the Institute of Real Estate Management (IREM, www.irem.org) has noted that many investors have begun turning their attention away from prime residential development locations and instead are looking at urban fringe areas. These up-and-coming neighborhoods attract young, upwardly mobile renters and pedestrian commuters. This trend implies opportunities for the transformation of dubious urban areas into vibrant, attractive, sustainable, and thriving neighborhoods with a mix of multifamily housing and urban amenities. IREM has also recognized and embraced the trend of green buildings and sustainable design in multifamily housing that improves financial performance, boosts property values, and makes a positive environmental impact.
Within the context of these larger trends and responses, building design and construction firms have brought their own creativity to multifamily housing by using a variety of available products and materials in innovative ways.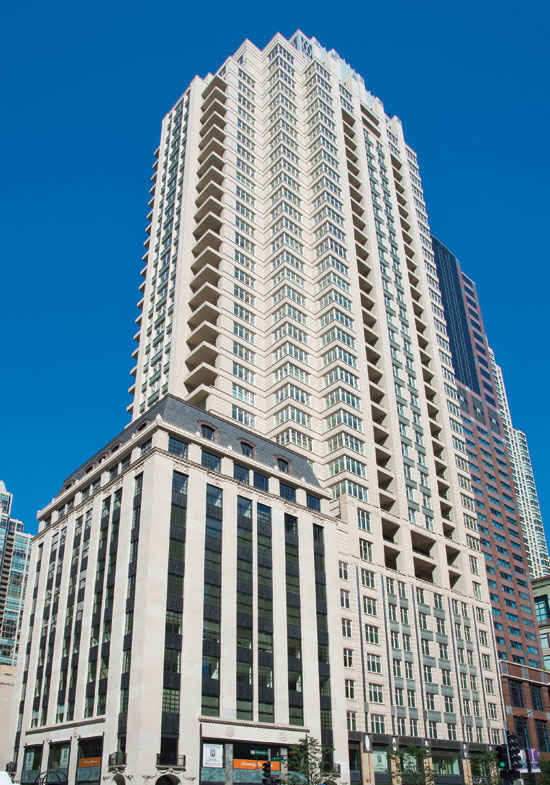 Photo courtesy of Pella EFCO Commercial Solutions
Multifamily housing has been one of the most active parts of the design and construction portion of the economy in the years since the recession.
Originally published in Architectural Record
Originally published in October 2014
Notice