Innovations in Interior Design
Using the right products to modernize today's indoor spaces
Sponsored by Cascade Architectural, NanaWall Systems, and XtremeInterior by Tamlyn
Modern Interior Trim
Interior wall and ceiling surfaces are commonly finished with gypsum board or other panelized materials. The details of how the edges of those surfaces are finished has always been an important interior-design element. Historically, wood or vinyl base has been used as a transition between walls and floors, while some type of crown molding has been used at the wall and ceiling intersection. However, in more contemporary or modern designs, such traditional details don't always match the rest of the design intent. Nonetheless, all design schemes need to address how the vertical and horizontal planes of a space meet visually. Similarly, for large wall and ceiling areas, breaking up those areas with a pattern or relief has long been a favored interior-design approach. Here again, wood paneling techniques have been the historical norm, while alternatives have been sought for more contemporary designs.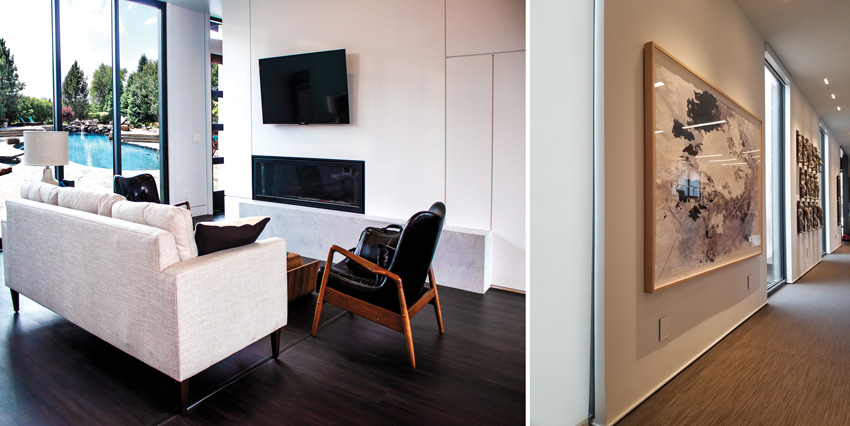 Photos courtesy of XtremeInterior by Tamlyn
In these two different projects, extruded aluminum trim is used to give ordinary gypsum board walls a newer, cleaner, more contemporary look by defining wall panels, ceiling intersections, and wall bases instead of using traditional wood or other products.
Recognizing the need for an alternative to wood interior trim, product manufacturers have introduced an innovative alternative through the extruded aluminum interior trim profiles. The impetus came from demand, as Dana Madden, the architectural product manager with XtremeInterior by Tamlyn, points out: "Across every market right now, we're seeing a big push for clean lines in design. You still need the functionality of having some type of protective edge for your drywall—it can't just simply meet the floor. You still have to have something there that protects that bottom edge for maintenance, durability, and housekeeping. But in residential, multifamily, retail, food and beverage, hospitality, and more, everybody is going to a little bit more of a cleaner look." Some of this cleaner preference may be coming from a strong European influence on interior design, while in younger generations, clean lines represent a feel that is more progressive, interesting, and satisfying. With this in mind, here are some ways that extruded aluminum trim are transforming many building interior designs:
Design versatility. This is where the use of sleek and contemporary aluminum trim designs offers great appeal. Whether the intent is to see the aluminum as a distinct product or for it to blend in with the surrounding wall, it is versatile enough to be used in creating straight lines, reveals, relief profiles, and innovative corner conditions. Even more interesting to many designers, aluminum extrusions can be the basis to easily create a pattern, relief element, or graphic design focus that is incorporated into drywall installations. That means it's almost limitless in design options as far as installing simple trim pieces in a grid pattern, diagonally, or other geometric configurations. It's even possible to design something rather abstract and, for an added effect, hide small LED light strips in them. All of this means that there is inherent flexibility in creating wall designs where the limits are only bounded by the imaginations of the designers.

This interior-wall design approach is being played out in both new and renovation projects of retail spaces, health care, offices, hospitality, and restaurants. For example, global design firm Gensler has been working on a new look for McDonald's restaurants across the United States. The result is a complete overhaul and updated aesthetic for the facilities all across the country, starting with the first one in Chicago. For variety, Gensler has provided up to five different designs from which each of these locations can choose. In this way, the look is modern and high quality, but not all McDonald's are going to look exactly the same because they can pick what works best for their demographic, area, climate, etc. In corporate settings too, the clean and minimalist look is very popular. No longer are office designs driven by the large, dark wood boardrooms of the past but by more of an appreciation for clean spaces that avoid looking sterile by providing texture and character. The focus is clearly on creating contemporary, clean designs.

Reveals and projections. Wayne Braun is a designer who has 40 years of experience with a firm known as PDR in Houston that focuses on office and work environments. He points out, "There's nothing more effective and less expensive and less difficult to deal with than sheetrock and paint. So that's still the basis for a lot of innovative ideas when refining interior spaces. If we assume that we are going to work with sheetrock and paint to keep the costs down, we can enhance it with things like inset aluminum reveals that might be, say, a half inch wide, a half inch deep. In this way, we can create a rhythm or panel-like effect on sheetrock that can be quite stunning." He goes on to describe how extruded aluminum trim be used as a base condition where a gypsum board wall meets the floor: "We can use a reveal without a base and create the illusion that it's a more substantial piece of, I'll say millwork, that's been brought into the space. This makes the experience more like what you would see in a museum, but it's still sheetrock and paint. So we can greatly enhance the use of very, very common materials by giving it these extra details."

In addition to cutting in reveals to create a pattern, there is also sometimes the desire to create a three-dimensional look with trim that projects outward in some fashion from the wall surface. Designers have historically needed to apply either wood or metal trim over the drywall in order to get that look, and often they have been custom designed and made, introducing an unexpected cost. By comparison, extruded aluminum trim can create elements that stand off or project out from the wall and then recede back and project out again if desired, all with one continuous piece. This allows for a very economical means to achieve a greater degree of texture, geometry, and shadow lines, which can create drama and character in an otherwise bland space.

Color. Aluminum extrusions offer choices and variations when it comes to color as well. As with most aluminum products, clear anodized aluminum is standard, but aluminum trim is readily available in many other choices too. Specifying a primed finish is possible so that when it's installed and painted with a surrounding wall surface, the trim can be any color desired. It can match the rest of the wall exactly, creating only texture, or it can be painted in a contrasting or complementary color depending on the overall color scheme desired. There are also the full range of anodized trim colors, including different shades of bronze, black, champagne, etc. Some manufacturers will even offer a pre-painted powder-coat finish, which allows for virtually any color to be selected or matched and specified.
Custom options. Interior trim made from extruded aluminum is available in a wide range of standard profiles, but for jobs of a reasonable size, it is also quite possible to work with a manufacturer to obtain custom profiles for wall bases, ceiling/wall transitions, interior and exterior corners, or other applications. Custom profiles don't necessarily need to be budget concerns either since it can be quite economical to simply create a small die that is the basis of the new extrusion. Such customization isn't limited to shape, as it is also possible to incorporate custom finishes onto the trim. At least one manufacturer makes a custom film available that can offer any appearance desired, including a wood-grain pattern over the aluminum in cases where the look of wood is sought but also the durability of aluminum. For one application in a retail store selling blue jeans, the trim was finished to look like denim. Virtually any other appearance that can be designed onto the film can be accommodated.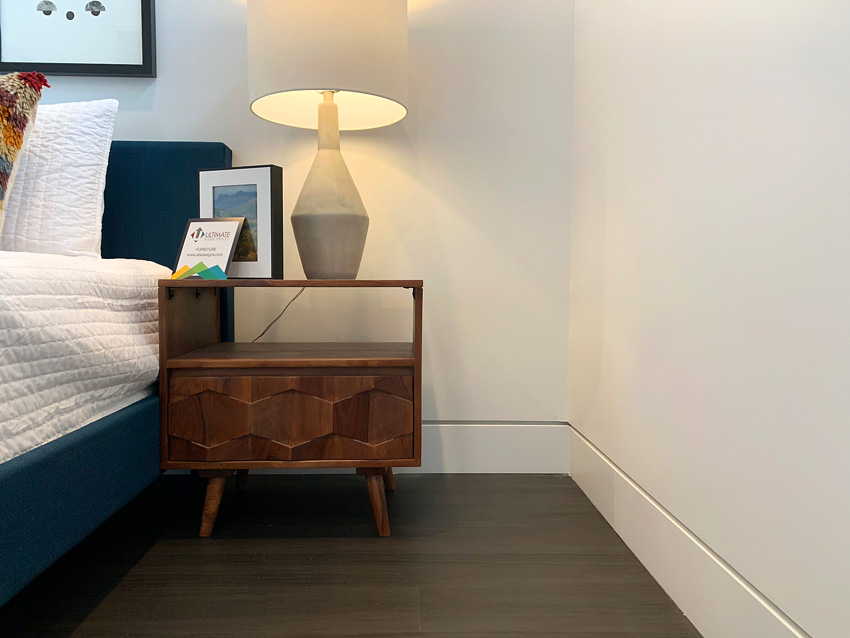 Photo courtesy of XtremeInterior by Tamlyn
Aluminum wall trim is used to create a very clean and contemporary look with both a flush wall base condition and drywall reveal in this hospitality setting.
Other characteristics. Using aluminum trim for interiors brings some other familiar characteristics as well. It is a very sustainable product since it uses predominantly recycled material and can be fully recycled at the end of its service life. It's also very durable and long lasting, eliminating the need for maintenance or replacement as with wood or vinyl trim. It is easy to work with and install using standard tools by various tradespeople, including carpenters, framers, and sheetrock installers. It also plays very well into the trend for using more manufactured products in construction and thus reducing the amount of skilled labor in the field. The trim can be precisely and consistently produced in a factory setting and then shipped and installed in standard manner on-site.

Overall, extruded aluminum trim is a very cost-effective, appealing option for many design situations that provides great flexibility and versatility. Standard or custom profiles and finishes can be used to create innovative interiors that move designs to the next level.
Originally published in Architectural Record
Notice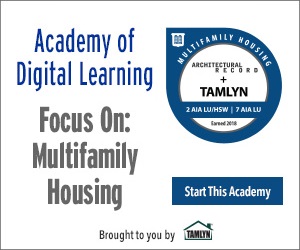 Innovations in Interior Design
Buyer's Guide
Fabricoil® Coiled Wire Fabric Systems

Fabricoil
®
systems are utilized by architects and designers to achieve remarkable interior and exterior spaces. Fabricoil is a flexible metal mesh material that comes in a variety of materials, gauges, and weave sizes and is used for energy savings, solar shading, light diffusion, decorative applications, security, partitioning, and more.
PrivaSEE Frameless All-Glass Operable Wall

NanaWall's PrivaSEE STC36 Frameless All-Glass Operable Wall provides better sound buffering than many fixed all-glass partitions, offering flexible space-management solutions.
XtremeInterior by TAMLYN

As a design feature, aluminum trim can provide architects and designers with a means of creating a clean, modern design on projects while incorporating the sustainable features and performance characteristics of aluminum. XtremeInterior by TAMLYN offers thousands of profile options and custom solutions for residential, commercial, hospitality, and industrial projects.