Innovations in Interior Design
Using the right products to modernize today's indoor spaces
Sponsored by Cascade Architectural, NanaWall Systems, and XtremeInterior by Tamlyn
Learning Objectives:
Identify and recognize the ways that operable glass walls provide separation of interior spaces when needed and transparency and connection otherwise.
Assess the design and performance characteristics of coiled wire mesh as an alternative construction-material choice for project designs.
Explain the characteristics of extruded aluminum when used as interior trim to create innovative interior designs in a more contemporary manner.
Determine ways to incorporate the principles presented into building projects as shown in case studies.
Credits:
This course can be self-reported to the AIBC, as per their CE Guidelines.
As an IACET Accredited Provider, BNP Media offers IACET CEUs for its learning events that comply with the ANSI/IACET Continuing Education and Training Standard.
Approved for Core Learning
This course can be self-reported to the NLAA
Course may qualify for Learning Hours with NWTAA
Course eligible for OAA Learning Hours
This course is approved as a core course
This course can be self-reported for Learning Units to the Architectural Institute of British Columbia
This test is no longer available for credit
Interior design for commercial spaces is being directly influenced by a number of shifts in thinking about how interior spaces are used. Corporate and office work environments, for example, have been the subject of many studies and inquiries into current trends and preferences for the way spaces are designed. Some have found that "an innovative and thoughtfully designed workspace can increase employee engagement, productivity, and overall company performance."1 Organizations like the World Economic Forum have taken some of these new studies on office design and declared older, 20th century models of office design as woefully out of date and in need of abandonment.2 Even industry leaders have undertaken their own research to find the link between human scientific issues and design.3 All of this work seems to point to the same implication for designers: innovation and creativity are needed now more than ever to produce interior environments that are fulfilling, appropriate, and current with the needs of the people who use those spaces. Based on this premise, this course will look at three readily available innovations that are being used to help align interior design with the 21st century thinking in our general society. Examples of applications and case studies will demonstrate how thinking beyond traditional means is good for everyone involved.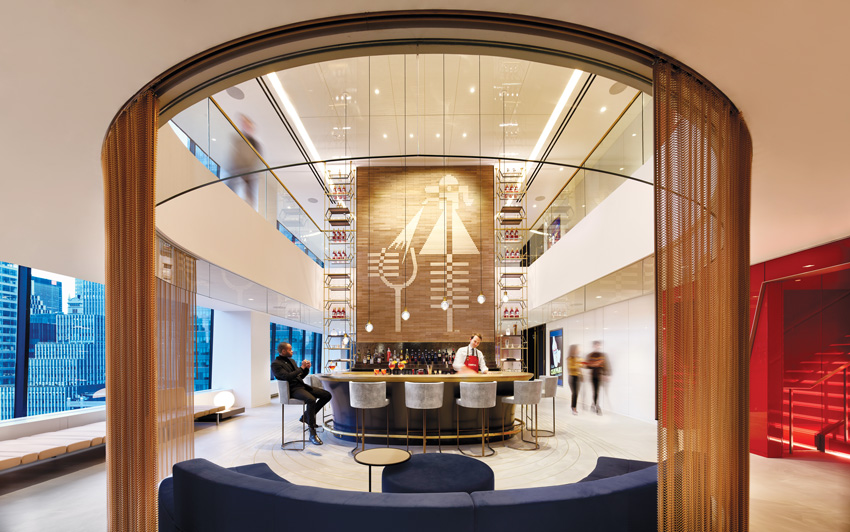 Photo courtesy of Cascade Architectural
There are many new outside influences on the way that building interiors are used. The appropriate response is to bring creativity and innovation to interior design to meet the needs of both building owners and users.
Opening Glass Walls
Interior space planning often relies on walls or partitions to separate different spaces from each other. However, there are plenty of reasons why that separation is not always desirable. In some cases, visual connectivity and transparency are desired between adjacent interior spaces. In others, there is a need for spaces to feel open, inviting, and collaborative instead of isolated and closed off. Yet in each of these conditions, there may still be some need for privacy, both visual and acoustical, whether to carry out concentrated work, confidential discussions, or contain noise emanating from audio presentations. The dilemma often facing designers is how to meet these competing criteria of separation and openness in a way that is consistent with the overall interior design of a building.
The solution to this dilemma is based on innovative approaches when looking at interior walls. Fixed glass partitions, for example, have been used in retail, office, and other settings to allow visual transparency, but they don't allow access or physical expansion of the adjacent spaces. Placing doors in those walls helps with access but not with flexibility since they still create a sense of separation. An innovative and often preferred option is to incorporate opening glass walls between interior spaces.
In essence, an opening glass wall is technically defined as an operable system of door-sized glass wall panels that can be readily opened or closed across the full width of the wall on demand. Like any other type of glazed system, it does not carry any structural load from the building, but is reliant on being appropriately installed within a structurally supported opening. Typically, opening glass walls are full height or match standard door heights, although they can also be customized to suit many different sizing needs. They commonly range in width from as little as 9 feet wide up to as much as 300 feet wide. The individual glass wall panels are usually moved along a track at either the top or bottom, allowing the panels to operate in either a folding or sliding manner. In most settings, the intent is to allow the option of a large, uninterrupted opening between two interior spaces when that is desired or close off the two adjacent spaces when separation is needed.

Photos courtesy of NanaWall Systems/© Garrett Rowland
Global architecture firm Gensler incorporated an opening glass wall in their own office in Morristown, New Jersey. This design gave the smaller meeting room dual functionality, as it can be used closed for private conferences or open as a venue for spontaneous sit-downs or larger meetings.
There are five innovations often cited that opening glass walls bring to the interior design of many commercial, institutional, and residential settings, including:
Open concept with sound control. Opening glass walls can create the feeling of openness in a building. This can be important, particularly in corporate settings where the average size of an office has decreased by nearly a third over the past decade. Since many buildings seem to be taking up less real estate, opening glass walls for interiors help create a more spacious feel through an open design concept. Opening glass walls can thus make small spaces appear bigger, creating the illusion of being in a larger area.

While openness is desirable, acoustical performance is also critically important in many settings. Sound control and transparency are typically the "oil and water" of many indoor environments, such as offices, education, and health care. The down side of open-floor-plan environments is noise, which can counteract any of the benefits that might be experienced. Noise issues are particularly relevant to student performance within K–12 educational environments and productivity issues in workplaces.

The solution to these competing needs is to use an opening glass wall that is rated to control sound transfer. Standardized tests can be used to measure any opening glass wall to determine its sound transmission class (STC) ratings and outdoor/indoor transmission class (OITC) ratings. Floor-supported folding opening glass walls have been independently tested to achieve ratings up to STC 45 with a flush sill that is ADA compliant. Frameless, all-glass operable walls provide better sound buffering than many fixed all-glass partitions, providing ratings up to STC 36. When the wall is closed, an all-glass aesthetic is realized with the added benefit of acoustical sound privacy.

These ratings are typically achieved by paying attention to the details of both the frame mechanisms and the actual glass used. The frames typically employ seals and gaskets of different types to close up any gaps between the individual panel sections when the wall is in the closed position. The glass can be Sept-Multi-paned or even laminated to provide high-performance sound control. All of these measures help assure that conversations remain private and inside the room. At the same time, it helps to keep out unwanted noise that originates from outside the space. Hence, when an operable wall is closed, it provides the people inside of the room sound separation from the adjacent spaces. When that need is no longer required, the opening glass wall can be opened back up.

Flexible spaces. Operable glass wall designs offer an adaptable environment for growing companies, multifunctional school settings, retail stores, hospitality venues, residences, and many other building types. Not only is it affordable to create rooms with glass partitions compared to building traditional walls, but it is also easy to create a flexible or adaptable environment where spaces can be simply opened or closed. This is achieved by selecting the most appropriate style of glass panels and operating mechanisms. In many cases, a folding panel system will likely suffice with easy-to-use and smooth operating parts. In others, a sliding system may make more sense, with panels sliding on multiple tracks and stacking to one or both sides or on a single track with the panels disappearing into a designed recess.
Private spaces with a sense of openness. In many workplace and educational settings, there is an emphasis on openness to foster creativity and collaboration between the people who spend their time in those places. By using opening glass wall designs, a feeling of connectedness and teaming is more easily achieved than with designs that foster only separation and isolation. Innovative spaces are also becoming much more preferred over cubicle-style designs that are referred to as "open office plans" but are falling out of favor in many design circles.
Natural light and views. Opening glass walls can be customized to allow natural daylight to penetrate deeper into a building and feature views to the outside. Daylight and views not only make the interior look more appealing, but they have also been shown to offer real human health benefits. Boosting the availability of daylight has been shown to put people in better moods, help with their natural circadian rhythms, and increase learning aptitude and productivity. Access to views has been demonstrated to decrease anxiety, provide visual relief, and help reduce eyestrain. Further, when the view is to a natural area, it can support the biophilia hypothesis, which suggests that people have an innate tendency to seek connections to nature and life in general. Overall, studies show that designs that bring in more natural light offer a healthier workplace while also saving on energy costs.

Not to be overlooked, the transparency of glass walls may be unsettling for some people. Most people don't want to feel like they have no visual privacy or are on display all the time. There are solutions for this as well through the use of tinted or frosted glass on selected areas of the glass wall. There can still be clear sections if desired, while translucent areas can provide some additional privacy and still allow light to pass through. Directly along this same line, and in the spirit of true flexibility, at least one manufacturer provides an operable glass-wall solution that takes this concept a bit further. It uses a dynamic, individual panel, frameless opening glass wall system that offers instant opaque privacy or transparent connectivity at the touch of a button. Use of such dynamic glass means that curtains, blinds, or other privacy products are not necessary.

Photo courtesy of NanaWall Systems

This opening glass wall was designed by Gensler for the Visa One Market in San Francisco. The central areas of the glass panels were artistically fitted with a frosted film that provides visual privacy for meetings but still passes full daylight illumination through the wall.

Responding to changing functionalities. Many building uses and functions change over time. Operable glass walls are inherently designed to be flexible so they can more readily accommodate those changes. Their typically clean and simple look can complement just about any design approach, whether new, existing, or modified. From a performance standpoint, glass can retain its like-new appearance for much longer than other wall-material options, making it inherently long lasting.

Opening glass walls clearly provide flexibility, innovation, and the ability to customize an interior design that will be enjoyed and perform well for many years of service.
Originally published in Architectural Record
Originally published in September 2019
Notice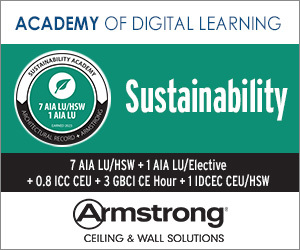 Innovations in Interior Design
Buyer's Guide
Fabricoil® Coiled Wire Fabric Systems

Fabricoil
®
systems are utilized by architects and designers to achieve remarkable interior and exterior spaces. Fabricoil is a flexible metal mesh material that comes in a variety of materials, gauges, and weave sizes and is used for energy savings, solar shading, light diffusion, decorative applications, security, partitioning, and more.
PrivaSEE Frameless All-Glass Operable Wall

NanaWall's PrivaSEE STC36 Frameless All-Glass Operable Wall provides better sound buffering than many fixed all-glass partitions, offering flexible space-management solutions.
XtremeInterior by TAMLYN

As a design feature, aluminum trim can provide architects and designers with a means of creating a clean, modern design on projects while incorporating the sustainable features and performance characteristics of aluminum. XtremeInterior by TAMLYN offers thousands of profile options and custom solutions for residential, commercial, hospitality, and industrial projects.