Incorporating the Latest Trends in Residential Design
A closer look at the new solutions designers are using meet the demands of today's homeowners
Sponsored by Cascade Architectural, LaCantina Doors, and Rocky Mountain Hardware
TREND: INTERIOR COLORS ARE WARMING UP AND GOING NATURAL
Interior colors are warming up and putting an emphasis on natural materials and finishes. The paint colors of the year have been revealed. Benjamin Moore introduced Metropolitan, a gray-beige or "greige" meant to bring a calmer and more meditative mindset into the home. Rich blues and soft terracottas were also launched with the Color of the Year distinction, and Pantone's 2019 Color of the Year was Living Coral. All of these give a nod to the natural environment. "While nature is a common inspiration for home décor, in 2019, we will see a shift from oversized botanicals to the woodland, with mushroom grays and fern-inspired colors," says Sue Wadden, director of color marketing at Sherwin Williams.
Solution: Bronze Hardware
Complement the warmer, natural feeling moving through interiors with warm-toned bronze hardware on doors and cabinets. This subtle and classic material offers a softer alternative to the harsh matte blacks and gleaming chrome, brass, and gold finishes so often used throughout a home.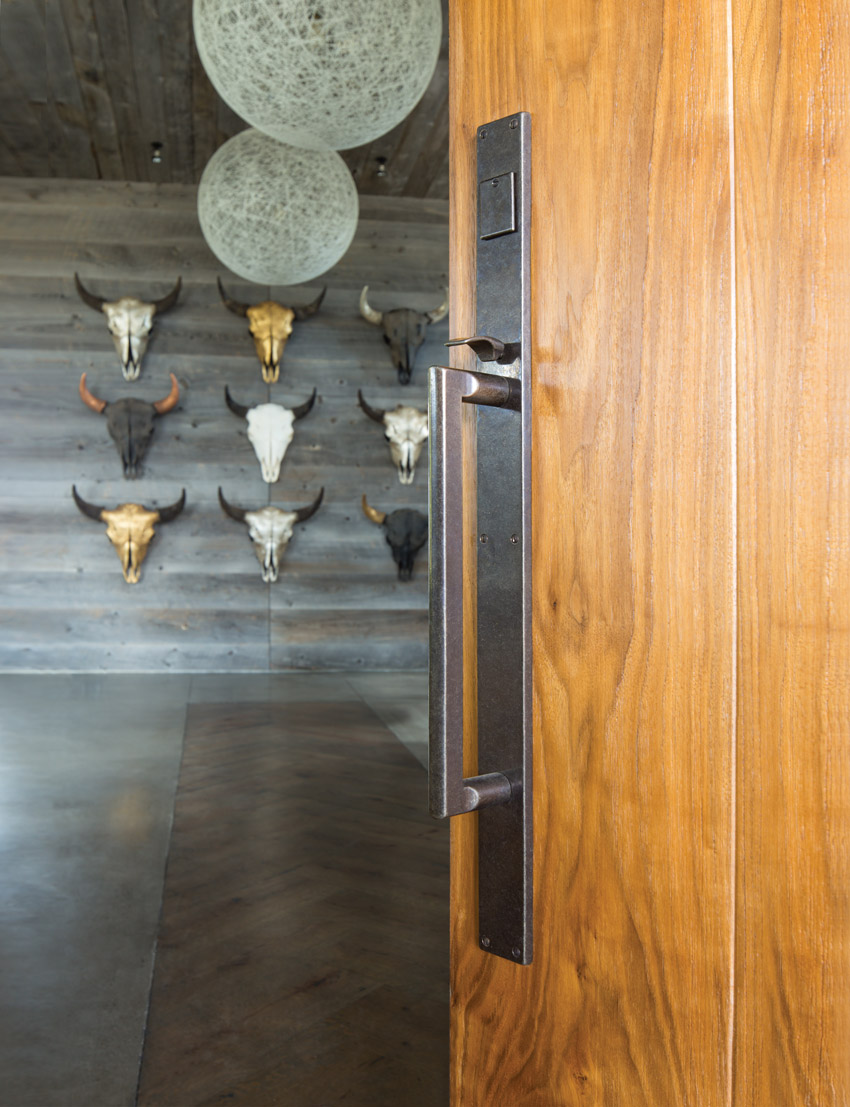 Photo courtesy of Rocky Mountain Hardware
Complement the warmer, natural feeling now incorporated throughout home interiors with warm-toned bronze hardware.
Bronze is an alloy created by heating several different metals together. Oftentimes it is primarily copper, but the specific makeup of any bronze product will vary depending upon the quality and color being produced. The highest-quality bronze, referred to as art-grade bronze, is a blend of copper and zinc, with other elements present in small quantities. There are two types of art-grade bronze typically used in a quality door hardware application: silicon bronze and white bronze. Silicon bronze is produced in the rich coppery-gold color that is most readily associated with bronze. White bronze contains less copper and more zinc as well as manganese, nickel, and aluminum, and it produces a strong bronze material in cooler silver tones.
Art-grade bronze has many performance attributes that make it a great fit for use as hardware that is regularly handled both inside and outside the home. It's nonferrous, so it won't rust the way that iron and steel do. It oxidizes superficially, which creates a beautiful aged patina on the surface of the hardware, but it resists metal fatigue and corrosion, even in coastal environments where it is exposed to saltwater spray. Bronze hardware also requires very little maintenance. The hardware does not have a coating; it is a solid bronze object, so it won't chip, flake, or need to be retouched. It can be cleaned easily with a mild soap, water, and a nonabrasive cloth. No harsh chemical cleaners are needed.
The color and material of art-grade bronze certainly complements the latest trends in interior design, and there are a number of new profiles and finishes now available in this hardware, making it possible to make a dramatic impression at the door. Slimmer-profile door sets that are a half-inch thinner have been developed to support minimalist design principles. "That half-inch reduction actually makes a big difference, yielding a profile that not only is thinner but also provides a cleaner, sharper finished look when installed," explains Christian Nickum, president of Rocky Mountain Hardware. "Many of our architect and interior designer clients voiced an interest in having a smaller dimension. We greatly value their input and took this suggestion to heart." The slimmer escutcheon measures 2 inches wide instead of the standard 21⁄2-inch width.
Another new option now being offered in art-grade bronze hardware is a textured finish on the face of the hardware. These textured finishes create a richer aesthetic at the handle that is both seen and felt.
TREND: OPEN-SPACE DESIGN
The dedicated and separate kitchen, living, and dining rooms are being replaced by residential layouts that feature large multipurpose spaces. This change is making the coordination of hardware more important throughout the home, as the cabinets, doors, and lighting fixtures that used to be broken across multiple individual spaces are now being combined into one very important space. Creating a harmonious and comprehensive aesthetic throughout this larger area can be supported by working with a manufacturer that can offer a breadth of coordinated hardware products.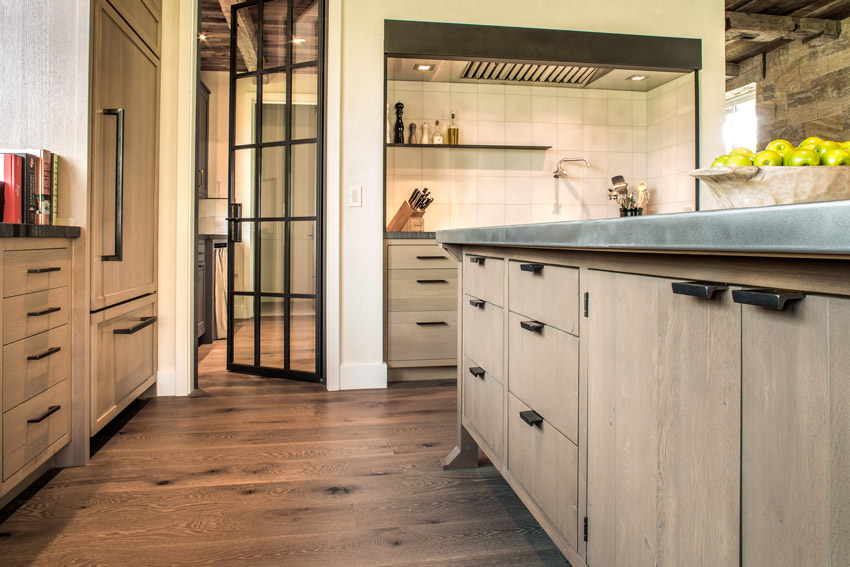 Photo courtesy of Rocky Mountain Hardware
Hardware collections can meet the very nuanced hardware needs of a home and offer a cohesive aesthetic across the doors and cabinets.
Solution: Choose a Hardware Collection
Finding a hardware collection that can meet the very nuanced needs of a home and offer a cohesive aesthetic throughout the large, open multipurpose space and the very specialized spaces, such as bathrooms, can be challenging—but they do exist. For example, there are collections of art-grade bronze hardware that include a wide variety of high-quality, coordinated hardware. These collections can include dramatic door sets for a front door, door knockers, doorbell buttons, cabinet pulls, appliance pulls, cabinet knobs, sliding door sets, patio door sets, robe hooks, towel bars, and toilet paper holders. The depth and breadth of these hardware collections makes it much easier for designers to create the large, open spaces now demanded without sacrificing the level of coordinated decor they were able to provide when the home floorplan was more compartmentalized.
TREND: CONSISTENT SIGHTLINES AND DAYLIGHT OPENINGS
Another area where a change in the way the home is being used is making it increasingly important—and difficult—to create a consistent aesthetic is the fenestration. As architects move beyond increasing the number and size of the windows in a house to now creating indoor/outdoor functionality with large opening door systems, the facade can now consist of a variety of door types: multi-door sliding or folding systems, single sliding glass doors, and swinging doors. These doors are also spread across different types of areas of the house. They can open the central kitchen area directly into the patio or frame a beautiful multi-seasoned space. Special care must be taken to find product solutions that can deliver the various indoor/outdoor access points demanded by the project while maintaining a consistent and cohesive appearance across the facade.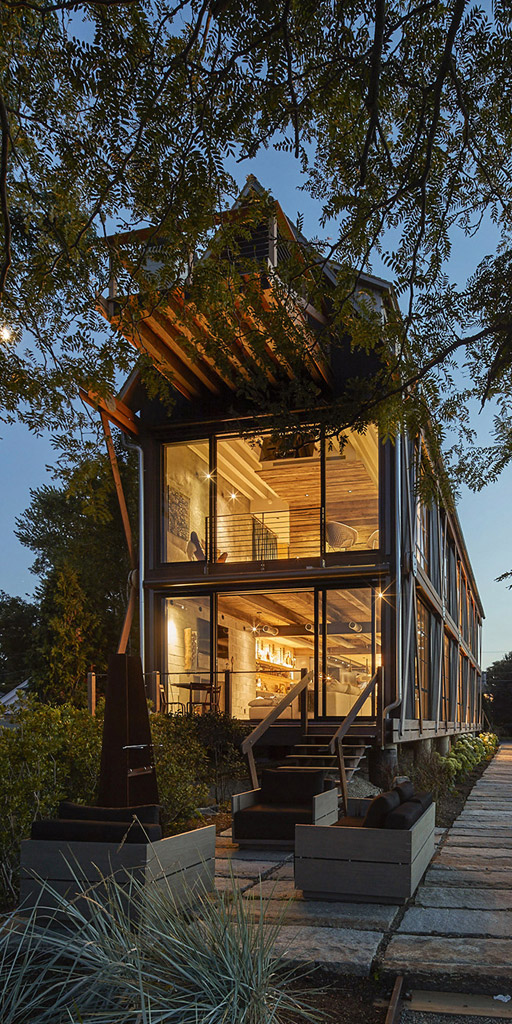 Photo: Robert Benson Photography
Specify large opening door systems with a consistently sized stile and rail to create symmetry and balance across the daylight openings in the facade.
Solution: Large Opening Systems with Consistently Sized Stiles and Rails
When looking at the various components that make up a large opening door panel, the horizontal framing components that run along the top and bottom of the glass panel are referred to as the rail. The vertical pieces that run along the sides of the glass panel are referred to as the stile. Once the stile and rails have been attached to the glass panel, the amount of the frame that is visible is referred to as the sightline. The unobstructed glass surface is referred to as the daylight opening. Manufacturers that use the same size stile and rail profile across all sliding, folding, or swinging product lines can deliver consistent sightlines and daylight openings across the exterior.
Originally published in Architectural Record
Notice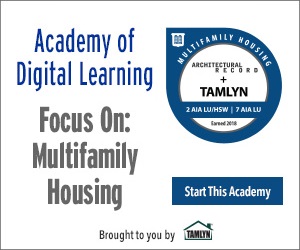 Incorporating the Latest Trends in Residential Design
Buyer's Guide
Fabricoil© Coiled Wire Fabric Systems

Cascade Architectural is committed to serving the product and service needs of our architectural customers. Since 1987, Cascade has provided a full range of functional Fabricoil
©
woven wire mesh fabric systems to domestic and international markets. Suited for projects of any scale, exterior or interior, Cascade reflects our continued commitment to provide architects, engineers, and channel partners with aesthetically pleasing and affordable mesh systems.
Zero Post Corner System

LaCantina's Zero Post Corner System opens the whole corner of any room to truly embrace indoor/outdoor living. LaCantina's innovative design allows two door systems to be connected to each other without the need for a supporting wall or post, providing the ultimate in uninterrupted views.
Edge Door Set

The Edge Collection is a unique offering, as it's profile and width are slimmer than other options. In addition to a more contemporary profile, the collection is available with a choice of six unique textures as well as 12 patina finishes.